The Dec. 9 edition of WWE Raw will be forced to play both Dr. Jekyll and Mr. Hyde as it looks to promote Tables, Ladders & Chairs 2013 and hosts the Slammy Awards on the same show.
KeyArena in Seattle, Wash., will be home to both the playfulness that is WWE's annual award presentation and the go-home show for the last pay-per-view of the year. Hall of Famers will don formal wear and hand out Slammys.
Meanwhile, WWE will highlight John Cena and Randy Orton's monumental TLC match and attempt to increase buzz surrounding the event's undercard. Who will end the night holding a gold statuette and who will gain momentum before TLC?
News, Rumors, Potential Spoilers
Tyson Kidd and Fandango's feud could soon escalate.
WrestlingInc.com reported that at WWE's live event on Sunday, Dec. 8, "Fandango came out with the words 'I Love Nattie' on his stomach" before a mix-tag match against Natalya and The Great Khali. Tension that began on Total Divas between Natalya's husband, Tyson Kidd, and Fandango briefly bled into Raw.
WWE has since taken the focus off that feud, but the message on Fandango's belly at the house show could be a preview of where that story goes next.
With Fandango having little to do at the moment and Kidd in need of a rival and/or narrative, booking a feud centered around Natalya is a smart move, even if it may not have the fire that a similar story between Jake Roberts and Rick Rude had in 1988.
TLC has only five bouts scheduled so far. Fandango vs. Kidd is a strong possibility for what gets added this week.
Will Sin Cara get a match as well? It depends on what WWE has planned for the latest man to wrestle under that mask.
After earning an upset win as Sin Cara over Alberto Del Rio last week, Hunico may be back to being Hunico.
WrestlingInc.com is reporting that "Hunico was back working under his normal gimmick at WWE live events this weekend." With word, per WrestleZone.com, that the original Sin Cara was on his way out, it seems odd to have Hunico not fully take over that role now, especially after getting a significant televised win.
Monday's Raw will tell us a lot about where this is heading.
For what it's worth, WWE.com lists Paul Heyman as one of the personalities scheduled to appear. The same has been true in recent weeks where Heyman has not shown up. He and his only remaining client are both up for Slammys, so perhaps he returns just to collect a trophy or two.
TLC Business
Daniel Bryan, like CM Punk, is set to face a trio of opponents at TLC.
Punk's challenge is immensely difficult, but Bryan's has a psychological element as well as a physical one. Bray Wyatt has singled Bryan out, attempting to lure him into his "family." Going into his battle against Wyatt, Luke Harper and Erick Rowan, Bryan has to worry about the Wyatt clan trying to brainwash, coerce and/or charm him.
Wyatt's continued recruiting efforts should be one of Raw's bigger focuses.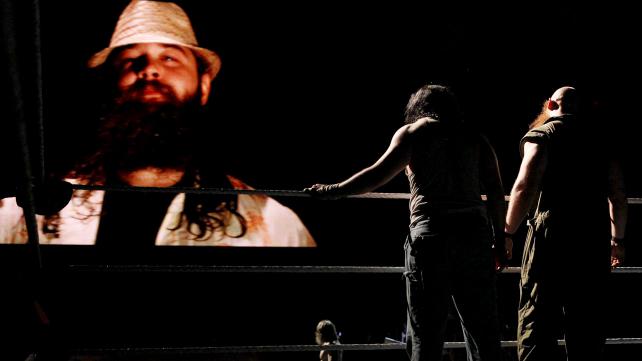 WWE.com
Anthony Benigno writes in his Raw preview for WWE.com, "Does Wyatt's invitation have legs to it? Monday may give us a clue as to which way Bryan's leaning." Monday's Raw should provide hints aplenty to what direction this angle is going.
Don't expect a resolution Monday, though. Just a tease. After all, WWE is trying to get fans to buy a pay-per-view and uncertainty and assured surprises surrounding this story will help.
Along with WWE-added hype for Bryan and Punk's handicap matches, two less-talked-about matches should receive a jolt as well. Big E Langston vs. Damien Sandow for the Intercontinental Championship and AJ Lee vs. Natalya for the Divas Championship are set for Sunday.
Natalya has earned a number of wins over AJ as of late.
Does this mean a title change is coming, or will TLC be AJ's time to break out of her slump? Monday's Raw should provide another pre-match clash between the two women, but like the IC title bout, it isn't likely to garner much airtime.
Cena and Orton's match will dominate the show.
Their upcoming TLC match with both of WWE's major titles hanging above the ring is the marquee matchup. Look for WWE to begin and end the show dealing with this rivalry. Beyond trying to make the match feel like a historic one, the company should plant seeds of uncertainty.
Benigno writes the following of Cena vs. Orton.
Then again, there's also the question of how – if at all – The Authority might interfere in the biggest match to unfold under their watch, and, given Orton's attitude of late, whether they're still 100 percent behind their serpentine standard-bearer.
It sounds like WWE is planning on at least teasing The Authority turning on Orton. It feels much too early to have Orton return to being a fan favorite, but count on his relationship with Triple H and Stephanie McMahon to become more complex and tense leading up to TLC.
The less predictable the ending to that bout is, the better.
On Nov. 25, Orton held both the WWE and World Heavyweight Championship belts over a fallen Cena. Last week, it was Cena's turn to tower over his prone foe.
Who gets the advantage this time around?
Slammy Awards
Booker T and Jerry Lawler will host WWE's answer to the Academy Awards. Don't count on many of the awards presentations to go as planned. Superstars may steal Slammys as Owen Hart once did, squabble over who wins or use the moment as a chance to attack their enemies.
Presenters are in danger of getting into confrontations as we saw with Ric Flair last year.
Many of the minor awards will be decided and announced before Raw begins. WWE.com's exclusive Slammys include Best Tag Team of the Year, Favorite Web Show and Catchphrase of the year.
Other Slammys, including Breakout Star of the Year, will be exclusive to the WWE App.
#WWE VIDEO: 2013 Slammy Awards - "Breakout Star of the Year" Nominees http://t.co/tiTt4VVOY6

— WWE (@WWE) December 9, 2013
The more prominent awards will receive a more glamorous treatment. Returning stars will serve as presenters live on Monday's Raw. The nominees are as follows, per WWE.com.
Superstar of the Year (presented by Shawn Michaels)
John

Cena

Randy Orton
CM Punk
Daniel Bryan
Big Show
Brock

Lesnar
Diva of the Year (presented by Eve)
AJ Lee
The Bella Twins
The

Funkadactyls

Natalya
Kaitlyn
Eva Marie
Double-Cross of the Year (presented by The Shield)
Triple H costs Daniel Bryan the

WWE

Championship at

SummerSlam

Shawn

Michaels

superkicks

Daniel Bryan at Hell in a Cell
Mark Henry's "retirement speech" on Raw
Paul

Heyman

costs CM Punk the Money in the Bank contract at Money in the Bank
Match of the Year (presented by Bret Hart)
Undertaker vs. CM Punk at WrestleMania 29
The Rock vs. John

Cena

at WrestleMania 29
Cody Rhodes and

Goldust

vs. The Shield at Battleground
Triple H vs. Brock

Lesnar

at Extreme Rules
Insult of the Year (presented by The Miz)
Stephanie McMahon degrades Big Show on Raw
AJ Lee disses Total Divas on Raw
Paul

Heyman

disowns CM Punk
Zeb

Colter

offends the

WWE

Universe
"LOL!" Moment of the Year (presented by The New Age Outlaws)
The Rock concert at Raw 20th Anniversary
Vickie Guerrero is fired as GM of Raw
Titus O'Neil throws up
The Great

Khali

and

Jinder

Mahal

charm

Santino

Marella's cobra
Extreme Moment of the Year (presented by Mick Foley)
The Shield triple

powerbombs

The Undertaker

Ryback

spears John

Cena

through LED

lightboard

CM Punk exacts vengeance on Paul

Heyman

at Hell in a Cell
The Wyatt Family crush Kane at

SummerSlam
Fan Participation of the Year (presented by The Prime Time Players)
Fandango-ing
Yes! Yes! Yes!
Let's go Cena/Cena sucks!
What's up?
The Diva of the Year Slammy is a great place for WWE to push forward the AJ and Natalya feud. One angry over the other winning is a simple way to increase animosity.
Another intriguing possible scenario is Bryan winning the Slammy for Superstar of the Year and having to face a man he recently put in a Yes! Lock on live TV. The tension pulsing during that exchange would be one of the night's highlights.
Having Michaels back, even without a showdown with Bryan, will be fun.
The same goes for having The New Age Outlaws, Eve, Hart and Foley be part of the ceremony. Their collective presence will give the awards show a prestigious feel even among all the shenanigans sure to happen.
Langston is hungry to win a Slammy; Sandow promises silence should he lose.
Quote of the day... If I don't win a Slammy there will be no more quote of the day. #Slammy

— Damien Sandow (@TheDamienSandow) December 9, 2013
Monday's Raw promises to be a packed three hours. Normally, WWE needs to inject filler in between its narratives. With so many awards awaiting winners and so many TLC matches needing momentum, this episode will be hard pressed to fit everything in.
Bad News Barrett is going to have to tell a handful of midcarders that there simply isn't time for them Monday.