WWE is in a slump with its pay-per-views, unable to find the formula to lure fans in.
TLC 2013 is the company's last chance of the year to hit a home run after hitting a series of dribblers. Can WWE find its winning ways once more? Can it reverse the recent downward trend and go back to the electricity that was SummerSlam 2013?
SummerSlam delivered great match atop great match, forcing fans to choose their favorite from a selection of instant classics. Thrilled hummed; hope burned.
It felt inevitable that WWE would continue its momentum with another excellent showing. That showing never came.
Screwy finishes, predictability and sloppy storytelling doomed the next few months. Viewers showed their disapproval by tuning out.
ProWrestling.net reports that the "Night of Champions pay-per-view produced 175,000 buys, down from 189,000 buys in 2012." An early look at the Battleground buyrate, via WrestleZone.com, showed estimates of it earning between 110,000 to 115,000 buys.
Survivor Series isn't likely to produce great numbers, either.
WWE doesn't need a time machine or part-timers to deliver hits once more. It simply needs to give fans more reasons to tune into to each pay-per-view, to mix rising stars with established ones and reward the audience at the end of a narrative.
Payoffs to Storylines
Before Survivor Series, Big Show and The Authority's rivalry delved into the personal and resided in animosity. Triple H and/or Stephanie McMahon suspended "The World's Largest Athlete," demeaned him, took his house, fired him, slapped him in front of a live audience and left him a blubbering mess several times.
What was the climax to that long story? The Authority distracted Big Show during his match with Randy Orton. Orton took advantage and kicked the giant in the head for the win.
Promo video for Randy Orton vs. Big Show
The story was dropped soon after.
For fans, it felt like WWE led them on a journey, taking forks and turns in the road, only to just stop walking with no explanation, no pot of gold at the end of it all.
Imagine if movies ended that way. Imagine if you read an entire 400-page novel only to find that there was no climax waiting at the end.
WWE has done this too often recently. Bryan's clash with The Authority saw him cheated, kicked, insulted and stripped of the WWE Championship. That narrative ended after Hell in a Cell with no real resolution.
Pay-per-views are at their best when they close each chapter in a satisfying manner and begin another that fans can't resist reading. WWE did that at the end of SummerSlam.
Bryan's story with Cena ended definitively, with Bryan earning a clean pinfall win over a man often booked as superhuman. He climbed to the mountaintop just before Orton and Triple H hurled him off it.
Now battling The Wyatt Family, Bryan has to either lose or win. He can't just be a part of a stuttering storyline. Fans will be intrigued should he lose and choose to join that odd clan.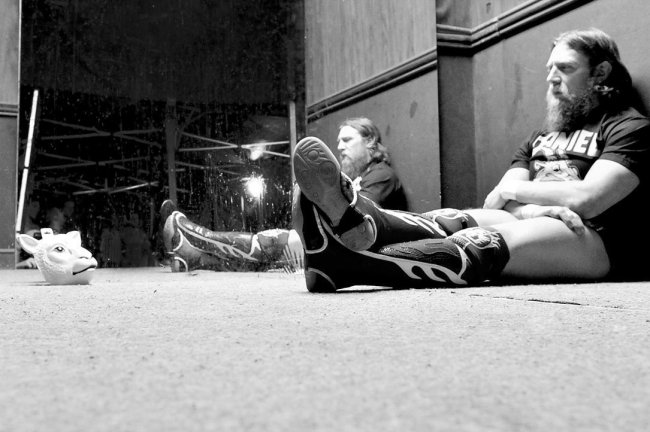 WWE.com
One battle would end, but another set of them would begin.
Not every pay-per-view can be the resolution of a feud, but the payoff has to come at some point. If Bryan is to defeat The Wyatt Family, let it be in resounding fashion, beating Wyatt in a cage match. Build the tension between them and pit them in a match that settles everything.
Brock Lesnar won the war against Triple H at Extreme Rules, winning the rubber match that left Triple H suffering from the battle. Undertaker earned a clear-cut victory over CM Punk at WrestleMania that sent Punk into a self-imposed exile.
CM Punk leaves WWE after losing to The Undertaker.
Here, victories felt final and significant.
They never felt like that between Orton and Bryan. Orton and Big Show then had the same issue.
Bypassing the denouement of the dramatic structure is not advisable. There has to be an ending to WWE's stories whether it be a tragic or a happy one.
Young Lions versus Alpha Males
A Roman Reigns vs. Antonio Cesaro main event isn't going to be a financial success, at least not now. Neither wrestler is established enough to draw the paying audience yet. WWE can't sell CM Punk vs. John Cena for 10 pay-per-views in a row either, though.
WWE's history is filled with stars being made by battling men above them on the totem pole.
Larry Zbyszko turned on his mentor Bruno Sammartino in 1980 to make for a feud that is still remembered today. The Ultimate Warrior knocked off an icon in Hulk Hogan at WrestleMania VI. One of the matches that made Steve Austin the intensely popular star that he became was a loss against Bret Hart at WrestleMania 13.
Having Cesaro feud with Punk or Reigns feud with Cena, for example, provides the spark born from novelty. Those are fresh matchups that can catch folks' attention.
Beyond that, they would help build up Reigns and Cesaro for the future.
Should one of them experience the boost that Austin or Ultimate Warrior benefited from after those aforementioned WrestleManias, WWE creates more future options for itself. Pay-per-views like Battleground or Payback are chances for the company to take some chances.
Give them a compelling story and many new combinations will work.
WWE can't just let the alpha males dominate, though. That's partly why Ryback and Cena's feud didn't push Ryback forward.
He didn't get a single win out of it. It's fine if WWE wants to have Cena win two out of three bouts, but to have Ryback get swept is a surefire way to send him tumbling down the midcard.
WWE.com
Eventually, someone has to put the new guy over. Mick Foley and Chris Benoit did that for Orton years ago. Big Show and John "Bradshaw" Layfield helped Cena's career by losing to him.
That balance of newcomers defeating the veterans isn't happening enough.
Ryback lost to Punk and Cena again and again on pay-per-views starting in 2012. Bryan followed up his big win over Cena with an impromptu loss to Orton and never got another signature win.
Those kind of endings, underdogs and up-and-comers having their moments of glory, leave fans feeling like they watched something significant after buying a pay-per-view.
Make Each Pay-Per-View Its Own
It doesn't matter who is champion or who is challenger when the Royal Rumble rolls around. That's because the excitement of the Rumble match is enough reason to tune in.
Fans know they'll see a few guest stars, one or two spectacular displays of athletic prowess i.e. Kofi Kingston's handstand and a victory for a single Superstar that is important. The event's traditions bring in fans.
Not every show can copy what the Rumble does, but there's a lot to learn from it.
Royal Rumble feels special. It provides entertaining elements that fans can't see any other time of year. The end result is guaranteed to mean something. WWE has done that with some of its other shows, but it can be further emphasized.
Extreme Rules and Money in the Bank are becoming increasingly popular because of their distinctiveness.
This year's Extreme Rules earned 231,000 buys, per WrestleZone.com. According to PWInsider, via CagesideSeats.com, Money in the Bank went up by 4,000 buys from last year's event in pulling in 192,000. One thing assisting those shows is its promise of something different.
Every Money in the Bank show ends with one or more Superstars carrying around a briefcase that almost always leads to acquiring gold. The violence and spectacle of the Money in the Bank ladder match is an attraction as well.
Extreme Rules isn't dependent on a particular gimmick match, but offers a bevy of WWE's most intense match types.
WWE must find ways to have its other shows have this same pull. Survivor Series has to lean more heavily on traditional elimination tag team matches and should the company find a way to raise the stakes in those bouts, the drama around them can only increase.
Night of Champions could be more of a celebration of champions of the past. In early years, the show invited WWE legends to sit at ringside and be a part of the event. Going back to this and pushing it further will make that pay-per-view more enticing.
Perhaps it's the only show fans know they'll see Hall of Famers serve as guest referees and cornermen. This would be the ideal home for matches similar to when Ricky Steamboat came out of retirement to battle Chris Jericho.
Maybe Battleground hosts an annual tag team tournament or SummerSlam's undercard decides the No. 1 contender spot for Night of Champions. At every TLC one NXT prospect could take on a struggling veteran with the winner earning a main roster spot for the next year and the loser having to head to NXT.
Whatever WWE chooses, it has to find a way to entice fans who are faced with a calendar overflowing with pay-per-views. Making every show feel more special provides more reasons to lay down cash. Otherwise, fans are liable to just wait for the biggest shows to roll around.
Once they've been properly lured in, WWE has to deliver. New stars making their mark is a part of that as is seeing storylines through to their conclusion.
Realistic solutions are available, WWE simply has to grab hold of them and swing.