British heavyweight boxer David Price has been forced to withdraw from his bout with Evgeny Orlov due to illness.
Boxing News was first to report the withdrawal via Twitter, and Price quickly offered comment of his own via the social media tool:
David Price has a virus, so his December 14 clash with Evgeny Orlov has been postponed #boxing

— Boxing News (@BoxingNewsED) December 9, 2013
Always disappointing to miss out on a fight. Luckily it's only a short postponement. Time to write this year off I think! #2014

— David Price (@DavidPrice_1) December 9, 2013
Price will hope 2013 proves to be the worst year of his career.
Having built a burgeoning reputation as one of Britain's top heavyweights, he lost both fights in 2013, both to Tony Thompson—a man he was fully expected to beat.
Will David Price win a world title?
In a total of seven rounds, Price was stopped twice by an opponent on the wrong side of 40 years of age. His career has currently been left in tatters.
Blessed with a 6'8" frame and fierce knockout power, Price appeared to have many of the tools required to go hunting the Klitschko brothers for world titles.
Prior to his meetings with Thompson, he had gone 15 undefeated and had finished 13 of those rivals, according to Boxrec. He had won British and Commonwealth titles, and a fear factor was growing around his talent.
However, Thompson has exposed a weak chin and poor defence. Price had proven himself to be a dangerous on-top fighter, but his back foot needs a rethink.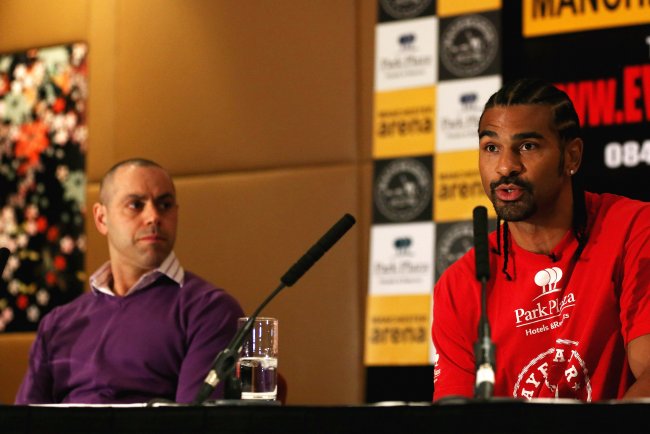 Andrew Redington/Getty Images
The Orlov fight, scheduled for Dec. 14 in Germany, was supposed to be the Liverpudlian's relaunch. Price commented earlier this year, per BBC Sport:
I am excited to be starting this new chapter in my career.

My training with Adam (Booth) has been going really well. We have made some changes in the gym and have been working on a few different things for this fight.

Come fight night people will see these changes in my performance.
Price will now have to wait until the new year for a chance to show off his development, and the delay opens the possibility for a completely fresh opponent to be introduced.
Dereck Chisora and Tyson Fury would both be major earners for Price in all-British battles, although he would be best advised to gain some confidence against the likes of Orlov before entering such high-profile encounters.