The BCS bowl schedule is officially set, and each game is bound to be quite exciting.
Of course, the BCS picture has shaken up quite a bit over the past few weeks. The Baylor Bears were undefeated before getting demolished by the Oklahoma State Cowboys. The Auburn Tigers pulled off an incredible upset win over the Alabama Crimson Tide, then went on to win the SEC championship against Missouri Tigers.
Then the Ohio State Buckeyes lost their undefeated season at the worst possible time, losing to the Michigan State Spartans in the Big Ten Championship Game .
Below is a look at the schedule for all of the BCS bowl games, followed by a breakdown of the overall picture for these matchups.
2013-2014 BCS Bowl Games

| | | | |
| --- | --- | --- | --- |
| Game | Teams | Date | Time (ET) |
| Rose Bowl Game Presented by VIZIO | Stanford vs. Michigan State | Jan. 1 | 5 p.m. |
| Tostitos Fiesta Bowl | Central Florida vs. Baylor | Jan. 1 | 8:30 p.m. |
| Allstate Sugar Bowl | Oklahoma vs. Alabama | Jan. 2 | 8:30 p.m. |
| Discover Orange Bowl | Clemson vs. Ohio State | Jan. 3 | 8:30 p.m. |
| VIZIO BCS National Championship | Florida State vs. Auburn | Jan. 6 | 8:30 p.m. |
All games televised on ESPN
The BCS bowl games will start off on New Year's Day with the Rose Bowl Game between the Michigan State Spartans and Stanford Cardinal. As the winners of the Big Ten and Pac-12 championships, they will be representing their respective conferences as automatic qualifiers.
Both of these teams play very similar styles of football. They both focus on a strong running game, with Jeremy Langford leading the Spartans and Tyler Gaffney the Cardinal, while also focusing on a stingy defense. The two teams allow just a combined 31.3 points per game, so this has the makings of a low-scoring and physical battle.
The Fiesta Bowl will feature the Big 12 and American conference champions in the Baylor Bears and Central Florida Knights. The Bears are the clear favorites to win this game, but like we've seen so many times this season, any team can go down in any game.
Bryce Petty will have to lead the high-powered offense of the Bears to victory, but that shouldn't be too hard, even if there is the potential for an upset. The Bears lead the nation in offense, averaging 624.3 total yards and 53.3 points per game.
The Alabama Crimson Tide will be replacing Auburn, representing the SEC in the Sugar Bowl. They will be playing the Oklahoma Sooners, who were able to snag an at-large bid after their big win over Oklahoma State.
Nick Saban's team is the clear favorite here. Many still consider them the best team in all of college football, and with an all-around talented team that features a huge numbers of future NFL players, it's easy to see why they're expected to win this game.
After the devastating loss to the Spartans, Ohio State was still able to grab a BCS bowl bid as an at-large team. They will be playing the Clemson Tigers, who are replacing the Florida State Seminoles as the ACC representatives.
Which BCS bowl game are you most excited about?
This game is going to have a ton of offensive playmakers to watch for. On Ohio State, Braxton Miller has accounted for 2,893 total yards and 32 total touchdowns this season, while Carlos Hyde has run for 1,408 yards and 14 scores of his own.
For Clemson, Tajh Boyd and Sammy Watkins will be looking to connect often. Boyd has accounted for over 3,700 total yards and 38 total touchdowns, while Sammy Watkins has caught 85 passes for 1,237 yards and 10 touchdowns.
Lastly, the BCS National Championship will have the team of destiny in the Auburn Tigers going up against the undefeated and top-ranked Florida State Seminoles.
Obviously a lot of eyes will be on Jameis Winston, who is currently the front-runner for the Heisman Trophy, but Tre Mason will be getting a lot of attention as well. He's run for 1,621 yards and 22 touchdowns this season, going off for 304 yards and four scores in the SEC Championship Game.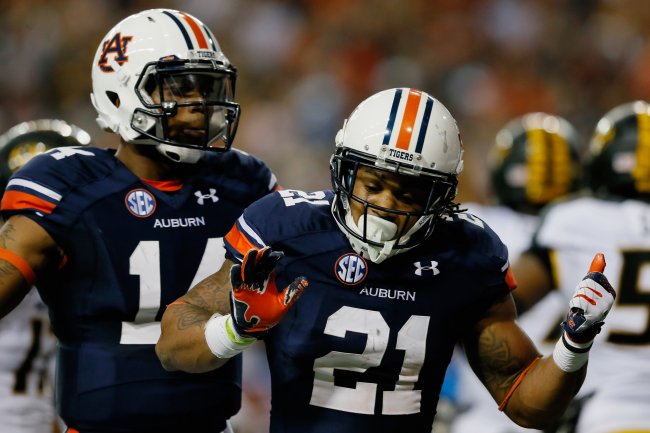 Kevin C. Cox/Getty Images
The Tigers have the No. 1 rushing offense in the nation, averaging 335.7 yards per game. However, the Seminoles have held their opponents to just 117.3 rushing yards per game and 3.2 yards per carry, so it will be interesting to see how the two sides match up.
Overall, the BCS bowl games provide a number of exciting matchups that will make for a great week of football. With this being the last season that college football is using the BCS system, it would be great to see it sent off with some instant classics.