Browns vs. Patriots: Full Roster Report Card Grades for Cleveland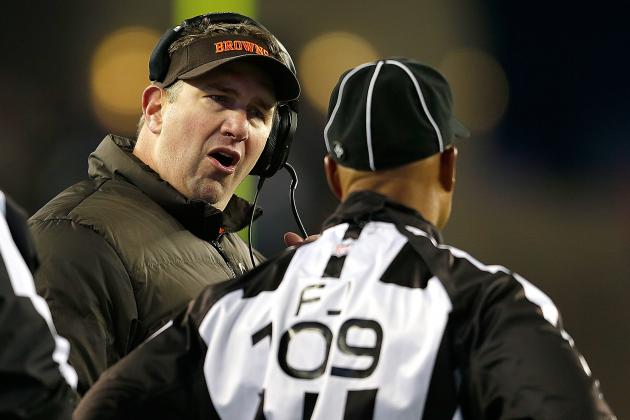 Jim Rogash/Getty Images

The Cleveland Browns bounced back nicely from their Week 13 loss to the Jacksonville Jaguars and nearly pulled off the unlikely upset of the New England Patriots in Foxborough. Last week, the entire team got "F" grades for the poor performance, but this week, it will be much different.
It's not often that you can find so many positives in a loss, but that was the case in Sunday's 27-26 loss. The Browns played one of their more complete games of the 2013 season and showed that they are still battling every week.
Unfortunately, I cannot give the referees grades for their performance, but let's just say they would be very similar to the Browns grades last Monday.
This week's report card is the kind that you're proud to take home to mom.
As always, weekly grades are handed out based on how much a player impacted the game, if he won his individual battle, whether he was a positive contributor and if he could have performed better.
Let's see how they did.
Begin Slideshow

»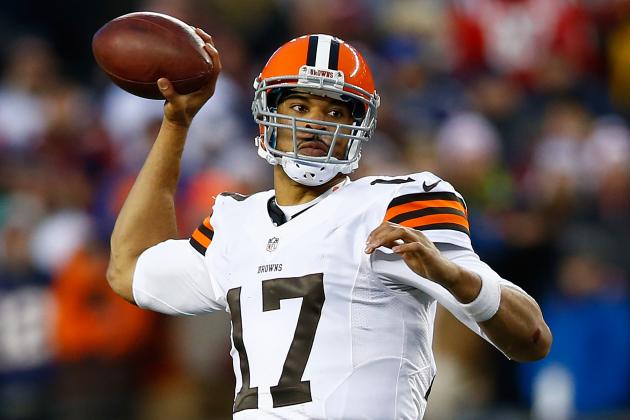 Jared Wickerham/Getty Images

Jason Campbell played his best game as a member of the Cleveland Browns and one of the best games of his career. He was 29-of-44 for 391 yards and three touchdowns.
What was most impressive was how aggressive he was down the field. He made quick decisions with the football and played well enough to win.
If Campbell can find any level of consistency, he may have a job as a starter again next year for another team.
Previous position grades: D+, C+, C+, A, B, D+, F, A, A, D, D, F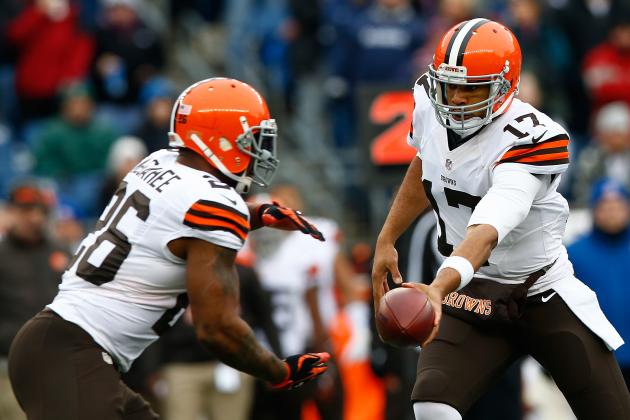 Jared Wickerham/Getty Images

Chris Ogbonnaya, Willis McGahee and Fozzy Whittaker: D-
While the team did run for 108 yards, that number is very deceiving. Wide receiver Josh Gordon had 34 of that total on one run, and Jason Campbell added 27.
What's most disappointing about this unit is that New England had been gashed on the ground over the past few weeks.
These three running backs combined for just 2.1 yards per carry.
Previous position grades: C-, C-, D+, B-, B+, B+, D, C-, D, C-, D-, F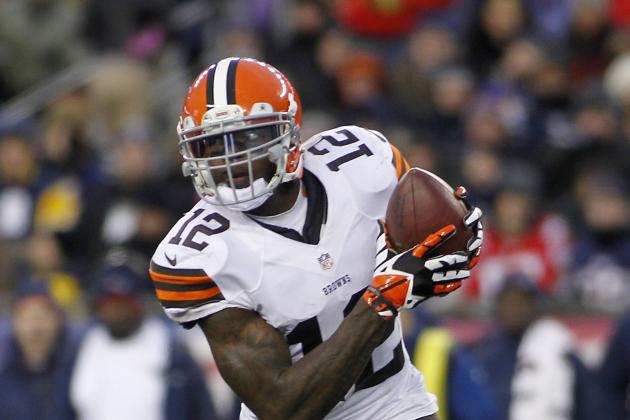 Stew Milne-USA TODAY Sports

Josh Gordon, Davone Bess and Greg Little: A+
I caught a ton of flack for giving this unit an "F" grade last week when Gordon set the franchise record for receiving yards.
While that was an "A+" effort, this week was as well. Even though Bill Belichick schemed to take away Gordon, he still caught seven passes for 151 yards and a touchdown.
The man is straight dominant. Quick question, though: Where is everyone else in this group?
Previous position grades: D, D, A-, B+, A-, C+, D, C, B+, C-, C+, F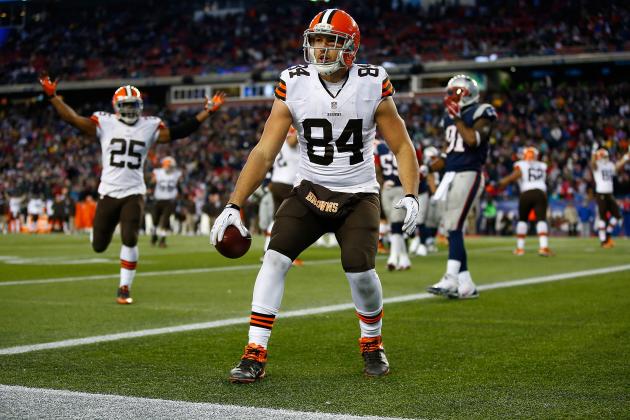 Jared Wickerham/Getty Images

Jordan Cameron and Gary Barnidge: A+
Someone cue Mark Morrison, because Sunday was the return of the mack. Jordan Cameron was finally released from witness protection and broke out in a huge way.
He caught nine passes for 121 yards and a touchdown. He seems to finally be learning how to find openings against double-teams and bracket coverages.
Gary Barnidge also added two catches for 49 yards and a touchdown.
Previous position grades: A-, A-, A, A, C+, B, B+, B+, B, C-, D-, F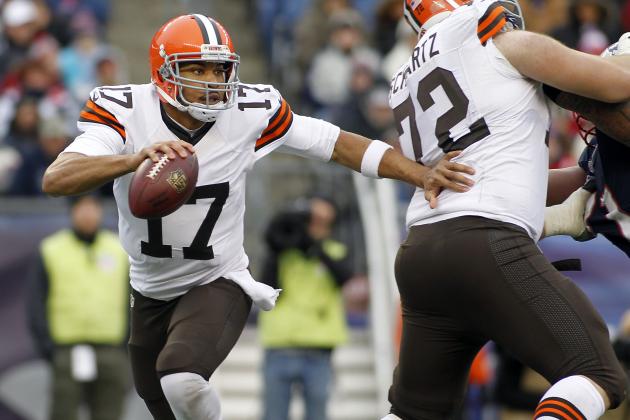 Stew Milne-USA TODAY Sports

Joe Thomas, John Greco, Alex Mack, Shawn Lauvao and Mitchell Schwartz: B+
This unit allowed just one sack and four quarterback hits on Sunday. It was the best performance since the Cincinnati game.
Campbell had tons of time to throw and did not have to take too many hits. Bill Belichick has not been blitzing as much over the past few weeks, so this also helped the offensive line's cause.
Once again, the rushing issues fall partly on the shoulders of this group, though.
Previous position grades: F, D+, D+, C+, C-, A-, B, A+, A, D, D+, F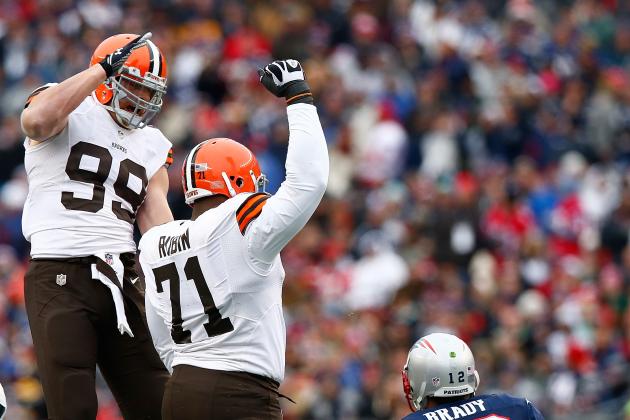 Jared Wickerham/Getty Images

Phil Taylor, Ahtyba Rubin, John Hughes, Armonty Bryant and Billy Winn: B-
The defensive line was once again a presence and created a lot of opportunities for the linebackers. The outside linebackers had four sacks, but it was the big guys up front doing the heavy lifting.
They also completely shut down the Patriots running game. With little room to operate, the Pats running backs rushed for just 87 combined yards.
Previous position grades: A+, B-, B-, A-, C+, C+, C+, B+, A, C+, D-, F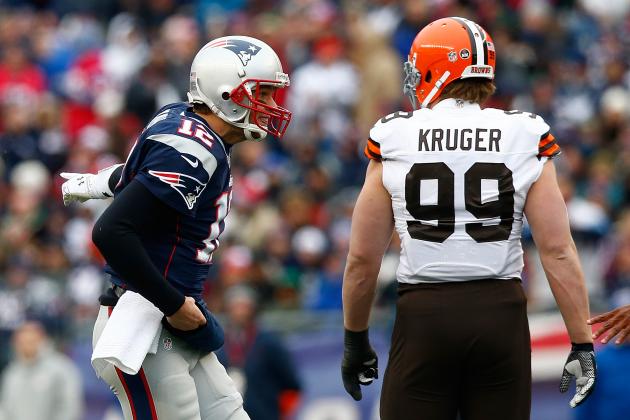 Jared Wickerham/Getty Images

Paul Kruger, Jabaal Sheard and Barkevious Mingo: A+
Ladies and gentlemen, you can call off the search party. The Browns found their pass rush.
This group was as dominant as it has been all year. Paul Kruger had his best day as a member of the Cleveland Browns. He registered four tackles, two sacks, one tackle for loss and one pass defended.
Barkevious Mingo and Jabaal Sheard also had a sack each.
Previous position grades: A-, A-, B, B-, C, C+, C+, B+, B, C-, D-, F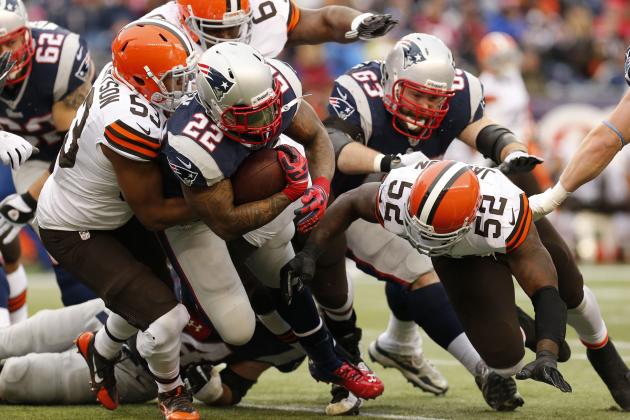 David Butler II-USA TODAY Sports

Craig Robertson and D'Qwell Jackson: C-
This unit was back to full strength, and it showed in the run defense. D'Qwell Jackson was his usual stout self and even defended a pass on Sunday.
Robertson, however, was the target of Patriots quarterback Tom Brady quite a bit in the second half. They isolated him against running back Shane Vereen, and Robertson was abused.
Vereen finished with 12 catches for 153 yards.
Previous position grades: B, A-, B-, C+, C-, D-, D-, D, A+, B+, B-, C-, F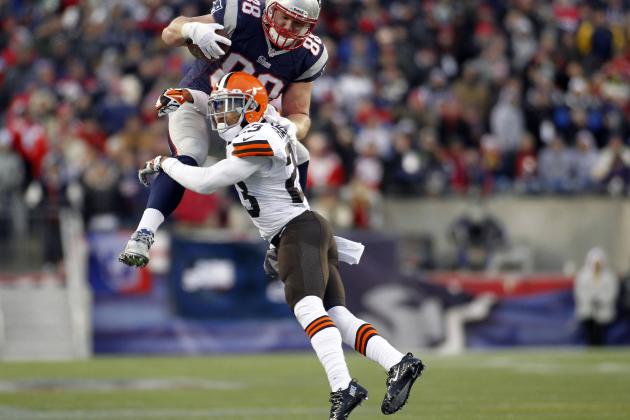 Stew Milne-USA TODAY Sports

Buster Skrine, Leon McFadden and Joe Haden: C+
Joe Haden played fairly well but was beaten for a touchdown on a crossing route by Julian Edelman late in the game.
Leon McFadden was targeted quite a bit but held his own. The worst part of their day was the final quarter. Brady did whatever he wanted against the Browns secondary.
This was the first time this season that they allowed a quarterback to throw for over 300 yards.
Previous position grades: C-, C, A, A, A, B-, D+, B, C+, A+, D+, F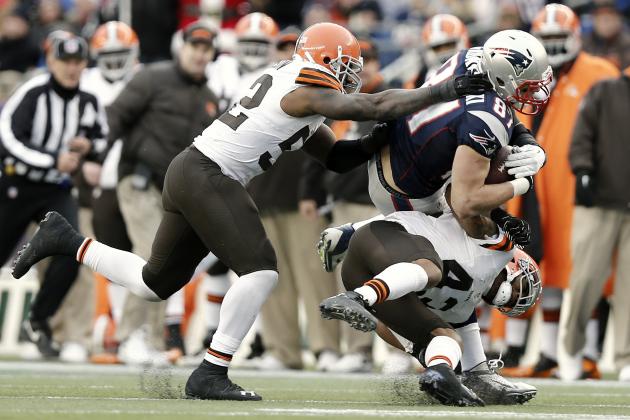 Winslow Townson-USA TODAY Sports

Tashaun Gipson and T.J. Ward: C
T.J. Ward and Tashaun Gipson played pretty darn good in coverage Sunday. Before Rob Gronkowski left the game on a cart because of a hit by Ward, he had just two catches for 32 yards.
This unit was also part of the feeble attempt to cover Vereen out of the backfield. They failed just as bad as Robertson.
Previous position grades: C+, B, B-, C+, A, B+, B, B-, B, C, C+, F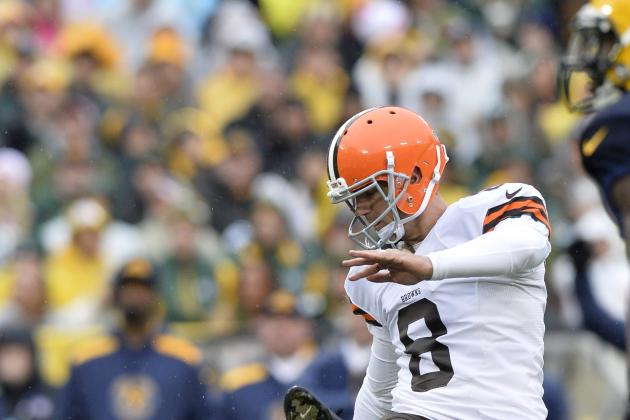 Brian Kersey/Getty Images

Billy Cundiff, Spencer Lanning, Fozzy Whittaker, Jordan Poyer and coverage units: C
Kicker Billy Cundiff missed a 58-yard field-goal attempt to win the game as time expired. Kicking from that distance is not his strong suit.
The rest of the special teams were solid. Punter Spencer Lanning had a good day, dropping five of his six punts inside the 20-yard line.
Previous position grades: C+, C+, A+, D+, A+, B-, B, C, B, D+, C, F