The 2014 Fiesta Bowl will feature the Baylor Bears and Central Florida Knights. While it may not be the flashiest of the BCS bowl games, it's still a great chance for an epic upset.
Last year's Fiesta Bowl game was between the Oregon Ducks and Kansas State Wildcats. The Ducks went on to win 35-17, and it wasn't a very close game. Still, as we've learned multiple times this season, no win is guaranteed.
Below is a look at the 2014 Fiesta Bowl viewing information, a breakdown of each team and a prediction for the outcome.
Viewing Information
Where: University of Phoenix Stadium, Glendale, Ariz.
Date: Wednesday, January 1
Time: 8:30 p.m. ET
TV: ESPN
Baylor Bears (11-1, 8-1 Big 12)
Things were looking very bleak for Baylor's BCS chances after it fell to the Oklahoma State Cowboys 49-17 just a few weeks ago. Not only that, but it also looked like the Bears might not grab the Big 12 title.
That all changed this past week. The Cowboys lost to the Oklahoma Sooners, meaning that the Bears needed a win over the Texas Longhorns to become conference champions. Baylor won, locking up a berth for the Fiesta Bowl.
Baylor's success this season has been due to its high-powered offense, which is the most efficient in the country. The Bears put up an average of 624.3 total yards and 53.3 points per game, leading the nation in both categories.
Bryce Petty has been a big reason for the team's success on offense. This season, he's thrown for 3,844 yards, 30 touchdowns and just two interceptions, adding another 11 scores on the ground. Meanwhile, running back Lache Seastrunk has added another 1,060 yards and 11 touchdowns of his own.
That offense will be the key to this team's success. The Bears have struggled to get going early in games recently, and they will need to make sure to get off to a hot start to avoid the upset.
Central Florida Knights (11-1, 8-0 AAC)
Video courtesy of ESPN.com
Like the Bears, the Knights have gone 11-1 this season. While their competition hasn't been as tough, the Knights have taken down teams such as Louisville and Houston, while losing to the South Carolina Gamecocks by just three points.
There have been a couple of close calls over the past two games, however. The Knights were incredibly close to losing against the 2-10 South Florida Bulls and 5-7 SMU Mustangs the past two weeks, but they were able to squeak out those two wins by a combined seven points.
Blake Bortles is the key to the offense for Central Florida. This season, he's thrown for 3,280 yards, 22 touchdowns and seven interceptions, adding another five scores on the ground. NFL scouts are beginning to take notice of him. While he likely won't be a first-round selection, he could be taken relatively early if he decided to go pro.
The Knights also rely on a stingy defense that allows just 19.6 points per game. That defense will need to be on top of its game against Baylor, as the Bears will try to run all over them.
Prediction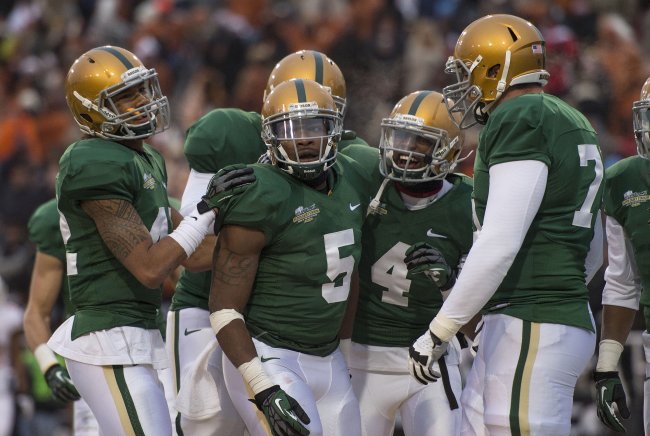 Jerome Miron-USA TODAY Sports
While there is potential for an upset, I just don't see it happening in this year's Fiesta Bowl.
The Bears are too talented offensively, and while the numbers have been good on defense for the Knights, those numbers came against a significantly lower level of competition. I expect the Bears to have a huge game and end this season on a high note.
Prediction: Baylor 49, Central Florida 27