Daniel Bryan Has Elevated the Wyatt Family as a Serious Heel Stable
Use your ← → (arrow) keys to browse more stories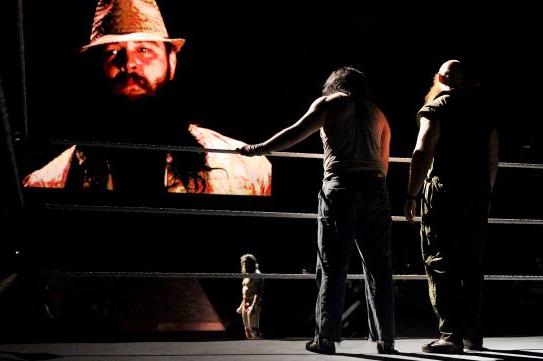 courtesy of wwe.com

It's here.
And it wants Daniel Bryan.
The Wyatt Family has carved a path of destruction through multiple WWE Superstars in recent months and shows absolutely no signs of ever stopping.
That is where Bryan comes in.
As arguably the most popular Superstar on the talent roster at the moment, Bryan possesses a key ingredient that few individuals can ever hope to gain: He can launch the career of another Superstar.
Simply put, no matter who Bryan squares off against, they will come out looking far better than they did to begin with. And unlike enhancement talents that need to lose every time in order to put over another person, Bryan can help others with his victories.
Even if he happens to triumph over the Wyatt trio at TLC, the group will still come out looking very good because it will have likely put a huge beating on Bryan and he will have sold his foes' offense to make them look unstoppable.
Frankly, some fans just like to root for the bad guy. Sometimes it is intriguing to see a compelling character do well, no matter what his allegiance is to good or evil.
And every villain needs a good guy to play off of. Despite his past as a heel, with his loud "NO!" chants and various baddie tendencies, Bryan is firmly a face now and it would take something catastrophic to ever change that.
Now, Bryan is the rare type of superstar that has the ability to make anyone look like a star.
Bryan has the "Hulk Hogan quality" in that anyone he faces becomes a main event player—no matter how ridiculous their gimmick or strange their appearance.
Hogan faced guys like Earthquake and King Bundy, whose only real attribute was their large waistlines. The Wyatts also possess massive size and are cut from a similar mold.
Rowan, an absolute mountain of a man at 6'8", is the power of the group and not shy about showing it. One need only reference any match that he has participated in to see how he tosses around full-grown men with relative ease.
Harper, who has been the breakout star of the group, has showcased many skills in his time with the company. First, as the person who participates in a vast majority of the family's matches, Harper has proven himself a workhorse with a tireless drive to please Bray Wyatt. His only losses have come from silly mistakes or just better opponents, like Bryan.
But his intimidating size (6'5") and incredible speed and agility for a man of his size have made him perhaps the most feared person of the group.
And then there's Bray Wyatt himself, the master of ceremonies.
As the charismatic leader of the group, Wyatt seems to hold almost complete control over his two monsters, unleashing them on anyone that steps in their path and sometimes people that have not done anything at all to them.
With another trio of heels—the Shield—lurking in the shadows, the Wyatts had their work cut out for them from the start. However, the company took its time with the group rather than rushing it into the spotlight.
The case could be made for doing things one of two ways at this point. Clearly, the Shield were thrust into the spotlight and have thrived ever since. Meanwhile, the Wyatts debuted after a long series of vignettes, and at this moment, the WWE Universe is still not entirely sure what exactly their master plan is.
In fact, only Bray Wyatt himself seems to know.
And that might be what makes the group so intriguing.
With his rambling speeches about things that seem to make no sense, Wyatt creates a great deal of confusion. At the end of them, however, fans are always left wondering what their next move is.
After mentioning Hogan, it would be a travesty to not mention another WWE legend, Jake "the Snake" Roberts. After all, it is Roberts that Wyatt seems to channel as he delivers his cryptic and chilling sermons. The group even hails from Snake Bight, Florida.
Wyatt has now decided that he wants Bryan to join the family, which seems incredibly unlikely.
As stated previously, Bryan's popularity is off the charts—much to the surprise of company brass. Why would it decide to halt his skyrocketing potential by limiting his growth within a group setting?
Even though his brief partnership with CM Punk was fruitful, it stifled the two men, as they both work better in singles environments. Sure, as a duo they were unstoppable, but they both need a chance to shine. That does not work in a group setting.
If Bray Wyatt has anything to do with it, though, Bryan's popularity and skill have nothing to do with the ultimate plan.
What exactly that plan is, we'll have to wait impatiently to find out.