With seemingly insurmountable odds against them heading into their respective handicap matches at TLC, WWE Superstars CM Punk and Daniel Bryan have clearly got their work cut out for them.
Fortunately for the two, that's probably exactly how they would like things to stand.
As Punk prepares to face all three members of the Shield, and Bryan laces up his boots and heads into battle with the upstart Wyatt Family, many intangibles should be factored into the equation before completely counting out either competitor.
Yes, three-on-one encounters are firmly skewed in favor of the side that boasts multiple individuals. However, we are not dealing with enhancement talent when it comes to Punk and Bryan. Instead,we have perhaps the two most talented in-ring technicians in the company getting ready to unleash whatever fury that they are capable of.
And, in Punk's case, he may be preparing to step into the ring with a trio that is falling apart.
For weeks now, it seems as if there was a slight crack in the foundation of the Shield. United States champion Dean Ambrose, who has always been the mouthpiece of the group, has seemed to be getting strange glances from both Seth Rollins and Roman Reigns.
He constantly interrupts them when they are speaking, and after watching Ambrose stall while announcing a Slammy Award win for Shawn Michaels, Reigns simply announced Michaels as the winner, which received an angry stare from Ambrose.
In addition, Ambrose seemed to take exception to the fact that Rollins and Reigns did not attack Punk when he was thrown out of the ring during his match with the United States champion, which prompted him to banish the former tag team champions to the back.
Moments later, Punk won the match, and the duo returned to the ring, ending the attack when Reigns almost speared Punk out of his boots.
However, that tension still remains, and Punk might not have as brutal of a time as he once thought this Sunday. Pulling out a win would not be out of the question for the Straight Edge Superstar.
In fact, it is highly likely that the rift between the members of the Shield will end up spreading even wider, with Punk picking up a win at the expense of the formerly cohesive trio.
The smart money would be on Reigns to take the deciding fall, though, as he seems to be the member of the Shield that seems the most annoyed by the antics of Ambrose. Plus, if the team does indeed split, it leads to some blockbuster encounters between the former members, with matches that will leave the WWE Universe on their feet and incredibly content.
As for Bryan, his scenario is much trickier. The Wyatts show no signs of dissension, nor will they as long as Luke Harper and Erick Rowan look to Bray Wyatt as their charismatic leader.
Wyatt has teased the idea of making Bryan the newest member of the faction, but that scenario seems incredibly unlikely.
Sure, seeing the normally happy-go-lucky Bryan as a mindless drone would be an interesting, albeit upsetting, situation for the WWE Universe, but it would be a fresh idea at the very least.
However, Bryan's popularity would be stifled by that storyline, and with the amount of passion that fans seem to have for him, it seems ridiculous to think that the company would do anything to hinder that.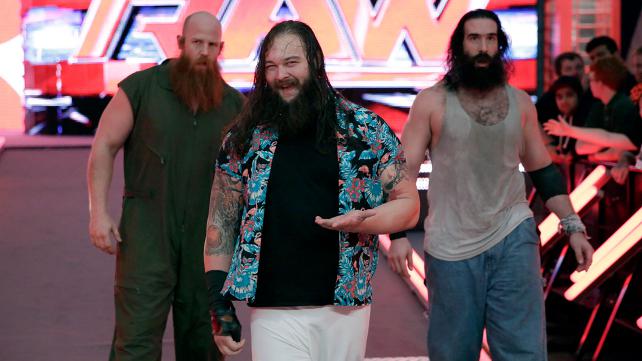 courtesy of wwe.com
During the Championship Ascension Ceremony that took place on Raw, it was not John Cena and Randy Orton that fans cared about. The reaction for Bryan during the segment was nearly deafening, and, though they initially tried to ignore it, many Superstars, even Triple H, finally acknowledged the crowd and their love for Bryan.
Even the normally stoic Randy Orton could not help but laugh at the situation.
And yes, the event took place in Washington State, where Bryan was born and raised, but the reactions are similar everywhere he goes.
So it seems odd that the company would place him in a storyline where he would be relentlessly beaten upon by three monstrous individuals if he was not eventually meant to prevail.
It is hard to imagine a situation where Bryan would be able to win, though.
Unlike Punk, he does not have the luxury of facing a trio that is divided. The Wyatts are as cohesive as can be, and their sheer physicality is enough to make most men quake in their boots.
Of course, Bryan is not a mere man and has always been capable of doing things that were never expected of him. Any of his world-title reigns are evidence of that.
Unfortunately for Bryan, it seems as if the odds are far too stacked against him to win his match. Plus, a win over Bryan, albeit with a great advantage, will do wonders for the credibility of the Wyatt Family.
Because although they are gigantic and tough, the trio have yet to face any real challenge. Bryan would be a challenge for any of the all-time greats, let alone a trio of newcomers.
The trio have proven themselves to be brutal, and with Bray Wyatt at the helm of this mysterious-and-eerie ship, there is no telling what could happen in this match.
But the expectation should be for the trio to triumph, possibly even in relatively quick fashion. Because if the name of the game is making the Wyatts a household name, Bryan is the one person that they can do it against.
And in this case, it seems as if Bryan has bitten off more than he can chew.
And for a man that claims to be a vegan, the Wyatt Family as a whole is a lot of raw meat to swallow.