2014 College Football Recruits Most Likely to Commit During Bowl Season
247Sports

The 2013-14 bowl season will run from Dec. 21 to Jan. 6, according to ESPN. It's a great time for college football, but also a crucial time in recruiting.
A lot of different events take place, including postseason all-star games that give recruits a national platform to announce their decisions. Several elite prospects appear likely to make a commitment on these platforms during bowl season.
The nation's top player will be making his decision next month, while a linebacker is getting ready for an announcement in December. Plus, an offensive tackle could pick a school in a matter of days.
Player evaluations are based on review of tape at Scout.com, Rivals, 247Sports and ESPNU.
Begin Slideshow

»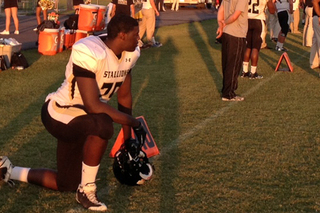 247Sports

David Sharpe is a 4-star offensive tackle who is not close to reaching his potential. That is why a ton of schools are drooling over him, as the 6'6", 288-pound blocker has wonderful athleticism.
Although it's technically not bowl season just yet, it's worth noting that Sharpe will be announcing his commitment on Dec. 12, according to Franz Beard of Gator Country.
With schools such as Florida, Florida State, LSU, Tennessee and Georgia in the mix, the Sunshine State prospect has a tough decision to make.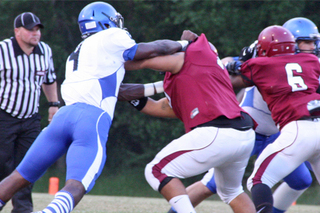 247Sports

At 6'3" and 220 pounds, Rashaan Evans is a talented 4-star defensive player who can play defensive end or linebacker. He is at his best when he can crash off the edges to attack the pocket.
The Alabama native has schools such as Auburn, UCLA, Georgia and Alabama on his mind, per 247Sports. It would be surprising if Evans did not commit to playing on The Plains, and it could happen soon, according to a report by Chad Simmons of Scout.com (subscription required).
The Tigers' great season has helped their chances to land Evans, as well as several other recruits.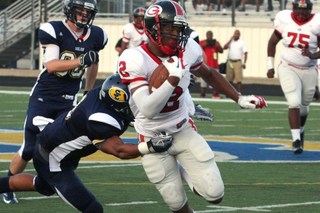 247Sports

Hailing from Ohio, 4-star athlete Marshon Lattimore is understandably coveted on the recruiting trail. The 6'0", 175-pounder can ball as a cornerback, receiver, safety and even play some dual-threat quarterback.
Lattimore is going to make a decision during bowl season probably because he is getting tired of answering questions on where is going to college. In fact, Bill Greene of Scout.com (subscription required) says Lattimore is set to announce at the U.S. Army All-American Bowl on Jan. 6.
Shock would run throughout the recruiting world if Lattimore did not choose Ohio State.
With his ability to impact a game as a receiver, 5-star running back Joe Mixon should catch a ton of passes in college. In fact, at 6'2" and 195 pounds, the California speedster could play on the perimeter at the next level.
Just exactly where that will be remains to be determined, but Mixon is getting close to making a decision.
California, Oklahoma, USC, Wisconsin and UCLA are the schools in the mix, according to Greg Biggins of Scout.com (subscription required), who also reports that Mixon will announce at the U.S. Army All-American Bowl next month.
Clifton Garrett is a 5-star linebacker from Illinois who hits like a truck. He uses his 6'2", 228-pound frame to whack anything that moves on the field, which is why he will make an impact as a true freshman.
The SEC is Garrett's destination. He is looking at LSU, Ole Miss, Florida and Tennessee, with a decision coming on Dec. 17, according to Gerry Hamilton of ESPN (subscription required).
Don't be shocked when the physical 'backer picks LSU.
At 6'1" and 182 pounds, Jalen Tabor is a 5-star cornerback who can also play safety. He has adequate athleticism to play off-man coverage, but is at his best when he can jam receivers at the line.
Tabor has a core group that includes Alabama, Maryland, Florida and Arizona. He is scheduled to make an announcement at the Under Armour All-America Game on Jan. 2, per Rachel Klein of Scout.com (subscription required).
The Terps may be the pick, but do not count out the Gators and Crimson Tide.
A ferocious linebacker from Georgia, Raekwon McMillan looks like a collegiate athlete now at 6'2" and 242 pounds. He displays good instincts, and explodes at the point of attack when making contact with opponents.
McMillan has had a long recruitment, but he has narrowed his list to five finalists. On Dec. 16, Ohio State, Alabama, Clemson, Georgia and Auburn will learn if the 5-star 'backer will be tackling running backs at their school next season, says Gerry Hamilton of ESPN (subscription required).
Gerald Willis and Speedy Noil are 5-star prospects who are teammates at Edna Karr High School in New Orleans. Willis, who is 6'3" and 275 pounds, can play defensive end or kick inside to defensive tackle.
At 5'10.5" and 176 pounds, Noil is a jet who likely will play receiver in college. The pair of studs have taken several visits together, which is why it's no surprise they will be announcing their college choice together at the Under Armour All-America Game early in January, per Chad Simmons of Scout.com.
Look for Noil and Willis to announce for LSU, if not Texas A&M.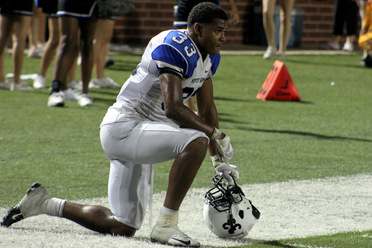 247Sports

Jamal Adams is a 5-star safety from Texas who is 6'0" and 199 pounds. With his great speed, Adams has the ability to play several positions on defense.
He's fast enough to play cornerback, but also has the strength and toughness to play outside linebacker.
Texas, Florida, Ohio State, LSU and Texas A&M are still lurking around for Adams, says Erin Hartigan of Scout.com, who also reports that the talented safety will make an announcement at the Under Armour All-America Game in a few weeks.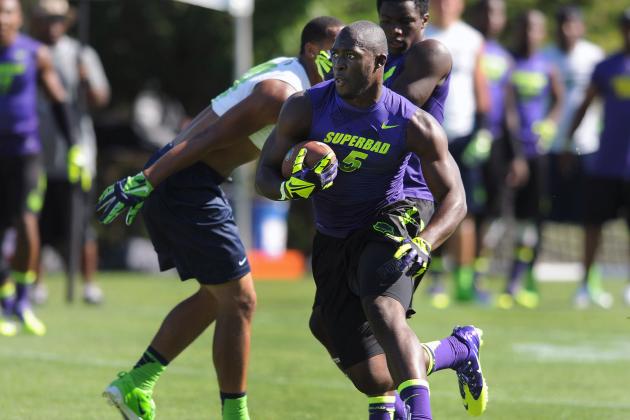 Steve Dykes-USA TODAY Sports

Perhaps the nation's top overall recruit, 5-star running back Leonard Fournette will have the country on the edge of its seat on Jan. 2.
Not only will the 6'1", 226-pound running back be showing off his skills at the Under All-America Game, but he'll also be announcing his college decision, says Chad Simmons of Scout.com (subscription required).
A player of Fournette's stature could easily choose to drag his recruitment past national signing day, so it's admirable that he will get it over with in a few weeks. While it would make sense for him to head to Alabama, LSU has to feel good about its chances.
Many prospects who are set to announce their decisions soon are featured on the 2014 Bleacher Report College Football Recruiting Heat Map!
Edwin Weathersby is the College Football Recruiting Analyst for Bleacher Report. He has worked in scouting/player personnel departments for three professional football teams, including the New York Giants and Cleveland Browns.