The San Francisco 49ers (9-4) got a huge 19-17 victory at home Sunday over the Seattle Seahawks (11-2).
#49ers beat Seahawks, 19-17. ... So who's got it better than us?

— San Francisco 49ers (@49ers) December 9, 2013
This game was exactly what fans would have expected in such a heated rivalry. Those who wanted to see one of the most intense games in the league certainly got their wish in this Week 14 NFC West clash.
Both coaches alluded to the difficulty of such a tough matchup after the game:
"This was a good, hard-fought, tough matchup. ... What's important to us is that we've got a lot of football left." - @PeteCarroll #SEAvsSF

— Seattle Seahawks (@Seahawks) December 9, 2013
Harbaugh asked if he enjoys Seahawks rivalry: "Enjoy it? That's not the word I would use...These games are only for the tough." #49ers

— San Francisco 49ers (@49ers) December 9, 2013
The mutual disdain of each other was on full display. A total of 16 penalties were called between the two teams for 155 yards, and there seemed to be some jawing or extracurricular activity after almost every play.
As much as the pregame hype focused on star young quarterbacks Russell Wilson and Colin Kaepernick, they combined to pass for 374 yards and two touchdowns. Each QB also had an interception.
Both struggled to find open receivers and had little success with big throws down the field. Bucky Brooks of NFL.com noticed how the physicality of the Seahawks secondary in particular paid big dividends as the game went on.
The @Seahawks commitment to challenging WRs on the outside wears opponents down. Most WR's eventually cave in to the persistent physicality

— Bucky Brooks (@BuckyBrooks) December 8, 2013
As most would expect with such a physical game, it was defense that ruled the day. In the first half, the Seahawks did a great job of stifling the 49ers offense and minimizing any damage.
After putting a productive sequence of plays together, San Francisco had 1st-and-10 at the Seattle 14-yard line. As close as they got to the end zone, however, the Niners would instead settle for a 23-yard field goal from Phil Dawson for the first score of the game.
Kassim Osgood blocked a punt from Jon Ryan late in the first quarter that would see San Francisco get the ball on the Seattle 34-yard line. Even with optimal field position, the 49ers could only manage three points, with Dawson nailing one from 48 yards out to give the Niners a 6-0 lead late in the first quarter.
The Seahawks would notch their first score of the game about three minutes into the second quarter, as Marshawn Lynch found the end zone on an 11-yard touchdown run.
San Francisco answered with yet another field goal to grab the lead back and make it a 9-7 game. It was another impressive job by the Seattle defense, as San Francisco gained just three yards after crossing the 50-yard line.
A 39-yard touchdown pass from Russell Wilson to Luke Wilson made it a 14-9 game with a little under four minutes left in the half.
Mark Purdy of the San Jose Mercury News noted that the Seahawks were having some success when looking toward Wilson.
Seahawks are working that Luke Wilson vs. Patrick Willis matchup effectively. Niners need to find similar vulnerability with their TEs.

— Mark Purdy (@MercPurdy) December 8, 2013
Right before halftime, the 49ers finally posted their first touchdown of the game. Kaepernick hit Vernon Davis for an eight-yard score that helped pull San Francisco ahead by two, 16-14, with six seconds left on the clock.
It was a great way for the Niners to end the first half. After getting shut down for so much of the game, it was important for the offense to find the end zone. That provided a much-needed confidence boost and steeled the defense to step up in the second half.
The first points of the half came in the fourth quarter, courtesy of a 31-yard field goal from Steven Hauschka to once again put Seattle ahead, 17-16.
Following that score, the 49ers would eat up nearly six minutes of clock. They marched 76 yards down the field, 51 of which came courtesy of a huge run from Frank Gore, which moved the ball into field-goal range.
Dawson would hit his fourth field goal of the game to put San Francisco ahead 19-17 with just 26 seconds left to play.
Wilson tried to heave it deep to Jermaine Kearse on the first play of Seattle's drive, but the pass was intercepted by Eric Wright, which effectively sealed the San Francisco win.
Postgame celebration. #49ers pic.twitter.com/0SGbZOSZPd

— San Francisco 49ers (@49ers) December 9, 2013
Despite the tough, Seattle is still in the driver's seat for the top seed in the NFC. Head coach Pete Carroll emphasized the importance of his team shifting its focus toward next week.
"We've got three huge games coming up here. We've got to get back together and move on to New York." - @PeteCarroll #SEAvsSF

— Seattle Seahawks (@Seahawks) December 9, 2013
Key Player Grades
Colin Kaepernick, San Francisco 49ers: B
Kaepernick's performance was about what fans have come to expect from him this season. He didn't have a ton of highlight plays, but he was able to move the ball with short throws and avoided making too many costly mistakes.
In the end, Kaepernick was 15-of-29 for 175 yards, with one touchdown and one interception.
Nobody will be complaining about his numbers after a win.
No caption needed. #49ers pic.twitter.com/lhqnO5nvgC

— San Francisco 49ers (@49ers) December 9, 2013
Frank Gore, San Francisco 49ers: B+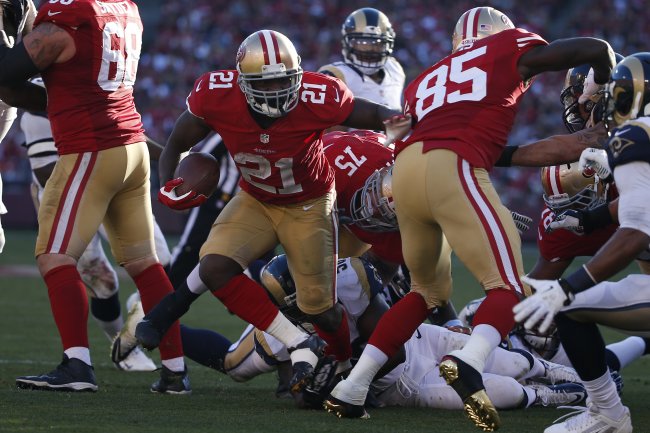 Stephen Lam/Getty Images
It was Gore's run that would set up the game-winning field goal.
He didn't have a ton of success on the ground outside of that burst, as he had 110 yards on 17 carries with 51 coming on that crucial play in the fourth quarter.
Late in the game, though, his punishing running style helped to move the chains and take valuable seconds off the clock. The veteran running back knew his team had to grind for four quarters to emerge with a win:
Gore: "We knew we had to attack all four quarters...have to go take it." #49ers

— San Francisco 49ers (@49ers) December 9, 2013
San Francisco likely wouldn't have won this game without Gore.
Russell Wilson, Seattle Seahawks: B+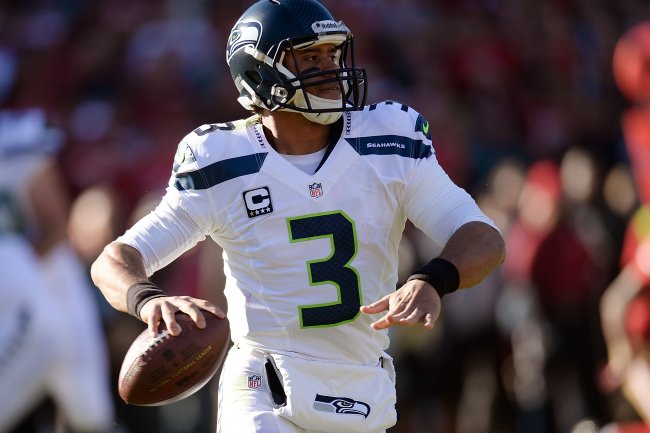 Thearon W. Henderson/Getty Images
Wilson would finish 15-of-25 for 199 yards, one touchdown and one interception.
Those numbers were impressive when you consider how well the 49ers defense played. In addition, Lynch was only able to total 72 yards rushing, so Wilson wasn't receiving ton of support from the ground game.
Between Wilson and Kaepernick, it was the Seattle signal-caller who had the better individual day despite the loss.
What's Next
The Seahawks will stay on the road next week when they travel to MetLife Stadium to take on the New York Giants. San Francisco will be hitting the road as well, making the trip to Tampa Bay for a matchup with the Buccaneers.