The college football season has a funny way of sorting itself out. It wasn't all that long ago when Alabama, Florida State, Oregon, Ohio State and Baylor were all undefeated and looking strong.
It appeared as if we were headed toward a BCS disaster. Who would play in the BCS title game when all those teams went undefeated, we wondered?
Well, flash forward to after the conference championship games. Only Florida State remains undefeated, and projecting the BCS title game is a breeze. With an unbelievable run to close out the season, including just one loss on the season and the SEC title, Auburn has left little doubt about who Florida State's opponent will be for the title game.
The outlook for all BCS games is not quite as clear. Here are my latest projections, which I'll follow up with a closer look at some of the more interesting selections.
Langford's BCS Bowl Projections

| | | | | |
| --- | --- | --- | --- | --- |
| BCS Game | Date | Location | Matchup | Prediction |
| Rose Bowl | Jan. 1 | Pasadena, Calif. | Big Ten/BCS vs. Pac-12/BCS | Michigan State vs. Stanford |
| Fiesta Bowl | Jan. 1 | Glendale, Ariz. | Big 12/BCS vs. BCS | Baylor vs. UCF |
| Sugar Bowl | Jan. 2 | New Orleans, La. | SEC/BCS vs. BCS | Alabama vs. Oklahoma |
| Orange Bowl | Jan. 3 | Miami, Fla. | ACC/BCS vs. BCS | Clemson vs. Ohio State |
| BCS Title Game | Jan. 6 | Pasadena, Calif. | BCS No. 1 vs. BCS No. 2 | Auburn vs. Florida State |
Orange Bowl: Clemson vs. Ohio State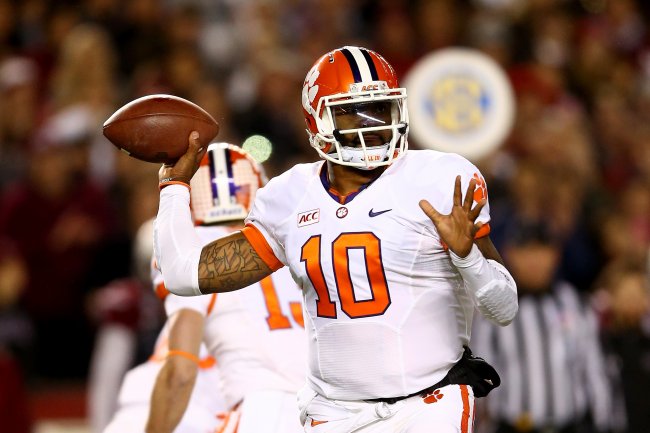 Streeter Lecka/Getty Images
Since Clemson did not win the ACC, the Orange Bowl has no obligation to stick with the conference. In the name of keeping relationships healthy, however, bowls almost always maintain their conference loyalty.
If it wasn't for that, I don't see Clemson getting into a BCS bowl game. The Tigers were humbled 31-17 by South Carolina in their last game for their second loss of the season.
There is more mystery around the selection of the other team. Although, considering the Orange Bowl is first in line with at-large selections, Ohio State is the likeliest possibility.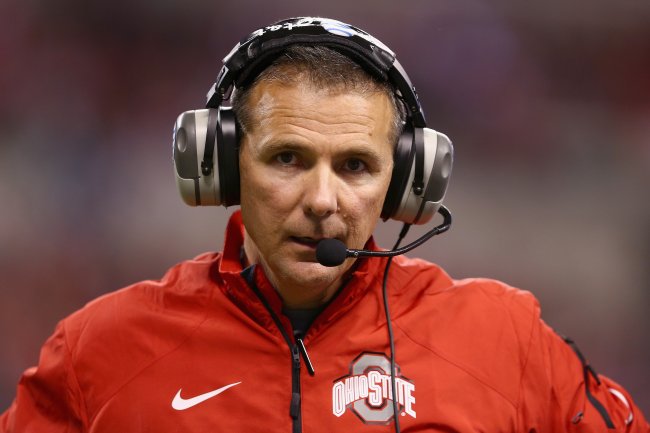 Andy Lyons/Getty Images
The Buckeyes just lost their conference championship game, and the BCS often shies away from teams in that position. Ohio State, however, travels well and carry a high profile.
Sugar Bowl: Alabama vs. Oklahoma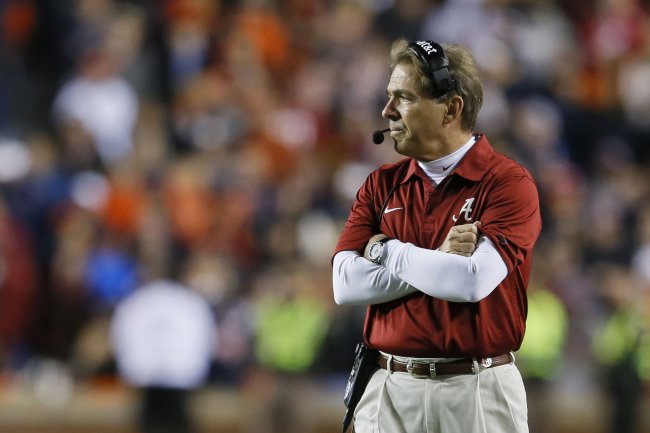 Kevin C. Cox/Getty Images
With Auburn moving into the BCS title game, Alabama is almost a lock for the Sugar Bowl. I'm sure the Sugar Bowl will be more than happy to keep its SEC affiliation by grabbing Nick Saban's crew.
That leaves them with an interesting choice for Alabama's opponent. The Sugar Bowl will likely be deciding between Oregon and Oklahoma.
I'm siding with Oklahoma due to their closer proximity to the bowl and a fanbase that travels better to begin with. Also, the Ducks limped to the finish line by losing two of their last four. That included a blowout loss to Arizona.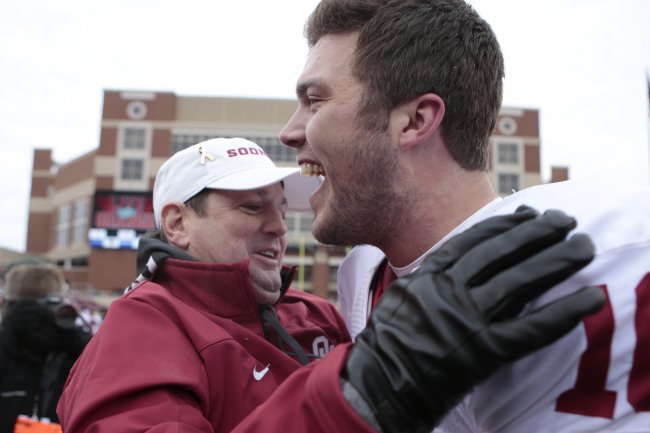 Brett Deering/Getty Images
The Sooners have more momentum and will bring in more people to the area. Case closed.
BCS Title Game: Florida State vs. Auburn
Since this matchup is essentially set in stone and it is the one in the middle of the spotlight, I've decided to look ahead a bit at the key matchup for this game.
That matchup figures to be Florida State's rush defense against the mighty rushing attack of Auburn.
Who would win this matchup?
The Tigers are first in the nation in rushing yards at 335.7 per game. Both running back Tre Mason and quarterback Nick Marshall surpassed the 1,000-yard mark on the ground this season, and most of the damage was done between the tackles with this physical team.
The Seminoles stand a chance of slowing that attack down. Florida State allowed just 1,515 rushing yards and five rushing touchdowns this season. Those yards were gained at an average of just 3.14 yards per carry.
Auburn better hope they raise that average a bit because it is going to be tough for them to stop a Florida State offense that has scored at least 37 points in every game this season.