Bowl Predictions 2013: Highlighting the Most Intriguing Projected Non-BCS Bowls
Use your ← → (arrow) keys to browse more stories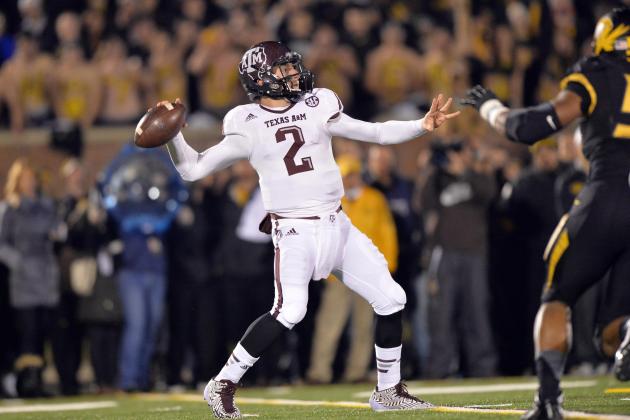 Peter G. Aiken-USA TODAY Sports

Have you heard that Auburn played its way into the National Championship game against Auburn? What about how Alabama and Ohio State both played themselves out of the big game in each of the past two weeks? How there are any number of possibilities for at-large berths, with Oregon and Oklahoma likely fighting for the last spot?
Good. Because we're not talking about any of that.
Every year we're inundated with so much content about BCS bowls that it becomes tiresome. By the time January mercifully rolls around, you could probably hold a reasonably long dinner conversation about the life and times of Rashad Green. Not sure who that is yet? Don't worry, you will.
Instead, let's take a step back and focus on a few matchups that won't make us wait deep into January; only until late December. Well, actually, heck. Some of these things are in January, too. Because George R.R. Martin moves at a faster pace than the bowl season.
Here is what you need to know: We are about to talk about bowl games. They are not BCS bowl games, even if they're played on days traditionally reserved for BCS Bowl contests.
Luckily, next year's switch to the College Football Playoff will fix all this nonsense, right? [looks at next year's schedule] Oh, things take longer now?
Well, alright then.
While your mind is recombobulating itself, here is a look at a few projected bowls that should be as fun to watch—if not more so—than the ballyhooed matchups you'll hear so much about these next few weeks.
Cotton Bowl: Oklahoma State vs. Missouri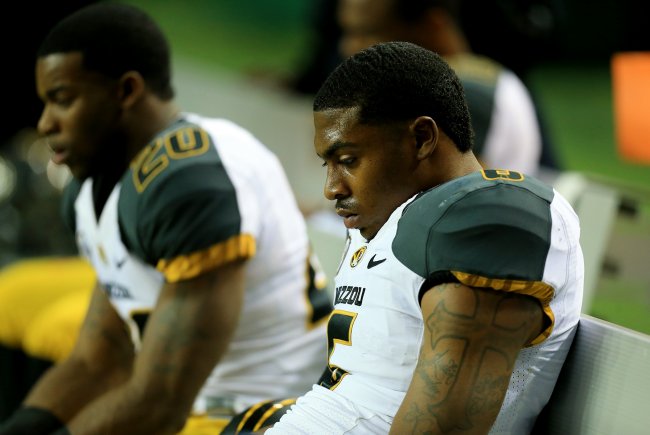 Daniel Shirey-USA TODAY Sports
This shouldn't come as much of a shock. Just about every year the Cotton Bowl serves as the best non-BCS matchup, and this 2013 is no different.
After conference championship week, both Oklahoma State and Missouri have to feel like they blew a shot at a program-defining season—and the Tigers might even feel a little frustrated by the BCS selection process. By virtue of being idle, Alabama locked itself into a top-four spot in the final standings and will play in a BCS bowl.
While there are few who would question the Tide are a more talented team than Gary Pinkel and Co., it's at times become a penalty for a team to play in the conference championship game and lose. Only in the rarest instances has a team lost in the season's final week and wound up in a big game, a fact that Ohio State will likely earn on Sunday.
Nevertheless, the Cowboys and Tigers are as about as evenly matched as two teams can be. The two were ranked No. 5 and No. 6, respectively, in the BCS standings coming into this past week, and only had three spots of separation in Football Outsiders' overall efficiency rankings, which normalizes a team's rating while measuring for factors such as schedule strength.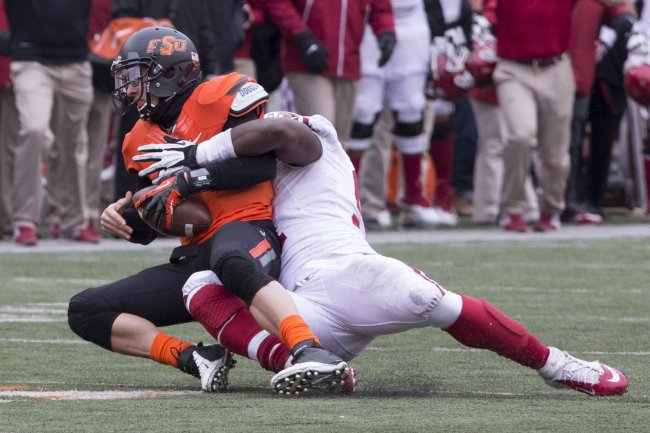 Richard Rowe-USA TODAY Sports
They even follow a relatively similar script to victory.
Missouri has been a more explosive offense—particularly on the ground—but isn't invulnerable to mistakes. James Franklin, who had gone the entire season without completing less than 60 percent of his passes, looked wild and shaky at points in the Tigers' loss to Auburn. Auburn picked him off just once, but that number could have been three or even four had defensive backs held onto the ball.
The concept of dropped picks isn't new to the Cowboys, who can thank their lucky stars they've thrown only 11 balls to the opposing team this season. Clint Chelf is a fun dual threat who got better as the season went along, but it's fair to assume Mike Gundy and Pinkel would be perfectly happy running the ball 40 times and getting out with a win.
Whether they'll be able to do that won't be decided until Jan. 3. But for those who enjoyed the up-and-down nature of the SEC Championship Game, this should suffice as a decent facsimile.
Alamo Bowl: Texas vs. Oregon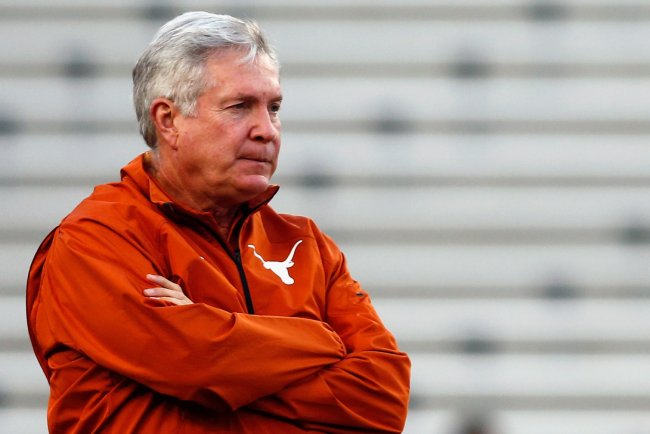 Tom Pennington/Getty Images
Oh, how the storylines are never-ending in this one.
Any Longhorns matchup essentially revolves around the future of head coach Mack Brown. The 62-year-old coach, who has had the most success in Austin this side of Darrell Royal, has been the subject of widespread speculation about his job security all season. After losing to Baylor on Saturday, Texas is on the precipice of finishing outside the Top 25 for the third time in four seasons.
I'll have you know something. Folks in Texas? Yeah, they're passionate about their football. Being considered the 15th-best team every season isn't good enough for Longhorns faithful—let alone not even worthy of being ranked. No one knows whether Texas will make an announcement before its bowl game, let Brown play it out and see what happens or even allow him to walk away if he so chooses.
If Brown is on the sidelines, though, fans may well be watching the last game of his storied tenure.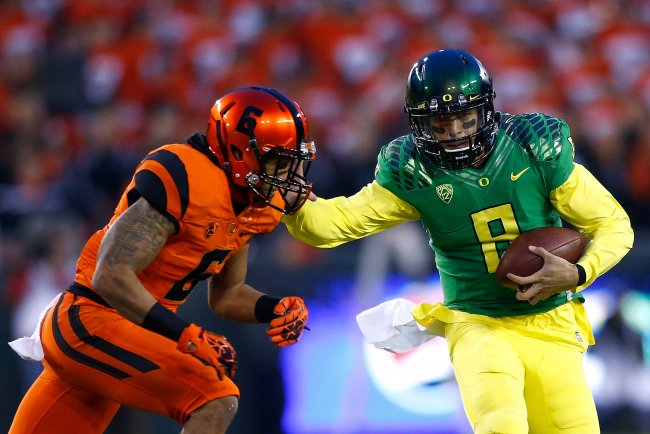 Jonathan Ferrey/Getty Images
First-year Oregon coach Mark Helfrich isn't under the same pressure, but his team has to feel frustrated with how the season ended.
A little more than a month ago, it looked guaranteed that the Ducks would be playing for the national championship. Marcus Mariota was running away with the Heisman on his way to a top-five NFL draft selection, folks were scoffing at Chip Kelly's decision to leave for the Eagles and the roughly $11 trillion dollars Nike has thrown into the school was continuing to pay off.
Whoops.
Now the Ducks are on the precipice of playing in a non-BCS bowl for the first time since the Mike Bellotti era. It's possible that the selection committee will give Oregon an at-large nod, but the momentum is shifting in the favor of Oklahoma after defeating rival Oklahoma State.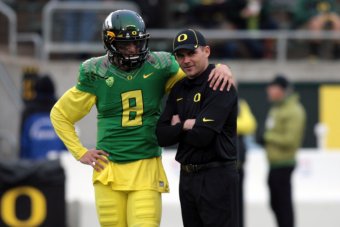 Scott Olmos-USA TODAY Sports
There are a couple positives here, though. First, Marcus Mariota announced he was returning to Eugene for his junior season. That alone likely locks the Ducks into a top-five preseason ranking in 2014.
Second, Oregon should throttle Texas. Baylor hung 30 on the Longhorns despite frigid conditions on Saturday, which is something the two sides shouldn't face in the Alamodome. Which, if you haven't heard, is a dome with controlled conditions.
The game is intriguing from a storyline perspective and because of the two names at the marquee, but Oregon should and will be a pretty heavy favorite.
Chick-fil-A Bowl: Duke vs. Texas A&M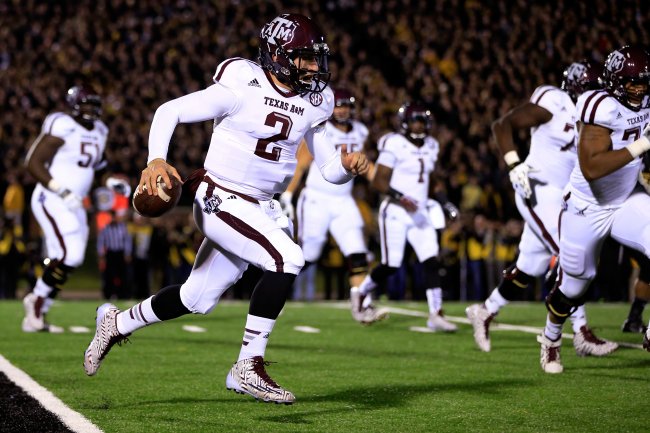 Jamie Squire/Getty Images
Now, to be fair, we don't know that this is going to be Johnny Manziel's last college football game. But, like, this is totally going to be Johnny Manziel's last college football game.
The most controversial (and at times most spectacular) player in the sport will finish his time with the Aggies in relative obscurity.
Heading to the Chick-fil-A Bowl wasn't exactly what Manziel and Kevin Sumlin envisioned when they walked into their final two games ranked No. 12 in the country and in a good position for a BCS bowl. Had the Aggies won out, Manziel would have competed with Jameis Winston for the Heisman, and who knows what would have happened in the SEC Championship Game had it been South Carolina taking on Auburn instead of Missouri.
Instead...blah. Manziel had the worst two-game stretch of his career, the Aggies lost both contests and now they're playing in a bowl game that's only intriguing because of its novelty.
Grant Halverson/Getty Images
And by "novelty," I mean Duke. As much as the Blue Devils are viewed as the Evil Empire of college basketball, their football program has always been the little engine that couldn't. While Duke had its heyday in the 1940s and 1950s, this will be only the fourth bowl game it has played in since 1961. Last year's Belk Bowl appearance was the first time since 1995 it had been invited to postseason play.
This year, though, the Dukies are kinda-sorta good. They won the ACC Coastal Division and had their first 10-win season in history, which of course gave them the right to get pulverized by Florida State in the conference title game.
That distinction will give Duke the right to pretty much get pulverized by Texas A&M.
The Aggies' defense is pitiful enough to where Duke might be able to hang around for a half or so—like a bizarro version of what it did against Florida State—but eventually, talent wins out. The game will probably wind up a three or four-score victory for the Aggies.
I don't care. I want to see Manziel on the college stage one last time. I want to see him throw up an impossibly difficult pass to Mike Evans, only for the 6'5" wideout to come down with it and make it all look easy. I want to see scramble out on a rush, extend a broken play and scamper for 11 yards on a 3rd-and-10.
And I, frankly, want to see Duke in a meaningful bowl game. Because with Manziel likely heading to the NFL and Duke probably heading back in the wrong direction next season, you never know if we'll get to see either at these heights again.
Follow Tyler Conway on Twitter: