Why Manchester City Must Hang onto Sergio Aguero at All Costs
Use your ← → (arrow) keys to browse more stories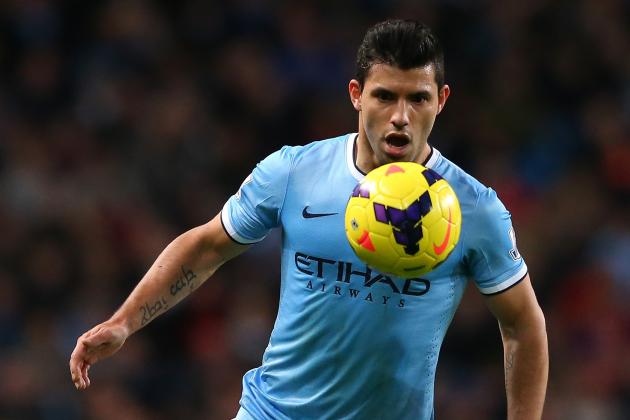 Alex Livesey/Getty Images

An edited highlights package of the Premier League season so far would pretty much be made up exclusively of Arsenal's fine play and terrific goals from Luis Suarez and Sergio Aguero.
Whilst most can agree that the Gunners' free-flowing style has been terrific to watch, the rush to compare the division's two top South American forwards continues. But what is surely clear is their importance to their respective sides' challenges during this campaign cannot be overstated.
With 26 goals between them, the duo combined have found the net more often than every team in the Premier League bar the current top four, with the grace and style of their goals marking them out as easily the top two forwards in the division.
As Liverpool have already discovered though, such quality only leads to admiring glances from others.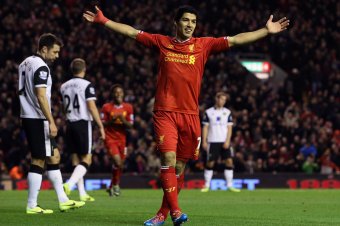 Jan Kruger/Getty Images
It has to be said that the Reds handled the summer-long saga over Suarez's potential move away terrifically, ensuring that the Uruguayan ended up almost feeling compelled to stay and repay them for the support they showed for him during testing times. And how he has repaid them.
Aguero hasn't quite caused the level of trouble that Suarez has in the past, but Manchester City could just learn a thing or two from the Reds in handling him.
Barely a month can go by without the Argentinean being linked with a move to one of the Spanish giants, with the Daily Mail's Pete Jenson reporting interest from Barcelona earlier in December, and Steve Millar of the Daily Star claiming that Real Madrid have priced up a move for Aguero in a report published on Sunday.
All the whispers could well be designed at turning Aguero's head in much the same way that Suarez's was in the summer, but it is now up to City to convince their star man that the Etihad Stadium is the place to stay and play his football.
Losing the jewel in the City crown would hardly be on the agenda of Sheikh Mansour, Khaldoon Al Mubarak and the club's money men, and so holding on to the forward simply has to be regarded as imperative should the club continue in their quest to rub shoulders with the European elite.
Aguero signed a lucrative contract extension last summer which has seen his City deal extended to 2017, but as everyone who follows modern football knows, such words on pieces of paper have a habit of ending up looking quite hollow should differing circumstances arise.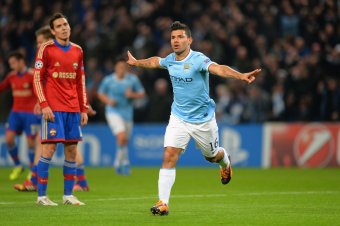 Shaun Botterill/Getty Images
On the pitch, another league title―albeit one achieved a little more sedately than the last one―as well as a strong run in the Champions League would go a long way towards keeping the forward happy in Manchester, but there is nothing to suggest that he isn't already happy anyway.
Unlike Suarez last summer, it would be a shock to see Aguero come out publicly and claim that he wants to leave his club for pastures new, and in an interview last month―reported here by Richard Tanner of the Daily Express―the forward was at pains to point out just how much he was loving life at the Etihad.
City's top scorer even points to the way of life in English football as a huge plus point in his desire to stick around, and as a player who seems incredibly suited to the Premier League due to his rapid pace, superb finishing ability and his strength on the ball, it is easy to see why he wouldn't be in a rush to turn his back on the division.
That doesn't prevent the vultures from circling though, and it will be up to City―and indeed Aguero's agent, who they'll need to keep onside―to remain strong in the face of what could be tempting offers, but ultimately the key influence could come from outside.
Aguero and Suarez seem tied together in their outstanding quality this season, but perhaps they are also tied together in their futures too.
A Real Madrid move for Suarez in the summer would effectively rule out their attempts to bring in the Argentinean, and so City would see Aguero's suitors drastically reduced.
Of course Liverpool will be thinking the opposite, but what is clear is that both clubs will be desperate to cling onto their jewels in the crown.
As far as Premier League watchers will be concerned, you have to hope that both will be successful.