Vikings vs. Ravens: Full Roster Report Card Grades for Minnesota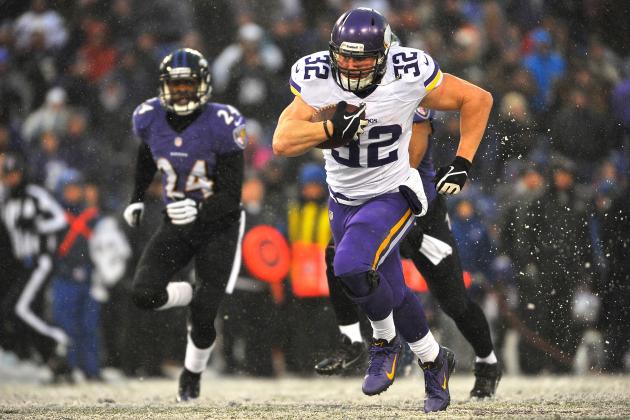 Larry French/Getty Images

The Minnesota Vikings went into M&T Bank Stadium on Sunday against a Baltimore Ravens team that was used to winning at home. Since quarterback Joe Flacco took over at quarterback, the Ravens are 41-7 at home.
With their win over the Vikings, the Ravens are still in the running for a playoff berth.
The weather appeared to play a role in the first half, as the teams struggled to score in heavy snow. The half ended with the Ravens leading 7-3. Combined, there were just as many punts as points through 30 minutes. Each team punted five times.
What started as an offensive struggle ended in a shootout as the Vikings and Ravens combined to score 44 points as the Ravens defeated the Vikings 29-26.
It made for a wild finish to a crazy game.
Here are the grades for the Vikings as they fall to 3-9-1 on the season.
Begin Slideshow

»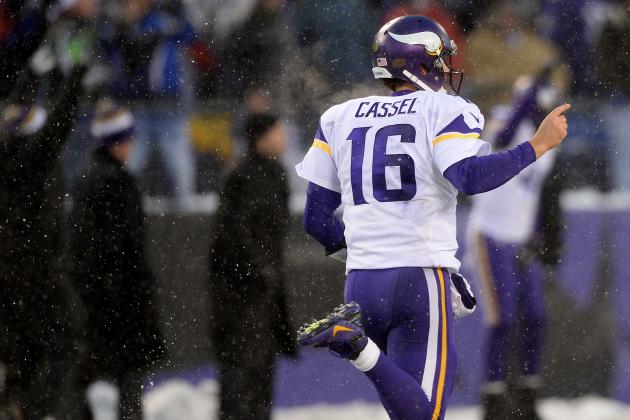 Patrick Smith/Getty Images

Matt Cassel: B+
Cassel made his third start of the season in place of starter Christian Ponder. He looked very good in a losing effort. He was 17-of-38 passing for 265 yards and two touchdowns. His passer rating was 86.0 for the game. He led the offense to three fourth-quarter touchdowns that gave the Vikings the lead each time.
Josh Freeman: Incomplete

Freeman finally was active for a game for the first time since his start against the New York Giants in Week 7. He did not get a chance to play.
Overall Grade: B+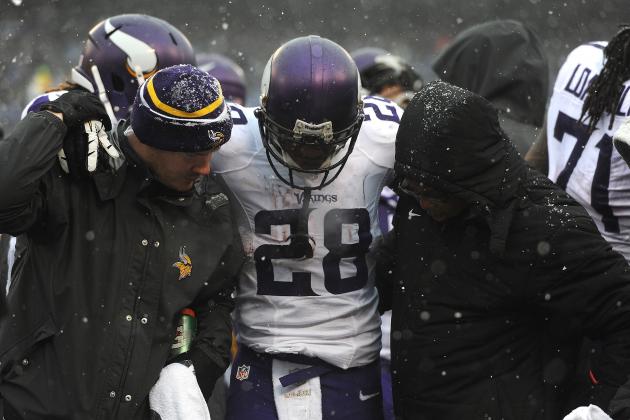 Larry French/Getty Images

Peterson suffered a sprained ankle late in the first half and was unable to play the second half. Before the injury, he only had 13 yards on seven carries. He struggled to get any traction on the snowy field.
Toby Gerhart: B
Gerhart had another good game in relief of Peterson. He led all running backs with 89 yards on 15 carries. He had a 41-yard touchdown run with one minute, 27 seconds left in the game to give the Vikings a brief 19-15 lead. He lost a fumble that should have been overturned.
Overall Grade: C
On a day when the running game should have led the offense, it only generated 114 yards.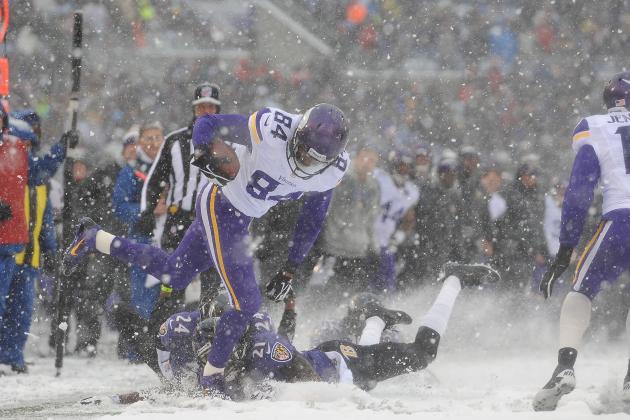 Larry French/Getty Images

Jennings made a couple of great one-handed catches in the game, but one was out of bounds. He finished with five receptions for 53 yards as he was targeted 10 times.
Jerome Simpson: C+

It was a big game for Simpson as he finally caught his first touchdown as a Viking—it only took 25 games. He finished with four catches for 48 yards.
Cordarrelle Patterson: A

Like Jennings, Patterson had five catches, but his went for 141 yards—the most by a wide receiver in a game this season. He turned a screen pass with a minute left in the game into a 79-yard touchdown. At the time, it gave the Vikings a 26-22 lead with 45 seconds to play.
Jarius Wright: F

Wright was only targeted once and did not come up with the catch.
Joe Webb: Incomplete

Overall Grade: B
The unit combined for 242 yards and two touchdowns. While that might be one game for the likes of Calvin Johnson, it's not a bad accomplishment for the Vikings trio.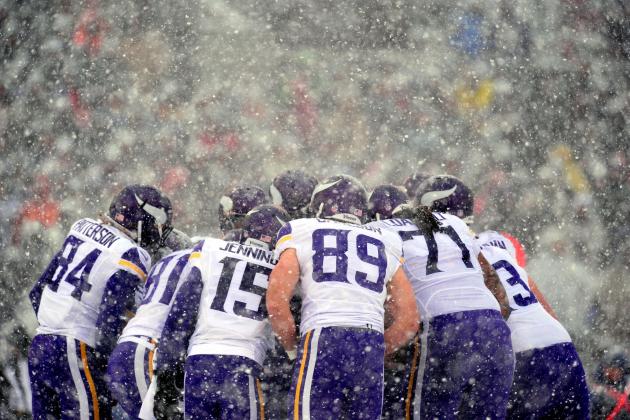 Evan Habeeb-USA TODAY Sports
Perhaps the Vikings tight ends were camouflaged by the snow.
John Carlson: C-

Carlson finished with only two catches for 19 yards. He left the game in the second half with a concussion.
Rhett Ellison: F

Ellison was targeted three times and did not come up with a reception.
Chase Ford: D

Filling in for Carlson, Ford only had one pass thrown in his direction, and it was uncatchable.
Overall Grade: D

Only a total of three catches for the tight ends is not a good game.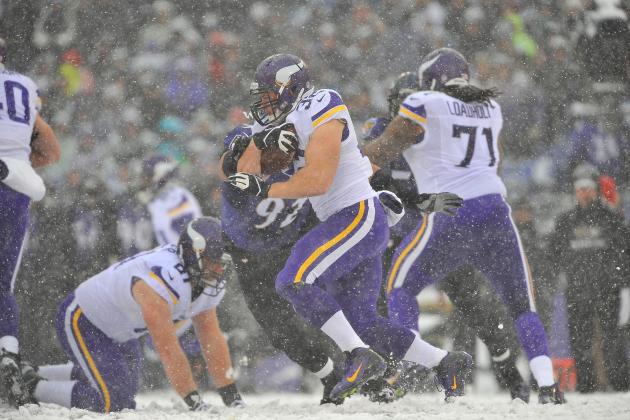 Larry French/Getty Images

Run Blocking: B

The conditions were very tough to get any traction—especially in the first half. The Vikings finished with only 114 rushing yards.
Pass Protection: B+

Quarterback Matt Cassel was not sacked in the game. It was the first time this season the Vikings did not give up a sack.
Overall Grade: B

The offense did enough to win this game, and the line was solid, despite the loss of Brandon Fusco in the game to an injury.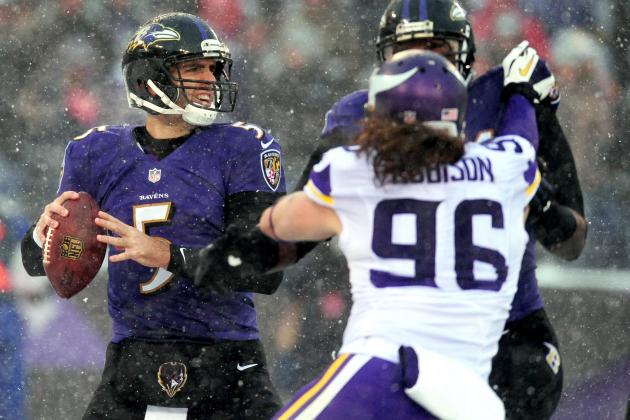 Evan Habeeb-USA TODAY Sports

Jared Allen: C-
Allen finished with only two tackles, one for a loss, a sack and two quarterback hits. He had plenty of opportunities as quarterback Joe Flacco passed the ball 50 times.
Kevin Williams: D
Williams finished with only two tackles in the game.
Letroy Guion: D
Like Williams, Guion finished with only two tackles.
Brian Robison: C+
Robison had the only other sack for the Vikings and finished with three tackles and a quarterback hit. He also knocked down a pass at the line of scrimmage.
Sharrif Floyd: C+
Floyd showed a little bit of life with two tackles, one for a loss and two quarterback hits.
Everson Griffen: D
Griffen finished with only two tackles. On the season, he only has three sacks.
Fred Evans: D
It would seem that the plan was for everyone to finish with two tackles on the defense line, and Evan complied.
Overall Grade: D+
The Vikings defensive line had trouble getting to Flacco, who seemed to have plenty of time to find a receiver.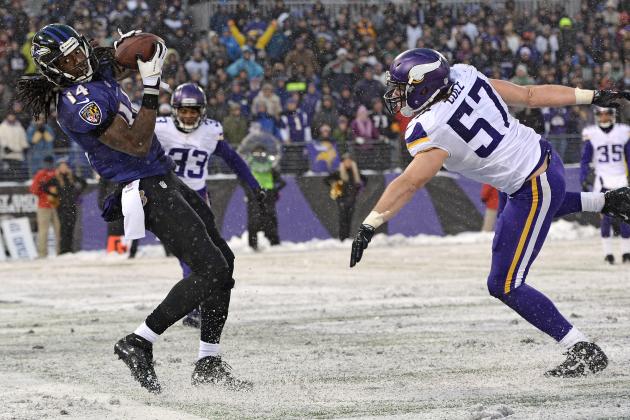 Patrick Smith/Getty Images

Chad Greenway: B-
Greenway finished with 11 tackles, one for a loss and his team-leading third interception of the season. He was also flagged for a pass-interference penalty that gave the Ravens the ball on the Vikings' 27-yard line with 24 seconds left in the game.
Audie Cole: C
Cole led the Vikings with 13 tackles, but he was victimized on the touchdown pass to wide receiver Marlon Brown that gave the Ravens the win.
Erin Henderson: D
Henderson made two returns—one to the field after sitting out the last two games and the other to outside linebacker, where he started the last two seasons. But he finished with only one tackle in the game.
Michael Mauti: C
In limited play, he finished with as many tackles as Henderson.
Overall Grade: C-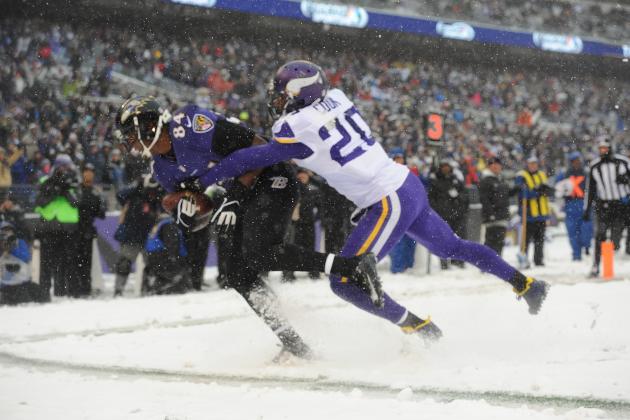 Larry French/Getty Images

Chris Cook: F
Cook finished with six tackles but did not break up a single pass play in the game. He appeared to be out of position on the Ravens' first touchdown as Ed Dickson was wide open in the end zone on a 3rd-and-goal from the 1-yard line.
Xavier Rhodes: B-
Rhodes looked solid—while he was on the field. He broke up three passes in the game and finished with three tackles. He left the field late in the game with an ankle injury. According to a tweet from ESPN's Ben Goessling, Rhodes was on crutches and had his foot in a boot after the game.
Marcus Sherels: B+
Subbing for Rhodes, Sherels finished with three tackles and an interception. He made a great play on a tipped ball to make the interception.
Shaun Prater: Incomplete
I did not see Prater play on defense, despite the injury to Rhodes that left the Vikings with only two cornerbacks.
Overall Grade: D-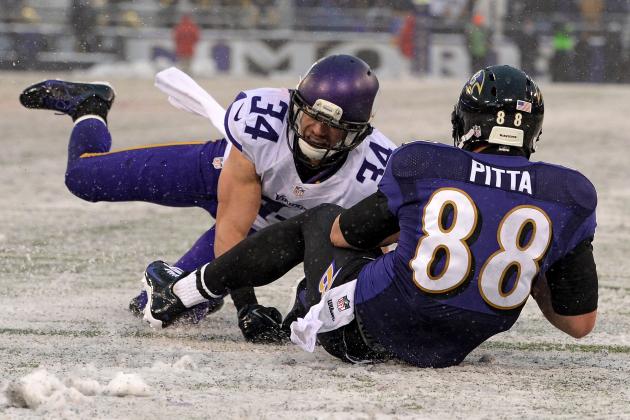 Patrick Smith/Getty Images

Jamarca Sanford: D
Sanford finished with eight tackles, one for a loss, but did not break up a pass in the game that saw quarterback Joe Flacco throw the ball 50 times.
Andrew Sendejo: C
Like cornerback Marcus Sherels, Sendejo got his first interception of his career. He actually came up with a second that was called back because of a penalty to linebacker Chad Greenway. He finished with only three tackles but also defended three passes.
Robert Blanton: D+
Seeing a lot of playing time because the Vikings have only four cornerbacks on the roster, Blanton finished with seven tackles, but like Sanford, he did not defend a single pass.
Mistral Raymond: Incomplete
Raymond did not make it on the field as far as I can tell.
Overall Grade: D
The Vikings really needed someone to come up with a big play and stop the Ravens in the final two minutes.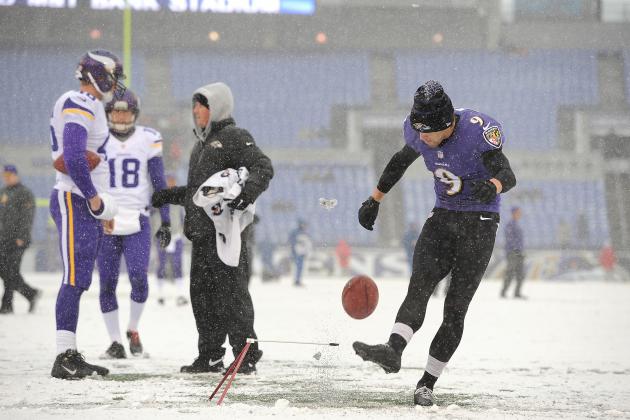 Larry French/Getty Images

Blair Walsh: D
Walsh was 2-of-2 on his field-goal attempts, but he really suffered on kickoffs. He had one go out of bounds and one returned for a touchdown with 1:16 left in the game. Wide receiver Jacoby Jones returned a short kick 77 yards for a touchdown. That's the one he should have kicked out of bounds.
Jeff Locke: A-
Under some pretty tough conditions, rookie Locke handled every attempt, punting and holding on field goals and PATs flawlessly. He finished with nine punts for an average of 44.1 yards. He did have one of his punts land in the end zone for a touchback.
Cordarrelle Patterson: C
We've come to expect a lot from Patterson. While he had his best day as a receiver for the Vikings, he was only average returning four kicks for a total of 111 yards.
Marcus Sherels: C-
Sherels was back deep for six punts—he only caught one of them and returned it for 14 yards. He allowed too many of the punts to bounce, and Sam Koch had one of his punts roll for 69 yards.
Overall Grade: C