With a dominant victory over Duke, Jameis Winston and the Florida State Seminoles assured their place in the BCS National Championship. While Winston looked shaky early on, he found his rhythm as the game progressed and cemented his place as the favorite to win the 2013 Heisman Trophy.
The Seminoles started slowly against the Blue Devils, but they eventually cruised to an easy 45-7 victory to extend their undefeated season. Florida State looks like the best team in the country, and Winston is a huge reason for its success.
The freshman quarterback has been phenomenal, throwing for 3,820 yards, 38 touchdowns and 10 interceptions, and setting a number of freshman records in the process.
Jameis Winston's 3,741 passing yards this season is a new all-time FBS single-season freshman record. #Noles

— Brandon Mellor (@BrandonMellor) December 8, 2013
That TD pass from Winston just set a new ACC single season pass TD record and the FBS freshman record. #Noles

— FSU Football (@FSU_Football) December 8, 2013
The Duke game was far from Winston's best performance, as he threw two interceptions, but at this point, the victory was all that mattered to his Heisman hopes. Winston looked excellent in the second half and still finished the game with 389 total yards and four total touchdowns, including this beautiful touchdown pass to Kelvin Benjamin:
Jameis Winston threads a needle. Kelvin Benjamin goes over two defenders for sweet TD. FSU offense doing its thing » http://t.co/HfVBC58HmK

— SportsCenter (@SportsCenter) December 8, 2013
Winston has been spectacular this season, but he's also been left as the last man standing in the battle for the Heisman Trophy. Here's a quick look at some of the other players who have been high in the Heisman rankings at various points throughout the year.
AJ McCarron (QB, Alabama)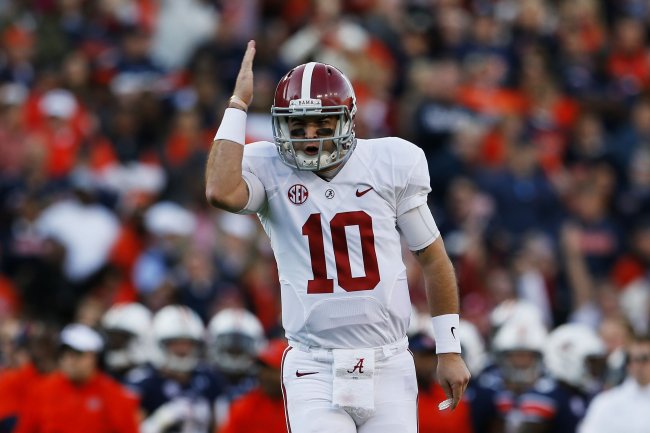 Kevin C. Cox/Getty Images
Stats: 68% completion, 2,676 yards, 26 TDs, 5 INTs
AJ McCarron's numbers don't compare to Winston's, so his only chance of taking home the Heisman Trophy was to lead Alabama to an undefeated season and right back into their third straight national championship game.
Even though the loss to Auburn was by no means McCarron's fault, it probably cost the Crimson Tide signal-caller a shot at the award.
Jordan Lynch (QB, Northern Illinois)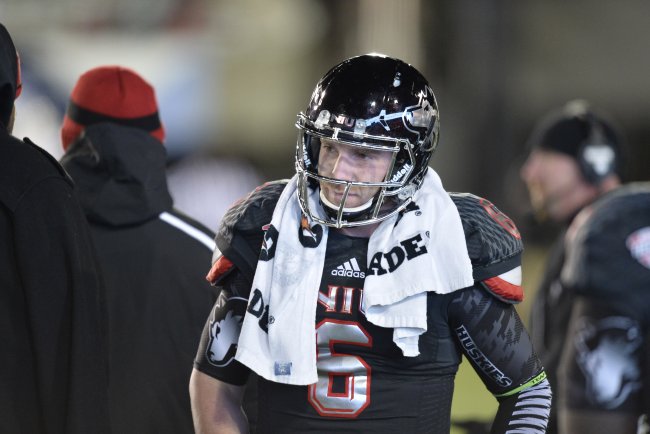 Brian Kersey/Getty Images
Stats: 63% completion, 2,676 yards, 23 TDs, 7 INTs, 1,881 rushing yards (6.9 YPC), 22 TDs
Jordan Lynch has put up spectacular numbers for the Northern Illinois Huskies. The senior is responsible for 45 touchdowns (rushing and passing) and carried his team to a terrific season.
The lone criticism of Lynch was always going to be his conference and weak schedule, so the loss in the MAC Championship Game to Bowling Green was a tremendous blow to his Heisman campaign.
Andre Williams (RB, Boston College)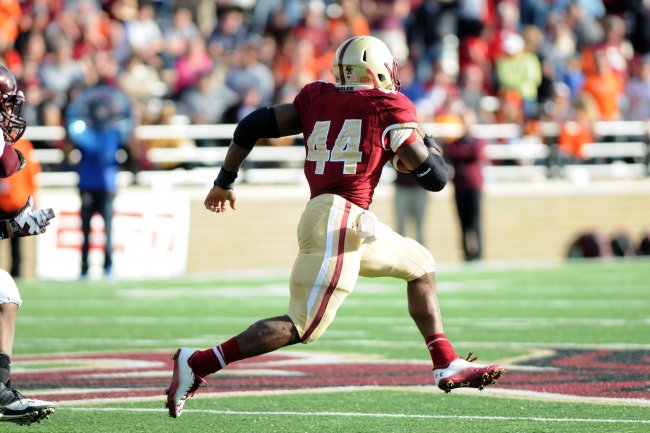 Darren McCollester/Getty Images
Stats: 329 carries for 2,102 yards (6.4 YPC), 17 TDs
The nation's leading rusher is the only player in the country to top 2,000 yards on the season. He was on an electrifying pace to end the year with three straight games of over 250 yards and two touchdowns, but his last game of the year was disappointing (29 yards versus Syracuse).
That last game, combined with Boston College's mediocre record in the ACC, means that Williams won't be able to leapfrog Winston in the voting.
Simply put, there is nobody else in the country who can compete with Winston's combination of impressive numbers and team dominance. Florida State is clearly the No. 1 team in the nation, and Winston is the front-runner for the 2013 Heisman Trophy.