With a blitzkrieg perimeter attack and no shortage of shooters, the Portland Trail Blazers have been a gift to the analytical world.
And a massive threat to the NBA's elites.
Despite returning most of the key contributors from last season's 33-49 disaster, Portland (17-3) has climbed all the way to the top of the Western Conference.
There's some new-age weaponry and a time-tested principle in play here. But just how long can this unlikely yet undeniable success last?
Simple Mathematics
Strap on your thinking cap, folks. That subject you hated the most in school is about to make an appearance.
Portland's collective brain trust—led by forward-thinking coach Terry Stotts and shrewd general manager Neil Olshey—broke out its calculator and dove headfirst into the number-crunching world.
What did those sleepless nights unearth? A simple equation that appears far more fitting for an elementary school classroom than at the center of a professional sports franchise.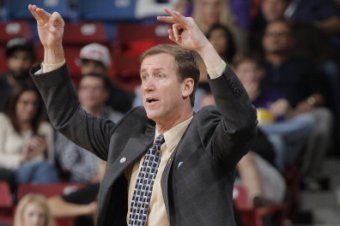 Rocky Widner/Getty Images
But these numbers, simple as they were, revealed a powerfully potent truth—three is greater than two.
The Blazers are built around so much more than that. There's the awe-inspiring selfless play that powers this attack. The lunch-pail-toting defensive group that often bends but rarely breaks. The superstar presence near the paint (LaMarcus Aldridge) and the rising prodigy on the perimeter (Damian Lillard).
But if you're looking for the source of Portland's scorching start, look no further than that grade-school lesson.
The Moda Center floor is littered with slain giants and scraps of shredded nets. The Blazers have hung defeats on the only other three teams with a winning percentage above .750—the Indiana Pacers, San Antonio Spurs and Oklahoma City Thunder—thanks to a sharpshooting display that gets more brilliant by the day.
The last time the Blazers took to the hardwood, they created a new standard for three-point proficiency. Portland's gunners connected on 17-of-23 three-point attempts in its 130-98 rout of the visiting Utah Jazz on Dec. 6, a sizzling 73.9 percent success rate—highest in league history for a team with at least 20 attempts, per the Associated Press (via ESPN).
"We were feeling it, apparently," Wesley Matthews said, via NBA.com's Kerry Eggers.
Indeed they were. And they've been feeling it all season.
The league leaders in offensive efficiency (109.4 points per 100 possessions), the Blazers have gotten both quantity and quality out of their three-point attack. Only seven teams have attempted more shots from distance this season (23.0). No team has made a higher percentage of its triples; only the Golden State Warriors can match Portland's sizzling 42.6 percent success rate.
Of all players who have attempted at least 75 threes this season, Portland has three of the league's top 15 most accurate snipers: Matthews (50.9 percent, second), Nicolas Batum (41.7, 13th) and Lillard (41.6, 14th).
Absent from that list, but very much present in this three-point arsenal, are reserves Mo Williams (40.0 percent) and Dorell Wright (36.4).
The history books don't bode well for this current pace. All five shooters are hitting above their career marks.
But history doesn't dictate the way this team operates. Well, except for one age-old adage.
Make-or-Miss League
People love referring to the NBA as such.
As with any good cliche, there's some truth in the phrase. Players need to hit shots for offensive plans to succeed, after all.
But there's something missing from that oversimplified adjective. The act of making shots starts well before shooters set their targets and flick their triggers.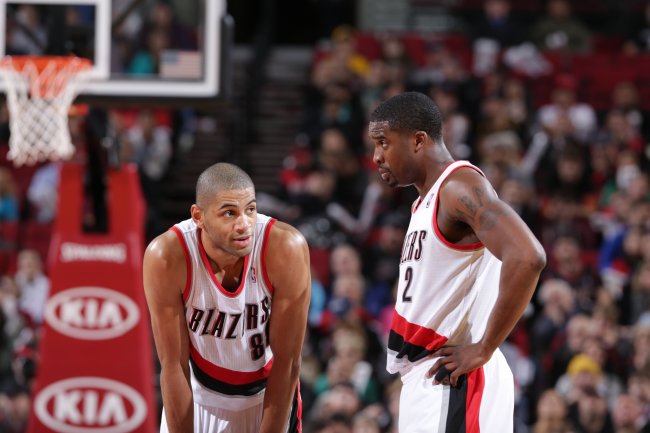 Sam Forencich/Getty Images
That lesson isn't lost on the Blazers. In fact, it's what makes this attack as powerful as it is.
"Our threes are taken in rhythm," Stotts said, via Eggers. "They're good shots for the guys taking them. When those guys are taking open threes, there's a good chance they're going in."
So, how does Stotts guarantee his players can find good looks? Just about every way imaginable.
Almost half of Portland's 461 three-point attempts this season have come from spot-up shooters, via Synergy Sports (subscription required). For good reason, too. Out of these situations, the Blazers have tallied 1.06 points per possession (fourth-best in the league). Portland's shooters have buried 43.4 percent of spot-up threes.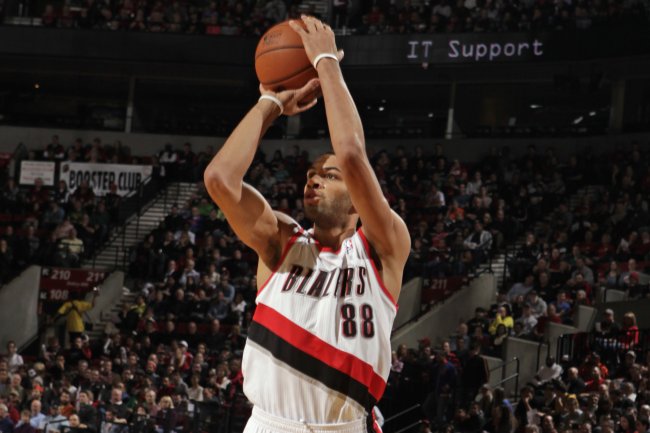 Cameron Browne/Getty Images
How is a group as accurate as this getting all of these chances? Simple; the Blazers are leaving their opponents in pick-your-poison chances.
It's simple to think that opposing coaches should just leave their defenders glued to Portland's shooters.
But just think about what that situation means. That leaves someone on an island trying to stop Lillard by themselves. That's not happening. Lillard's been torching his man for 1.27 points per possession out of isolation sets, the second-best total in the NBA.
And it's not as if Lillard's the only one-on-one threat on this roster. Putting too much attention on the reigning Rookie of the Year frees up Aldridge to do his damage. Trust me, damage is being done—try 23.4 points on 47.6 percent shooting a night.
Still, this group isn't always going to have a collapsing defense to expose.
That's where Stotts' genius comes into play.
He's a master of freeing his shooters with stone-wall screeners. Coming off of picks, Blazers shooters are pouring in 1.16 points per possession (second overall) and converting 55.9 percent of their long-ball attempts.
Sometimes, the defenses don't even have time to get set.
The Blazers don't run their opposition ragged. They play with just the league's 14th-fastest pace, averaging 96.47 possessions per 48 minutes. Only four teams get smaller nightly doses of fast-break points (10.1 per game, via Teamrankings.com).
Yet this is the NBA's fourth-most efficient transition attack (1.19 points per possession). Why? Because when the Blazers do decide to run, they run with a purpose.
Can anyone guess what that purpose might be? That's right—more triples.
More than 38 percent of Portland's 187 transition field goals have been fired behind the three-point line. And almost 49 percent of those long-range darts have hit their target.
At the end of the day, yes, these Blazers are thriving off their ability to knock down shots. But those offensive chances arise from Portland's execution, which lends some lasting power to Portland's frantic start.
Will They Ever Come Back to Earth?
I'll go out on a limb and say Matthews won't finish the season hitting better than half of his perimeter attempts. Not if he keeps firing off 5.5 a night.
There's more than just the fact that he's sitting more than 10 percentage points over his career average (40.4) working against him. No shooter with that kind of volume has ever finished a season above 50 percent.
But the Blazers don't need Matthews to enjoy unprecedented success for this dominance to continue.
Do you think Portland can sustain this shooting pace?
Portland's found a winning formula. There are enough good shooters in play—and more on the way as lottery pick C.J. McCollum (foot) has yet to join the party—for Stotts to always have a hot hand at his disposal.
But what makes this group so special is the fact that it doesn't need the long ball to stay effective.
Lillard and Williams can create off the dribble. Aldridge is a beast on the low block or from the high post. Matthews and Batum can find and finish plays at the rim.
Those extra levels of this offense's arsenal make the three-point stroke the weapon that it's been.
Those levels won't disappear. Neither will the chances from distance.
Portland has some fish to fry to stay in the championship hunt—namely plugging defensive gaps and finding consistency from the second unit—but these torrid shooting displays aren't mirages.
Maybe this team won't connect on a record-setting percentage of its attempts every night. But the Blazers will be keeping defenses honest and scorekeepers busy all season long.
*Unless otherwise noted, statistics courtesy of Basketball-Reference and NBA.com.