Takeaways and Talking Points: The NHL Week That Was and Will Be at Dec. 9
Use your ← → (arrow) keys to browse more stories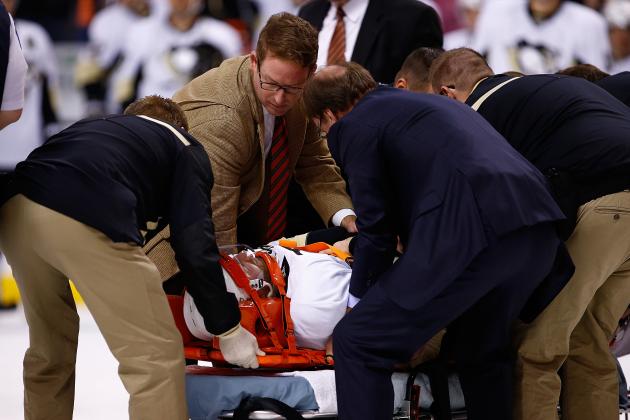 Jared Wickerham/Getty Images

The Folly of The Enforcer was on display in (where else?) Boston Saturday night.
There stood Pittsburgh Penguins defenseman Brooks Orpik yapping away in a post-whistle scrum, unaware of the criminal devastation that awaited him. Boston Bruins...enforcer? Goon? Thug? Anyhow, Shawn Thornton, in quite cowardly fashion, snuck up behind Orpik, slew-footed him to the ice and punched him twice. Orpik, an Olympian in 2010 for Team USA, had to be taken off the TD Garden ice on a stretcher.
Why did it all happen? On the game's first shift, Orpik trucked the Bruins' Loui Eriksson with a clean hit.
Between the time of Orpik's hit and Thornton's assault, Thornton tried to get Orpik to fight him. Orpik refused. Because in the NHL, which is a full-contact league, it's become customary for goons to fight guys who deliver clean hits. Orpik refused because he is the Penguins' best defenseman, Thornton is the most useless player on the Bruins and Orpik taking himself off the ice for five minutes would've been detrimental to his club.
Thornton found a way around that, though.
After the game, Thornton stood in front the Boston media and expressed sorrow for his actions.
It wasn't his intention? So what was your intention when you slew-footed a guy and punched him in the head several times? Do you even know what the word "intention" means? I just hope Thornton finds a way to overcome his sadness. All the guys at the station are really pulling for him.
Thornton is scheduled to have an in-person hearing with the NHL at a yet-to-be-determined time. James Neal—who committed a similarly disgusting act seconds before Thornton's, which can be seen on the first video when he kneed a prone Brad Marchand in the head—will have a hearing with the league Monday.
Thornton is one of those players who lives by "The Code," a nebulous, nonsensical justification for why fighting exists in the NHL. When players step out of line, Thornton plays the role of police officer and makes sure those players are taught a lesson. But there are few players who have ever stepped out of line the way Thornton did Saturday.
Thornton is clearly beating himself up about the whole thing, so maybe that's part of The Code, too.
Here are four other things that happened last week that are worth talking about.
•Lightning prospect with a dirty hit on a Lightning prospect. Jonathan Drouin of the Halifax Mooseheads (QMJHL) was the third pick of the 2013 draft. One round later, the Lightning selected Adam Erne of the Quebec Remparts (QMJHL). On Friday, Erne delivered a dirty hit in a game that left Drouin out indefinitely with a concussion.
Erne received a major penalty and game misconduct, and while Thornton was apologetic for his hit, Erne laid the blame on Drouin.
"He wasn't far from the boards and I pushed him pretty hard," said Erne, who also received a game misconduct for the hit. "I thought it was a dive and I thought everybody else did, too. I wouldn't have even gotten a penalty if he didn't dive into the boards."

He also said that Drouin could have absorbed the hit standing up, and avoided injury.

"If he dives and goes head first he's going to hurt himself," added Erne, who also knocked Murphy out of the game with a shoulder on shoulder check before stealing the puck and scoring the game's first goal.
In what was a surprise to many, Erne was not suspended for the hit.
I don't watch enough QMJHL games to know standards for discipline, but I was surprised Erne's hit on Drouin didn't generate a suspension.

— Bob McKenzie (@TSNBobMcKenzie) December 7, 2013
If the lack of suspension to Erne for hit on Drouin represents how QMJHL takes care of its young people, there is something terribly wrong.

— Larry Brooks (@NYP_Brooksie) December 7, 2013
I'll echo others and say I too am surprised Adam Erne wasn't suspended for blasting future teammate Jonathan Drouin from behind in the Q.

— Joe Yerdon (@JoeYerdonPHT) December 7, 2013
The Lightning have not commented on the hit.
The injury also puts Drouin's availability in doubt for Team Canada at the World Junior Championships, which get under way Dec. 26 in Malmö, Sweden.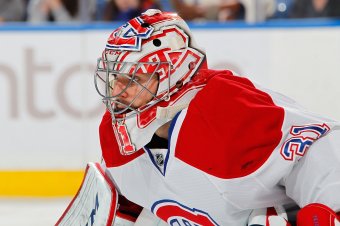 Bill Wippert/Getty Images
•The Canadiens are virtually unstoppable. In positive news that doesn't involve a serious injury, the Habs went 4-0 last week and are 9-0-1 in their past 10 games. The streak has propelled the Canadiens into a tie with the Penguins, with both teams trailing the Bruins, who sit atop the East, by one point. Pittsburgh and Montreal each have 41 points, although the Penguins own the tiebreaker by virtue of having one more regulation/OT victory.
How have the Canadiens done it? Mostly with goaltending and defense. They've allowed two goals or fewer in every game during this stretch but one. They gave up three goals to the New Jersey Devils on Friday but still found a way to win 4-3 in a shootout. Goaltender Carey Price is 7-0 during the streak and hasn't allowed more than two goals in his past 10 starts.
•Henrik Lundqvist is extremely wealthy. On Wednesday, the Rangers came to terms with goaltender Henrik Lundqvist on a seven-year, $59.5 million contract that will take him through his age-39 season.
One day later, he made 27 saves in a 3-1 victory against the Buffalo Sabres and said it was nice to have the contract talks finally put to rest.
It was weird because it was such a big day yesterday, an emotional day for me. And obviously it's a proud moment for me to realize they're willing to commit to me and I want to commit to them. But at the same time, I just couldn't be super happy because you want more wins.
Lundqvist allowed four goals on 24 shots in a 4-3 overtime loss to the Devils on Saturday and was in net again Sunday against the Washington Capitals and gave up four more goals on 32 shots in a 4-1 loss.
•Blue Jackets lose their Vezina winner for a month. Sergei Bobrovsky will miss four to five weeks with a groin strain, the latest hiccup in what has been a disappointing season for the reigning Vezina Trophy winner.
#CBJ Sergei Bobrovsky has a groin strain. Out 4-5 weeks.

— Aaron Portzline (@Aportzline) December 4, 2013
Before the injury, Bobrovsky was 10-11-2 with a 2.72/.909 split this season after going 21-11-6 with a 2.00/.932 split last season. His struggles have been a big reason for the Blue Jackets' struggles, as the team has been hovering near the bottom of the Metropolitan Division all season.
How would the Jackets handle the loss of their No. 1 goaltender? Of course, with a 4-0 victory against the Minnesota Wild on Friday, a game in which career backup Curtis McElhinney made 20 saves for his second career shutout.
It'll be up to McElhinney to keep the Jackets within striking distance of a playoff spot while Bobrovsky recovers.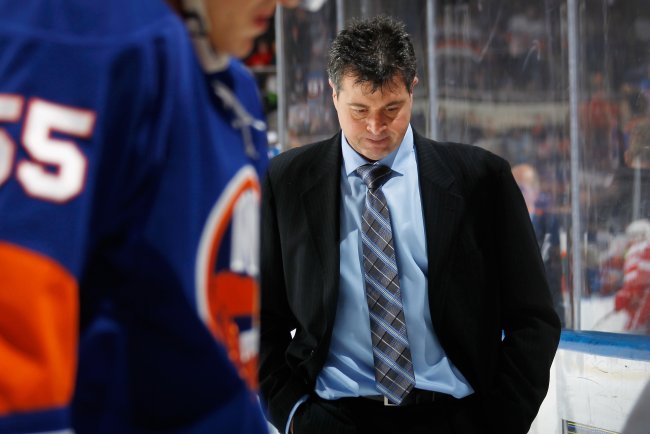 Bruce Bennett/Getty Images
Looking Ahead
•Could this be the end for Jack Capuano? The Islanders entered this season with renewed hope after qualifying for the Stanley Cup Playoffs in 2013, the team's first postseason trip since 2007. After a slow start, general manager Garth Snow pulled the trigger on a deal that was designed to improve the Islanders now, acquiring Thomas Vanek for Matt Moulson and a pair of draft picks.
Since the deal was consummated, the Islanders are 4-13-2 and fallen to the bottom of the Metropolitan Division. Now Chris Botta of the Sports Business Journal and former pubic relations person for the Islanders believes the team could have a replacement in mind.
Source: Laviolette "definitely" a top candidate if Isles make coaching change. Me: Move quickly then. He'll have other offers.

— Chris Botta (@ChrisBottaNHL) December 6, 2013
Laviolette and Charles Wang remain friends. Huge, Sopranos-style hug on the draft floor after Pete won the Cup with Carolina.

— Chris Botta (@ChrisBottaNHL) December 6, 2013
Peter Laviolette is the unemployed former coach of the Philadelphia Flyers who was let go three games into this season. Laviolette coached the Islanders for two seasons, 2001-02 and 2002-03, reaching the playoffs both times before he was fired and went to the Carolina Hurricanes, winning the Stanley Cup in 2006.
Firing Capuano and replacing him with Laviolette makes all kinds of sense, but this is the Islanders, and very little they do makes sense. But Larry Brooks of the New York Post sees a few holes in the notion.
It would be one thing for Garth Snow to dial Peter Laviolette's digits on his cell phone, quite another for the Islanders' general manager to get the authorization from owner Charles Wang to take on the believed $2,000,000 in digits per year the former Flyers coach is owed on his contract with Philadelphia, in force through 2014-15.

Wang, since firing Laviolette after two years behind the Islanders' bench in 2003, has gone on the cheap in hiring a succession of coaches including Steve Stirling, Ted Nolan, Scott Gordon and Capuano.

Now, the owner is as likely to sell the team as he is to remain on the masthead when the Islanders relocate to Brooklyn for 2015-16. Would Laviolette and the financial commitment necessary to hire him make the team more or less attractive to a prospective buyer?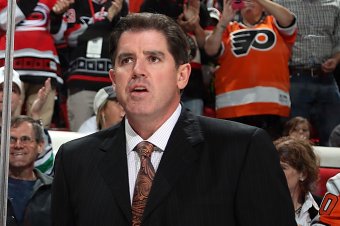 Gregg Forwerck/Getty Images
That's a lot of logic right there. The Islanders have been one of the most frugal NHL teams with Wang as owner, famously acquiring the contract of Tim Thomas last season just so the retired goaltender's contract got them above the cap floor. It's also important to note the Islanders have been without defensemen Lubomir Visnovsky and Brian Strait and goaltender Evgeni Nabokov for an extended stretch, making a weak point on the club even weaker.
The Islanders enter the week losers of nine straight (0-7-2) with road games against the Ducks, Sharks, Coyotes and a home date with the Canadiens on the docket. If the Islanders don't get it turned around, maybe Wang makes a change for change's sake and promotes assistant Doug Weight. It would be an inexpensive cosmetic move, the calling card of the Islanders under Wang.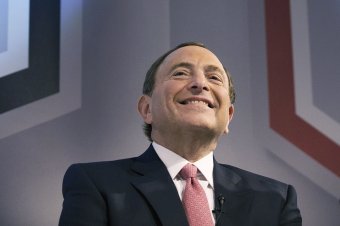 Aaron Vincent Elkaim/Getty Images
•Board of Governors meetings Monday and Tuesday. When the league's power brokers convene in Pebble Beach, Calif. this week, the major order of business will be approving the new $5.2 billion Canadian television rights deal with Rogers. It's a mere formality, as owners love money, and this deal infuses the NHL with a whole lot of it.
The revenue from that deal will not affect next year's salary cap, which is expected to be in the neighborhood of $70 million after it was reduced to $64.3 million for this season, thanks largely to the revenue generated from the six outdoor games.
Other items up for discussion on the docket include reviving a form of the World Cup of Hockey, an international competition which hasn't been played since 2004. There is no plan for the NHL to expand, but with the new alignment featuring 16 teams in the West and 14 in the East, it seems likely to come up at some point.
•Behind the scenes with Detroit and Toronto. HBO's cameras began following the Detroit Red Wings and Toronto Maple Leafs, gathering footage for the wonderful 24/7: Road to the Winter Classic that will begin airing Saturday in the United States and Sunday in Canada. The smooth voice of Liev Schreiber will once again narrate the action, adding drama to everything from a pivotal goal to a player going shopping for a Christmas tree.
Bruce Bennett/Getty Images
Red Wings coach Mike Babcock was in Newark, N.J. when cameras began trailing his team. He wasn't exactly enthusiastic about documentarians being in his locker room, but he understands and accepts it.
"I think there's some things in life that should be private," Babcock said. "But I think people believe 24/7 is good for the game and I'm all about the game. My whole life, what I have, is because of the game. ... I'm hoping I don't embarrass my family. I'm hoping I don't cross the line with any player in public that they think is great TV."
Babcock's concerns notwithstanding, he told a great story about when he was a student and used cameras in an attempt to better himself as a young coach and pick up some course credits.
"When I was at Red Deer College, I was also a grad student at McGill University," Babcock said. "I was trying to do this project with video. So I'd keep videotaping myself and miking myself for practice. Every day, every day. You'd get to the end and you'd say, 'No skill, no drill' or something stupid and you couldn't get through it."
So do you plan on watching yourself on HBO, Coach Babcock?
"I hope not."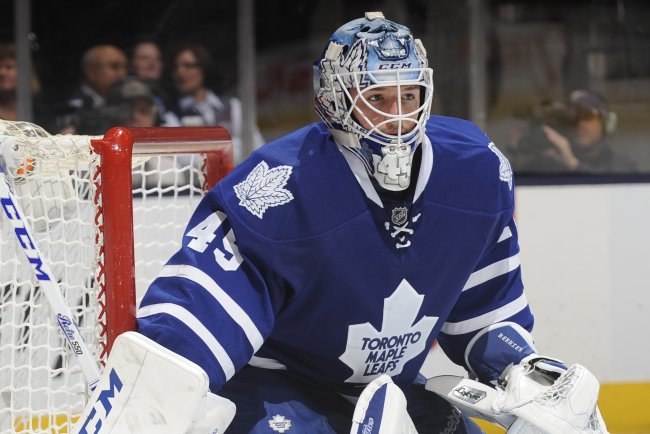 Graig Abel/Getty Images
•Bernier/Scrivens could get crack at former teams. When Jonathan Bernier was taken with the 11th pick in the 2006 draft, he was seemingly destined to be the goalie of the future for the Los Angeles Kings. But he was never able to claim the starting job, as Jonathan Quick seized command of the No. 1 gig and took the team to a Stanley Cup in 2012.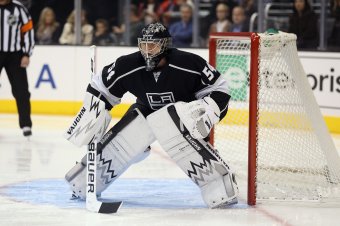 Jeff Gross/Getty Images
Bernier appeared in just 62 games over five seasons before he was dealt to the Toronto Maple Leafs during this past offseason in a trade that sent fellow backup goaltender Ben Scrivens to Los Angeles.
The pair could face off Wednesday night when the Kings and Leafs meet in Toronto.
Things have worked out extremely well for both goaltenders. Bernier has been in a timeshare with James Reimer but has a 9-7-1 record, 2.40 goals-against average and .931 save percentage, which is 10th in the league. Scrivens has been dominant since replacing Quick, who suffered a groin injury last month, posting a 7-2-4 record and league-leading .943 save percentage.
Scrivens has been the workhorse with Quick out, so he is very likely to be in net against Toronto. Bernier has been sharing time, but with the Leafs playing the following night in Boston against the Bruins, coach Randy Carlyle has nothing preventing him from allowing Bernier a crack at his former club.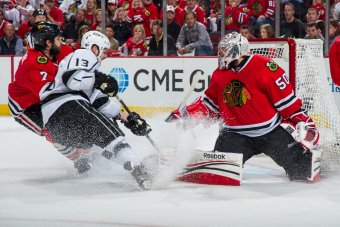 Bill Smith/Getty Images
•Kings-Blackhawks is the week's marquee matchup. On Sunday night in Chicago, it will be a rematch of last year's Western Conference Final between the Kings and Blackhawks. The Kings' defense of their Stanley Cup came to an end against the Blackhawks, who went on to win their second Cup in four years by beating the Bruins in six games in the Cup Final.
This season, the teams are still among the NHL's elite. The Blackhawks enter the week leading the NHL with 45 points, while the Kings are third in the league with 42 points. The Blackhawks lead the NHL in goals per game; the Kings are third in the league in goals allowed per game.
Yes, I told you to make time to watch Sharks-Penguins last week, and it turned into a blowout that didn't include an injured Evgeni Malkin, but have faith. Kings-Blackhawks will be a dandy.
Dave Lozo covers the NHL for Bleacher Report. You can follow him on Twitter @DaveLozo.