It's been the same story for the Sacramento Kings in virtually every game this season. They get within striking distance in the waning moments of contests only to come up short.
On the one hand, the fact that the team is in most of its games is encouraging, especially compared to the recent blowout-filled campaigns. On the other hand, at some point the Kings have to find a way to turn these close losses into close wins.
At the beginning of the season, we could have pointed to the team's effort down the stretch as a catalyst for some of these losses. However, Sacramento's shown more fire of late, but it's still not getting over the hump for a multitude of reasons.
As the Kings go forward, this is surely something they need to address. Granted, they weren't favorites to make the playoffs. But learning how to win close games is a necessary evolution for them to make the postseason in future years.
No Discipline in Crunch Time
Overall, the Kings have done a nice job of protecting the ball this season. According to NBA.com/stats, the team is currently averaging the second-fewest turnovers per game with 13.4. Only the Knicks average fewer turnovers than Sacramento.
Since the Kings are 20th in pace factor, this could be related to their lack of possessions. After all, you can only turn the ball over when you possess it. However, Sacramento is also fourth in turnover percentage at 12.7 percent, which shows the low turnovers are more a factor of safe play than a lack of possessions.
In clutch situations, it's an entirely different story. According to NBA.com/stats, in the last five minutes of games with the Kings ahead or behind by five points or less, they are 28th in turnovers. They average 1.8 turnovers per game in those situations. Only the Philadelphia 76ers and Chicago Bulls are worse.
"I truly believe our coaching staff is doing a great job, and they're putting us in situations for us to win games," now "former" King Greivis Vasquez said. "We just have to play smarter…all of us. I feel as much guilt as the guy next to me or the whole team."
It's not just carelessness with the basketball. The Kings are also struggling on defense in clutch situations. Per NBA.com/stats, their opponents are averaging 11.8 points in the last five minutes of games within five points, which is 27th out of 30 teams.
"We've got to do a much better job of defending the three-point line, finding their shooters, understanding who's in the game, who's hot, who the shooters are," Kings head coach Mike Malone said. "The one major word that jumps out to me with our team is discipline, and right now we have none."
Lack of Execution
There are a couple things to factor in when looking at a team's success or failure in close games. First, it's about a coaching staff putting its players in the best position to succeed. But it's also up to the players to come out and capitalize on that.
So far, the coaches have done their part. Now it's up to the players to turn that into on-court results.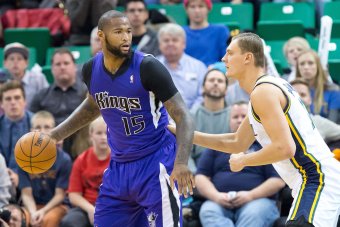 Russ Isabella-USA TODAY Sports
When asked whether the Kings needed to change their game plan late in close games, DeMarcus Cousins implied the problem isn't the game plan; it's the execution.
"I wouldn't really say we've got to change anything," Cousins said. "It's just being in your spots, doing your job in those situations. That's the main thing."
The Kings haven't been doing their jobs on offense or defense in crunch time. Per NBA.com/stats, they turn the ball over on offense, which has led to an average of 2.6 points for their opponents. When they actually do get shots, they're only making 41.5 percent of them down the stretch.
They fail to secure defensive rebounds, and their opponents have averaged 1.8 second-chance points because of it. They foul too often, averaging 3.0 fouls compared to only 1.9 fouls drawn.
All of these issues in execution have given their opponents a decisive advantage, so much so that the Kings are tied for the fourth-worst winning percentage in clutch situations, winning only 30 percent of those contests. Only the New York Knicks have been worse.
Shortage of Experience in Close Games
In recent years, the Kings have simply been blown out of a lot of games. Therefore they don't have a ton of experience in close contests, which partially explains their struggles in them.
Last season, 40 of Sacramento's 82 games were decided by nine points or less. Of those, 15 were within five points of their opponents. Through their first 17 games this season, the Kings have been within single digits of the opposition 11 times. Six of those games have been decided by five points are less.
The Kings also struggle mightily in overtime games. Their most recent overtime victory against the Utah Jazz was the first time they'd won an overtime game in their last eight tries.
At Utah, Kings earn 1st OT win since a 114-106 OT win vs. Golden State on 2/14/12. They had their last 7 OT games before tonight's win.

— Darryl Arata (@kingsnotesguru) December 8, 2013
Because it's an unfamiliar position, the Kings simply don't know how to play with a lead. Sometimes they get complacent. Other times they get away from what got them the lead in the first place.
"When you're a young team that's trying to find an identity, you don't know how to play with the lead," Malone said. "Sometimes you forget why you've had success and go away from it. We allow teams to get back in, when we can, hopefully in the future, create space, create distance on those teams."
As the team gains more experience in these situation,s it should get better at handling them. As Vasquez mentioned, learning how to win games is an evolution. Like any evolution, it's going to take time. It's not going to happen overnight.
Are you concerned with the team's struggles closing out games?
"This is a process," said Vasquez. "We're trying to be a playoff team; it takes a little bit [of time]. With OKC, I remember when they were in Seattle and they weren't that good. Now they've gotten better. It took them three years to get better."
Hopefully it doesn't take the Kings three years to figure out how to win close games. They've got a coaching staff in place that's putting the players in positions to succeed. They've also got enough talented players to pull out some of these games. Now it's about converting everything into on-court results.
All quotes obtained firsthand unless noted otherwise.
All stats courtesy of NBA.com/stats
You can follow me on Twitter @SimRisso
Stats are accurate through games played on Dec. 8