It's never hard to find narrative in conference championship week. But looking at Saturday night's ACC Championship Game participants, it's harder to find places where there isn't narrative than places where there is.
This has already been a banner season for Duke. No matter the result, David Cutcliffe and his staff are already going into the Blue Devil record books for leading the first double-digit-win season in school history. Cutcliffe, a quarterback guru who worked with Peyton Manning, has his team ranked No. 20 in the country.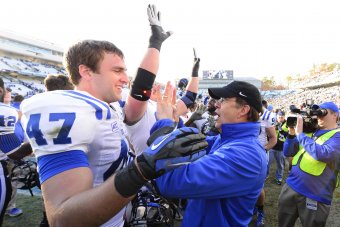 Bob Donnan-USA TODAY Sports
It's all house money from here. Nonetheless, a victory against the top-ranked Seminoles could be program-defining.
Stanford has proven elite football programs can be built at elite institutions of higher learning—often the chief reason cited for why Duke "can't" field a competitive program. The Blue Devils have already had a brilliant 2013 season; winning Saturday night is the next possible step in retaining it.
Meanwhile, as the legendary Keith Jackson would say, this one is for all the marbles for Florida State. Jimbo Fisher's squad is well aware of what it means to play for an ACC Championship. This is the third time in Fisher's four seasons the Seminoles have found themselves sticking around for a Week 15 contest. Only in 2013, a victory comes with a chance at a national championship.
Florida State, with its Heisman-contending quarterback and bevy of talent all over the field, comes in as a heavy favorite. That said, the 2013 campaign has been filled with shocking outcomes in Durham. Can the Blue Devils pull one more off?
Game Information
When: Saturday, Dec. 7, at 8 p.m. ET
Where: Bank of America Stadium, Charlotte, N.C.
Watch: ABC
Live Stream: Watch ABC
Spread: Florida State -29.5 (Vegas Insider)

Duke Injury Report

| | | | |
| --- | --- | --- | --- |
| Player | Pos. | Injury | Status |
| Jonathan Woodruff | DE | arm | Questionable |
| Michael Mann | DE | upper body | Questionable |
| Eric Adams | RB | upper body | Questionable |
| Jamal Wallace | DL | ankle | Out |
USA Today
Florida State Injury Report

| | | | |
| --- | --- | --- | --- |
| Player | Pos. | Injury | Status |
| Nile Lawrence-Stample | DT | concussion | Questionable |
| Isaiah Jones | WR | foot | Out |
| Matthew Thomas | LB | shoulder | Out |
| Ira Denson | G | shoulder | Out |
| Tyler Hunter | S | neck | Out |
USA Today
Key Storyline: Can Duke Even Make This a Ballgame?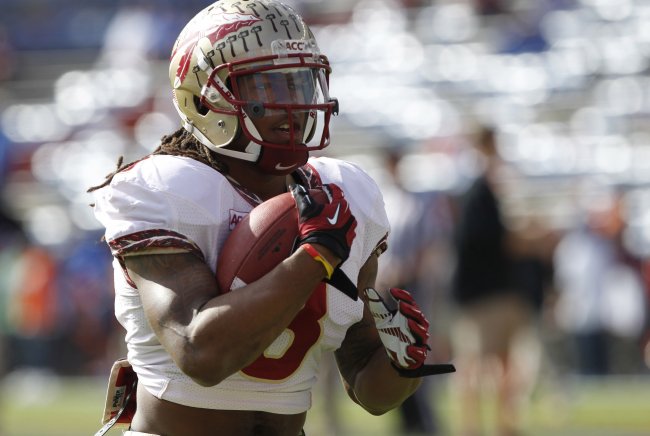 Kim Klement-USA TODAY Sports
The Blue Devils are the biggest underdog of the entire week. That includes FCS games. The Vegas oddsmakers have concluded Duke is at, by far, the biggest talent disadvantage of any team in conference championship week.
And the public agrees. After opening at 27.5-point favorites, the line has moved two more points in Florida State's favor—enough of a swing that makes you realize people far beyond your pay grade have put money down on the Seminoles.
It's not hard to see why. Florida State has won its games by an average of 42.2 points thus far. The Seminoles' closest game since September came against Miami—and that was a 41-14 blowout.
Jameis Winston is going to win the Heisman Trophy. Devonta Freeman, Karlos Williams and James Wilder Jr. are a ridiculously talented running back trio. The Florida State defense ranks first in the nation in points allowed.
There are a lot of things to like here.
Let's strip them away for a second, though, and go super positive on the Dukies. Cutcliffe has built a roster that thrives in close contests. The Blue Devils are 4-1 this season in games decided by seven points or less, including road victories against Wake Forest and North Carolina to get to this point. They took down Virginia Tech on the road and defeated Miami by three scores.
In the ACC world—where pretty much every schedule is weak—the Blue Devils actually have a comparable resume to the Seminoles. Jeff Sagarin ranks Duke's schedule No. 65 in the nation and Florida State's No. 66.
The Blue Devils also have a unique offense that has given opposing defenses fits this year. Brandon Connette is the best short-yardage rushing quarterback this side of Tim Tebow, able to use his vision and strength to pile in for 13 touchdowns.
What Connette lacks in regular passing efficiency is made up for by Anthony Boone, who has completed about two-thirds of his attempts this season—even if his nine picks thus far are a concern.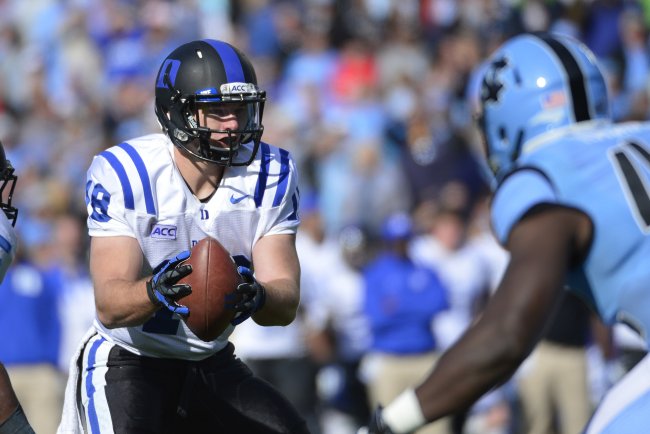 Bob Donnan-USA TODAY Sports
With Jela Duncan and Josh Snead serving as a solid running back duo, you could easily talk yourself into Duke nearing the 20-point glass ceiling.
Whether the Duke defense can stop Winston and the Florida State offense is another can of worms entirely. Football Outsiders' S&P Ratings rank the Seminoles the No. 1 offense in the country, and it's not particularly close. Their rating on passing downs is an astronomical 176.9. To put that in perspective, second-ranked Miami is closer to No. 8 Arizona State than it is to Florida State.
It's going to be an uphill battle.
Prediction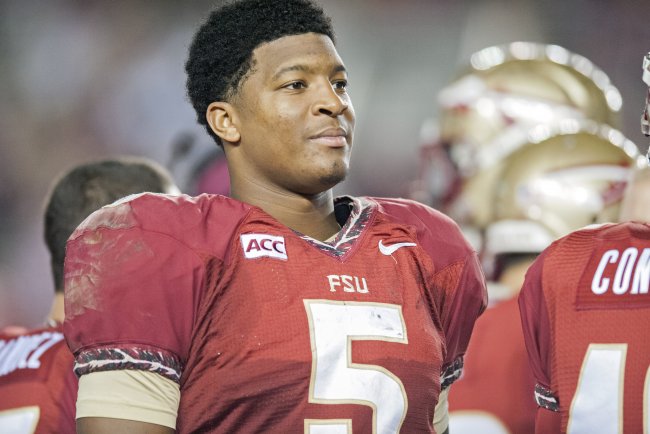 Jeff Gammons/Getty Images
To answer the question posed in the storyline: Nope. Duke cannot compete with Florida State. This is going to be the "Red Wedding" of conference championship games. The Seminoles have been on a rampage all season long, and while Duke is a great, entertaining story, there's simply too much talent on the opposite sideline to expect a close game.
Could the Blue Devils cover? Maybe. Duke has lost each of its 18 previous matchups with Florida State and done so by an average of 34 points, per ESPN's David M. Hale. The program has never even come closer than two touchdowns—Florida State's smallest margin of victory this season.
The Blue Devils will essentially hope the past is no guaranteed indicator of future results. Their entire season has been one big exercise in subverting expectations. And, just for the heck of it, I'm going to say they get one more minor victory by making this game a little closer than expected for the first quarter or so.
But, eventually, talent wins out. Winston and Co. are too good to not dominate this game, and they should be able to mirror their Miami experience—where a shaky beginning was followed by a dominant second half.
Score: Florida State 42, Duke 17
Follow Tyler Conway on Twitter: