The Best Saves from New York Rangers Goalies in 2013-14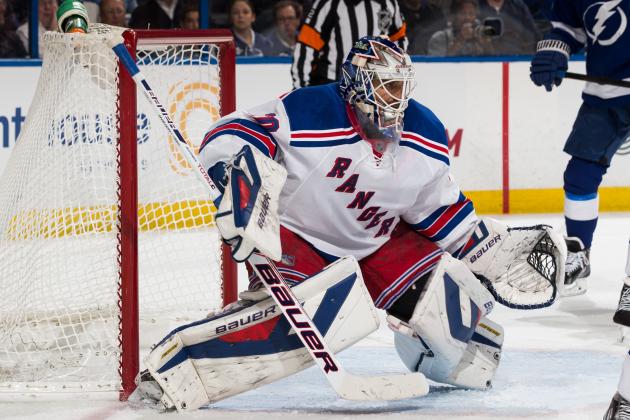 Scott Audette/Getty Images

New York Rangers goalies have made 827 saves in the 2013-14 season.
But which saves of Henrik Lundqvist and Cam Talbot were the very best of the season thus far?
We've combed through the archives and found the five best, with a brief description of what happened on the play and what made the save so good.
Read on to find out which saves made the cut.
Begin Slideshow

»
One of the reasons Cam Talbot has been so successful is because he's so composed in net. He doesn't make any unnecessary movements. He is always square to the shooter, as well.
This play is no different. Fedor Tyutin gets the puck in the slot and Talbot is up to the task, staying square and coming down the save.
He's incredibly mature in net, and it's why he's played so well this year.
Henrik Lundqvist has a terrific glove hand.
He shows it here on this incredible save on Marcus Foligno.
Foligno gets the puck in the slot and rockets it toward the net. Lundqvist reaches out and snatches it out of mid-air.
It may have been going wide, but it shows incredible reaction skills and flexiblty. Great save.
Talk about standing tall.
Nicklas Backstrom, one of the best players in the game, gets the puck in the slot with a point-blank look.
What does Lundqvist do? He gets square to the shooter and absorbs the shot in his midsection. That is not an easy save. Backstrom has a wicked wrister and showed it there. Lundqvist gave his fellow Swede nowhere to shoot. What a save.
I don't know how Henrik Lundqvist makes this save.
Ryan Garbutt has a glorious rebound chance in front. Lundqvist, who is struggling to get over from the other side, lunges and makes a glove save.
Being good under duress is critical for a goaltender. Lundqvist does it with ease here.
It's star against star here, as Henrik Lundqvist absolutely stones Jaromir Jagr.
Coming out of the penalty box, Jagr gets behind the defense and is all alone. He fakes forehand, before coming to his backhand, where Lundqvist is there with his left pad to make the save.
Lundqvist has always been great at shootouts, because he never commits too soon. Lundqvist doesn't get fooled by the deke, and has enough flexibility to stick out his left leg.
What a save.
This is an amazing sequence by Lundqvist.
Anze Kopitar undresses Dan Girardi, cutting in toward the net, but Lundqvist is equal to the task, stopping it with his stick.
Dustin Brown gets the rebound, which Lundqvist deflects with his blocker as he is sprawled out on his stomach. He then somehow gets his right leg out to stop a third chance by Kopitar.
This requires incredible concentration, flexibility and some luck. This is the type of play that shows why Lundqvist deserves to be the highest-paid goaltender in the league.