Charlotte Bobcats Power Rankings: Rating Every Player After First 6 Weeks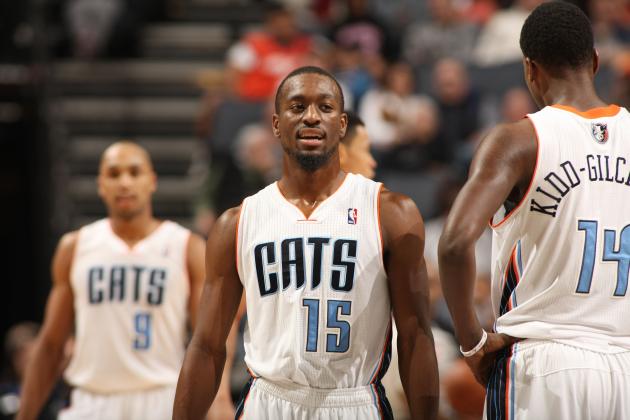 Kent Smith/Getty Images

The Charlotte Bobcats are a playoff team.
Nope, there is no typo in that previous sentence. If the season ended today, not only would the entire basketball world enter a collective state of confusion, but the Charlotte Bobcats would also be a real, actual, living playoff team.
We're a quarter of the way into the season, and the Bobcats have been better than anyone could've expected. They haven't been great. Actually, they haven't even been very good, but they have absolutely, positively been better.
Some of that credit has to go to new head coach Steve Clifford. The Cats are still dreadful offensively and sit as one of the worst offensive teams in the NBA, but they've been winning games with their defense.
Charlotte finished dead last in the NBA in defensive efficiency last year. The year before wasn't any better, when the Bobcats were also last in the league in defensive efficiency, en route to a .106 winning percentage, the worst in the history of the NBA.
Now, though, Charlotte has been faster than a Kemba Walker crossover while shooting up in the defensive rankings. The Bobcats currently rank third in the league in points allowed per 100 possessions. That's some kind of improvement.
The offense still isn't close to there—and a lot of that has to do with shot selection—but as long as the defense continues to stifle opponents, maybe Charlotte can surprise some people down the road.
We're only a quarter of the way into the season, but here's a look at how each Bobcat has contributed so far this year, ranked from No. 10 to No. 1.
Begin Slideshow

»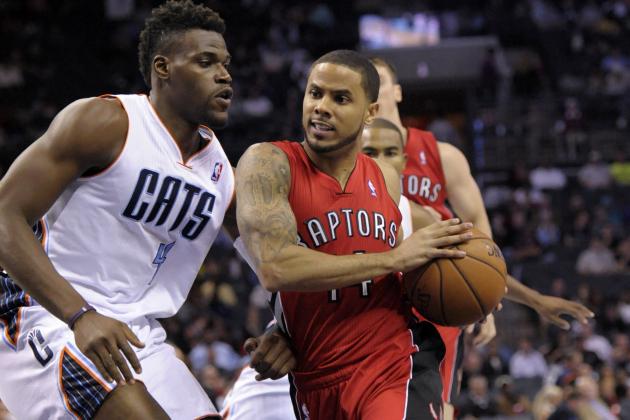 Sam Sharpe-USA TODAY Sports

Jeff Adrien was getting minutes early in the season but has lost some playing time of late. The fourth-year forward has played only 15 total minutes over his last three games.
Adrien has mainly been an around-the-rim player this season, which is a change from what we usually see from him. Normally, Adrien likes to hang around mid-range and take shots from there.
That was actually his game when he was in college at UConn, especially in his final year. Hasheem Thabeet couldn't step away from the rim, so Adrien would hang out in the high post, hit his open mid-range jumpers and help facilitate for Thabeet through his point guard, A.J. Price.
Now, Adrien obviously isn't going to be a facilitator. He's probably not going to be a high-post player, considering he didn't hit a very high percentage of his mid-range shots last season. So now, he's gone more inside, and he's taking fewer shots in doing so. His improved field-goal percentage (53.6 percent) is probably a direct result of that.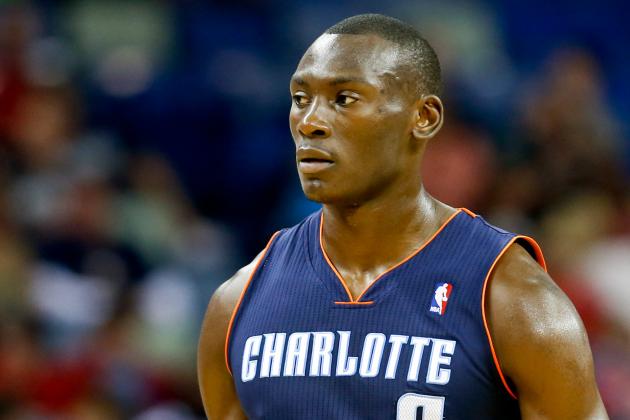 Derick E. Hingle-USA TODAY Sport

It's those hands, those hard-as-rock hands that are more unforgiving than a 16-year-old girl holding a grudge against her best friend after going on a date with a guy she kind of likes but is too intimidated to approach.
Too much?
Well, that's how plenty of evaluators feel about Bismack Biyombo. There are things to like, but those hands make him too difficult to approach. They ruin everything.
Biyombo just doesn't catch the ball, and when he does, his 10 thumbs struggle to hold on to it. The coordination hasn't been there, and because of that, the offense can't develop. And as we continue to see Biyombo struggle to show any sort of an offensive game, he is quickly losing playing time in his fourth NBA season.
Let's remember this guy was a seventh overall pick. Let's remember he's only 21 years old. Let's remember he's still a freaky athlete and a talented shot-blocker.
Biyombo can still develop into a quality player. The Serge Ibaka comparisons make sense to a degree, but at this point, that's more from a narrative standpoint than from an actual on-the-court standpoint.
Both Ibaka and Biyombo are from the Democratic Republic of the Congo. Both are naturalized Spanish citizens who played professionally in Spain before coming to the NBA. Both are athletic, large-chested shot-blockers. But Ibaka actually has skill, something Biyombo is yet to discover.
Now, Biyombo no longer starts and averages just 10.5 minutes a game over his past six. He's trending in the wrong direction, and the rookie Cody Zeller has to be ready to take advantage of every moment of that.
Sam Sharpe-USA TODAY Sports

When the Bobcats took Zeller fourth overall in this past June's NBA draft, it seemed like everyone questioned his athleticism.
Does Zeller have the leaping ability to be successful? Can he protect the rim at all with limited athleticism?
Those are all code words, though, aren't they? It's all said in the same tone that helped anoint Kevin Love as the player who does the most with the least amount of natural ability in the NBA.
Zeller looked overmatched when Indiana played Syracuse in the Sweet 16 back in March. He couldn't finish around the rim. His shot got blocked five times by the Syracuse bigs, none of whom are particularly vaunted NBA prospects.
So coming into the draft, people questioned Zeller's athleticism and his ability to finish at the hoop. But then the NBA combine came, and Zeller showed off the best standing vertical and running vertical of any big man in Chicago. He was quick in the three-quarter court sprint. On paper, he was the best athlete of any big man in the draft.
Zeller could move. The question became, could he shoot?
At Indiana, he barely took any mid-range jumpers. But we couldn't really tell if that was based on coach Tom Crean's scheme or Zeller's inability to hit jump shots.
Leading into his NBA career, Zeller said all the right things. He insisted his lack of jump-shot attempts in college was based on scheme and not necessarily the fact that he couldn't make shots when he stepped away from the rim. Now, though, we've started to see the true Zeller.
He looks like he's going to be a quality NBA player, but for now, the jumper just isn't there. The rookie is shooting just 19 percent on mid-range jump shots (and that's on a decent volume of 42 field-goal attempts). As of now, he doesn't shoot well enough. But that's OK.
Zeller is never going to be a rim-protector with a stubby 8'10" standing reach. All he needs is time to develop his jumper. But we knew that might be the case. As long as the Bobcats are patient, they have a chance to turn their fourth overall pick into a pretty decent player.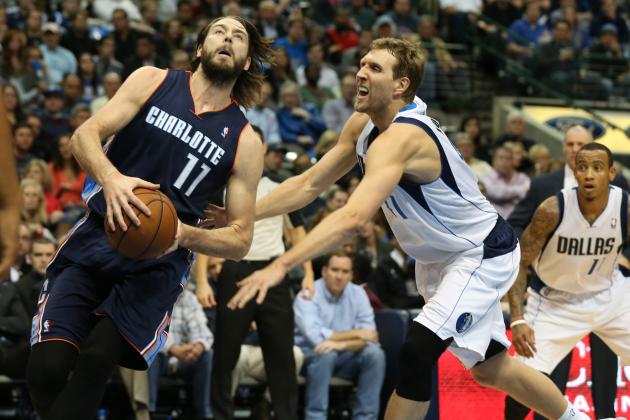 Matthew Emmons-USA TODAY Sports

Josh McRoberts, three-point shooter? It's happening. Get ready.
McRoberts is taking 4.6 three-point attempts per 36 minutes, more than twice as many per 36 as his previous career high. Basically, McBob is becoming a stretch 4 to the extreme.
He likes to hang around the top of the key and a little off to the right side, waiting for a swing pass. When the Bobcats fling the ball around the perimeter and it comes to McRoberts, he shoots. Of his 147 shots, 69 have been threes.
It's strangely out of character for someone who, as of just two years ago, was a strictly around-the-rim player. In the lockout 2011-12 season, 68 percent of McRoberts' shot attempts came in the restricted area. Last year, that number plummeted to 44 percent. This year, he's taking just 29 percent of his shots from inside the restricted area.
Maybe it's new coach Steve Clifford adding a new wrinkle to McBob's game. Maybe it's the evolution of a player who was never all that great around the rim trying to find new ways to succeed. Maybe it's a little bit of both.
Either way, we're seeing a new side of Josh McRoberts, and it's going to be fascinating to see how it develops over the course of 82 games.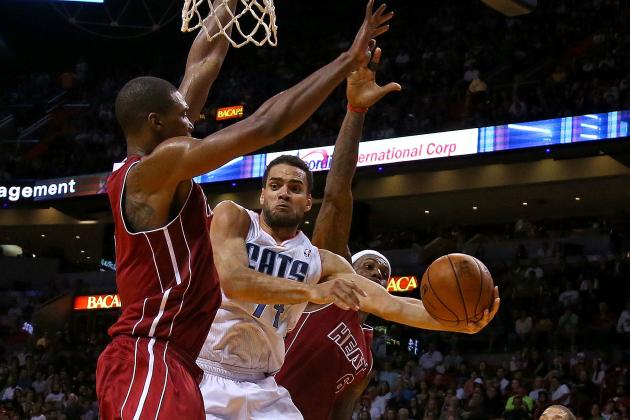 Mike Ehrmann/Getty Images

Jeff Taylor's fortunes are going to change.
Through 20 games this season, he's seen a regression in almost all his numbers. His true shooting is down to 45 percent, his PER is down to exactly 7.0 (ouch), and he's making only 26 percent of his threes. That's not what you want to see from a second-year player who was supposed to improve, especially after lighting up NBA summer league in Las Vegas back in July.
Taylor, though, has been uncharacteristically bad in areas of the game in which he would usually succeed.
Taylor was an assassin from the corners last year, sinking just over 41 percent of his corner threes in limited playing time. This year, he's playing more and he's confidently taking those same shots, but the ball just isn't going in as often.
The shot selection is good. The looks are open. The shots just aren't dropping.
The left corner is Taylor's bread and butter. It's his comfort zone. But Taylor is just 7-of-22 from the left corner this year.
We're still early enough that a couple of good games could change his numbers and all of a sudden make him look like an efficient player. We're still watching Small Sample Size Theater in that sense.
Realistically, the numbers will go up. Taylor will start doing things he does well at a positive clip again. Maybe now that he is replacing the injured Michael Kidd-Gilchrist in the starting lineup, he can start to get better looks.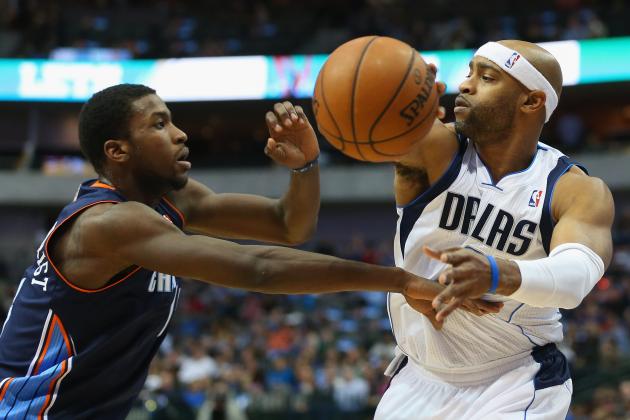 Ronald Martinez/Getty Images

Terrence Jones should be cautious. Or maybe Marquis Teague. Or Doron Lamb. Or Darius Miller.
All of those guys should be wearing padded protective gloves, since there's clearly been a hex placed on the Kentucky draft class of 2012.
It started with Anthony Davis, the No. 1 pick in the 2012 NBA draft, breaking his hand in a game against the New York Knicks. Only a few days later, Kidd-Gilchrist, the Kentucky product who went second in that draft, suffered the same injury.
Watch out, Kentucky alums. None of your hands are safe.
When he's healthy, Kidd-Gilchrist can be a major contributor. He's already a great defender on the perimeter, and that's not just because of his extreme length and size on the outside. Defenders can't go around his outstretched arms, but they also find themselves in bad positions because of the spots on the floor he tends to play.
Kidd-Gilchrist is great at playing areas. That doesn't necessarily mean he's great in a zone, but that he is already well above average helping his teammates when they lose their assignments.
We know Kidd-Gilchrist is going to be a good player because he's already a good player. He is an upper-echelon athlete who runs the floor well, finishes in transition and defends on the perimeter at an (at times) dominant level. In a worst-case scenario, he can probably be Corey Brewer, which isn't bad at all, considering he's still only 20 years old and has plenty more time to develop.
The problem comes in Kidd-Gilchrist's shot. It just doesn't go in the hoop.
Shooting 50 percent from the field isn't anything to be ashamed of, but MKG is making only 29 percent of his jumpers this year. He can slash. He can get to the rim. There is an offensive game forming within his style, but if he doesn't find a way to fix the detrimental hitch in his shot, defenses are going to adjust accordingly and take away his lane to get to the rim.
Remember though, 20 years old is pretty darn young. There's plenty of time for Kidd-Gilchrist to improve his shooting. Maybe he'll never be a dominant shooter, but he doesn't need to be one to become a good player. All he needs to do is be capable, and the rest of his game will open up immensely.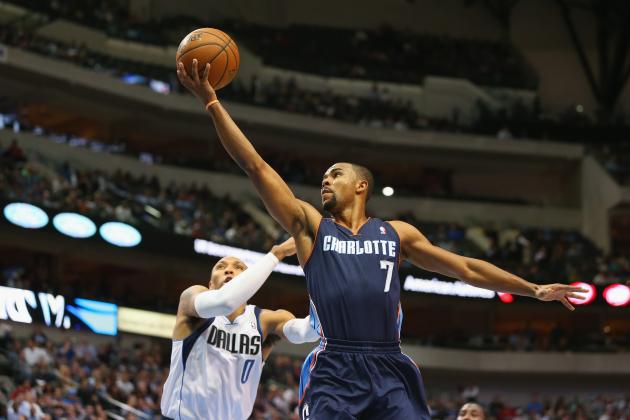 Ronald Martinez/Getty Images

Ramon Sessions has been an underrated player for a long time, and this year only continues to prove that.
No, he's not shooting particularly well from the field (41 percent) or from three (22 percent), but he does so many things that can help a young, developing team. Really, he's one of the best backup point guards in the NBA.
Sessions has always gotten to the free-throw line frequently. He's strong when he penetrates to the hoop and finishes well around the rim. That's been the case ever since he entered the league.
This year, though, Sessions has been especially good at getting to the line. He's averaging a career-high 9.2 free-throw attempts per 36 minutes. He's posting a 67 percent free-throw rate. And it's those numbers that help even out Sessions' efficiency and actually turn him into an above-average scorer.
Running a second unit isn't easy when everyone around you is so much younger. Jeff Taylor is a second-year player. Cody Zeller is a rookie. Bismack Biyombo is only 21 years old. It's not that Sessions is old; he just plays like a veteran. And he's making that second unit better.
With Sessions on the floor, McRoberts (a starter who has played a bunch of minutes with Sessions), Zeller and Anthony Tolliver all become more efficient. All of their true shooting percentages increase when they share the court with Sessions, according to NBAwowy.com.
Sessions is a quality player having another quality year, but as long as he stays in Charlotte, he may continue to go unrecognized.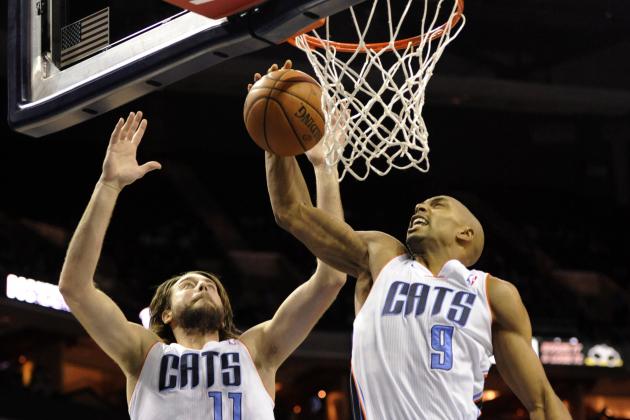 Sam Sharpe-USA TODAY Sports

Gerald Henderson finally got paid. Over the summer, the Bobcats re-signed him to an $18 million, three-year deal, which is a fine number for someone who put up the production that Henderson did last season. The problem this year is that Henderson hasn't replicated that quality play.
Henderson was never much of a three-point shooter, but he took a leap forward last season when he shot 33 percent from beyond the arc. This year, though, he's regressed on the long ball, and his efficiency from inside the arc has fallen as well.
It's not that Henderson has no jump shot. He can drain it from mid-range at a respectable rate. He can shoot off the dribble and isn't bad when he gets open catch-and-shoot opportunities. But Henderson hasn't been hitting his shots early this season. That's how you end up with only a 48 percent true shooting percentage through 20 games.
Once Henderson gets his jumper back, he'll regain his form from last year. He may never be a top-tier small forward, but he's the type of player who could be a legitimate piece on a contending team if he ever got the opportunity.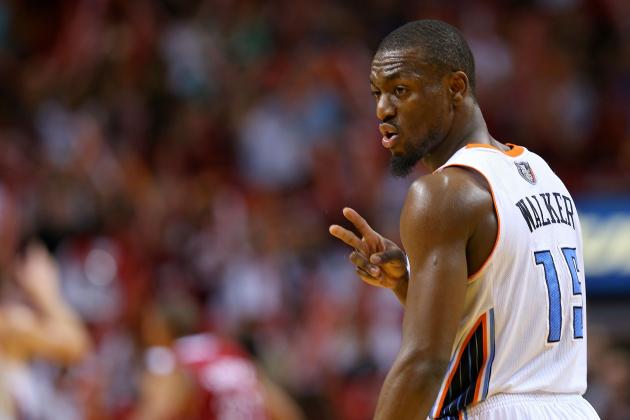 Mike Ehrmann/Getty Images

This Bobcats offense isn't terribly effective. That's how Charlotte ends up ranking 29th in the league in offensive efficiency. And plenty of that inefficiency has to do with the way Walker is running this offense.
There's a lot to love about Kemba Walker. He's quick, he's fun to watch, and he's physically capable of finishing plays that make you jump off your couch so quickly that you end up pulling a hammy. He's just a likable player and a likable guy. But this year, Walker hasn't been all that good.
He's becoming a bad-shot taker, and that's the last thing you want from your starting point guard whom you are trying to groom to run your offense.
Now, it's possible Walker is going to take a little time to blossom. He had a down rookie year and followed that up with a much-improved second season in the league. This year, his numbers are back down, but again, that's an issue with shot selection.
Being a good shooter isn't just about being able to put the ball in the hole. It has to do with shot selection, too. We all acknowledge that. Part of the reason someone like Rudy Gay or Metta World Peace shoots a worse percentage than he should isn't necessarily because he can't shoot, but more because he takes shots that aren't makable.
Unfortunately, Walker is in that category for now. He's taking shots that aren't makable. But that issue is one that's far more correctable than the problems with someone like Kidd-Gilchrist, who can't shoot regardless of where he is on the floor.
Walker is a smart player who plays hard. This can change. Maybe it will change.
For now, though, Walker is just an inefficient point guard running an inefficient offense.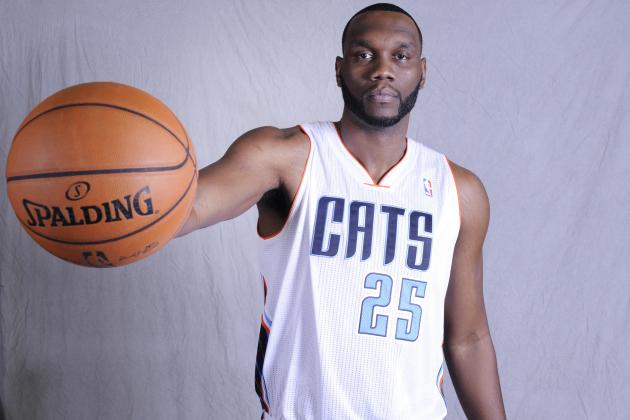 Sam Sharpe-USA TODAY Sports

When you're the Charlotte Bobcats, you have to overpay to get the players you want. When you apply that logic, Al Jefferson's $41 million, three-year deal starts to make a little more sense.
We know Jefferson has the raw numbers. He has the old-school stats to back him up.
He averages loads of points per game. He can pull down rebounds. He's a dependable double-double at center.
All of those attributes are great. It's always nice to have a center who can throw up at least 17 points and at least nine or 10 rebounds on a nightly basis. And Big Al has done all that while posting a PER better than 20 in six of the past seven seasons.
There is a lot to love about Al Jefferson. There is a lot he does at an elite level. But there is also a lot that might make him worse than the numbers show.
Jefferson isn't a great passer out of the post, and while he has loads of skill when he posts up on the low block, teams can double-team him without much risk, knowing he likely won't make a great pass to get out of the double-team.
That, though, is an element the Bobcats have needed for a long time. They've never really had a guy who has consistently demanded double-teams whenever he's touched the ball.
Double-teams open up offenses. They allow for more off-ball movement. They free shooters and cutters alike. But the problem comes when the guy getting double-teamed doesn't find the right teammate to give the ball to.
Jefferson hasn't played the whole season (he missed the beginning of the year with an ankle injury), and since returning, he hasn't been his usual self. Pretty much all of his numbers are down, including his minutes, but he's only played in 11 games.
He's bound to improve to the level he's been playing at for the past seven or eight years. It'll happen. Just give it a little more time.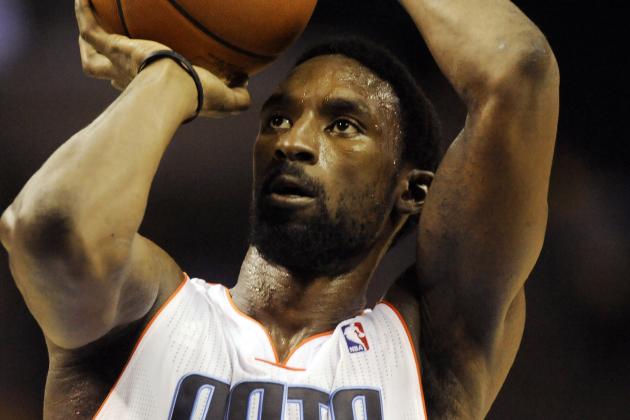 Sam Sharpe-USA TODAY Sports

14. James Southerland
Southerland has barely played, but the rookie might have a shot to be an NBA contributor down the line. If Steve Novak can maintain a spot in the NBA, Southerland might be able to as well.
The one thing we know Southerland can do is that he can shoot and he can do it with the best of them. If he can develop as a dominant catch-and-shoot offensive player, he's worth keeping on the Bobcats roster. Maybe he won't contribute to an NBA roster just yet, but Southerland is actually a decent athlete and might be able to stick on a roster at some point down the line.
13. Jannero Pargo
Pargo has barely played so far this season, but even though he's only been on the floor for a grand total of 18 minutes, his negative PER still stands out.
There was a point when Pargo was a serviceable backup point guard, but that was when he was with the New Orleans Hornets—and it was five years ago. Now, Pargo probably doesn't add much to a team other than providing a veteran presence in the locker room.
12. Anthony Tolliver
Tolliver is one of those players whom you wish could become more efficient. He just takes too many jump shots; he always has.
Last season, almost 83 percent of Tolliver's shots were jumpers. This year, 41 of his 44 field-goal attempts have been jump shots. And he is shooting under 30 percent on those shots.
Tolliver does a lot of things well, but considering his long 6'8" frame, he should go to the rim more. He just never does—and because of that, he can't be as effective as he should.
11. Ben Gordon
Remember when Gordon was the best sixth man in the NBA? How long ago does that seem?
Now, Gordon is on the fringe of the rotation in Charlotte. He has actually played in the Bobcats' past four games, but hasn't been effective in any of them.
Gordon used to be one of the most consistently dependable shooters in the league. He was a lock for 40 percent from three-point range. Now, it seems like he can't buy a shot and can't manage to stay on the floor. It's been a disappointing decline for a guy who was once one of the more exciting players in the NBA to watch.
Fred Katz averaged almost one point per game in fifth grade, but he maintains that his per-36 minutes numbers were astonishing. Find more of his work at RotoWire.com or on ESPN's TrueHoop Network at ClipperBlog.com. Follow him on Twitter at @FredKatz.
(Statistics valid as of December 7, 2013.)