The Houston Rockets have a big problem on their hands. Literally.
Well, that or a tremendous trade chip. Depends on whether you're a card-carrying member of the glass-half-full crowd or not.
Disgruntled 7'0" big man Omer Asik has gone from being coach Kevin McHale's opening-night starting center to now being a sad-faced presence near the end of Houston's bench. Asik, unsurprisingly, has been clamoring for a trade throughout the transition.
That wish could be granted soon. According to what sources told ESPN.com's Marc Stein, the Rockets plan to deal Asik between Dec. 15 (when players who signed new contracts this summer can be traded) and Dec. 19 (the last day a new arrival could still be repackaged with other players prior to the Feb. 20 trade deadline).
After months of speculation, this is about as definitive as Asik's future will get before he's actually traded. Now that the phone lines are open, which teams should be calling Rockets general manager Daryl Morey?
Well, I'm glad you asked.
In order to jump in the group of Asik suitors, the Trail Blazers would directly challenge the adage "if it ain't broke, don't fix it."
But could this Portland team—yes, the giant-slaying 17-3 Blazers—actually be broke?
Broke's probably not the right word. Fragile is a much better fit.
Look, the Blazers are doing a lot of things right. But all of those things are happening at one end of the floor.
Portland overwhelms with offense (league-best 109.4 points per 100 possessions). LaMarcus Aldridge is an absolute force down low (23.4 points, 47.6 field-goal percentage), and he's surrounded by historically accurate marksmen.
But those three-point bombs won't drop every night. When those off nights arise, the team needs a defensive insurance to fall back on that isn't there right now.
Leaks have sprung throughout this defense (103.1 points allowed per 100 trips, 20th overall). Asik—a force on the glass, asset in pick-and-roll coverage and stone wall on the low block—could help plug a lot of those holes.
The Blazers know this. According to Mitch Lawrence of the New York Daily News, the Blazers and Rockets have had talks regarding a potential Asik swap.
Robin Lopez wouldn't qualify as the "impact player" Yahoo! Sports' Adrian Wojnarowski reported that Houston is searching for, but he could easily be a serviceable backup to Dwight Howard—the same thing Asik is at the moment. Not to mention, it gets Houston out of the $14.8 million owed to Asik next season, even though his cap hit will remain at $8.3 million as ShamSports.com's Mark Deeks explained.
Portland could also sweeten the pot with an additional young piece, either one of its own or through a third team brought into the mix.
The Blazers are one of the few teams that can afford to sacrifice a bit of the future for a lift to their present—the average age of Portland's starting five is only 25.4. Judging by Stein's timetable for a deal, Morey would have no problem taking back an asset he could send out in a subsequent trade.
Another early-season world beater cracks the list. You know, since an 11-10 record commands that type of respect out East.
If the Hawks have hopes for anything more than mediocrity—Atlanta's plus-0.5 net rating sits an underwhelming 15th in the category—then general manager Danny Ferry needs to keep working his magic.
It shouldn't be that hard to do with the quality of trade chip that he's holding.
Paul Millsap has already emerged as one of the league's best offseason acquisitions. Working on a bargain two-year, $19 million contract, he's put up 16.2 points on 51.6 percent shooting while snagging 7.7 rebounds in his 31.9 minutes a night.
ESPN.com's Kevin Pelton (Insider subscription required) crafted a list of six potential frontcourt partners for Howard. That list included Millsap, who Pelton said was arguably "the best all-around player" of the group.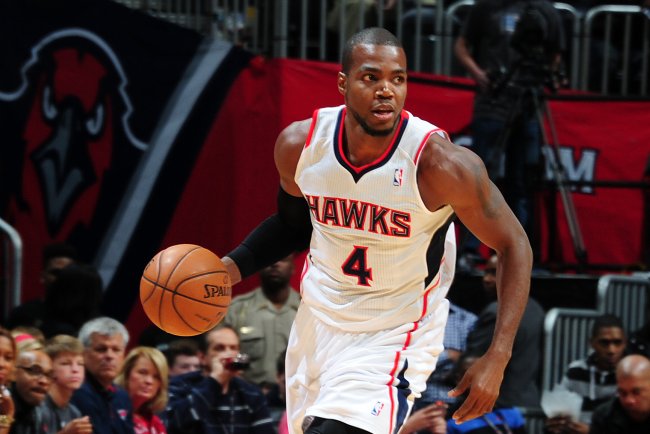 Scott Cunningham/Getty Images
That seems like it fits that whole impact player criteria, doesn't it?
Millsap isn't the stretch 4 that most analysts tend to think Houston is targeting. He has the ability to make plays on the perimeter (40.5 three-point percentage this season), but that's hardly his calling card (1.9 three-point attempts per game).
But the Rockets don't necessarily need a perimeter-oriented big. They just need someone capable of stretching the defense far enough to keep driving lanes open and leave Howard with room to navigate.
Millsap is more than comfortable living in the mid-range area. Nearly 47 percent of his field-goal attempts have come outside of eight feet from the basket.
And unlike some of those stretch bigs, Millsap's a force on the glass (8.7 rebounds per 36 minutes) and a positive presence at the defensive end.
So, why would Atlanta want to get rid of him?
Because he might not be the ideal running mate for Al Horford.
Both players are a bit undersized for their positions. The Eastern Conference might not have a lot of talent, but it does boast some formidable frontcourts.
If the Rockets go searching for best player available and the Hawks want to do Horford a favor, this is a trade that both parties should consider.
Rockets fans, if you're searching for a sexy trade package, now's a good time to look away.
In fact, if you listen closely enough, you might hear the wind escaping from Morey's sails as we speak. They were a bit overly inflated to begin with.
As one executive told CBS Sports' Ken Berger, Houston's asking price for Asik so far has been "delusional." MSG Network's Alan Hahn seemed to validate that notion when he reported that Houston was demanding "two first round picks" in return.
That price-point could finally be coming down:
If Houston can't find lottery pick for Asik, rival teams under impression they're also on the lookout for high-level power forward.

— Sam Amick (@sam_amick) December 6, 2013
Still, could it wind up falling low enough for Dallas to get in the mix? At last check, the Mavericks are still on the outside looking in:
Rumor today has Omer Asik coming to Dallas for Larkin, Marion. Rockets asking a lot more than that . . .reportedly.

— Bill Ingram (@TheRocketGuy) November 21, 2013
But that's hardly a reason to close communications. If anything, it's extra incentive to keep pushing a package of Shawn Marion and rookie Shane Larkin.
Both could have value in Houston, although for different reasons.
The 35-year-old Marion lost his All-Star touch awhile ago. But he still has the offensive versatility that Houston wants and the defensive ability that it needs.
He can defend either forward spot and would give McHale some pretty intriguing small-ball options. Marion's an active rebounder (8.0 per 36 minutes), an energetic defender (1.4 steals, 0.9 blocks) and still good for 11.6 points a night.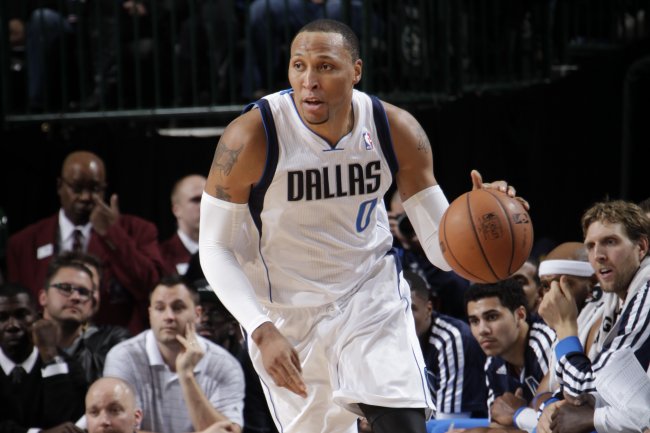 Glenn James/Getty Images
He plays a lot like Houston's current starting 4, Terrence Jones, only he comes without the risk-reward factor of the 21-year-old. He'd also come with an expiring $9.3 million deal, giving Morey further flexibility to exploit.
Larkin doesn't fill a need as the Rockets already have a glut of point guards, but he'd be yet another trip chip in Morey's collection.
Where do you think Asik is going?
Asik, meanwhile, could man the Mavericks middle from day one. He's a steep upgrade over current starting center Samuel Dalembert, who's best suited for a reserve role at this stage of his career.
Asik is the rim protector that Dirk Nowitzki needs, and the crashing pick-and-roll man that both Monta Ellis and Jose Calderon could use.
Again, Houston will have to keep slapping clearance tags on Asik to make Dallas a realistic landing spot, but the Mavericks should stay ready in case the right moment arises.
Asik has value. Size always comes with a premium.
But it just doesn't seem that he'll command the kind of package the Rockets are after. That's why all of these teams should keep their fingers crossed, their phones on and wait for Morey to accept what feels like the inevitable.

*Unless otherwise noted, statistics used courtesy of Basketball-Reference.com and NBA.com.