Analysing Mario Balotelli's Performance vs. Livorno
December 7, 2013
Gabriele Maltinti/Getty Images
Sometimes, Mario Balotelli lives up to his Super Mario nickname. Other times, he morphs into Wario Balotelli. On Saturday, he was very much the former.
The striker notched a vital brace for AC Milan in the club's 2-2 draw against Livorno, scoring in each half. His second-half free kick was especially important, as it tied the game in the 83rd minute, helping Milan to salvage a point. 
His first goal was a bit fortuitous, as Kaka's weak, low cross dribbled onto the feet of Balotelli, who managed to awkwardly redirect the goal into the side netting. It wasn't his prettiest goal, for sure, but it counted all the same.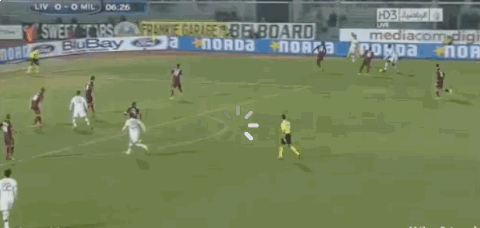 Bleacher Report
And he more than made up for it was a picturesque second tally.
This time, Balotelli stepped up to take a free kick and ripped a beauty, sending it over the wall and completely freezing keeper Francesco Bardi. 
Bleacher Report
It doesn't get much better than that.
For his efforts, Balotelli was given a 9.5-match rating from WhoScored.com, making him Man of the Match. The site credited him with a perfect percentage of ariel duels won, 46 total touches, five shots and six dribbles won on the afternoon.
It was the type of performance a team needs from its centre-forward, especially a powerful, game-changing striker like Balotelli.
AC Milan has gotten off to a dreadful start, but Balotelli has done his part in general, with six goals, two assists and a 7.47-match rating in 10 appearances during Serie A play.
When he's on his game, Milan are a much, much more difficult team to deal with.
AC Milan isn't the only team hoping Balotelli can turn this performance into a hot run of play this season. Italy will also be hoping the striker can take his game to the next level, especially after being placed in a World Cup group with England and Uruguay. 
On Saturday, Balotelli reminded everyone just how much he can impact a game when he's focused and in the mood. He also reminded folks just how well-rounded his offensive game is, as he's a beast in the air, can blast from distance, can put himself in dangerous positions in front of the net and is a set-piece dynamo.
Super Mario is the ultimate weapon. Well, so long as he keeps Wario at bay, that is.