Well, the answer in a sentence is "a bit of both."
For 40 minutes after the lunch interval, Mitchell Johnson bowled a spell so ferocious and so brilliantly destructive that almost anything England did, or indeed, could've done, would have proved insufficient.
Ben Stokes, could hardly have imagined a tougher baptism to his international career, and he was the first victim after the interval to a searing, heat-seaking full, 90 mph delivery that crashed into his front pad.
Matt Prior, just moments later, and in a deep rut of poor form, tentatively poked outside the off stump and was caught behind. The shot itself was weak, but to criticize him too much for it belies the brilliance of the three balls he faced prior to it.
A full delivery on Prior's legs was followed by two rearing, spitting, venomous bouncers that nearly beheaded England's keeper. If ever there was an excuse for being tentative, the two bouncers Prior received were not bad ones.
Stuart Broad was the next to go. Having delayed facing Johnson by five minutes complaining of distractions on the big screen, he was bowled first ball behind his legs by another stump-seaking missile. Johnson's celebration as he wheeled off in delight, with Broad standing shell shocked at the crease, was an image that summed up the day.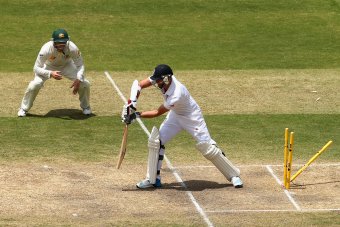 Ryan Pierse/Getty Images
Graeme Swann then played the shot of a frightened man with a wild swish outside off stump. This was before the moment of the day arrived when James Anderson, sledging villain of the Brisbane Test, prodded forward with all the commitment of a granny poking a sleeping crocodile with her umbrella.
And the ball soared through the gap between bat and pad and cannoned into the stumps. Then, Monty Panesar was the final helpless victim; his flying off stump concluding the innings.
That was the spell of destruction; the spell of impossible anger, that could not be fought.
But earlier in the day, things were not so clear cut.
Having lost captain Alastair Cook the evening before, Michael Carberry and Joe Root began the day well, playing in a slightly more sedate fashion, yet still threatening Johnson with admirable care and caution.
In fact, Carberry and Root reached 57-1 before a reckless and brainless sweep shot from Root off the bowling of Nathan Lyon, which ended the partnership. Root got himself out; he wasn't got out. And, in that sense, he was at fault.
Kevin Pietersen then fell, and his thoughtless flick into the leg side with two close catchers positioned was perhaps the worst shot of the day.
With Cook out, Jonathan Trott at home and Matt Prior out of form, the onus was on Pietersen (the remaining experienced head) to knuckle down and fight for his team. And, his shot was not one for the circumstances.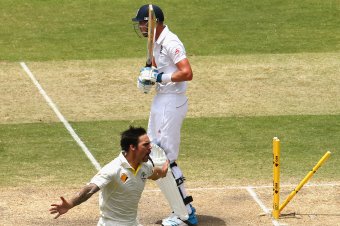 Ryan Pierse/Getty Images
It's difficult to completely blame Michael Carberry for his demise. Australia had dried up the runs prior to lunch and when the ball was dropped short by Shane Watson, Carberry latched onto the delivery and attempted to pull it away into the leg side for runs.
However, an excellent diving catch by Warner plucked the ball from the air and sent the left-hander on his way.
It was not a particularly wise shot, but he fell victim to a simple yet cunning plan by Australia. And it was a wicket that saw England head into lunch despondent.
Therefore, before lunch there can be an element of blame laid, in varying degrees, at the feet of the three batsmen. After lunch, however, it was difficult to blame them: Johnson was supreme.
However, there is a twist in the tale of this analysis and that is the innings of Ian Bell who finished 72 not out, and did in fact ride the Johnson wave.
While it would be perhaps unrealistic to expect debutant Stokes and dasher Prior to play the innings Bell did, Bell's resilience demonstrates that a technically sound batsman playing at his very best can in fact weather Johnson's storm.
But yesterday, with the match situation as it was, with batsmen who were at the crease, there is little England could have done to stop the spell of 6-19 that was bowled by Johnson between lunch and tea.