Can we just cancel the Eastern Conference? The NBA could move the Indiana Pacers and Miami Heat into the Western Conference. The rest of the East can play D-League teams, or maybe they can just work on polishing pingpong balls.
Here is how drastic the difference is: At 11-10, the Atlanta Hawks own the East's third-best record. They'd be in ninth, just a half-game ahead of the Los Angeles Lakers, in the West.
With the huge discrepancy in talent from the teams at the top to those at the bottom, power rankings feature a solid amount of guesswork. I'll try to help sift through that guesswork below.
1. Indiana Pacers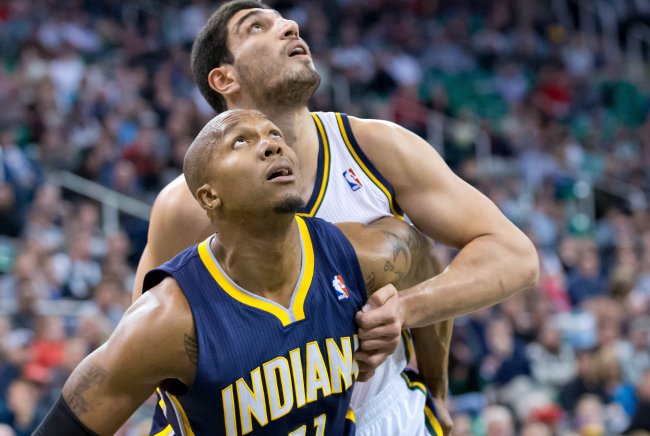 Russ Isabella-USA TODAY Sports
The Pacers fell to the Portland Trail Blazers earlier this month, but that was just a four-point loss on the road and on the second night of a back-to-back.
In other words, it is safe to have the Pacers sitting ahead of the Blazers.
The Pacers are playing the best defense in the league and lead the NBA in points allowed per game. On top of that, Paul George is having an MVP-caliber start to his season. This team is a powerhouse.
2. San Antonio
The San Antonio Spurs just continue to quietly go about their business of winning.
Future Hall of Famer Tim Duncan is off to a pedestrian start, which raises concerns about the interior game of the Spurs, but I think we all know enough not to overreact to anything the Spurs do early in the season.
Gregg Popovich is the master of managing the rigors of the long regular season, and somehow this team still wins at an extraordinary rate.
3. Portland Trail Blazers
Are the Blazers for real?
Portland dropped a two-point game at home to the Dallas Mavericks on Saturday night to drop to 17-4. That was the Blazers' second bad loss to a Western Conference team in the last two weeks. They fell by 14 to the Phoenix Suns on Nov. 24.
These losses only support the notion that the Blazers' fantastic start has been hollow, as it has been built off an easy schedule.
Still, in the same span of those two bad losses, they proved their merit with wins over the Pacers and Oklahoma City Thunder. This team will be a contender all season.
4. Miami Heat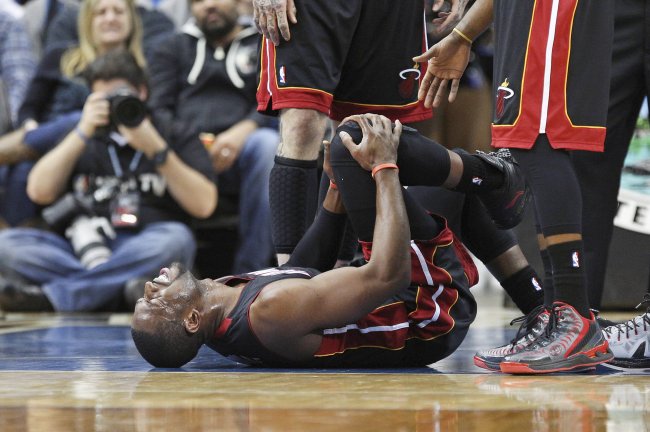 Jesse Johnson-USA TODAY Sports
In light of the health struggles of Dwyane Wade and his inability to stay on the court, the Heat are reportedly looking to trade for some backcourt help. That is a wonderful idea, but why wasn't this accomplished in the offseason?
The Heat need to start taking a page out of the Spurs playbook. One of the goals for the season needs to be to make sure this team is physically ready to go for the postseason. The Heat have played a lot of games in the last three years.
5. Oklahoma City Thunder
The Oklahoma City Thunder haven't dropped a game at home, and Russell Westbrook is still rounding into form from his knee injury.
With Reggie Jackson doing a solid job as the backup point guard and guard Jeremy Lamb developing, this team is only going to get better as the season progresses.
6. Houston Rockets
The Houston Rockets followed up a nine-point loss to the Phoenix Suns with a 22-point win over the Golden State Warriors on Dec. 6. Both games came at home.
This team has the talent to beat anyone, but the offense's reliance on James Harden makes for some inconsistent performances. This will be tough to overcome in the postseason.
7. Los Angeles Clippers
If the Los Angeles Clippers can get their defense figured out, they will be scary.
The Clippers are 19th in points allowed and struggle against teams with effective half-court games. Third in assists and fourth in points per game, this team just needs an average defense to run teams off the court.
8. Dallas Mavericks
The Dallas Mavericks are off to a 2-0 start on their current four-game road trip, and that includes a win over the Blazers.
I can't believe it, but the pairing of Dirk Nowitzki and professional shot-taker Monta Ellis is working. Now let's just see if Rick Carlisle can help Ellis to remember to pass for the entire season.
9. Golden State Warriors
The Golden State Warriors have to develop their bench.
The Warriors' starting five can score in bunches. This will lead to plenty of victories this season, but over the long run, this team can't win close games against good teams with its current bench struggles.
10. Denver Nuggets
The Denver Nuggets are unpredictable. They had a seven-game win streak that extended into early December. Then they lost back-to-back games against the Cleveland Cavaliers and Boston Celtics.
The Nuggets are great on the boards and a good scoring team, but defensive struggles will leave them dealing with consistency issues all season.
11. Memphis Grizzlies
Somewhere, I imagine rejected Memphis Grizzlies coach Lionel Hollins is getting some satisfaction out of his former club sitting a game under .500 as the NBA's 26th-ranked team in points per game.
12. Phoenix Suns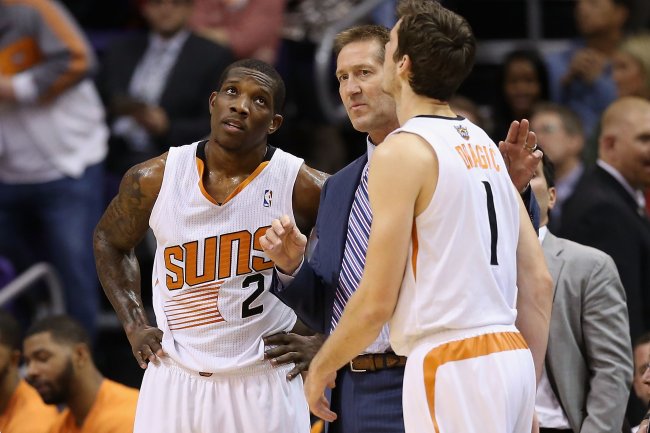 Christian Petersen/Getty Images
The Suns are two games over .500 and have 11 wins already. I'm shocked. I didn't think this team would get its 11th win until February.
The pairing of Eric Bledsoe and Goran Dragic is working far better than I expected. If Bledsoe can stay healthy all year, the Suns have a shot to make the postseason.
13. Los Angeles Lakers
Kobe Bryant is getting close to his anticipated return to the court, and this team has kept its head above water in his absence.
At 10-9, the Lakers are ninth in the Western Conference, but if the Mamba can return and players like Nick Young and Xavier Henry can keep their solid starts rolling, this team will move up the standings.
14. New Orleans Pelicans
The New Orleans Pelicans don't have the talent to withstand the loss of Anthony Davis. That's the bad news. The good news is that Davis is so good that he is irreplaceable. He also should be back sometime in January.
15. Atlanta Hawks
Al Horford and Paul Millsap combine to give the Atlanta Hawks a sneaky-good front line. Well, that's good unless you want to talk about rebounding. Horford is grabbing eight boards per game, and he leads the team.
This team does not have good enough on-the-ball defense to consistently overcome that kind of deficiency on the glass.
16. Washington Wizards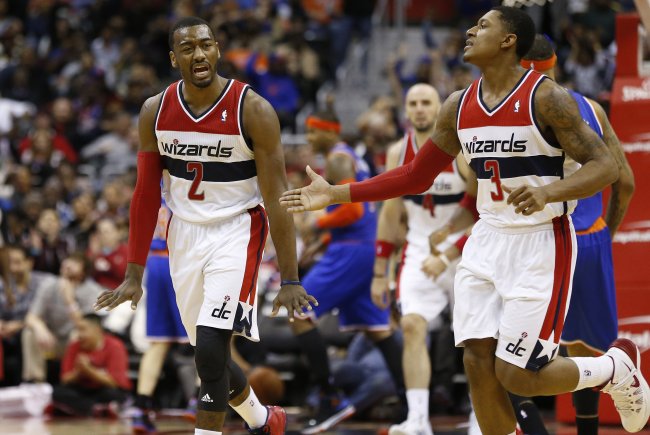 Geoff Burke-USA TODAY Sports
The Washington Wizards are hovering around .500, and that is enough to make them an Eastern Conference power.
This long-suffering franchise is putting a fun and productive product on the floor with the three-way attack of Bradley Beal, John Wall and Trevor Ariza.
17. Detroit Pistons
Andre Drummond is on the verge of superstardom. The massive center has a ways to go in developing his touch, but he is as physically imposing in the paint as the NBA has seen since Shaquille O'Neal.
If Brandon Jennings can figure out how to shoot at least 40 percent from the field, this team could be dangerous.
18. Chicago Bulls
A blowout win over the Miami Heat on Dec. 5 was followed up by a blow-out defeat to the Detroit Pistons two days later.
With Derrick Rose out and the lack of a go-to option on offense, this is going to be an up-and-down season for the Chicago Bulls.
19. Minnesota Timberwolves
The Minnesota Timberwolves are not big fans of defense. That not-as-rare-as-I-would-hope condition is not getting any better either.
For the year, they have allowed 101.9 points per game. They've only kept one of their last six opponents under that mark, and that was in a loss against the Pacers—who don't care all that much about scoring since it's nearly impossible to score against them.
20. Charlotte Bobcats
The Bobcats are going to miss the injured Michael Kidd-Gilchrist. His length and athletic ability have already made him one of the league's better defenders, and he was spearheading a defense that is second in points allowed.
Still, the Bobcats already have nine wins. They can go the next two months without picking up another and still be considered an improvement from their predecessors.
21. Philadelphia 76ers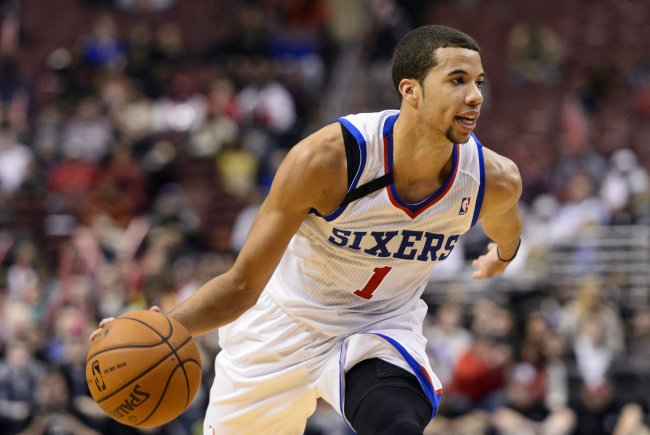 Howard Smith-USA TODAY Sports
The Philadelphia 76ers are far better than almost anyone expected they'd be, and they are only 7-14.
Rookie point guard Michael Carter-Williams has made a fantastic adjustment to the NBA, and center Spencer Hawes is posting 15.7 points and 10.0 rebounds per game.
Still, this team isn't playing a lick of defense. The 76ers are 30th in points allowed per game.
22. Boston Celtics
Well, Brad Stevens, this is what you wanted.
The Celtics have already suffered four- and six-game losing streaks this season. Still, he has Boston battling. The C's have won two in a row and five of their last seven.
23. Orlando Magic
Another rookie guard off to a strong start is Victor Oladipo. The 6'4" Indiana product was hailed for his all-around game, and that is shining in the NBA. He's also doing that while scoring 14.4 points per game.
It is good for Magic fans to focus on that because this team doesn't do anything well.
24. Toronto Raptors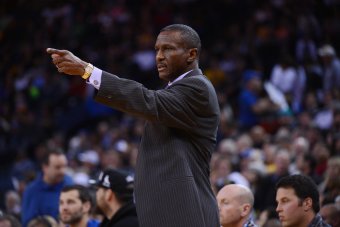 Kyle Terada-USA TODAY Sports
At 6-12, the Toronto Raptors have been a huge disappointment. I wouldn't be surprised if coach Dwane Casey failed to make it through the season.
The ball movement is atrocious, and the offense a mess. DeMar DeRozan is posting a career-high 21.3 points per game, but his shooting percentage of 43.4 percent is noticeably lower than his career mark of 45.2.
25. Cleveland Cavaliers
The Cleveland Cavaliers got off to a nightmare start, but they have won three of their last four, and Andrew Bynum is showing some signs of life.
Point guard Kyrie Irving is turning in a solid season, but he needs someone on his team to develop as a consistent scorer.
26. Sacramento Kings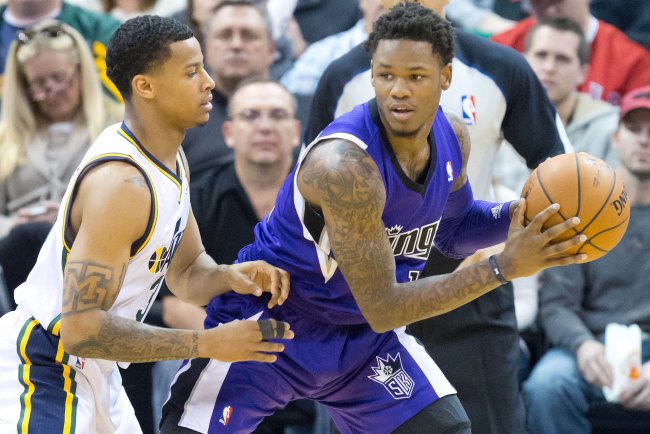 Russ Isabella-USA TODAY Sports
Rookie guard Ben McLemore is not adjusting well to the NBA. He is hitting just 37.6 percent of his shots from the floor for 10.1 points per game.
The worst part is, other than DeMarcus Cousins (22.0) and Isaiah Thomas (17.8), he is the only other King averaging double-digit scoring.
27. New York Knicks
It's no secret that the New York Knicks have been a train wreck. They've only won five games all season.
Could a change of fortune be on the way? They've won two in a row by an average of 34 points.
There has been, and probably will be, plenty of time to talk about how awful this team is, so I won't point out that those victories came over the similarly terrible Magic and Brooklyn Nets.
28. Brooklyn Nets
Hey, speaking of the Nets being terrible, they hold the No. 28 spot here, but have the potential to climb lower.
You think coach Jason Kidd spills his coffee on his phone whenever someone tells him Nets owner Mikhail Prokhorov wants to talk to him?
29. Milwaukee Bucks
Shooting 41.4 percent from the floor, O.J. Mayo leads the Milwaukee Bucks in scoring at 15.3 points per game. Again, that's just 15.3 points per game...and O.J. Mayo!
You get my point, right? The Bucks can't score.
30. Utah Jazz
At the turn of the month, the Utah Jazz managed to double their season-win total with back-to-back triumphs over the Suns and Rockets.
They parlayed that momentum into a three-game losing streak that hit a new low their last time on the court by losing (winning?) a pingpong-ball battle with the Kings.