While the NBA trade deadline is still months away, the rumors are already starting to heat up as teams around the league look to improve.
There are a lot of squads—especially in the Eastern Conference—that have gotten off to terrible starts and want to reevaluate themselves going forward on the season. Meanwhile, other teams are simply looking for better fits that can help upgrade for the long haul.
Although any deals are probably still a ways from being completed, here are the latest rumblings from around the league after the first month and a half of the regular season.
Omer Asik Has Specific Trade Window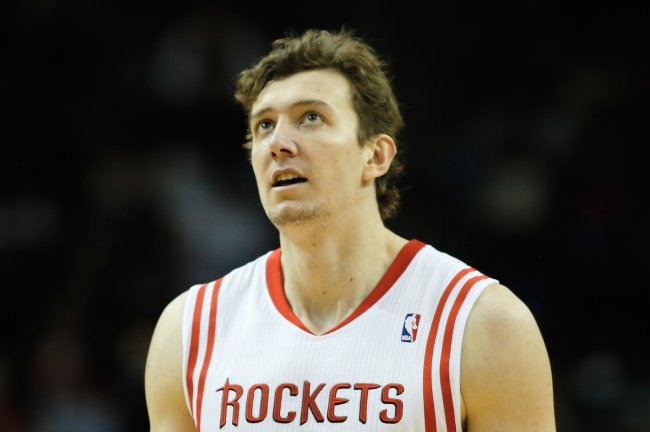 Scott Halleran/Getty Images
As soon as the Houston Rockets acquired Dwight Howard, it was clear the squad had to do something with Omer Asik. The two play the same position, and Asik has been completely unproductive this year after breaking out last season.
As a result the Rockets seem intent on trading the center that was not the biggest free agent this past season. Interestingly, Marc Stein of ESPN reports that Asik will likely be traded within a five-day period:
Sources told ESPN.com that the Rockets began calling potential trade partners Friday to let them know they intend to deal Asik between Dec. 15 and Dec. 19.

The significance of such a specific window is two-fold. Dec. 15 is the first day players who signed new contracts in the offseason can be plugged into trades, and Dec. 19 is the last day any player acquired by Houston in an Asik deal can be repackaged with other players before the league's Feb. 20 trade deadline.
This is some impressive forward thinking for the Rockets organization, which should signal that the team is not messing around with this trade. According to Sam Amick of USA Today, the cost of a deal will be high:
If Houston can't find lottery pick for Asik, rival teams under impression they're also on the lookout for high-level power forward.

— Sam Amick (@sam_amick) December 6, 2013
Gery Woelfel of the Racine Journal Times also added:
Told Rockets want two 1st rounders or one first and good young player for Asik. Good luck with that.

— Gery Woelfel (@GeryWoelfel) December 6, 2013
Although this would be a lot to give up, Asik was one of the best interior defenders in the league last season and finished third in the league with 11.7 rebounds per game. The Rockets will not give him up for nothing, so teams better prepare to negotiate in this small window.
Miami Heat Need Help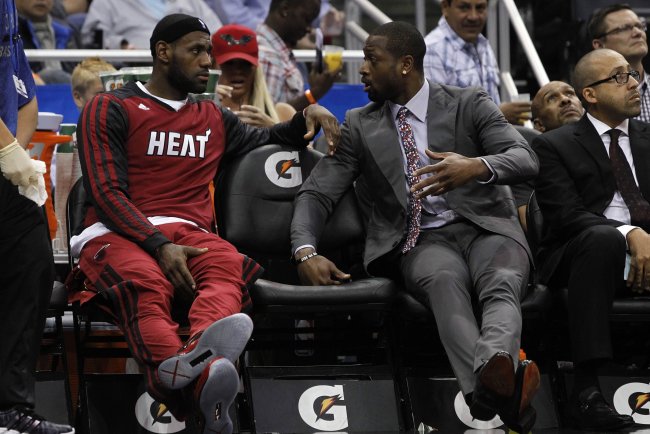 Kim Klement-USA TODAY Sports
With Dwyane Wade in and out of the lineup throughout the season, the Miami Heat have decided it is time to make a move to provide some depth.
According to Brian Windhorst of ESPN, the team will try to dangle one of their big men for someone who can replace Wade in the rotation:
The Heat (14-5) have a glut of big men and have been looking into trading one for a guard, or to clear a roster spot so they can sign a player later. Center-forward Joel Anthony, who has played in just five games this season, is one of the players who may be available.
The question, however, is how much someone like Joel Anthony would be worth. The 31-year-old veteran has played in only six games and has scored a grand total of two points.
If the Heat really want to get a strong return, they would be better off making Rashard Lewis or Udonis Haslem available. These players have at least contributed this season and have proven themselves at a high level in the NBA.
Either way, it is hard to replace someone like Wade, even for a short amount of time. Norris Cole, James Jones and even future Hall of Famer Ray Allen have attempted and come up short. These players will continue filling in until Miami finds a better replacement.
Still, it seems unlikely the Heat are able to acquire a legitimate starter at this time.
Carmelo Anthony Could Be Traded, But It Is Unlikely
With Carmelo Anthony in the final year of his contract, it makes sense to start thinking about the future. While the All-Star has not commented on his status, the team certainly needs to consider all of its options.
Al Iannazzone of Newsday speculated that the New York Knicks could trade the forward before the deadline if they do not think he will stay. The logic is that they will at least get something in return, similar to what happened when the team acquired him from the Denver Nuggets.
Considering the Knicks' terrible start to the year, giving up on the season to prepare for next year would be a reasonable decision.
However, Windhorst reports that this is not something that will take place:
The Knicks, sources say, have zero intention of trading Anthony no matter what he says about next summer. Not only did owner Jim Dolan personally seal the deal to bring Anthony to New York, but the front office realizes it has one of the most talented players in the league and won't be able to get fair value in return.
It is obvious that New York will never want to give up on the idea of signing the star player. He certainly has a decent chance of re-signing with the club, although a full season of turmoil could change that.
The key will be for the team to get an accurate assessment of the situation before the Feb. 20 deadline. If the Knicks are still out of contention and Anthony appears intent on leaving, it would almost be insane not to trade him for some value that could help out the future.
Follow Rob Goldberg on Twitter for the latest breaking news and analysis.