The MAC Championship Game proved that nothing is certain in college football. Still, the door closing on one team opens up a door for another when it comes to BCS bowls.
Northern Illinois was expected to grab a spot in one of the major bowls for the second year in a row after finishing the regular season undefeated and climbing all the way to No. 14 in the BCS standings. One more win would have clinched a spot, but the Huskies instead lost to Bowling Green Friday night by a final score of 47-27.
This will almost certainly knock the squad out of the running for a BCS game. As a result, a few other teams have once again been put in the conversation for a bid if things go well this weekend.
A lot can still change based on the remaining conference title games, but here is a look at some new contenders for a BCS bid, followed by full predictions for the January matchups.
Baylor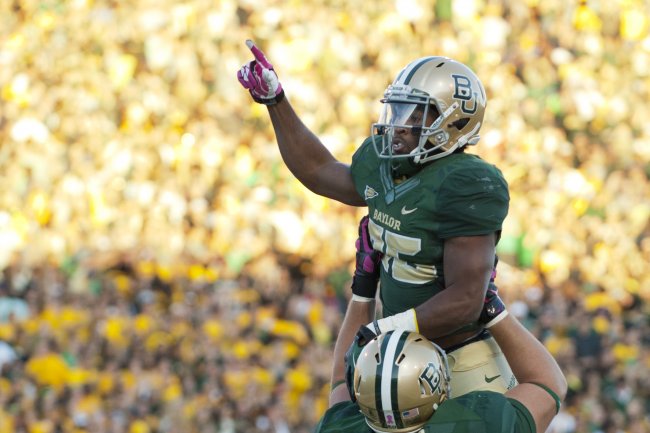 Cooper Neill/Getty Images
It seemed like yesterday that Baylor was challenging for a spot in the national championship game. After starting the season 9-0, the common debate was whether the Bears had a more impressive resume than Ohio State.
Unfortunately, one road loss to Oklahoma State completely knocked them out of the title conversation and out of people's minds.
Of course, Baylor still has the No. 1 offense in the nation at 55.4 points per game thanks to an elite passing and rushing attack. Bryce Petty has a 28-2 touchdown-to-interception ratio, and he just excited fans with his latest announcement:
Baylor QB Bryce Petty says he "will definitely be back for next year." Petty's thrown for 28 TD and just 2 Int this year. (via @KWTX)

— SportsCenter (@SportsCenter) December 5, 2013
With only one loss, the squad is clearly one of the top teams in the country, and it is well-deserving of a BCS bowl, even without a Big 12 title.
Oregon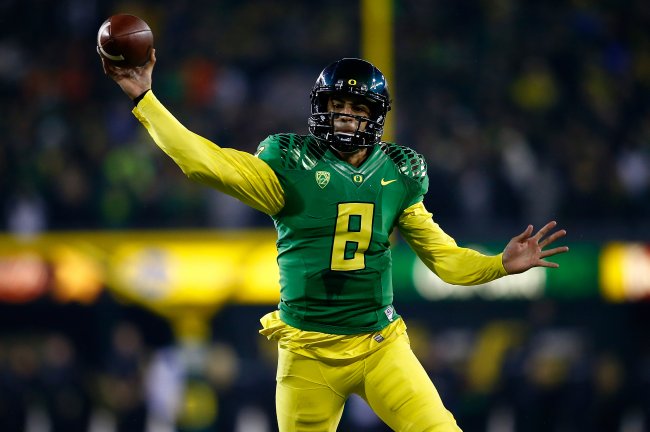 Jonathan Ferrey/Getty Images
Sometimes losing early pays off. Oregon ended its title hopes in Week 11 when it lost to Stanford on a Thursday night. However, the more devastating loss came two weeks later when Arizona embarrassed the Ducks 42-16.
This defeat knocked them out of the running for a Pac-12 title, but this could be beneficial down the line.
When Stanford faces Arizona State in the conference title game, the winner will automatically go to the Rose Bowl. However, the other team will suffer its third loss of the year, which might be too much for a BCS bowl committee to overlook.
On the other hand, 10-2 Oregon represents a big draw on a national scale, and the team could end up moving back into the Top 10 by the end of Week 15. If a bowl is looking to fill a spot, there are certainly worse choices than an exciting team like the Ducks.
Oklahoma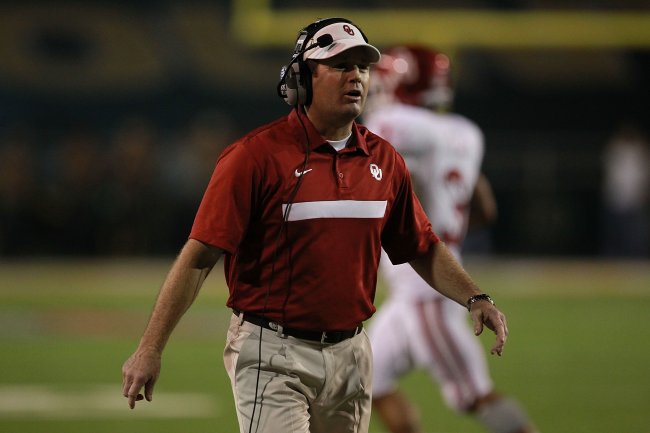 Ronald Martinez/Getty Images
The list of teams available for an at-large berth with no chance of winning a conference title is not too long. Lisa Horne of Fox Sports compiled a list earlier in the week from the BCS:
Per BCS, at-large teams STILL under consideration: Alabama, Clemson, LSU, Northern Illinois, Oklahoma, Oregon, South Carolina.

— Lisa Horne (@LisaHorne) December 3, 2013
Although some would be surprised to see Oklahoma on this list after a pair of bad losses, the rest of the season has been respectable. While 9-2 might be disappointing for the Sooners, that is still among the best marks in the country heading into the final weekend.
They now have an opportunity to turn a decent year into a good one with a win at rival Oklahoma State. This would not only prevent the Cowboys from winning a Big 12 title, but it would give the two teams the same record.
After Baylor presumably gets the Fiesta Bowl, the other committees would have little choice but to grab Oklahoma as the next best Big 12 team and legitimately one of the best remaining teams in the country.
BCS Bowl Predictions

| | |
| --- | --- |
| BCS Championship Game | Florida State (BCS No. 1) vs. Ohio State (BCS No. 2) |
| Orange Bowl | Alabama (At Large) vs. Clemson (At Large) |
| Sugar Bowl | Missouri (SEC Champs) vs. Baylor (At Large) |
| Fiesta Bowl | Oklahoma State (Big 12 Champs) vs. UCF (AAC Champs) |
| Rose Bowl | Stanford (Pac-12 Champs) vs. Michigan State (At Large) |
Follow Rob Goldberg on Twitter for the latest breaking news and analysis.