2014 World Cup Draw: Thoughts on Gunners Past and Present Featuring in Brazil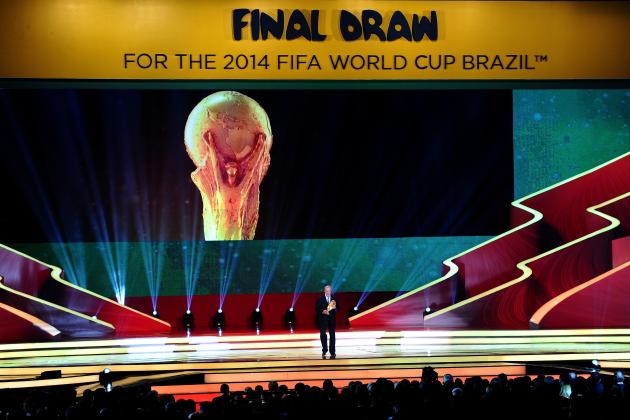 Buda Mendes/Getty Images
The FIFA World Cup draw was a great spectacle
After a series of long and tiresome qualifiers as well as playoff encounters all over the globe, the world held its breath as the draws for next summer's soccer fiesta took center stage and it's fair to say that football lovers are in for one hell of a roller-coaster ride come June.
After seeing Andres Iniesta score the goal that made history for his nation three years ago, it seemed like an eternity for the next tourney but the wait it almost over, as the World Cup comes into the spotlight once the 2013/14 season is concluded.
As expected, 32 teams were drawn into eight groups and Arsenal, like every big European side, will have its fair share of ambassadors representing their nations with their eyes on the ultimate prize.
In the last World Cup, Robin van Persie came close to getting his hands on the solid gold but it wasn't to be as the Spaniards were class acts all tournament long. They beat the creme de la creme to get all the way to the final and it's fair to say that it was no less than they deserved.
Without further ado, here are my thoughts on Gunners past and present featuring in next summer's FIFA World Cup.
Begin Slideshow

»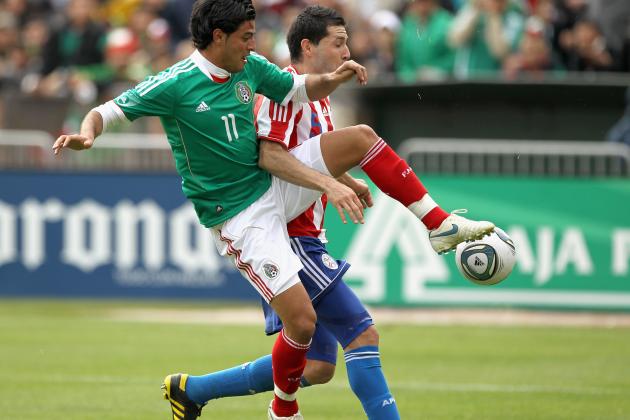 Ezra Shaw/Getty Images

Brazil
Croatia
Mexico
Cameroon
There's no player in the current crop of the Gunners' squad that will be represented in this group, but Arsenal fans will have half an eye on the performances of Carlos Vela and Alexandre Song.
We all vividly remembered how Vela was touted as the next best thing and his full debut against Sheffield United saw the young Aztec Warrior fire a hat-trick that endeared him to the fans.
However, he lacked the stature to impose himself as a center forward, and his work rate was also questionable. His plethora of loan spells finally got him a place he calls home, and I must say that he's a transformed player at Real Sociedad.
Alex Song on the other hand, was a rough gem that required patience to become a finished product but after one exceptional season where he honed his creative talent, he jumped ship to a nice warm bench in Catalonia. Good riddance, as they say in this part of the world.
In terms of progression to the next round, Brazil are the sure-fire favorites to emerge as the leaders of the group but it would be one hell of a contest to see who grabs the final slot. Croatia has some household names that Mexico and Cameroon would ignore to their own peril but there are a few certainties—either Vela or Song or none of them could progress to the Round of 16.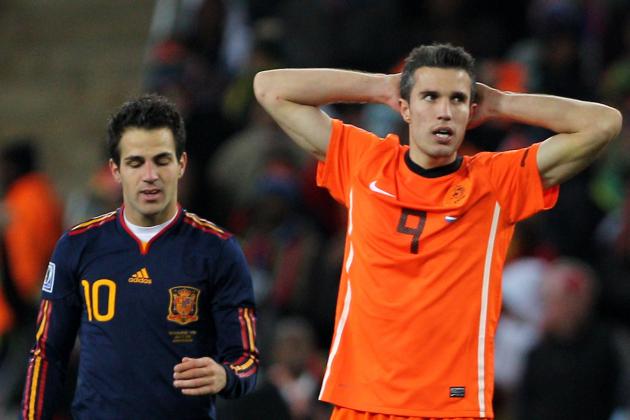 Clive Rose/Getty Images

Spain
Netherlands
Chile
Australia
Santi Cazorla and Nacho Monreal, two members of the current Arsenal squad, will be featured in the group but two of the club's former influential leaders and talismanic players will also be on display, as Cesc Fabregas locks horns with Robin van Persie as they did in the final three years ago.
Since leaving, Fabregas has maintained a good standing with the club's supporters, but RVP has earned a Judas Iscariot/pantomime villain status since switching to the Red Half of Manchester courtesy of the little boy inside him.
Australia conceded 19 goals in their last four friendlies that brought an end to their manager's reign. The new coach will have his hands full in a group that features these European juggernauts and a Chile side still reveling over their victory against England.
However, I will place my smart money on Fabregas and his nation to qualify. Holland on the other hand, are an unpredictable lot (Euro 2012 anyone?).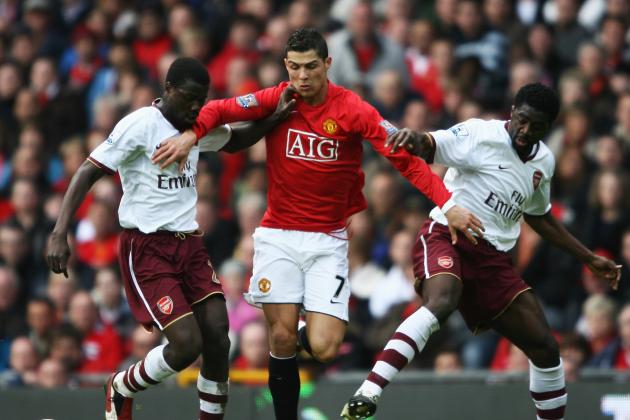 Clive Brunskill/Getty Images

Colombia
Greece
Ivory Coast
Japan
Colombia are currently sitting on the upper echelons of the FIFA world rankings and their recent Radamel Falcao-inspired friendly victory over Belgium on their turf dropped a few jaws. However, Arsenal fans will keep an eye on two of their favorite African sons, the aging yet evergreen Kolo Toure and everyone's favorite cheerful chap, Emmanuel Eboue.
Toure forged a rock-solid partnership with Sol Campbell in the invincibles era and even brought the best in a usually-shaky Phillippe Senderos in the road to the Champions League final in 2006.
Eboue, on the other hand, played a part in ending Lauren Etame-Mayer's career at the club but the arrival of Bacary Sagna signaled the end of the line for the cult hero and he jumped ship to Turkey.
Ivory Coast have a very strong team and I expect them to even top this group, but they have to be wary of the threat Colombia, Greece and even Japan (remember their performance against Italy in the Confederations Cup?) could pose.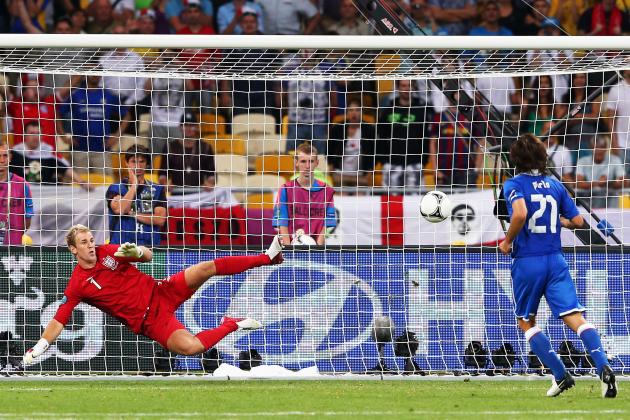 Alex Livesey/Getty Images

Uruguay
Costa Rica
England
Italy
This is certainly going to be one "tasty" group.
Uruguay has grown in stature after winning the last edition of the Copa America, and they have two of the most feared strikers in the business right now. Arsenal's presence will be felt in the England squad and you would expect Roy Hodgson to call up Theo Walcott, Jack Wilshere, Alex Oxlade-Chamberlain and maybe…Kieran Gibbs.
Arsenal's loanee at Olympiacos, Joel Campbell, will be on song for his North American nation.
I can't confidently point my finger to single out two teams from Uruguay, Italy and England (never mind the order), but this is my definition of the Group of Death. Arsenal players became familiar with that term in this season's Champions League and they are in pole position to qualify; let's see if the Three Lions can do the same.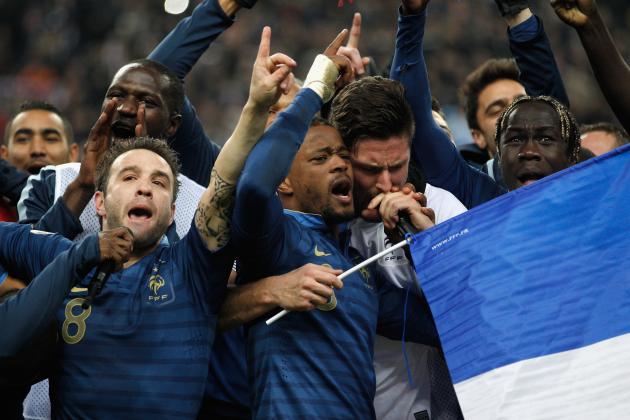 Harry Engels/Getty Images

Switzerland
Ecuador
France
Honduras
Overturning a 2-0 deficit from a team, Ukraine, that hadn't conceded a goal in eight games was no easy feat, but France had Mamadou Sakho to thank as he became an unlikely hero on the night.
This triumph meant that Olivier Giroud, Bacary Sagna and Laurent Koscielny, three instrumental players to Arsenal, advanced to the finals in Brazil.
Arsenal's Les Bleus contingent will be in pole position to qualify from a relatively easy group, but they will have to keep an eye on the Swiss that surprised Spain in the last World Cup.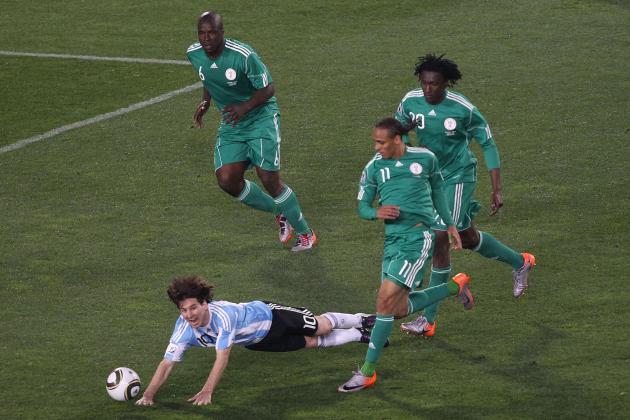 Streeter Lecka/Getty Images

Argentina
Bosnia and Herzegovina
Iran
Nigeria
There's nothing to write about here from an Arsenal perspective, but as a Nigerian, I'm proud and elated to see my nation given a rather comfortable group, although I still don't understand why they always have to play Argentina in major tournaments.
On the bright side, Nigeria will be bracing themselves to see another Lionel Messi vs. Vincent Enyeama saga.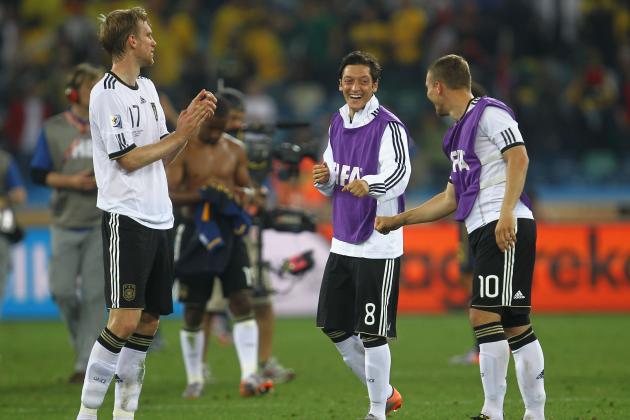 Lars Baron/Getty Images

Germany
Portugal
Ghana
United States
Lukas Podolski and Per Mertesacker came very close to glory in Euro 2008 but missed out at the final hurdle against Spain. Mesut Ozil joined them, and the German Machines were very efficient in the 2010 World Cup dispatching England and Argentina with consummate ease, but their hopes for glory were thwarted again by Spain.
Mario Balotelli took the honors of breaking German hearts in Euro 2012, in the same way the Italians shattered their hopes in the 2006 FIFA World Cup.
The Germans have been very consistent in major tournaments, but one tends to wonder if they are going to add to their World Cup cabinet, as the last time they felt the gold was far back in 1990—Ozil was just two years old.
This time, the Germans would come against Cristiano Ronaldo, and they will be mindful of the Ghanaians that soared high on African soil to go all the way to the quarterfinals.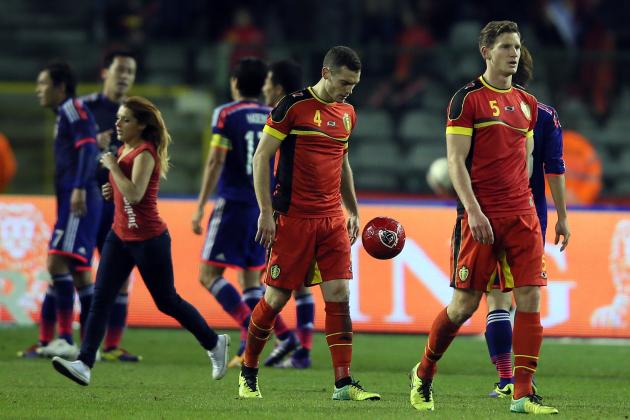 Christof Koepsel/Getty Images

Belgium
Algeria
Russia
Korea Republic
Thomas Vermaelen may be a peripheral player for Arsenal this season, but he still remains a vital cog in the Belgium defense, even though there have been moments when Toby Alderweireld and Jan Vertonghen have been favored to play alongside the captain, Vincent Kompany.
Like Vermaelen, Park Chu-Young has been in oblivion at Arsenal, and he recently inherited the lair Sebastien Squillaci once lived in.
Another bench-warmer that no longer dons the Sacred Red and White, Andrey Arshavin, will also be part of the Russian squad for this tournament, and I'd expect him to perform the way he did at Euro 2012. Belgium and Russia seem like the favorites to qualify from this group.
I've just shared my thoughts on the former and current Gunners featuring in next year's World Cup.
Do you agree with my assessments? Feel free to share your comments.