9 Takeaways from Friday Night's NBA Action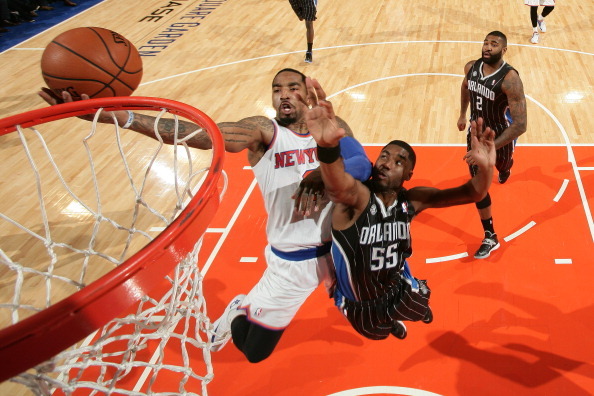 Nathaniel S. Butler/Getty Images

Friday, December 6 was a good night for offense. A pair of teams exploded for more than 120 points—one you might expect (Portland) and one you probably wouldn't (New York).
Kyle Korver put himself into the NBA history books for offense—three-point shooting in particular—with a three in 90 consecutive games. His opponent, Kyrie Irving, had perhaps the worst offensive performance of his career, putting up a big, fat goose egg on the scoreboard.
A top-three pick in last year's draft debuted (Washington's Otto Porter), and his team welcomed him into the fold by losing to the worst team in the conference.
Let's get to the action!
Begin Slideshow

»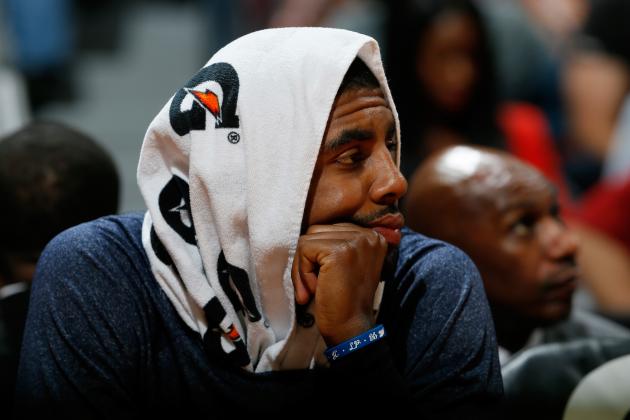 Kevin C. Cox/Getty Images

Kyrie Irving is one of the most popular players in the NBA: a human highlight machine, an ankle-breaker, a buzzer-beater. He's Uncle Drew!
But he has not been very good this season; in fact, he's regressed quite a bit.
Coming into Friday night, Irving's win shares per 48 rating had dropped from .125 last year to .054 this year, putting him at 136 among the 164 players who have at least 400 minutes this season, per Basketball Reference.
But nothing could prepare the world for the egg Irving laid in Friday night's loss to the Atlanta Hawks. Irving scored zero points, missing all nine of his field-goal attempts and all three of his free throws.
After the game, Irving didn't lack for confidence.
Per Jason Llyod of the Akron Beacon Journal:
I'm not shooting the best this year, but I'm getting the shots that I want and that's all you can ask for. You can look back and try to fix things, but at the end of the day I play off instincts. Sometimes I'm out there thinking too much, but you've just got to play basketball. The confidence level has to remain the same for myself and my teammates.
Confidence is all well and good, but the way Irving has been playing this year, a little bit more introspection might be in order. Something clearly isn't right.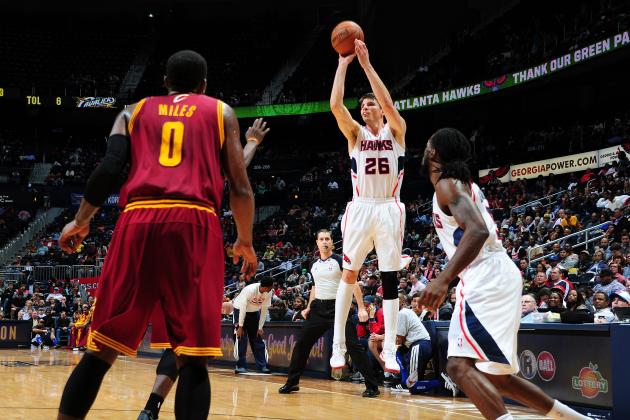 Scott Cunningham/Getty Images

Sure, Korver's three-point streak might not be Cal Ripken's 2,131-game streak—in fact, Korver has already missed some games this season—but a record is a record.
Korver broke the record for consecutive games with at least one made three-pointer with a three Friday night in the Hawks' win over the Cavaliers. Make that 90 games and counting for Korver.
After the game, Korver was quick to share the credit with his teammates.
Per Matt Winkeljohn of NBA.com:
It feels good. I'm glad it's done . . . I'm the product of good team basketball, of setting screens, and [getting] good passes, spacing the floor and all of that . . . It's never been about the streak. It's about making the shots you get. I don't want to be a high-volume shooter. I try to be efficient.
Understated words from an understated player. Korver has long been one of the most underrated players in the NBA, and it's nice to see him get the attention he deserves.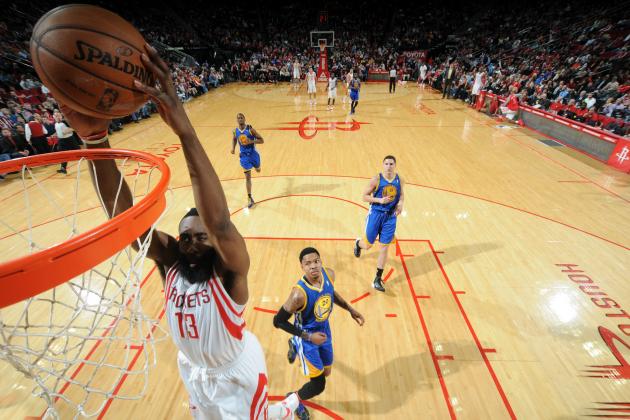 Bill Baptist/Getty Images

With sharpshooters like Stephen Curry and Klay Thompson, the Golden State Warriors are the NBA's chic three-point team. And while the Warriors are indeed the best quality three-point shooting team, with a league-leading .437 three-point field-goal percentage coming into Friday, they weren't the best quantity shooting team. That honor belongs to the Houston Rockets, who lead the league in both total three-point attempts and makes.
Well, score one for quantity over quality, because the Rockets demolished the Warriors, 105-83, while limiting Golden State to season lows in three-point makes (2) and percentage (12.5).
Perhaps, like two Shaolin fighting monks trained by the same abbot, only the three-bombing Rockets have the knowledge to take down the three-bombing Warriors.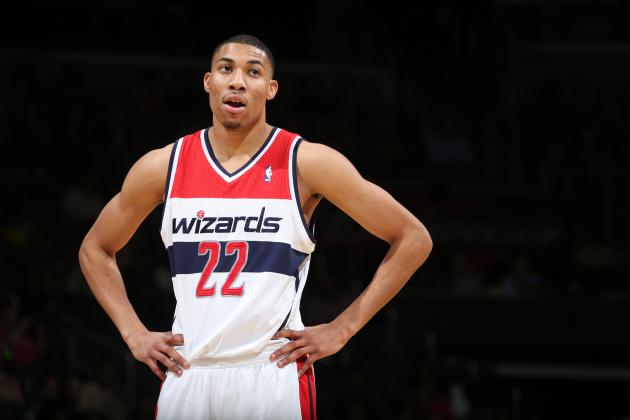 Ned Dishman/Getty Images

Good news: Washington Wizards rookie Otto Porter, the third overall pick in last summer's NBA draft, made his NBA debut on Friday after straining his hip flexor in September.
Bad News: The Wizards lost. At home. To the Bucks.
Porter didn't do much to help Washington in its 109-105 overtime loss to Milwaukee, scoring zero points in 14 minutes.
While Porter will be a big part of the Wizards' future, they mortgaged a big part of that future—in the form of the 2014 draft pick they traded for center Marcin Gortat—to make the playoffs this year.
Washington finds itself in the thick of the playoff race in the mediocre East, but it cannot afford to lose home games to the Milwaukee Bucks.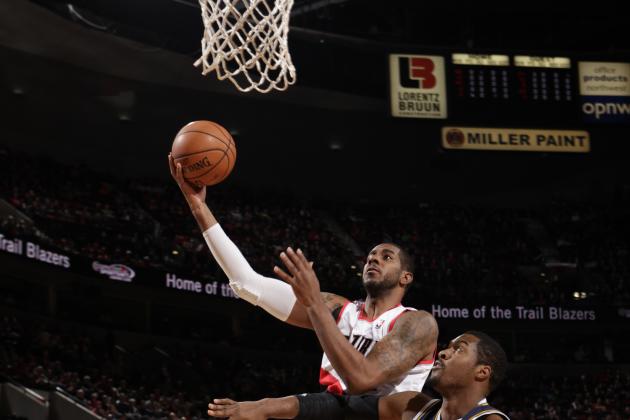 Cameron Browne/Getty Images

The Portland Trail Blazers came into Friday ranked first in the NBA in offensive efficiency; their opponents, the Utah Jazz, came in ranked 29th in defensive efficiency.
Irresistible force, meet easily movable object.
The Blazers slogged their way through the fourth quarter, scoring a mere 23 points...luckily for them, they had already scored 107 points in the first three quarters. To put that into perspective, a 107 average would rank second in the NBA, and the Blazers needed only 36 minutes to get there.
What more is there to say at this point: LaMarcus Aldridge scores, Damian Lillard scores, Wesley Matthews scores—they all score.
Hey, East-coasters: If you're not staying awake to watch these guys, then you're missing out on some offensive fireworks.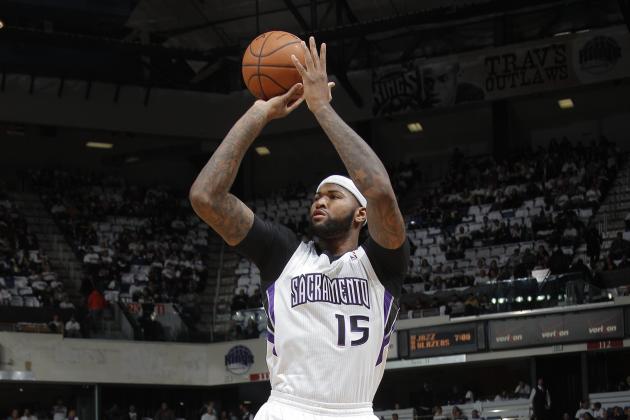 Rocky Widner/Getty Images

The Sacramento Kings turned a six-point lead at the start of the fourth quarter into a six-point loss, 106-100, to the Los Angeles Lakers. Sacramento fell victim to a pair of dagger threes from Jodie Meeks.
So make that six losses in a row for the Kings; five of them of the heartbreaking variety. In the past two weeks, Sacramento has lost close games to the Clippers (twice), Warriors, Thunder and now the Lakers.
These kinda of gut-wrenching losses aren't what the Sacramento fans had in mind last year when they fought so valiantly to save their team. The Kings are just good enough to play with the best of the West, but not good enough to win.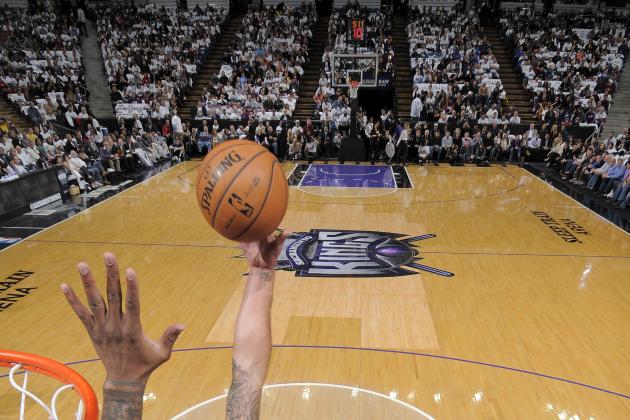 Rocky Widner/Getty Images

So apparently some guy is going to play for the Lakers on Sunday.
While Kobe Bryant's return will be the talk of the weekend, the rest of the Lakers made sure he won't be playing simply to gain ground on Kareem Abdul-Jabbar's scoring record.
It's something of a miracle that the Lakers are in the thick of the playoff race in the brutal West, with Steve Nash joining Kobe on the bench most of the season. Credit goes to the Lakers supporting cast for keeping the team above .500, which was accomplished with a 106-100 win over Sacramento to bring their record to 10-9.
Now the real fun begins: Kobe will have to mesh with a roster that was playing fairly well in his absence. Will he raise the Lakers to new heights?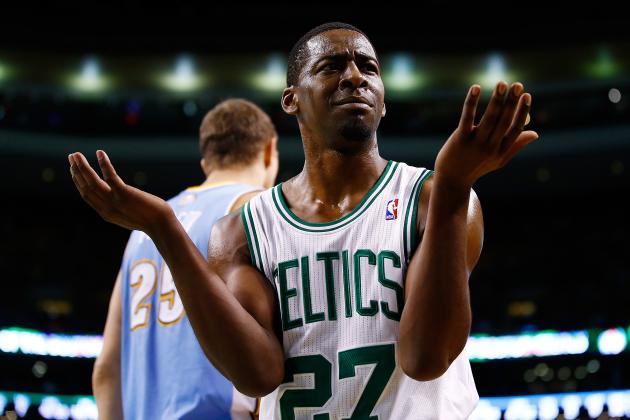 Jared Wickerham/Getty Images

Coming into the season the Boston Celtics probably weren't a fashionable pick to lead the Atlantic Division. But here we are...
A good bit of the credit would have to go to head coach Brad Stevens, an early-season Coach of the Year candidate for his work with young players like Jared Sullinger and castoffs like Jordan Crawford. It was Crawford who once again lead the Celtics in scoring with 22 points as they beat the Denver Nuggets, 106-98 on Friday.
Once Rajon Rondo comes back, this Celtics team has a real chance to compete in what might go down as the worst division in NBA history. The real question is whether that division crown is worth a spot in next year's lottery.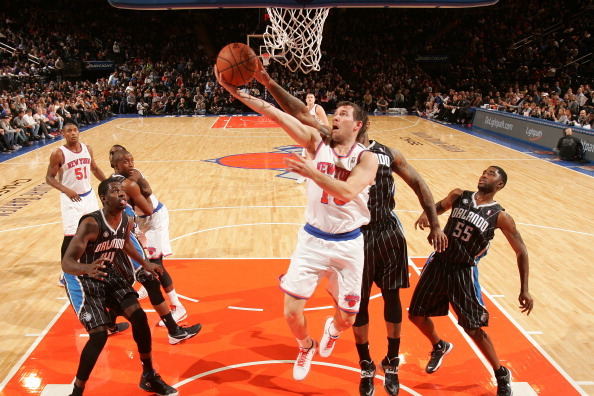 Nathaniel S. Butler/Getty Images

The Knicks are on a winning streak! Cue the Sinatra!
...oh, wait, that's the Yankees.
The Knicks pulled off a bit of history of their own on Friday with their 121-83 pasting of the Orlando Magic, according to Chris Herring of the Wall Street Journal:
This'll mark the 1st time a tm w/ a 9-game losing streak has ever broken the slump with two straight wins by 30 or more, per @STATS_Hoops

— Chris Herring (@HerringWSJ) December 7, 2013
The Knicks were never quite as bad as their 3-13 record had suggested—several of their losses were absolute heartbreakers—so they were bound for a bit of a correction. But, whoa, has this ever been one heck of a correction.
New York doesn't have a draft pick, as usual, so it has every reason to try its best to turn this ship around. These past two games are a good start.