5 Possible Swerves for Unified Championship Match at TLC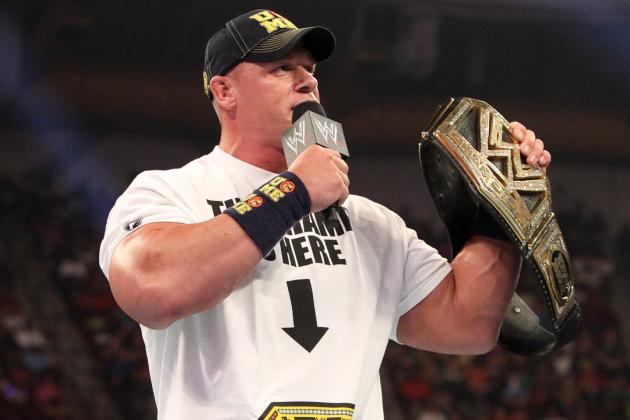 WWE.com

Randy Orton and John Cena will compete in a match at Tables, Ladders & Chairs where both of their titles will be on the line. One man is supposed to walk out as the new unified champion, but that is only one possible outcome.
Any WWE fan knows that Vince McMahon and the rest of his crew love to shock the crowd, and one big way to do that is to pull a swerve and have an outcome nobody saw coming.
WWE has pulled changeups in the past, and the response from the fans is usually mixed. Having a surprise is always good for keeping things interesting, but some fans have felt robbed due to not having the outcome we were promised when we forked over $50 for a pay-per-view.
With a storyline as big as combining both top titles it stands to reason that WWE would want to make a lasting impression with the outcome of the match.
This slideshow will examine five possible outcomes that involve anything but a clean victory where one man walks out with both titles.
Since there aren't many applicable videos to use for these ideas, I will include clips of Orton and Cena in various matches throughout their careers.
Begin Slideshow

»
With two titles hanging above the ring, and with every ladder having two sides, having both men grab their own titles at the same time is a very real possibility.
The situation has never happened where both men grab their titles at the same time during a unification ladder match, so the move would be something new WWE could try.
It would allow them to keep the titles separate while providing a lot of fans with something unexpected. But it could also be something that gets a really bad response.
WWE could see some backlash for not giving what Triple H has promised, but that would be exactly why they would might do it.
Even if WWE does plan on unifying the titles, doing something like this would allow them to extend the feud into the Royal Rumble.
This idea is similar to the first one in that both men walk out with a title, but this scenario involves them grabbing the title the other person held going into the match.
Having Cena and Orton walk out of the PPV with the other person's belt would be swerve WWE has never pulled, but the response from the crowd might be mixed.
Just like the first idea, this match could keep the feud going through another PPV, and it would be something a lot of people wouldn't see coming.
Triple H's promise of one champion could be a red herring to throw us off the idea of not unifying the titles, and this is another very real possibility of how WWE might do that.
This might count as another title win for each Superstar, which would put Cena one step closer to tying Ric Flair's record.
Another way WWE could keep the titles apart is to not have a winner at all, and this is something that would probably be caused by outside interference.
One Superstar like Big Show or a group like The Shield could come in and take out both Cena and Orton to the point where the ref has to call for medical help and both men get wheeled out on stretchers.
The fans would boo like crazy for the outcome, but it's not as if WWE always sends the fans home happy. A move like this would generate a lot of heat, but it would also keep the program going a little while longer.
A storyline as big as unifying the titles is not likely to end after just one PPV, and having someone come out and make a big impact by attacking both men would certainly keep people talking until Raw the next night.
A huge swerve would be to have Brock Lesnar or someone else return at TLC to attack both men. The buzz surrounding that person would be huge, especially if it's a heel looking to generate heat.
One possible outcome WWE could be hinting at is Triple H actually helping Cena win the match.
Triple H and Stephanie have been arguing with Orton a lot in recent weeks, and it could lead to Triple H helping Cena win to teach Orton a lesson in respect.
Cena could pretend he is unhappy with the outcome due to the outside interference, which would lead to him granting Orton a rematch at the Royal Rumble.
Triple H turning on Orton would be one of the outcomes where someone does in fact unify the titles, but it's one many would be shocked to see due to Triple H endorsing Orton as the face of the WWE for the past few months.
Nobody would have to turn babyface or heel for something like this to occur, which is part of what makes it such a realistic possibility.
Vince McMahon has been absent from WWE television for the past few months, and having him return to reverse the decision or stop the match before anyone wins could be a great way to bring him back in a big way.
This would be another unpopular decision with fans, but it's one that would get people talking and make them want to tune in Monday to see what happens next.
Vince McMahon could come in and say he is unhappy with how Triple H has done things lately, and as a result he is un-unifying the titles.
It's a way to spark the McMahon/Triple H feud we will likely see in the future, and it is a way to keep the titles apart so there are still two champions.
Unifying the titles is an idea that came out of nowhere, and it makes it seem less likely that just one person will actually leave TLC with both belts. There are a lot of ways for WWE to go with this match.
Many of the ideas mentioned involve WWE keeping the titles separate, but there are also plenty of possible ways for one person to leave with both titles.
Having a match like this gives WWE the chance to shock fans with something we haven't seen before. The question is, will WWE opt to go with an unpredictable outcome or will it have a clean winner with no outside interference?
What do you think will happen at TLC when Orton and Cena face off for both the WWE and World Championships?
Thanks for reading, and follow me on Twitter @BR_Doctor.