2014 World Cup Groups: Projecting Quarterfinal Matchups in Brazil
Use your ← → (arrow) keys to browse more stories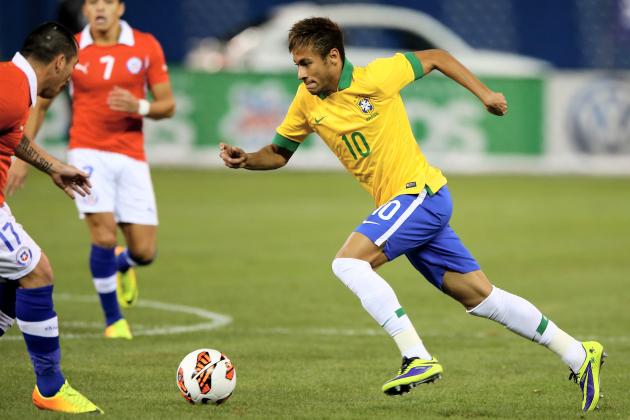 Elsa/Getty Images
Now that the groups have been unveiled, we can look ahead to the later stages of the tournament.
With the World Cup draw out of the way, each country knows who it will be facing in the group stage and what it needs to do to advance to the knockout phase of the tournament. The form of each team is going to change in the buildup to kickoff in Brazil, but it's never too early to think about the intriguing quarterfinal matchups we'll have on our hands.
Group Projections
Group A
Group A Projections

| | |
| --- | --- |
| Rank | Team |
| 1A | Brazil |
| 2A | Mexico |
| 3A | Croatia |
| 4A | Cameroon |
The favorite to win the entire tournament, Brazil, will finish atop the Group A standings. The squad has too much skill and attacking power to not cruise through this group—especially at home.
The other three teams aren't on the same level as the Selecao, but they all have the talent to create problems for each other.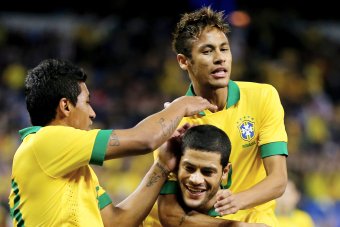 Elsa/Getty Images
Croatia and Cameroon both have the potential to sneak in as second place in the group, especially considering the consistently inconsistent play of Mexico. Unfortunately, Croatia was also extremely underwhelming in the qualifying stages and Cameroon hasn't faced much top-tier competition over the past couple of years.
Mexico has been in a state of flux, undergoing change at the manager position and severely underperforming considering the talent on its squad. Led by Javier Hernandez, the ability of the Mexican side will win out and El Tri will advance to the round of 16.
Group B
Group B Projections

| | |
| --- | --- |
| Rank | Team |
| 1B | Spain |
| 2B | Netherlands |
| 3B | Chile |
| 4B | Ecuador |
Excluding Australia, this will be a very competitive group. Spain is still one of the favorites to win it all, but Vicente Del Bosque's men haven't looked as invincible as they used to be.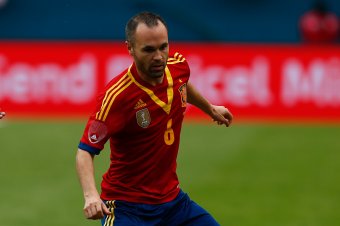 Robert Mayer-USA TODAY Sports
Their world-class midfield will still be able to dominate the time of possession and control the tempo, but the defense has shown some cracks and David Villa—the star of last year's World Cup—hasn't regained his form from 2010.
The battle between the Netherlands and Chile for second place will be intense and exciting.
Both teams are extremely talented on offense and possess suspect defenses. Goals will be plentiful in their games, and the more experienced and skilled combination of Robin Van Persie, Arjen Robben and Wesley Sneijder will carry the Oranje to the knockout round.
Group C
Group C Projections

| | |
| --- | --- |
| Rank | Team |
| 1C | Colombia |
| 2C | Cote D'Ivoire |
| 3C | Greece |
| 4C | Japan |
Colombia drew a favorable group, and with more talent than any of its competitors, it'll roll to the round of 16.
After that, it gets interesting. A case could be made for any of the other teams to snatch a berth in the next round, as all of them have some glaring flaws.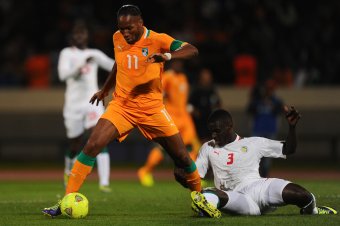 Mike Hewitt/Getty Images
Ivory Coast and Japan both possess talented attacks and maddeningly inconsistent defenses, while Greece relies on defense to compensate for the squad's general lack of offensive talent.
Greece's ability to not make mistakes should give it edge here, but it just doesn't have the talent to advance to the next stage. Ivory Coast's talent up front, with the likes of Didier Drogba and Salomon Kalou, will carry them out of the group.
Group D
Group D Projections

| | |
| --- | --- |
| Rank | Team |
| 1D | Uruguay |
| 2D | Italy |
| 3D | England |
| 4D | Costa Rica |
This is one of the most competitive groups in the tournament, with no team being an easy out. Uruguay's familiarity with the conditions and elite attacking talent should take the team to a first-place finish, but behind them the picture is very unclear.
Costa Rica is a very talented team that is underrated, but advancing from a group with three football powerhouses is too much to ask of Los Ticos.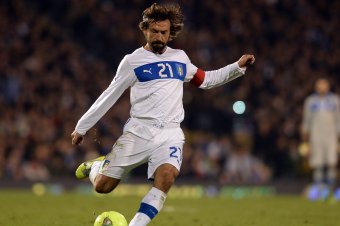 Claudio Villa/Getty Images
The battle between Italy and England will likely determine which team advances, and the Azzurri look like the more solid team.
There is no doubting the talent on the English side, but poor play from the defense and overall inconsistency will result in a very early exit.
Group E
Group E Projections

| | |
| --- | --- |
| Rank | Team |
| 1E | France |
| 2E | Switzerland |
| 3E | Ecuador |
| 4E | Honduras |
France may be the biggest wild card in the entire competition. The squad has the talent and depth to rival that of any other nation and could very well win the World Cup. On the other hand, it's been playing so poorly in recent months that the team almost missed the tournament altogether.
In a tougher group, France might not have made it into the knockout phase, but the other teams in Group E shouldn't pose too many problems for Les Bleus.
Behind them, Switzerland's stingy defense won't give up many goals, and that will result in the squad advancing to the round of 16.
Ecuador has struggled playing on the road during qualifying, and the weak midfield (excluding Antonio Valencia) will cost them points. Likewise, Honduras can't compete with the rest of group, and while it may be able to snatch points here and there, the team will leave Brazil early.
Group F
Group F Projections

| | |
| --- | --- |
| Rank | Team |
| 1F | Argentina |
| 2F | Bosnia-Herzegovina |
| 3F | Nigeria |
| 4F | Iran |
In the most lopsided group of the World Cup, Argentina could win all three games with eyes closed.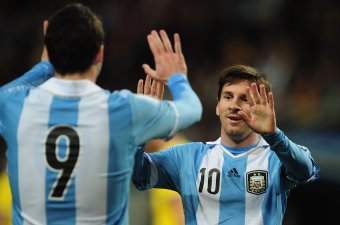 Jamie McDonald/Getty Images
After that, the competition between Nigeria and Bosnia-Herzegovina for second place will be fascinating. Nigeria is talented, but we've seen them flame out in major competitions before.
The stage might be too big for Bosnia-Herzegovina, but the squad plays a very solid style of football and will advance past the group phase in its first tournament. The strong defense and efficient counter-attacks will net enough points to advance.
Group G
Group G Projections

| | |
| --- | --- |
| Rank | Team |
| 1G | Germany |
| 2G | Ghana |
| 3G | Portugal |
| 4G | USA |
Groups B and E both have many talented teams, but this is by far the most competitive (and therefore intriguing) group in Brazil.
Germany is too good to not win the group, but after that it's very difficult to predict.
Portugal has more talent than the other three teams, but it was incredibly disappointing in the qualifying stage and is extremely reliant on Cristiano Ronaldo's excellence to score goals. The lack of scoring ability will be the team's undoing in 2014.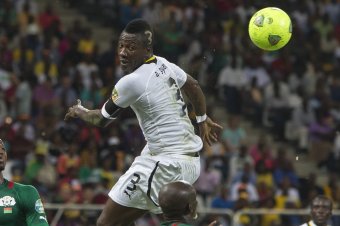 Gallo Images/Getty Images
The U.S. national side put together the best year in its history, but it drew an extremely unfavorable group. In a weaker group, Jurgen Klinsmann's team could get into the round of 16, but that goal is incredibly difficult in such a stacked group.
The Black Stars of Ghana are an offensive juggernaut, but their defense is a concern. Asamoah Gyan is in excellent form, scoring six goals in six games in qualifying, and Ghana will be dangerous if the defense can show some consistency. In the group stage, this team will be able to outscore opponents more often than not.
Group H
Group H Projections

| | |
| --- | --- |
| Rank | Team |
| 1H | Belgium |
| 2H | Russia |
| 3H | Korea Republic |
| 4H | Algeria |
Belgium is ridiculously talented, but inexperience could have cost them in a more difficult group. Luckily for them, Group H is fairly weak, and the talent will be able to win out.
Korea Republic and Russia both have talent, but Korea hasn't been able to win games away from home. Russia's stingy defense and talented youngsters (like Alexander Kokorin and Alan Dzagoev) will lift them to the round of 16.
Round of 16 Games
Round of 16 Projections

| | |
| --- | --- |
| Game | Winner |
| Brazil vs. Netherlands | Brazil |
| Colombia vs. Italy | Italy |
| France vs. Bosnia | France |
| Germany vs. Russia | Germany |
| Spain vs. Mexico | Spain |
| Cote d'Ivoire vs. Uruguay | Uruguay |
| Argentina vs. Switzerland | Argentina |
| Belgium vs. Ghana | Ghana |
Quarterfinal Matchups
Quarterfinal Matches

| | |
| --- | --- |
| | Game |
| | Brazil vs. Italy |
| | France vs. Germany |
| | Spain vs. Uruguay |
| | Argentina vs. Ghana |
Brazil vs. Italy
Brazil is playing brilliantly at the moment, and Italy won't be able to beat them in Brazil. This will be a fascinating matchup between Brazil's high-powered attack and Italy's technically sound defense.
Prediction: Brazil 3, Italy 1
France vs. Germany
France advanced out of the group stage thanks to a favorable draw, but the inconsistent play will cost it the matchup against the Germans.
Prediction: Germany 2, France 0
Spain vs. Uruguay
This game will come down to Uruguay's questionable defense. Spain's finishing in the attacking third isn't elite, but the squad will be able to control the possession and take advantage of opportunities against a weak Uruguayan back line.
Prediction: Spain 2, Uruguay 1
Argentina vs. Ghana
This matchup between two attacking teams could easily be the most entertaining quarterfinal game. Both teams place much more emphasis on scoring goals than keeping them out, so there will be plenty of action and highlights from this one.
Prediction: Argentina 4, Ghana 2