The Big Ten Championship comes at fans Saturday from Lucas Oil Stadium in Indianapolis, Ind. and features the elite defense of No. 10 Michigan State and the explosive offense of No. 2 Ohio State.
The BCS implications are obvious. A win for Ohio State means the Buckeyes will likely play for the title. A win for the Spartans will see them in the Rose Bowl. A loss might, too, but only if Ohio State goes on to play for the title.
But perhaps most interesting is how the two possess strengths that play off of each other. The Big Ten Conference's Twitter account details this best:
#Spartans, ranked No. 1 nationally in total defense vs. #Buckeyes off. averaging 48.2 ppg. Who's your #B1GFCG pick? pic.twitter.com/JahjkfuzBD

— Big Ten Conference (@bigtenconf) December 4, 2013
In a game such as this, it will take key performances from a few players to decide the outcome. Here are the players sure to impact the Big Ten Championship the most.
Carlos Hyde, RB, Ohio State
Ohio State senior running back Carlos Hyde missed the first three games of the season.
Had he not, we would be having a very different Heisman discussion.
Despite the missed time, Hyde has 1,290 yards and 14 touchdowns on 165 carries—giving him an astounding 7.8 yards per carry average. The result was the Ameche-Dayne Running Back of the Year award:
Senior RB Carlos Hyde of @OhioStAthletics named Ameche-Dayne Running Back of the Year. pic.twitter.com/SnSvut1pJz

— Big Ten Football (@B1Gfootball) December 2, 2013
The Buckeyes need Hyde to be at the top of his game Saturday against the Spartans.
Last year in a narrow 17-16 victory over the Spartans, Hyde gained just 49 yards on 11 carries. Quarterback Braxton Miller handled the bulk of the load with 23 carries for 136 yards.
That cannot happen again. Michigan State's defense is even better this year. Hyde must gain solid yardage on the majority of his carries to take pressure off Miller. If Hyde falters once more, Ohio State will as well.
Shilique Calhoun, DE, Michigan State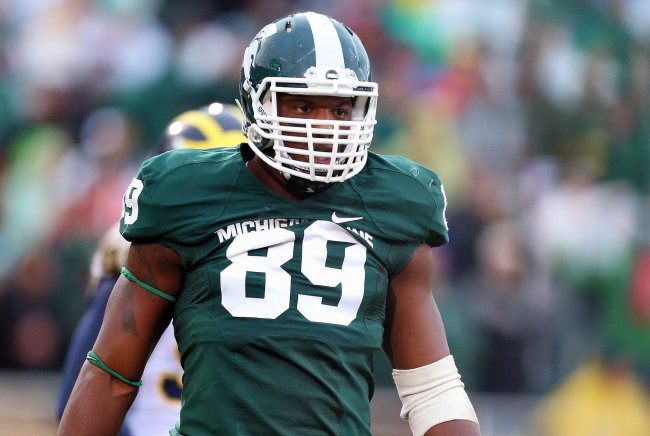 Mike Carter-USA TODAY Sports
Before the season, many outside of East Lansing would have seen the name above and not known who Shilique Calhoun was.
That changed in a hurry.
Here we are one season later, and Calhoun is one of six finalists for the Ted Hendricks Defensive End of the Year Award:
Shilique Calhoun has been named one of six finalists for the 2013 Ted Hendricks Defensive End of the Year Award. #Spartans

— Spartan Football (@MSU_Football) December 5, 2013
Calhoun is a special talent with seven sacks and an interception returned for a touchdown to his name this year, but his role has never been more important.
Against Ohio State, Calhoun will not only have to apply pressure on Miller, he will have to keep, contain and prevent the versatile quarterback from hurting the Spartans on the ground as he did last year.
Calhoun makes the lives of those behind him easier. This factor will loom large over the outcome on Saturday.
Darqueze Dennard, CB, Michigan State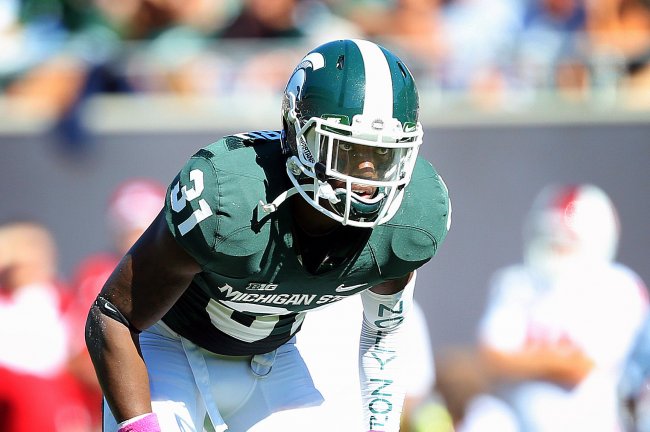 Mike Carter-USA TODAY Sports
Most important of all is senior cornerback Darqueze Dennard, a name surely headed for the opening round of the 2014 NFL draft.
Dennard has 47 tackles, four interceptions and seven pass breakups this season as the heart and soul of the Spartans defense. He also gained a special reward for his performance this season:
Darqueze Dennard has been selected the Tatum-Woodson Big Ten Defensive Back of the Year. #Spartans

— Spartan Football (@MSU_Football) December 2, 2013
Charles Davis of NFL.com shares some stunning info on how the professional level may view Dennard:
I've heard chatter that some think he's as good a corner as they've seen since Deion Sanders. I'm not co-signing on to the Primetime comparison, but I think he's very good and has the potential to be terrific at the next level.
Suffice to say, Dennard will have a major say in how things shake out against the Buckeyes. He will be alone on an island as usual. If he can force Miller into being a half-field quarterback, the predictable approach will make it easier for the Spartans to win.
Like many stellar defenses at all levels, Dennard is the piece in the secondary that allows other players to focus elsewhere while he deals with the best receiver on the field. Without a strong showing from Dennard, Michigan State's chances of winning will become miniscule.