Power Ranking the 10 Most Overrated Heisman Trophy Winners Ever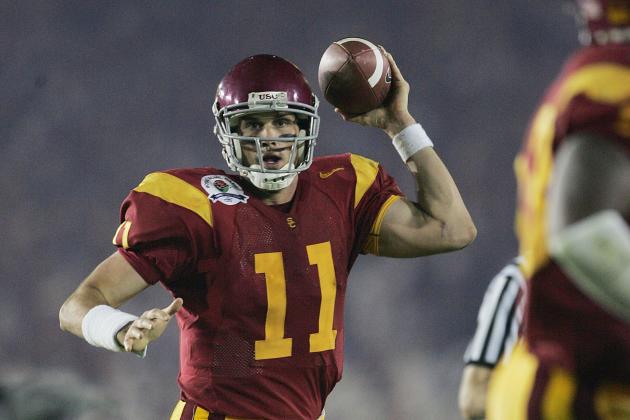 Stephen Dunn/Getty Images

Six of the nation's top college football players will be honored Saturday night at the Downtown Athletic Club in New York City, site of the the 79th Heisman Trophy ceremony.
But only one of the invited finalists will be given the iconic Heisman statue, adding their name to a long list of some of the game's greatest stars—and some quick-to-disappear duds.
The Heisman is considered the highest individual honor in college football, though many critics consider it an award that's less about performance and more about popularity, which is why winning the award often doesn't translate into professional success.
Hard to believe, but only eight Heisman Trophy winners are in the Pro Football Hall of Fame. Yet 18 have been taken first overall in the NFL draft.
Who are the most overrated Heisman winners? Scroll through the slideshow to see our selections.
Begin Slideshow

»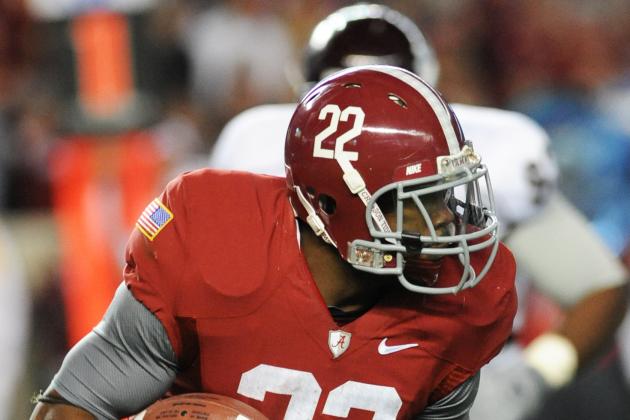 Al Messerschmidt/Getty Images

Year he won: 2009
Who he beat: Mark Ingram beat out one of the most lackluster Heisman candidate crops in the history of the award, barely edging out Stanford running back Toby Gerhart in the closest voting ever. Other finalists included Texas quarterback Colt McCoy, Nebraska defensive tackle Ndamukong Suh and 2007 Heisman winner Tim Tebow.
The skinny: Ingram set Alabama's single-season rushing record that season, but more than anything, his winning of the Heisman seemed more attached to the Crimson Tide's return to greatness. Alabama hadn't won a national title since 1993.
Ingram won the award as a sophomore, then an injury stalled the start of his junior year, during which he rushed for less than 900 yards. He went pro after the 2010 season, and ended up getting picked late in the first round of 2011 NFL draft by New Orleans.
In two-plus seasons with the Saints, Ingram has just 1,364 yards and 11 touchdowns.
Doug Pensinger/Getty Images

Year he won: 2006
Who he beat: Troy Smith got more than 86 percent of the first-place votes, a record that still stands, while easily beating out Arkansas running back Darren McFadden and Notre Dame quarterback Brady Quinn.
The skinny: Smith's numbers (2,542 passing yards, 30 touchdowns) were good, but not spectacular. More than anything, he got the award by being the quarterback at Ohio State, which has had a legacy of producing Heisman winners.
But Smith's performance in college—ESPN tabbed him as the Big Ten's Player of the Decade from 2001-2009—didn't translate into a high value in terms of pro value, as evidenced by his falling to the fifth round of the 2007 NFL draft. The Baltimore Ravens took a flyer on him, but Smith only played in 14 games over three seasons before getting a little time in 2010 with San Francisco.
Smith played this past season in the Canadian Football League.
Year he won: 1992
Who he beat: Gino Torretta beat out San Diego State running back Marshall Faulk and Georgia running back Garrison Hearst, both of whom went on to have far longer (and more productive) NFL careers.
The skinny: Torretta went 26-1 as a starter in two years at Miami, leading the Hurricanes to a co-national championship in 1991-92 and then losing to Alabama in his final college game in January 1993.
But Torretta was not considered an NFL prospect, resulting in him not getting drafted until the seventh round by the Minnesota Vikings. He was officially in the league from 1993-1997, but Torretta only saw action in one NFL game, completing 5-of-16 passes for 41 yards, a touchdown and an interception for Seattle in 1996.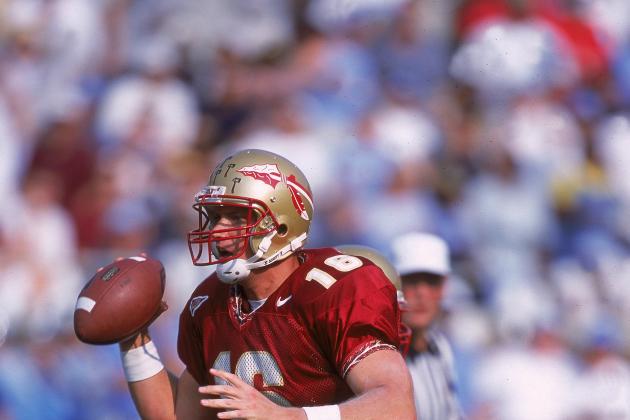 Scott Halleran/Getty Images

Year he won: 2000
Who he beat: Chris Weinke edged out Oklahoma quarterback Josh Heupel for the award, while further down the voting list were future Pro Football Hall of Famers Drew Brees and LaDanian Tomlinson.
The skinny: Weinke led Florida State to the national championship game in three straight seasons from 1998-2000, winning it all in 1999. He threw for more than 4,100 yards as a senior in 2000 to win the Heisman and ended up getting taken in the fourth round of the 2001 NFL draft by the Carolina Panthers.
But Weinke was also 29 at the time of his pro debut, because from 1990-96 he played minor league baseball before going back to college as a quarterback. Though his advanced age made him more mature in the eyes of scouts, it was also considered a liability because he had less time to impress.
Weinke started 15 games for Carolina as a rookie on a team that went 1-15. He started five more games over the next six seasons, including one year in San Francisco.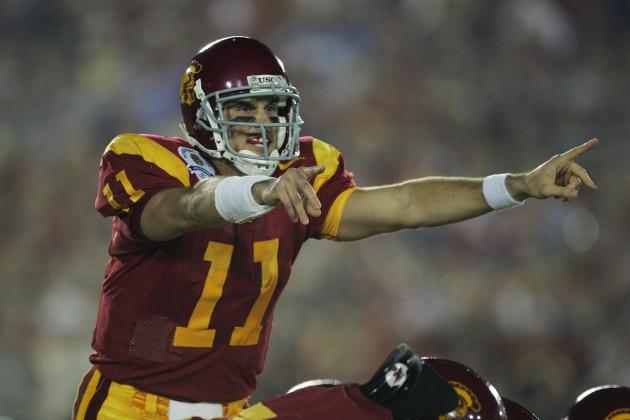 Stephen Dunn/Getty Images

Year he won: 2004
Who he beat: Matt Leinart won out over one of the more star-studded groups of finalists in Heisman history, beating running back Adrian Peterson of Oklahoma—who was only a freshman, before it became cool to give the award to first-year players—2003 winner Jason White, Utah quarterback Alex Smith and USC running back Reggie Bush, who would win the 2005 Heisman Trophy.
The skinny: Leinart had the look of a college superstar, with the big, broad shoulder and charismatic smile. He piloted USC to the 2004-05 national title that season as a junior and then decided to stick around in college for another season. He actually put up better numbers in 2005 as a senior, but lost out to Bush for the Heisman (an award that would later be vacated due to Bush's involvement in NCAA violations at USC).
Leinart always looked like a reluctant pro, though. He was taken 10th overall by the Arizona Cardinals in the 2006 NFL draft, then held out until the middle of training camp before signing. He made 12 starts that year, then five in 2007 before losing the job to Kurt Warner.
Three more teams—and several injuries and bouts of ineffectiveness later—and Leinart's career is pretty much over.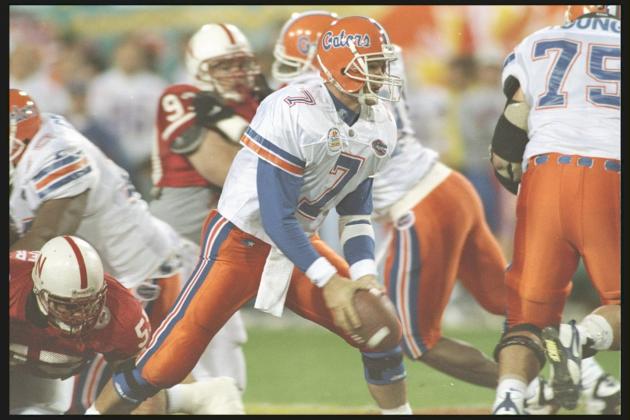 Mike Powell/Getty Images

Year he won: 1996
Who he beat: Danny Wuerffel beat out Iowa State running back Troy Davis and three eventual NFL veterans—Arizona State quarterback Jake Plummer, Ohio State offensive tackle Orlando Pace and Florida State running back Warrick Dunn.
The skinny: Wuerffel was one of the many big-armed quarterbacks who Steve Spurrier seemed to churn out at will in Gainesville, but he was the only one to win the big award. He was also a huge disappointment at the pro level, starting only 10 games in six seasons in the NFL.
Despite holding the SEC record for career touchdown passes at 114—a record broken this season by Georgia's Aaron Murray, Wuerffel only threw 12 TDs in the pros. Meanwhile, he was sacked 57 times, including 23 times in just five games in 1998 for the New Orleans Saints.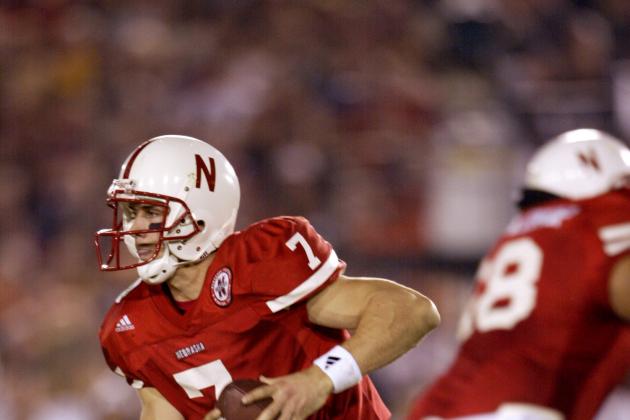 Brian Bahr/Getty Images

Year he won: 2001
Who he beat: Eric Crouch edged out a quartet of quarterbacks, with Florida's Rex Grossman finishing second. Other finalists included Ken Dorsey of Miami (Fla.), Joey Harrington of Oregon and the No. 1 pick in the next NFL draft, Derek Carr of Fresno State.
The skinny: Crouch was the epitome of an outstanding college player whose talents never translated to the pros. He was at the advent of the emergence of the dual-threat quarterback at the collegiate level, throwing for less than 4,500 yards, but rushing for more than 3,300 yards in his career.
No one was sold on Crouch being a pro quarterback, though, other than Crouch. The St. Louis Rams drafted him in 2002 to be a receiver, and he bounced around for a few years before Kansas City gave him a chance to play...at safety...in Europe.
Crouch didn't get to throw in a pro game until 2006, in the Canadian Football League.
Year he won: 1964
Who he beat: John Huarte made the most of his one season as a starting quarterback, averaging more than 10 yards per completion to beat out the likes of Dick Butkus, Jack Snow and Joe Namath for the Heisman Trophy.
The skinny: Huarte was promising enough to be drafted by teams from both the American Football League and National Football Leagues, eventually choosing the AFL's New York Jets over the Philadelphia Eagles. Bad choice.
He ended up getting beat out for the starting QB job by Namath, who'd finished 11th in the Heisman voting but clearly had better skills, and far better hair.
Huarte became a career back, in the AFL, NFL and World Football League. In AFL-NFL action, he threw one career touchdown pass.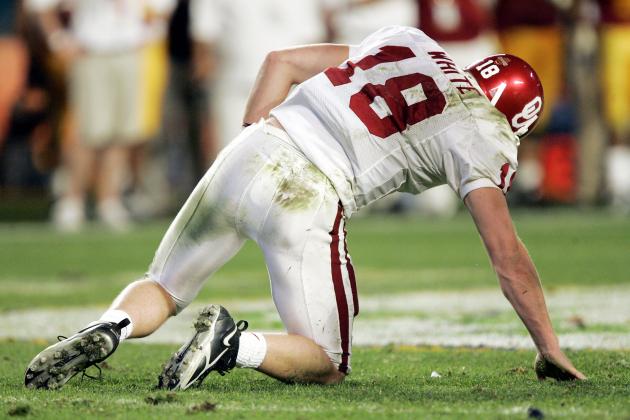 Brian Bahr/Getty Images

Year he won: 2003
Who he beat: Jason White beat out Pittsburgh wide receiver Larry Fitzgerald, Mississippi quarterback Eli Manning and Michigan running back Chris Perry to become the first Oklahoma player to win the Heisman since Billy Sims in 1978.
The skinny: White was only a junior that year, though it was his fifth season because of injuries earlier in his career. Without much promise of a pro career, White applied for, and was given, a sixth season of college eligibility, and he finished third to USC's Matt Leinart in the 2004 Heisman voting.
Therein, essentially, marked the end of White's career. He became just the third Heisman winner not to get drafted (though one of those, Florida State QB Charlie Ward, had chosen to play pro basketball instead of football) and he didn't get a sniff as a rookie free agent for several weeks after the draft.
He eventually signed with the Tennessee Titans, but decided instead to walk away from the game.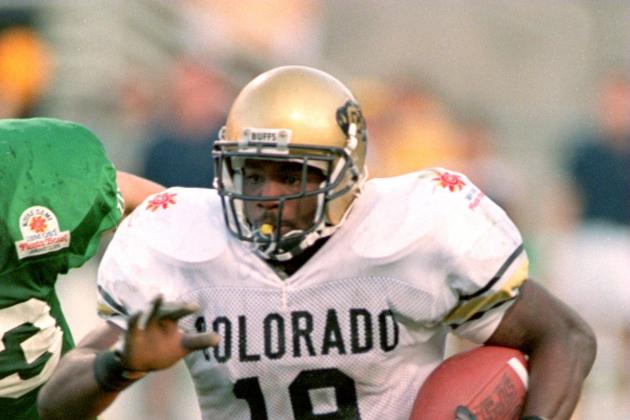 Otto Greule Jr/Getty Images

Year he won: 1994
Who he beat: Rashaan Salaam was selected ahead of a motley crew of finalists that included longtime NFL quarterbacks Steve McNair (from Alcorn State) and Kerry Collins (Penn State) as well as Penn State running back Ki-Jana Carter (the runner-up) and Alabama QB Jay Barker.
The skinny: Salaam rushed for more than 2,000 yards as a junior, leading Colorado to an 11-1 record to finish No. 3 in the nation. After winning the Heisman, he decided to skip his senior year to go pro and the Chicago Bears took the bait, selecting him 21st overall.
The risk looked to have paid off at first, as Salaam became the youngest player in NFL history to rush for more than 1,000 yards. But he finished his NFL career with less than 1,700 yards, thanks to a dangerous cocktail of not being able to hold onto the ball, not being able to stay healthy and not being able to stop smoking marijuana on a regular basis.
Salaam made a couple of comeback attempts, including finishing as the fifth-leading rusher in the XFL's one year of existence in 2001.