Armed Forces Bowl 2013: Middle Tennessee vs. Navy TV Info, Predictions and More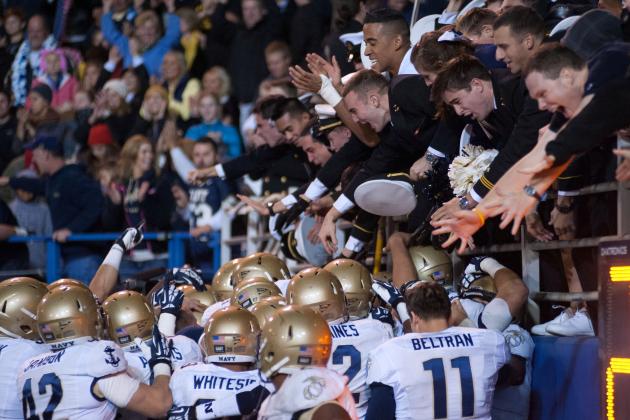 Ed Szczepanski-USA TODAY Sports
Will the Midshipmen be celebrating at the end of this one?
The 2013 Bell Helicopter Armed Forces Bowl will host one heck of a matchup when Middle Tennessee squares off against Navy.
On one side, the Blue Raiders (8-4) will be entering in the midst of a hot streak. After starting the season off slow, the team has now won five consecutive games.
On the heels of back-to-back eight-win seasons, Middle Tennessee will be feeling confident.
On the other hand, the Midshipmen (7-4) come in riding a strong rushing attack. Win or lose, the team has successfully pounded the ball on the ground.
In fact, the team has done so better than almost any other team in the nation, coming in ranked No. 3 in the category.
Who will get the upper hand in Forth Worth?
Time: Dec. 30, 11:45 p.m. ET
Place: Amon G. Carter Stadium, Fort Worth, Tx.
TV/Radio: ESPN/ESPN Radio
Begin Slideshow

»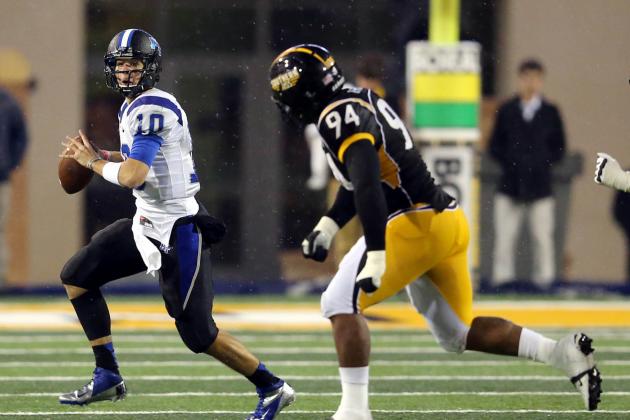 Chuck Cook-USA TODAY Sports
Kilgore (left) has to be better.
1. Find a Way to Slow Down Navy's Rushing Attack
Death, taxes and 300 or more rushing yards by the Midshipmen—those are pretty much guarantees these days.
Thus far, Navy ranks No. 3 in rushing, averaging a little more than 320 yards per game. The team averages a whopping 5.4 yards per carry, and only Georgia Tech has more rushing touchdowns than the Midshipmen (43).
It doesn't help that the Blue Raiders slack off on run defense, though. Through 12 games, the team ranks No. 86 in the category (185.8 YPG). Furthermore, Middle Tennessee has given up 22 rushing touchdowns on the year and concede a generous 4.2 yards per carry.
It could get ugly if the team's not careful.
2. Get More Out of Quarterback Logan Kilgore
Kilgore has to play better for the Blue Raiders.
Against a Midshipmen secondary that is just begging to be passed on, Kilgore has got to step up.
Entering the bowl season, Navy ranks No. 66 against the pass (230.8 YPG). The team has given up 23 passing touchdowns and has allowed opposing quarterbacks a completion rate of 70.5 percent.
It's hard not to have success throwing against these guys.
3. Create Turnovers
Other than running the ball down your throat, the Midshipmen are excellent at keeping ahold of the ball.
No other team has committed fewer turnovers than Navy (eight). Furthermore, the team hasn't lost a turnover in four consecutive games.
Fortunately, Middle Tennessee has had some success in creating turnovers in 2013. In fact, the team has forced a turnover in all 12 of its games. That includes coming away with 14 in the last six contests.
Making the Midshipmen put the ball on the ground is the easiest way to slow down that rushing attack.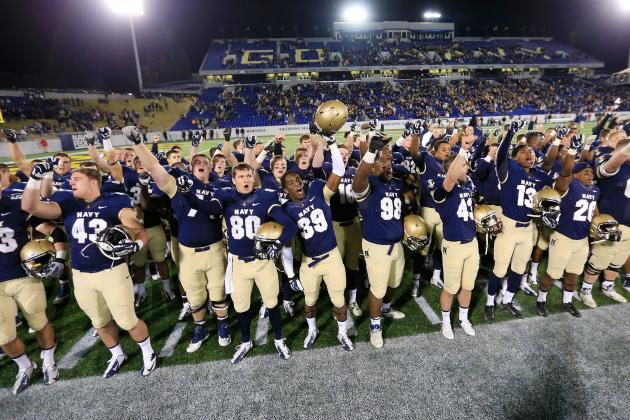 Rob Carr/Getty Images
Navy needs to step up on third down.
1. Push the Accelerator on the Run Game
The Blue Raiders might know it's coming, but there's nothing they can do to stop it.
Win or lose, the Midshipmen have been successful at running the ball. Even in the team's four losses, Navy managed to top 200 yards on the ground in three of those games.
Whether it's quarterback Keenan Reynolds (250 CAR, 1,124 YDS, 26 TDs) or the other seven players on the roster with more than 200 rushing yards, the team must run the ball constantly.
Make Middle Tennessee prove it can stop the run. And if the team can, keep dishing it out until the Blue Raiders can't stop it anymore.
2. Make Blue Raiders Win it Through the Air
To Middle Tennessee's credit, the team actually has a decent rushing attack. The Blue Raiders enter with the nation's No. 25-ranked rushing attack (208.3 YPG).
But if the Midshipmen can slow down the attack, they will increase their chances of victory.
That's because Middle Tennessee hasn't had the best of luck through the air. The team only ranks No. 86 in passing offense (207.4 YPG). At best, the Blue Raiders have been decent.
Navy should dare Middle Tennessee to try and win the game through the air.
More often than not, the Midshipmen should win that battle.
3. Keep Playing Big on Third Down
Navy converts on third down with the best of them.
Thus far, the team ranks No. 6 in the nation (53.1 percent rate).
Conversely, Middle Tennessee has been pretty bad at stopping opponents on third down. The team ranks just No. 117 in opponent third-down conversion rate (47.2 percent).
This could be a huge factor in the outcome of the game.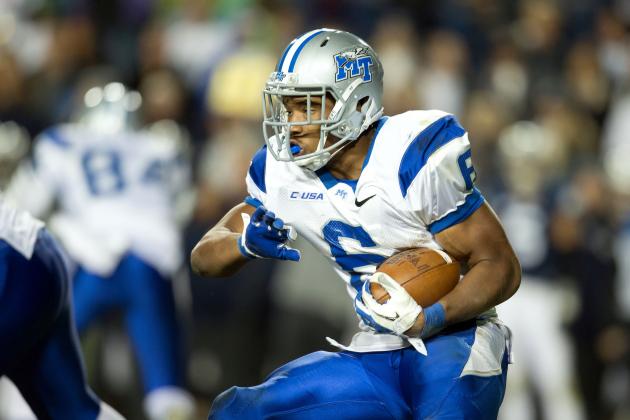 Russ Isabella-USA TODAY Sports
Parker will need to be at his best in this one.
Underclassman
-Jordan Parker (RB, So.)
Parker has followed up his freshman campaign with another solid season.
In 10 games, the sophomore has rushed for 741 yards and six touchdowns on 145 carries. After missing some time, he returned to pile up 85 yards and a touchdown on seven carries against UTEP in his last outing.
Given the importance of the rushing attack against the Midshipmen, Parker's success will be vital in this one. In fact, Middle Tennessee's chances of victory depend on it.
Draft Prospect
-Logan Kilgore (QB, Sr.)
Kilgore hasn't had the best of seasons in 2013.
Thus far, the senior has thrown for 2,289 yards, 16 touchdowns and 11 interceptions on 61.2 percent passing. Furthermore, he has completed less than 62 percent of his passes in seven of 12 games.
With his stock plummeting, Kilgore will have all eyes on him to see how he will respond.
It should help that he's going up against a Navy secondary that has conceded 23 passing touchdowns this year.
Full Depth Chart: click here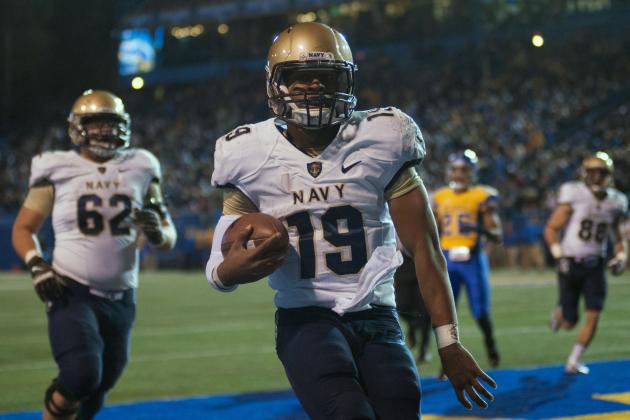 Ed Szczepanski-USA TODAY Sports
Reynolds has given Navy hope in 2013.
Underclassmen
-Keenan Reynolds (QB, So.)
Reynolds has been the spark to a Midshipmen rushing attack that ranks No. 3 in the country.
Through 11 games, the sophomore has rushed for 1,124 yards and 26 touchdowns on 250 carries. He's also thrown for another 1,028 yards, eight scores and two interceptions on 55.3 percent passing.
Reynolds has topped the century mark five times on the season. However, he really made some noise, rushing for 240 yards and seven touchdowns in a triple-overtime victory over San Jose State on Nov. 11.
He will be a key to Navy's success in this one.
-Chris Johnson (LB, Jr.)
Johnson has been a leader for this defense.
Thus far, the junior has recorded 71 tackles (2.5 for loss), broken up three passes and picked off three passes. He'll be called upon to help slow down the Blue Raiders rushing attack.
Look for Johnson to have a big impact on the outcome of this game.
Draft Prospect
-Cody Peterson (LB, Sr.)
Although the Midshipmen defense may not be a unit to brag about, the same can't be said about Peterson.
Entering the matchup, the senior leads the team in tackles with 124 (4.5 for loss). He also has a sack and one quarterback hurry.
Ranked No. 66 among linebackers, Peterson will look to up his status against Middle Tennessee.
Full Depth Chart: click here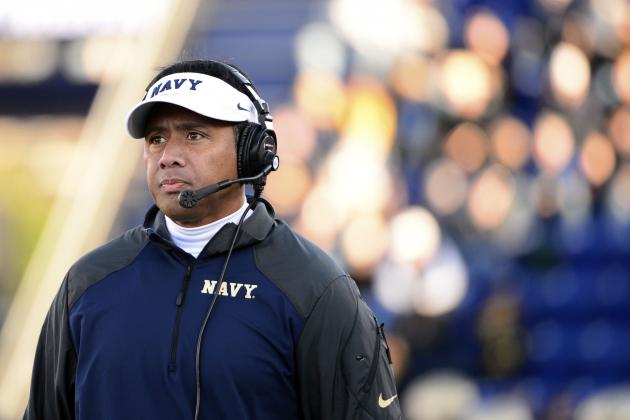 Tommy Gilligan-USA TODAY Sports
Niumatalolo has had a successful season.
I am very happy for our young men and our program that we are going back to a bowl game for the 10th time in the last 11 years. Right now our only focus is on beating Army and winning the Commander-In-Chief's Trophy. I know Middle Tennessee has an outstanding program and coach Stockstill is a great coach.

-Navy head football coach Ken Niumatalolo, via Navysports.com
It is hard to describe how appreciative we are to be playing in the Bell Helicopter Armed Forces Bowl. The city of Fort Worth and the surrounding community put on a first-class event which will serve as a great reward for a successful season. We can't wait to arrive and get the week started.
-Middle Tennessee head coach Rick Stockstill, via Goblueraiders.com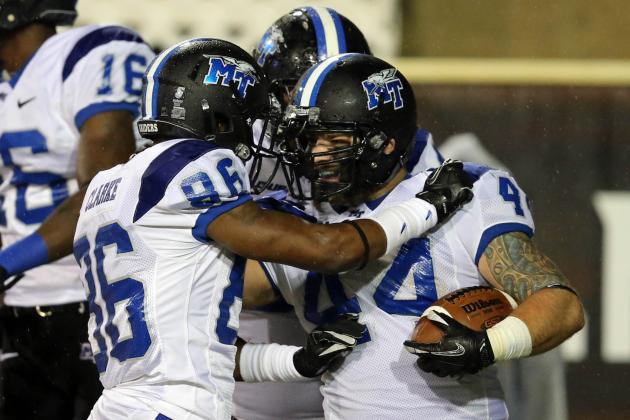 Chuck Cook-USA TODAY Sports
The Blue Raiders should come out victorious.
This one will pretty much come down to which team can have more success running the ball.
Both enter with a rushing attack that ranks among the best in the nation. At the same time, both teams struggle at stopping the run.
That makes the passing game pretty important in the outcome of this one as well.
If that's the case, the advantage would belong to Middle Tennessee.
Expect both teams to trade blows, but the Blue Raiders will eventually get just enough to toss the Midshipmen aside.


Prediction: Middle Tennessee 38, Navy 35
All stats via NCAA.org. All positional rankings via ESPN.com.