Gareth Bale's world-record breaking transfer to Real Madrid during the summer was a move that evoked the scrutiny of the masses, raising the question of whether the Welshman is truly worth the £85 million paid for his signature.
So far this season, a number of players have put forth their arguments as to why they might boast as much as, or even more of a transfer worth than Bale, one of whom is Liverpool's Luis Suarez.
While perhaps not the most impartial of opinions, one man who sees Suarez as a more valuable asset than Bale is Paris Saint Germain's Edinson Cavani, who sees his compatriot as being worthy of breaking the transfer record, per David Kent of the Daily Mail.
Speaking after his international strike partner's four-goal contribution against Norwich, Cavani said:
Yes all of the four goals Luis (Suarez) scored were of the highest quality. But nothing he does surprises me because I know what he is capable of. I don't know his future—but if he is sold I am sure Liverpool will want a world-record fee for him. The record was broken in the summer—and for me Luis is at a higher level than that.

He is the only player that I think is on the same level as Ronaldo and Messi. If two or three of the biggest clubs in Europe show interest in him - then I think he could break the world-record fee for sure - and with the way he is playing you would have to say he is worth it.
Arriving at Anfield for a fee of £23 million in Jan. 2011, the Uruguayan international has become linked with big-money moves away from the Reds on numerous occasions in recent seasons.
Such is the speculation that Brendan Rodgers was this week drawn to comment on the striker's future, saying that Suarez will not be leaving the club in 2014, per Andy Hunter of The Guardian.

An excerpt from the report quotes Rodgers saying:
There never was that (agreement) before and there never was that this summer. The contract was what it was. We want him to stay and with his contract running for two and a half years I am sure there will be something between now and the end of the season to keep him here but there will be a number of dependencies on that.

But the most important thing is that the player is happy. I didn't sit in on the conversations but as I understand it there is no agreement of any kind.
Bale's summer transfer to the Spanish capital produced a valuation largely based around the winger's form over the last two seasons, his heroics of the 2012/13 campaign with Tottenham in particular drawing great attention to his talents.
Denis Doyle/Getty Images
According to Transfermarkt.co.uk, the 24-year-old either scored or assisted in no less than 12 Premier League results that Spurs drew or won by a margin of just one goal last season, showing exactly how essential his presence was in clutch games.
Suarez comes just behind his Welsh counterpart in those stakes, scoring or assisting in 11 Premier League results last season which ended in either a draw or a win in Liverpool's favour by a margin of just one goal, per Transfermarkt.co.uk.
It's difficult to compare these two superstars in terms of sheer goal mass, however, given their difference in playing position more than anything else.
The Daily Mail's Lee Clayton recently posed the question comparing the pair's individual worth:
How much Suarez worth in this form? More than Bale?

— Lee Clayton (@LeeClayton_) December 4, 2013
However, Bale and Suarez do share the habit of scoring their goals in bunches. Already this term, the latter has bagged a tally of two goals or more in four matches, despite the fact he missed the first five games of the season through suspension and has played in only nine games.
So far, the South American has failed to go more than one league game without netting, showing the kind of consistency that money very much can buy these days, it seems.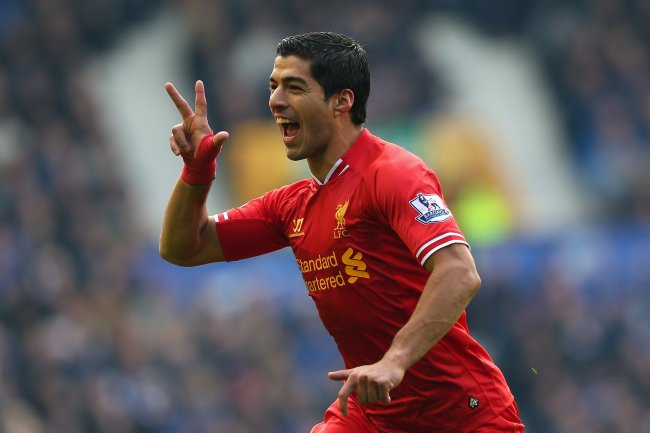 Alex Livesey/Getty Images
If one were to pick out one major flaw with Suarez that could potentially taint his worth, it's the striker's propensity to attract attention of the wrong kind. Charges of racism, numerous accusations of diving, not to mention the bite on Branislav Ivanovic all count against Suarez compared to Bale's poster boy image.
At the end of the day, however, it's what appears on the pitch that makes the most impact on transfer worth and Suarez is now in his ninth official season as a senior player, none of which he's failed to get goals numbering in the double digits, per Transfermarkt.co.uk.
From that, we can assume the 26-year-old is proven and in different continents no less, far from an easy feat as numerous fallen stars have proven in the past.
So, is Suarez worth £80 million? Not necessarily, but is the controversial forward worth as much as Gareth Bale? Most definitely.