All that stands between now and Brazil is time, speculation and debate.
The last major step in preparation for the 2014 World Cup was completed on Friday, as the 32 qualified countries were given their fate by the all-important group draw.
And as ESPN's Paul Carr noted, there were hundreds of different directions the draw could have taken everyone involved:
The #USMNT has 700 different combinations of World Cup opponents. Let the draw begin.

— Paul Carr (@PCarrESPN) December 6, 2013
Here's a look at where each nation stands, via Bleacher Report: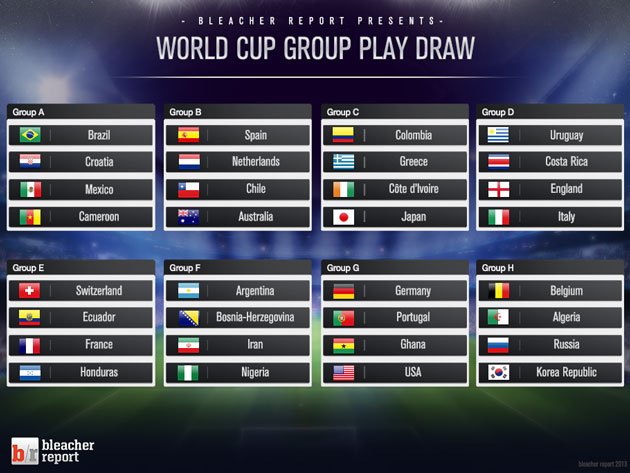 Photo courtesy of Bleacher Report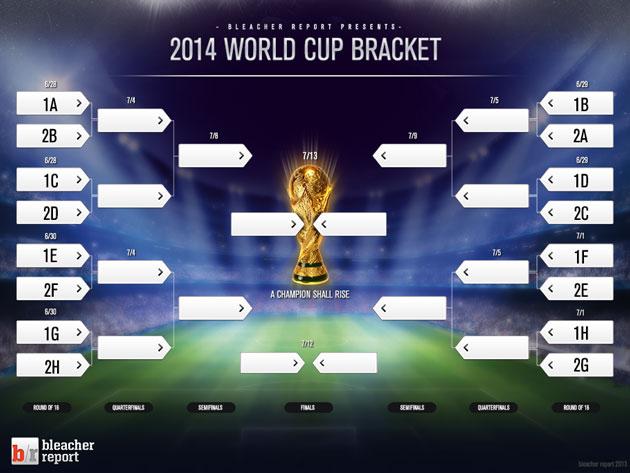 Photo courtesy of Bleacher Report
Of course, revealing the fate of every country wasn't exactly easy. Before the actual draw took place, there was an extensive and extravagant show that paved the way for plenty of jokes.
The Telegraph's Henry Winter used the pre-show as an avenue to take a shot at controversial FIFA president Sepp Blatter:
It's difficult to know which is bigger: the huge cost of this extravagant show or Sepp Blatter's ego.

— Henry Winter (@henrywinter) December 6, 2013
CBS Sports' Matt Norlander provided a terrific snapshot of the unique scene:
Seriously, why can't we do this for Selection Sunday too pic.twitter.com/W8tJnuaBpv

— Matt Norlander (@MattNorlander) December 6, 2013
Argentina landing in Group F was important for the South American squad because, as Yahoo! Sports' Martin Rogers pointed out, it means they get a game in Porto Alegre:
ARG's final game will be in Porto Alegre, furthest south, will have huge support there

— Martin Rogers (@mrogersyahoo) December 6, 2013
Meanwhile, ESPN's Grant Wahl took an early look ahead at what could potentially become one half of the Round of 16:
If top seeds win groups, one side of bracket=Brazil, Colombia, Switzerland, Germany. Other side=Spain, Uruguay, Argentina, Belgium.

— Grant Wahl (@GrantWahl) December 6, 2013
ESPN Stats and Info noted the impressive history in Group D once Italy was drawn out of "Pot X" and joined Uruguay:
Italy and Uruguay are grouped together. They combined to win the first four World Cups

— ESPN Stats & Info (@ESPNStatsInfo) December 6, 2013
Italy-Uruguay last World Cup meeting: 1990 in Rome.Italy won 2-0 in Round of 16

— ESPN Stats & Info (@ESPNStatsInfo) December 6, 2013
That group became even more formidable once England entered the fray, and as Carr pointed out following the draw, it is the only one with multiple World Cup winners:
Group D is the only group with multiple World Cup winners: Uruguay, England, Italy.

— Paul Carr (@PCarrESPN) December 6, 2013
Opta Sports' Twitter account points out more bad news for the Three Lions:
5 - In major tournaments against Italy, Uruguay and Costa Rica, England have played five games and won none (D2 L3). Nightmare.

— OptaJoe (@OptaJoe) December 6, 2013
After Mexico was placed with the hosts in Group A, that same Twitter account gave us the head-to-head record between the two squads, including a recent match:
Mexico: 10-22-6 all time vs. Brazil. Last met 2013 Confederations Cup (2-0 Loss).

— ESPN Stats & Info (@ESPNStatsInfo) December 6, 2013
The Americans weren't happy with their draw when they landed in Group G with Germany and Ghana. ESPN gave goalkeeper Tim Howard's reaction:
My reaction to our draw? I guess us playing Germany was always in the cards. #TimmyTakeover https://t.co/Nd4GjTAjRB

— ESPN (@espn) December 6, 2013
That reaction probably wasn't nearly as reserved when Howard found he would have to face Cristiano Ronaldo and Portugal, as well. Sports Illustrated's Bryan Armen Graham gave the Americans a simple "good luck":
United States will play Ghana, Germany and Portugal in group-stage matches. Good luck with that.

— Bryan Armen Graham (@BryanAGraham) December 6, 2013
Carr gives the early odds for each side to advance out of the difficult group:
SPI odds to advance, Group G: Germany 91.8%, Portugal 40.2%, #USMNT 39.3%, Ghana 28.8%.

— Paul Carr (@PCarrESPN) December 6, 2013
Of course, Group B is certainly no slouch, either, as the very first match features a rematch of 2010's World Cup final between Spain and Netherlands. South American side Chile should also not be underestimated, especially on its own continent:
The most intriguing groups are B, D and G for me. Really looking forward to Chile vs Spain and Netherlands.

— Jason deVos (@jasondevos) December 6, 2013
With everything now set, all eyes turn to Brazil. Only 188 days to go.