Rivalries Revisited: World Cup 2014 Group Stage Clashes with History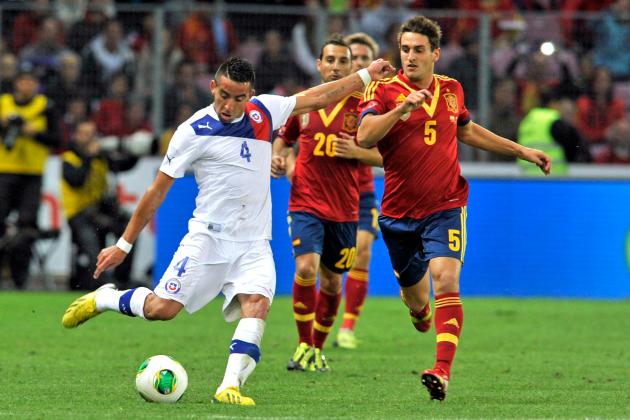 Harold Cunningham/Getty Images

The draw for the 2014 FIFA World Cup is final.
All 32 teams now know which countries they need to topple in order to move through to the knockout stages of the competition. For some, the road ahead is relatively easy; for others it's much tougher.
For others, the road ahead has a rival or two standing in the way.
We didn't quite get the Germany-England, Brazil-Uruguay, Spain-Portugal rivalries that some might have wanted this year, but we still got plenty of intriguing matches.
Read on to see five group-stage clashes that have a little history behind them.
Begin Slideshow

»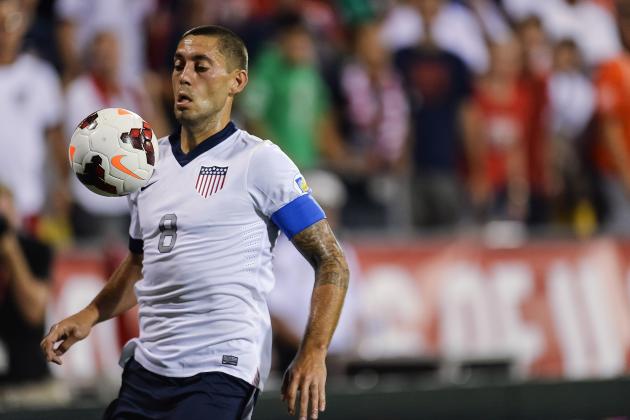 Jamie Sabau/Getty Images

Drawn alongside each other in the 2006 World Cup group stage, Ghana knocked the United States out of contention in their final match with a 2-1 victory.
That sent Ghana through to the round of 16 and sent the USMNT back home.
The two nations didn't meet again until the 2010 World Cup, when this time, they drew each other in the Round of 16 after the United States topped Group B. And again, it would be the Black Stars who emerged triumphant thanks to an extra-time winner from Asamoah Gyan.
Just in case they hadn't seen enough of each other, they drew each other again in the 2014 World Cup draw alongside Germany and Portugal in Group G.
Damnit! Horrible draw for the US. Ghana AND Germany! Ghana is our nemesis. They've knocked us out of the last two cups. #WorldCupDraw

— Matt Zeller (@mattczeller) December 6, 2013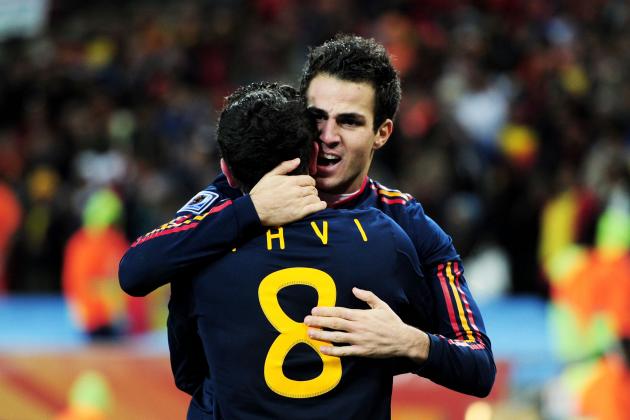 Jamie McDonald/Getty Images

These two European powerhouses come into the World Cup this year as not only two of the favourites for the title, but also as the last two finalists at the World Cup.
Who could forget their 2010 final that saw a late, extra-time winner by Andres Iniesta to end the Dutch resistance and extend Spain's international dominance?
Nigel de Jong certainly hasn't. Neither have the Netherlands.
Robin van Persie and Arjen Robben will be out to terrorize the likes of Sergio Ramos in what is shaping up to be one of the best matches in the group stage. They will be out to make it known that they plan to be a real force in Brazil. Whether they can or not, still remains to be seen, but it promises to be a match worth watching.
Who knows, there might even be another tackle like this?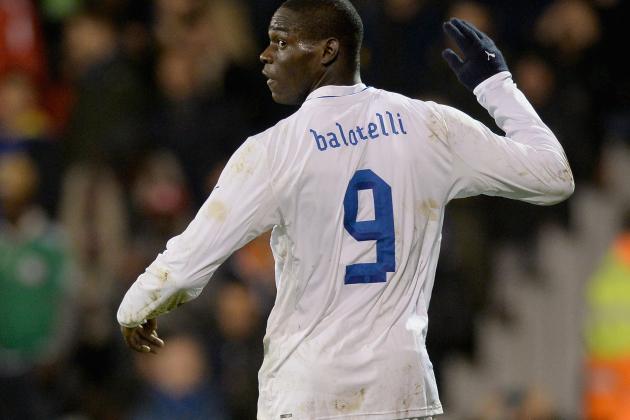 Claudio Villa/Getty Images

As The Guardian's Jonathan Wilson wrote prior to their meeting at the 2012 European Championships, England and Italy feels like it should be a rivalry game.
Even if it isn't quite a "real" rivalry.
The sides have met only twice before in major tournaments, never on neutral soil, and only four times in qualifying games for major tournaments. England have won just one of those six competitive fixtures and Italy are one of only four teams to have the advantage over England in a head-to-head comparison. It was, though, a game against Italy in 1948 that brought perhaps England's greatest ever victory...
By the time you then throw in the actual match at the 2012 Euros—where Andrea Pirlo basically tore England apart with a sublime regista performance—and this match actually has a bit of feeling for both clubs, particularly as England look to make it out of a very tough group.
Both countries will know that Costa Rica and Uruguay will be tough to beat given their geographical advantage, which will make this match even more important!
Neither will be willing to give an inch in what promises to be a very tight midfield battle for supremacy.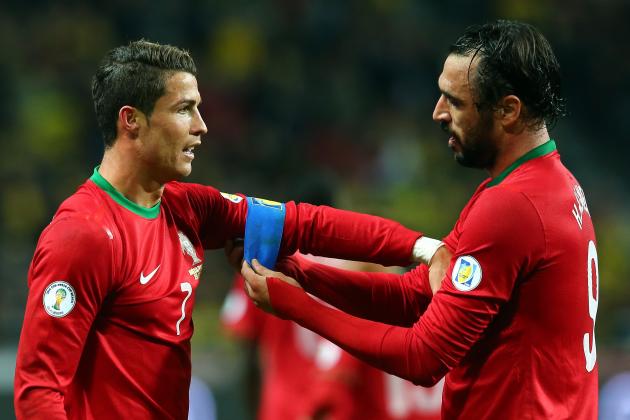 Martin Rose/Getty Images

Germany and Portugal have started to develop a rich footballing rivalry over the past decade, with the two nations continuing to meet on the international stage.
In 2000, they met in the group stage of the European Championships.
Drawn into the same group, Portugal ended Germany's qualification hopes with a 3-0 win in their last group stage match before losing in the quarterfinals.
The pair met again in the 2006 FIFA World Cup.
After topping their respective groups, both would go on to lose tight semifinals against Italy and France respectively. The tournament hosts (Germany) would go on to win the third-place playoff by a score of 3-1, despite Portugal having most of the attacking chances and possession on the night.
They met again in the quarterfinals of the 2008 European Championships in Basel, with Germany winning a back-and-forth match 3-2. Germany would win 1-0 when they met in Group B of the European Championships four years later in Ukraine at the 2012 European Championships.
Ready for round five: Philipp Lahm vs. Cristiano Ronaldo?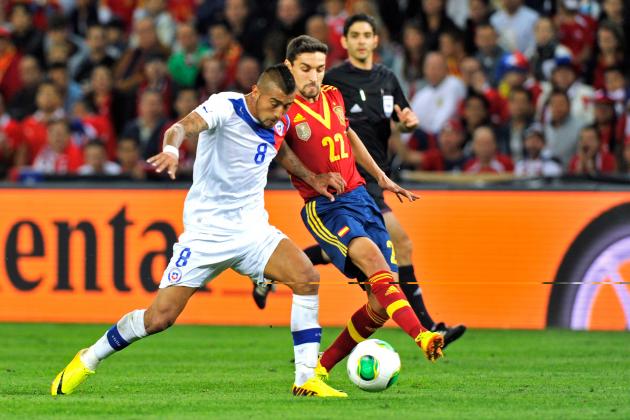 Harold Cunningham/Getty Images

Spain and Chile might not have the same rich football rivalry that many countries do, but there's still plenty to watch out for when these two meet in the group stage.
Having played out a thrilling 2-2 draw earlier in the year, it's clear that the South Americans are not only capable of matching their European counterparts on the field, but also matching them tactically as well. Jorge Sampaoli has been able to get the best out of La Roja in the past 12 months or so, and they'll come to Brazil definitely thinking they are capable of emerging from a tough group.
Even if that means at the expense of world and defending champions, Spain, who just happen to be the nation that they gained independence from in 1818.
Chile and Spain have met a number of times in the past (especially in the 1950's and 60's), with Spain dominating the South Americans every time. Their most recent matchup was at the 2010 World Cup (where they were again drawn together in the group stage), as Spain won a tight match 2-1 after Marco Estrada's dismissal left Chile with just 10 men for most of the match.
That victory meant Spain were able to finish at the top of the group,and play Portugal in the round of 16 while Chile were consigned to playing Brazil (which they lost).
Spain, of course, would go on to win the trophy.
Don't think that Chile have forgotten about that, either.
Hit me up on Twitter for more sports goodness: Follow @dantalintyre