The Golden State Warriors face the Houston Rockets on Friday night and in turn the dynamic scoring of James Harden. Whether it's inside or outside, "The Beard" finds a way to get his on any given night. It's much easier said that done, but the Warriors can focus on a number of areas to limit Harden's production.
Harden's Long-Range Shooting
Harden was a potent three-point shooter last season, knocking down 36.8 percent of his attempts. That hasn't carried into this season, however, as the guard is making just 29.2 percent thus far.
Harden went 0-of-10 from beyond the arc against the Phoenix Suns on December 4, shooting 3-of-17 total. He has returned from a recent foot injury, so that would obviously play a role. Despite this, it has been a season-long struggle for Harden, and the Warriors should hope it continues into Friday's game.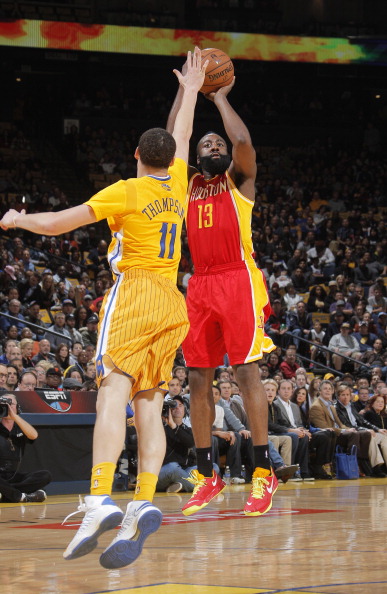 Rocky Widner/Getty Images
Harden doesn't often shoot from the corners, with just nine of his 106 three-point attempts coming from either side. Golden State can play solid perimeter defense with either Harrison Barnes or Klay Thompson on Harden, as both have been solid defensively this season.
According to Synergy Sports (subscription required), Thompson is doing the better job, as he's keeping opponents to 34.5 percent on spot-up shooting from beyond the arc. Barnes is allowing 47.8 percent in the same defensive sets, but 37.7 percent overall.
The Warriors will still be without Andre Iguodala (strained hamstring) and in turn their best individual defender. Golden State might catch a break given Harden's poor track record shooting this season but shouldn't take a chance, given his talent.
Keep Harden out of the Paint at All Costs
The Warriors must force Harden's jump shot and live with the consequences, as his ability to score in the lane is surreal. Harden is shooting 59.6 percent when he stands less than eight feet from the rim but struggles exponentially as he moves farther out.
With 41 percent shooting from the mid-range area and the aforesaid 29.2 percent from three-point range, the only efficient way for Harden to score is inside. Much of that comes from his supreme ball-handling ability in addition to his knack for weaving through defenses with skilled footwork to the rim.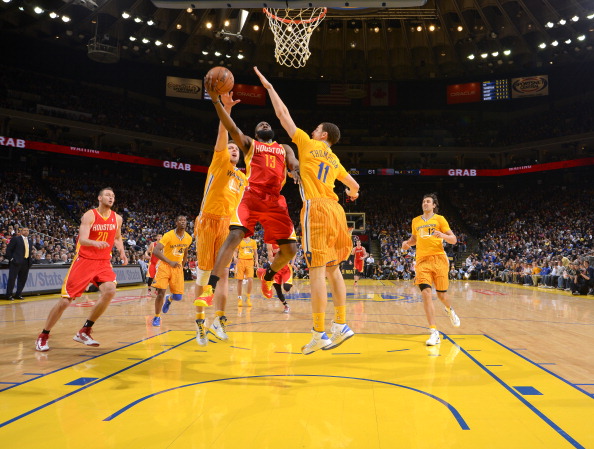 Rocky Widner/Getty Images
Golden State must center the defensive game plan around this, as Harden's penetration collapses the perimeter defense. In doing so, chances are created for Houston's shooters to drop attempts from three-point range or for drives by other players.
Harden has made a name for himself as one of the league's best penetrators, but the Warriors can limit that with intelligent, cohesive defensive play.
Guard the Pick-and-Roll Effectively
Having Dwight Howard as a pick-and-roll partner gives Harden the luxury of defenses needing to guard two players simultaneously. He's shooting 46.8 percent as the pick-and-roll ball-handler, with Howard converting on 72.7 percent as the pick-and-roll man, according to Synergy Sports.
This may be the hardest way for the Warriors to contain Harden, as it would potentially leave the lane open for Howard. Golden State should try to hedge Harden back to the perimeter (if possible), as he shoots an average percentage from mid-range.
Harden is also just 6-of-19 on step-back jumpers this season, checking in at 31.6 percent. In any case, the Warriors cannot allow Harden to use the screens as a means to cut through the defense.
Keep the Ball out of Harden's Hands
In retrospect, keeping the ball out of the hands of the opponent's best scorer is the first priority. For Golden State, it must be the first and foremost focus as it will derail the aforementioned defensive assignments.
Once again with thanks to Synergy Sports, Harden is run as the pick-and-roll ball-handler and in isolations 26.5 percent and 24.1 percent of the time, respectively. He also scores 24.3 percent of his points in transition, shooting 59 percent on the fast break.
How will James Harden perform versus the Warriors?
Harden is a terrific individual scorer, with 65.5 percent of his made field goals coming unassisted. Despite this, Harden has less success playing away from the ball.
Harden shoots 30 percent coming off screens as well as 33.3 percent as a spot-up shooter. Both these plays are run just 3.4 percent and 8.7 percent of the time, and rightly so, considering the lack of success Harden has.
This is a big plus for the Warriors, as forcing the Rockets to use Harden in different ways will sway just how efficient he can be. Again, it's a much simpler task on paper than when it comes to initiating the actual game plan.
Harden is right up there with the best scorers the NBA has to offer, but each one has a weakness of some sort. Playing without the ball seems to be Harden's, and forcing anyone but him to shoot will be ideal.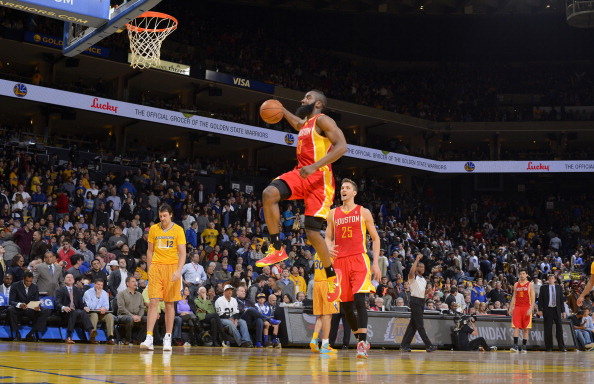 Rocky Widner/Getty Images
Houston will prove to be a handful for Golden State on Friday night, with so much talent on the court at one time. Whether it's Howard and Harden or the many specialist role players the Rockets have, the Warriors will need to be on the same page defensively.
Golden State is a much-improved defensive team this season and has a good chance of winning this matchup. The Warriors can make it a great chance, and shutting out Harden is key.