GoDaddy Bowl 2013: Ball State vs. Ark. State TV Info, Predictions and More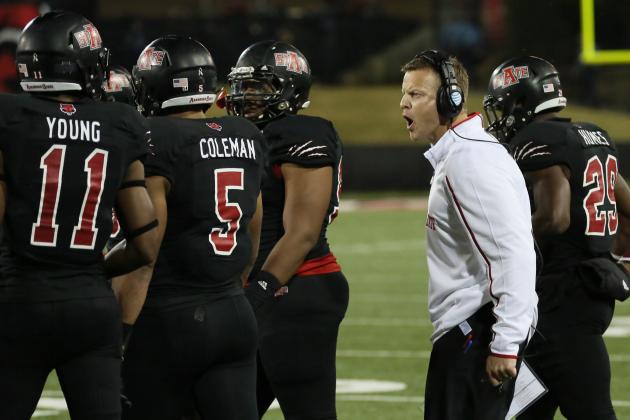 Nelson Chenault-USA TODAY Sports
The Red Wolves will play in their third consecutive GoDaddy bowl.
The 2013 edition of the GoDaddy Bowl will pit two upcoming football programs against each other in Ball State and Arkansas State.
For the Cardinals (10-2), the team is coming off an impressive campaign in the MAC. It marks the team's second consecutive season with nine wins or more and its first 10-win campaign since 2008.
Backed by a strong passing attack, Ball State comes in as favorites.
On the other hand, although the Red Wolves (7-5) have won three fewer games than they had in 2011 and 2012, the team has made significant strides under first-year head coach Bryan Harsin. In fact, he has claimed the third-most wins by a head coach in his first season in school history.
Behind dual-threat quarterback Adam Kennedy, Arkansas State should give Ball State more than it can handle.
Here's how the two teams match up.
Time: 9 p.m. EST
Place: Ladd Peebles Stadium, Mobile, Ala.
TV/Radio: ESPN/ESPN Radio
Begin Slideshow

»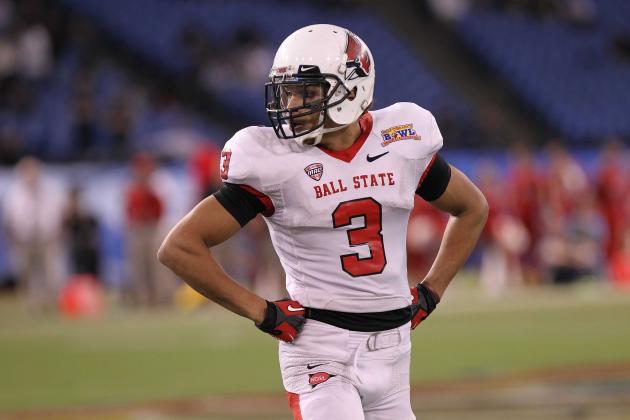 Kim Klement-USA TODAY Sports
Snead has been a key to Ball State's offense.
1. Dish Out a Healthy Serving of Wenning-to-Snead
The connection between quarterback Keith Wenning and Willie Snead has given defenses nightmares.
On the year, the duo has cashed in 14 times through the air. Look for Wenning and Snead to try and increase that mark.

Against a Red Wolves secondary that struggles against the pass, the Cardinals should be able to take advantage.
Thus far, the unit ranks No. 74 in the nation at stopping the pass. Arkansas State has already given up 19 touchdowns through the air.
It should be easy pickings for Ball State's passing attack.
2. Limit the Mistakes on Offense
On the season, the Cardinals have been just OK protecting the ball.
Entering bowl season, the team ranks No. 43 in turnovers lost, turning the ball over 18 times. That's something Ball State cannot afford in this one.
Fortunately, the Red Wolves haven't had too much success in creating turnovers, only coming up with 20 thus far.

The Cardinals cannot gift Arkansas State with freebies.
3. Make Adam Kennedy One-Dimensional
When Arkansas State has been successful, it's been when Kennedy has asserted himself in both the running and the passing games.
The senior has racked up over 2,000 yards through the air and another 500 on the ground. Already this season he has rushed for over 60 yards five times.
It will be imperative that the Cardinals take away his ability to run.
That way, the team will force Kennedy to attack Ball State's strength: the secondary.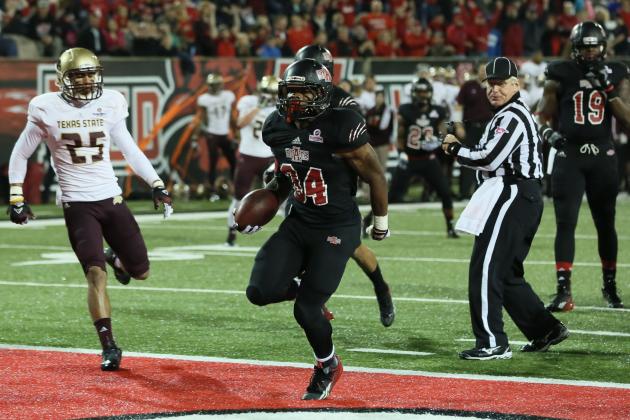 Nelson Chenault-USA TODAY Sports
Arkansas will need Gordon (center) at his best in this one.
1. Establish Rushing Attack Early
All season, teams have had no problem running against the Cardinals. In fact, the team has conceded a whopping 21 rushing touchdowns.
That makes it vital for the Red Wolves to be able to get the run game going early.
It all starts with dual-threat quarterback Adam Kennedy.
In the team's seven wins, the senior has found success with his legs, averaging 42.8 rushing yards per game with four touchdowns. Over Arkansas State's five losses, he's only averaged 30.6 per game and found the end zone just once.
Once Kennedy is going, it gets a lot easier for running back Michael Gordon (106 CAR, 717 YDS, 10 TDS) to find his holes.
2. Find Cracks in a Strong Ball State Offensive Line
Entering the bowl season, the Cardinals have allowed just 14.0 sacks. That's good for No. 17 in the nation.

Conversely, the Red Wolves have been solid at bringing down the quarterback, ranking No. 66 in the category with 23.0 sacks. In fact, the team has recorded a sack in all but one game this season.
Furthermore, Arkansas State has brought down the quarterback multiple times in six contests.

Who will win the battle in the trenches in this one?
3. Protect the Ball
One thing Ball State has been excellent at is creating turnovers.
Thus far, the team ranks No. 7 in turnovers forced with 30. Furthermore, the Cardinals have recorded 10 turnovers in the last four games.
Fortunately, the Red Wolves have been good at protecting the ball. The team currently ranks No. 7 in turnovers lost with just 13.

That will have to continue in this one.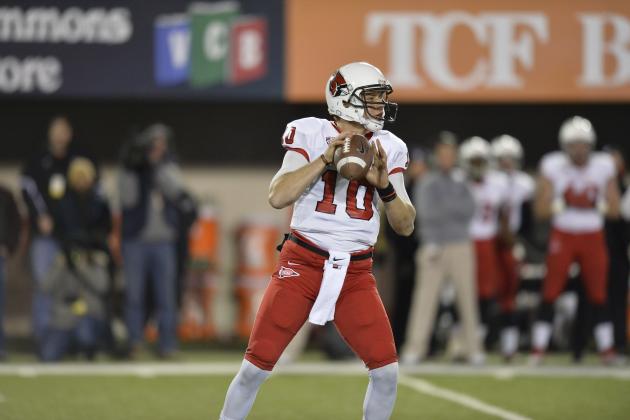 Brian Kersey/Getty Images
The Cardinals will need Wenning to be at his best.
Underclassman
Willie Snead (WR, Jr.)
Willie Snead has been one of the top receivers in the nation this year.
In 12 games, the junior has caught 97 passes for 1,429 yards and 14 touchdowns. Furthermore, he's topped the century mark in receiving in all but three games this season.
Against a Red Wolves secondary that ranks No. 73 against the pass, expect Snead to give the defense fits.
He'll be one to keep an eye on for sure.
Draft Prospect
Keith Wenning (QB, Sr.)
Keith Wenning has carried the Cardinals all season.
Thus far, the senior has thrown for 3,933 yards, 34 touchdowns and six interceptions on 65.2 percent passing. He's also found the end zone an additional five times with his legs.
Most recently, Wenning racked up 445 yards through the air and tossed six touchdown passes Nov. 29 against Miami (Ohio).
Ranked No. 28 among quarterbacks, Wenning will try and improve his stock in this one.
Full Depth Chart: click here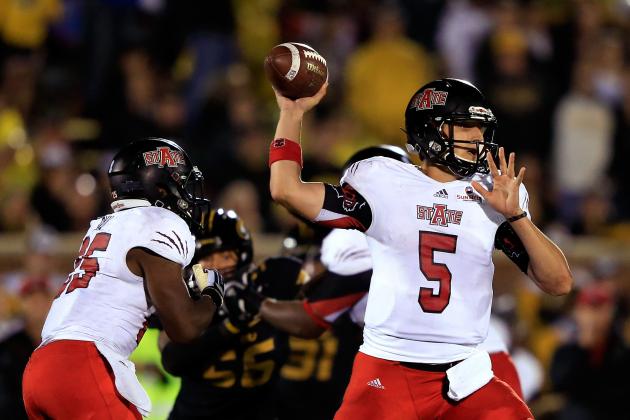 Jamie Squire/Getty Images
Kennedy (right) will get a chance to shine against the Falcons.
Underclassman
Michael Gordon (RB, So.)
In his second year, Michael Gordon has thrived. The sophomore has rushed for 717 yards and 10 touchdowns on 106 carries in 11 games.
After being limited to less than 10 carries over the team's first eight contests, Gordon has been seeing more opportunities as of late. He has totaled 434 yards and seven scores on an average of 18.0 carries over the last four games.
That includes topping 130 yards in two of the last three contests.
Against a Cardinals defense that is vulnerable against the run, Gordon will need to capitalize.
Draft Prospects
Ryan Carrethers (DT, Sr.)
Ryan Carrethers has been a force on the defensive side of the ball for Arkansas State.
Thus far, the senior has recorded 87 tackles (8.0 for loss), 4.0 sacks, three quarterback hurries and blocked a punt. He's even added a rushing touchdown to his resume.
Ranked No. 21 at his position, Carrethers will have a prime opportunity to increase his draft stock against the nation's No. 9-ranked passing attack.
Adam Kennedy (QB, Sr.)
Adam Kennedy has been a joy to watch.
During the regular season, the senior threw for 2,349 yards, 11 touchdowns and six interceptions on 70.0 percent passing. He's also added 514 yards and four scores on 147 carries.
As a dual threat, Kennedy has been a thorn in the side of opposing defenses and has opened up lanes for Gordon. He's slotted as No. 38 among quarterbacks.
Facing a Ball State defense that is pretty solid against the pass, it's sink or swim for Kennedy.
Full Depth Chart: click here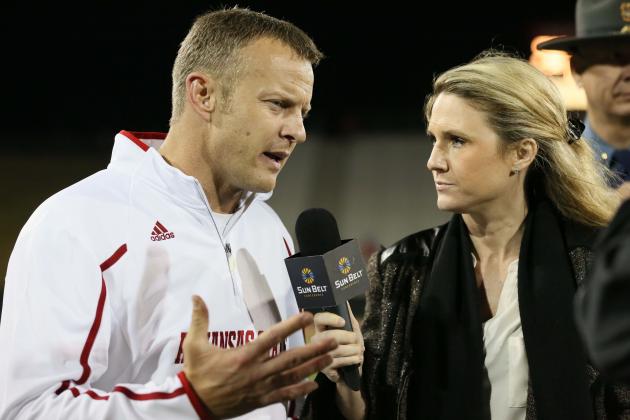 Nelson Chenault-USA TODAY Sports
Harsin (left) has had a successful first season with Arkansas State.
Coaches
We are excited about the opportunity to play in the GoDaddy Bowl. Playing in a bowl game was one of the goals we set prior to the season, and our players, coaches, support staff and administration have all worked extremely hard to make this a reality. We look forward to another chance to take the field and finish our season strong.
-Arkansas State head coach Bryan Harsin, via Astateredwolves.com
We are excited about the opportunity to represent the Mid-American Conference against a terrific Arkansas State team in this year's GoDaddy Bowl. The trip to Mobile, Ala., will be an excellent experience for our team, families and fans. We are very grateful for this opportunity.
-Ball State head coach Pete Lembo, via Ballstatesports.com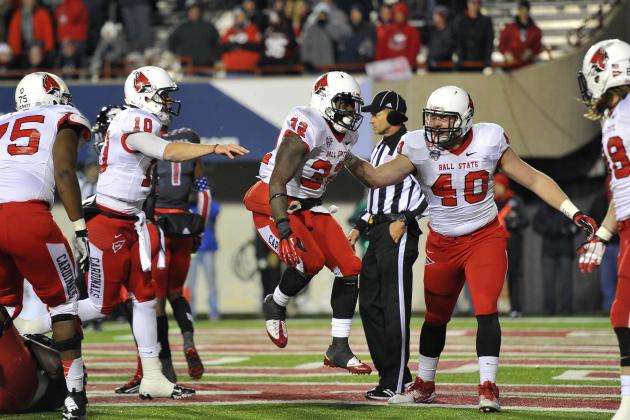 Brian Kersey/Getty Images
The Cardinals will be the team celebrating at the conclusion of this one.
This game could easily end up being a shootout.
If that's the case, that would be in the Cardinals favor. The team enters the bowl season averaging 40.1 points per game.
In comparison, the Red Wolves only put up 29.7 a night.
Given that both teams have pretty generous defenses, this one could come down to the turnover battle. More specifically, which defense can bend but not break?
Expect to see a high-scoring first half before Ball State's defense settles down and makes some key turnovers.

The Cardinals should roll late.
Prediction: Ball State 45-28.
All stats via NCAA.org. All positional rankings via ESPN.com.