Sunderland vs. Tottenham Hotspur: 6 Things We Learned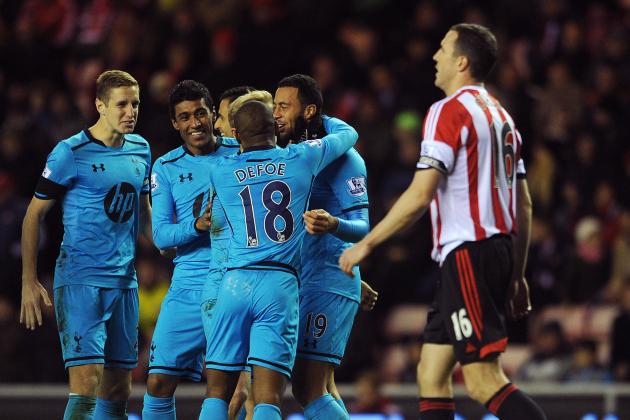 Chris Brunskill/Getty Images
A despondent John O'Shea trudges back into position as Tottenham Hotspur celebrate the Irishman's own goal, which gave them a 2-1 lead over Sunderland.
Tottenham Hotspur came from a goal behind to beat Sunderland 2-1 at the Stadium of Light on Saturday evening.
Adam Johnson had given the Black Cats a first-half lead after Hugo Lloris flapped at an Ondrej Celustka cross.
Their lead lasted just six minutes before Nacer Chadli headed back in a Kyle Walker free-kick for Paulinho to score Tottenham's equaliser.
Spurs' bright start to the second half was embodied by a determined Mousa Dembele run down the left flank. The Belgian held off the challenge of Jack Colback and saw his cross deflected off John O'Shea into the empty net.
Jermain Defoe hit the post twice as Spurs attempted to seal their win, with the striker also firing narrowly wide after a superb reverse pass from Lewis Holtby.
The 2-1 lead was almost thrown away when Sandro handled a Sunderland corner in the penalty area. The action somehow escaped the attention of referee Lee Mason, much to the displeasure of the home side.
The result leaves Sunderland stuck on the bottom of the Premier League with sixth-place Spurs closing the gap on the teams above them.
Read on for some things we learned from this early December clash.
Begin Slideshow

»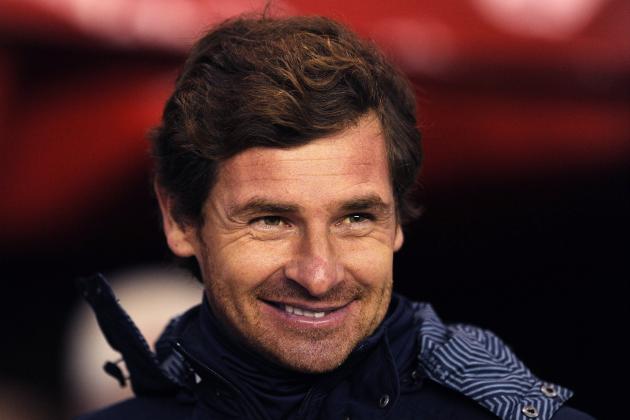 Chris Brunskill/Getty Images
Cheesy grin: Andre Villas-Boas.
The main pre-match headlines concerned Tottenham boss Andre Villas-Boas making changes to his team—most notably in defence.
Kyle Naughton's selection in place of the injured Jan Vertonghen at left-back had been expected. Not anticipated was Vlad Chiriches missing out through injury.
The Romanian's absence prompted a defensive reshuffle. He was replaced by Etienne Capoue, with Michael Dawson moved to left centre-back (interestingly, Younes Kaboul was not selected altogether, with no reason forthcoming).
Though not heavily tested by an occasionally threatening but largely uninspired Sunderland attack, the new combination worked well.
Dawson transitioned comfortably to a less familiar side. Winning several aerial battles late on, he was crucially alert to clear when a Hugo Lloris save almost fell to nearby Fabio Borini.
After the captain's slip-up cost Spurs a goal versus Fulham midweek, more of the team's play from the back came through Capoue and Mousa Dembele. Left to concentrate on defensive duties, Dawson had his best game in weeks.
Capoue's distribution from the Spurs half was tidy and succinct. Though not as tested individually as his central defensive partner, he was solid when needed and made a particularly well-read interception shortly after half-time.
Naughton might have had a tougher evening's work if faced with Adam Johnson rather than Sebastian Larsson. Though Ondrej Celustka's runs forward occasionally put him under pressure, the left-back was otherwise as reliable as he has been playing on his weaker side.
He offered decent support going forward. As Sunderland searched for an equaliser in the second half, Naughton was commendably keen to make a challenge, dispossessing Jack Colback with a fine tackle having come in from the left. With four minutes remaining of normal time, he cleared with a big header that led to Andros Townsend winning a free-kick.
On the opposite side, Kyle Walker was in fine form too, displaying an eagerness at both ends that was also present in good displays versus Manchester United and Fulham.
Spurs have not kept a clean sheet since a 0-0 draw with Everton early in November. After conceding six to Manchester City a few weeks ago, though, there has been a marked improvement in the back four's collective display.
With good work by Capoue and Naughton done here, Villas-Boas will be grateful to know he has options beyond those he has used recently.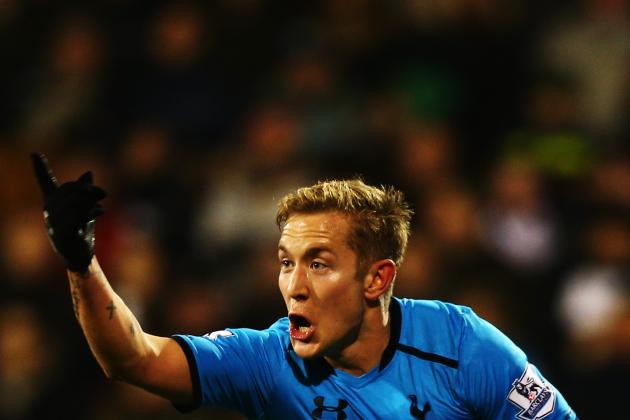 Paul Gilham/Getty Images
Lewis Holtby.
Andre Villas-Boas' other changes included a return for Mousa Dembele (injured for Fulham) and a recall for Nacer Chadli in left midfield.
Building on a good game versus Man United last weekend, Dembele was again influential bringing the ball forward. Chadli operated largely on the periphery but had some nice moments—notably his assist for Paulinho's equaliser.
Then there was Lewis Holtby, rewarded for his winner versus Fulham with a start in the North East.
The 23-year-old was characteristically energetic in his advanced midfield role, near constantly looking to offer himself as an option for teammates. His persistent movement contributed to as flowing a Spurs performance as seen arguably all season.
Holtby's game had more in common with his impressive cup outings earlier this season than his more workmanlike Premier League showings. A through ball that almost found Chadli in the opening five minutes, as well a successful one that Jermain Defoe fired wide from, showed him at his creative best.
He also maintained the standard set by Paulinho's brightest attacking work from the last two games. Particularly in the second half, Holtby worked hard to get on crosses in the box. His shot selection from outside was mostly sensible too.
The graft-of-the-game German was not solely designated to attacking work. As Sunderland upped the pressure on Spurs midway through the second half, Holtby was found charging back into his own half to dispossess Adam Johnson as the winger sought to kick-start an attack.
Undoubtedly, though, Holtby's efforts in the final third here (along with his goal on Wednesday) have seen him stake a serious claim for a regular role in Villas-Boas' side.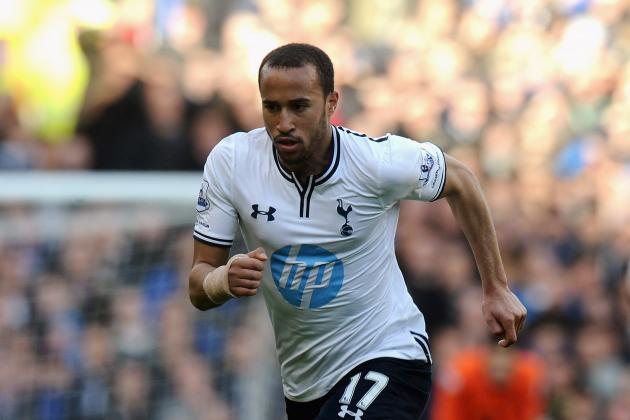 Tony Marshall/Getty Images
Andros Townsend in action versus Everton last month.
It was a relatively minor cameo in the match itself. But as English football's latest bright young hope—and a source of great debate within Spurs circles—Andros Townsend's 16-minute appearance against Sunderland was a noteworthy one.
Two times after coming on in left wing, Townsend got the better of his full-back and completed a cross. The first time saw Jermain Defoe hit the post after a shot with the outside of his boot. Paulinho headed wide from the second.
Having mostly played on the right this season—where his frequent cutting in and shooting became a little too predictable—the evidence here suggested a strong case for deployment on his more natural left side.
Nacer Chadli in this game, Erik Lamela and Gylfi Sigurdsson in others, have all had some fine moments playing left wing. Most of those have been when they have moved inside, though, as dictated by their skill and eye for goal over a predilection for attacking a full-back.
Townsend was aided in his surges at Sunderland by the home side's own attacks leaving them a little exposed. Nonetheless, and however briefly, it was as dangerous as Spurs looked down the left since Danny Rose got injured.
Seeing as Townsend has predominantly been used on right wing in his brief career, you can understand Andre Villas-Boas overlooking using him on the left.
Based on what the young winger showed here, it is a general oversight that could be worth correcting with a longer look.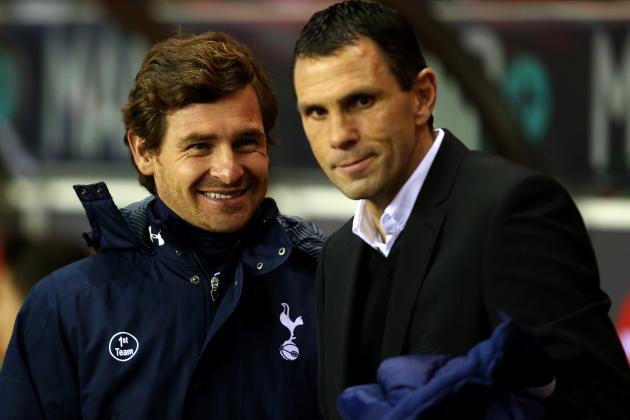 Jan Kruger/Getty Images
Andre Villas-Boas and Gus Poyet.
After a closely fought defeat to Chelsea on Wednesday that saw his Sunderland side partly undone by lax defensive work, Gus Poyet sought to retain his team's attacking threat against Tottenham while tightening up at the back.
Where Eden Hazard wreaked havoc, terrifyingly floating in from the flanks in midweek, Poyet brought in Adam Johnson and Sebastian Larsson on either side to support his full-backs.
Doubled up against the Nacer Chadli- and Aaron Lennon-led attacks on either side, Phil Bardsley and Ondrej Celustka fared well early on. Having wide men further forward looked like it might pay off, too, with better width and presences for Spurs to contend with.
It did not last.
Increasingly, Spurs had more joy attacking those areas. Johnson's goal coming in from the left temporarily masked it, but Sunderland were largely ineffectual further forward too.
Poyet will be hugely frustrated. His tactical alterations made sense post-Chelsea; however, they were undone by the inability of his players to carry them out successfully.
Sunderland struggled elsewhere, but the game was essentially lost out wide. As this was where one of Poyet's big changes took place, the failure of it to work will not fill him with confidence going forward.
The hope will be they have more success versus lesser teams than Chelsea and Spurs.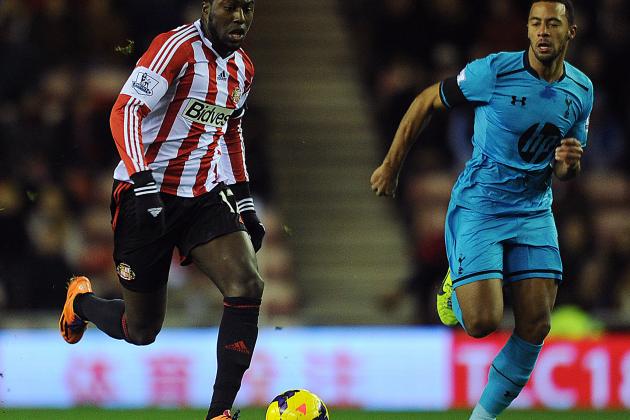 Chris Brunskill/Getty Images
Jozy Altidore surges forward.
Gus Poyet also brought Steven Fletcher back into his starting lineup, positioning the Scot slightly ahead of Jozy Altidore in a two-man attack.
Fletcher has had issues with injury this season. When fit and firing, he is a productive forward to say the least.
On the quarter-hour mark, he almost found Altidore with a through ball. A minute later, Fletcher got on the end of a terrific ball over the top from Phil Bardsley but shot wide.
Thereafter, bar a second-half header and some brief duels with the Spurs defence, the striker was nowhere to be seen.
In comparison, Altidore was an altogether more engaging presence for the away side to deal with. Just like Poyet's strategy, though, his work was undone by his fellow players.
Dropping deep, Altidore's passing and spreading of the play looked like Sunderland's most potent source of attack. It was his ball out right to Ondrej Celustka that led to Adam Johnson's goal.
A similar pass to the right-back shortly before half-time saw Celustka unleash a stinging shot that Hugo Lloris this time sufficiently dealt with.
Further attempts by Altidore to fashion similar moves were quickly stopped in their tracks. After holding the ball up out wide an hour into the game, his pass back inside was wasted by Johnson's awkward control.
He saw increasingly little of the ball as the match progressed and took out his frustration with a foul on Andros Townsend late on.
In his second spell in the Premier League, Altidore has taken his time to resettle—a process not helped by playing for a struggling team. He showed his penalty-box prowess with his goal against Chelsea. His manager would be wise to try to up the percentage of play that goes through the American all over based on his Saturday display.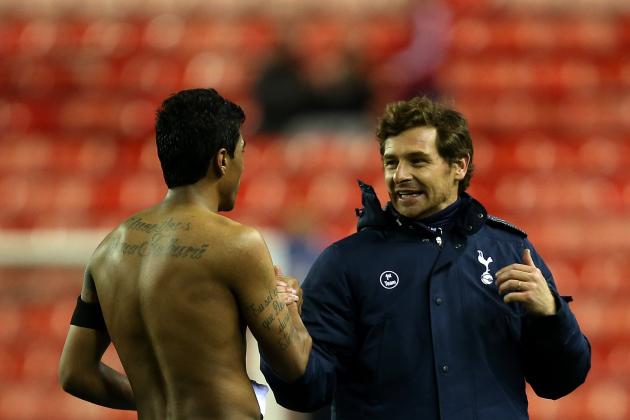 Jan Kruger/Getty Images
Villas-Boas congratulates Paulinho.
A week or so on from the frenzy of stories suggesting Andre Villas-Boas was close to the sack following Tottenham's poor run of form, the situation has changed somewhat.
Seven points from three games has the North Londoners within three points of second-place Liverpool.
Seeing as Spurs host Brendan Rodgers' Luis Suarez-led team next week, they will have the opportunity to launch themselves firmly back into the mix with a win.
Liverpool will provide a fascinating examination of Spurs' response to November's considerable dip. Unlike their last three opponents of Manchester United, Fulham and Sunderland, they are looking in good shape right now.
After comfortably dispatching West Ham United 4-1, they will be keen for the further three points, too, not to mention the scalp of a top-four rival.
Villas-Boas and his team have done just about all that could have been asked of them since the Man City dismantling.
The Portuguese will be fully aware, though, that success in football is about going above and beyond. Stopping Suarez and getting the better of Rodgers will certainly count as doing that right now.
"It was a great performance," Villas-Boas told Spurs' official Twitter page. "We now play Liverpool & Southampton (in the Premier League) and we can continue to build on this momentum."