2014 Atlanta Falcons: Offensive Line Shake-Up May Not Dig as Deep as Fans Want
Use your ← → (arrow) keys to browse more stories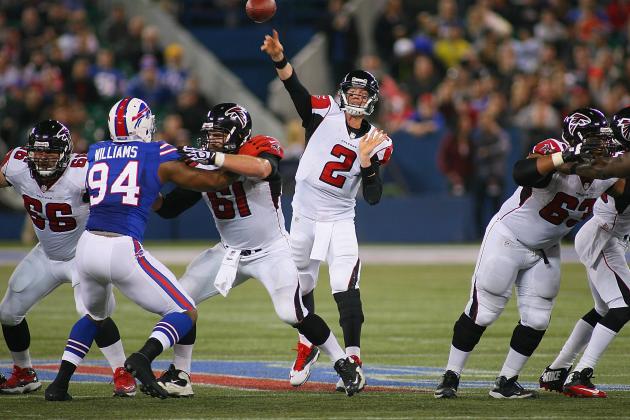 Rick Stewart/Getty Images

The Atlanta Falcons need to completely revamp their offensive line.
Or so the fans say.
Atlanta could have at least an NFL-average offensive line if it tried to keep some continuity, got healthy and added two or three guys for competition at multiple spots. The issues along the offensive line come from injuries and a lack of depth.
In the offseason, it will not be surprising if general manager Thomas Dimitroff and the Falcons brain trust think the same thing. The Falcons possess the talent to have a top-tier line in the NFL. But adding some competition would be wise.
However, a top-10 pick in the line isn't needed to succeed, especially since the Falcons need a guard more than a tackle. And honestly, a scheme change for the offensive line could be the best way to improve it in all facets.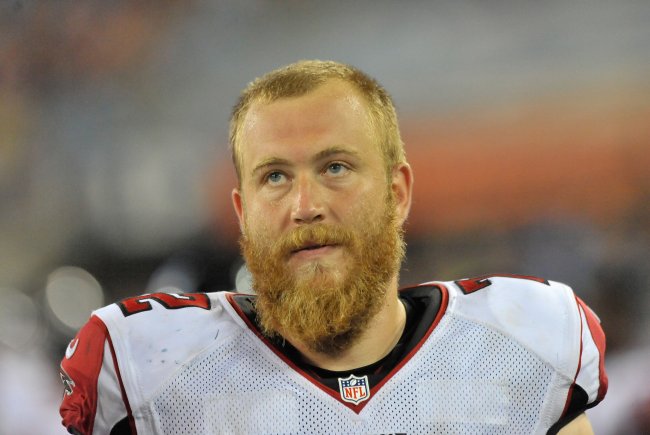 Jim Brown-USA TODAY Sports
Talent is already here; it's just injured or not getting a chance
Believe it or not, Atlanta has spent quite a bit on the talent that should be starting for the offensive line. Between multiple $35-plus million contracts, a first-round pick, a pair of second-round picks, a pair of third-round picks, a fourth-round pick and a fifth-round pick, the Falcons have exhausted resources up front.
And in doing so, they have three tackles who are starting caliber in key re-sign target Mike Johnson and under contract Sam Baker and Lamar Holmes. They have two starting-caliber interior linemen in Justin Blalock and Joe Hawley and two depth players in Peter Konz and Garrett Reynolds.
Then the team has the undrafted players who all have added solid depth, including Ryan Schraeder, Harland Gunn and Terren Jones. Those are 10 players who should all have training camp roster spots when the 2014 camp opens. That leaves just five spots open from the 15 that Atlanta had in camp in 2013.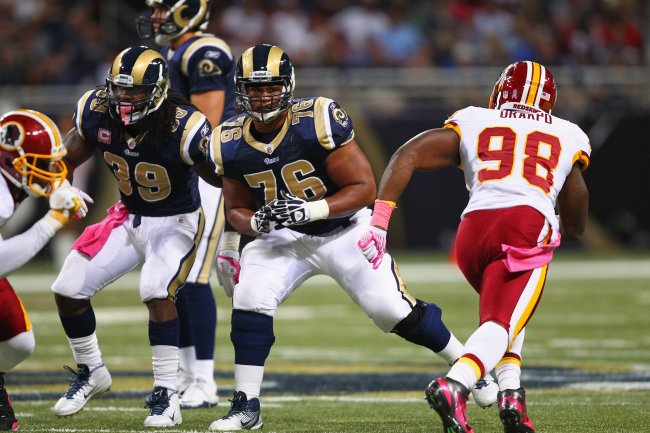 Dilip Vishwanat/Getty Images
Adding more talent for competition never hurts
Despite the Falcons having 10 players who should be competitive on the current roster, they need to bring in talent in the form of a free agent and a draft pick who can compete for a starting job along the offensive line.
The Falcons should bring in players who can compete for the starting role at right guard and right tackle. Competition breeds success, and the only way for the Falcons offensive line to be good again is to increase the competition along the front line.
Competition should also breed depth. Without competition at linebacker, the Falcons would have never seen what Paul Worrilow and Joplo Bartu were capable of. If they can find another Worrilow, Harvey Dahl or Tyson Clabo type, the Falcons will improve their line tenfold.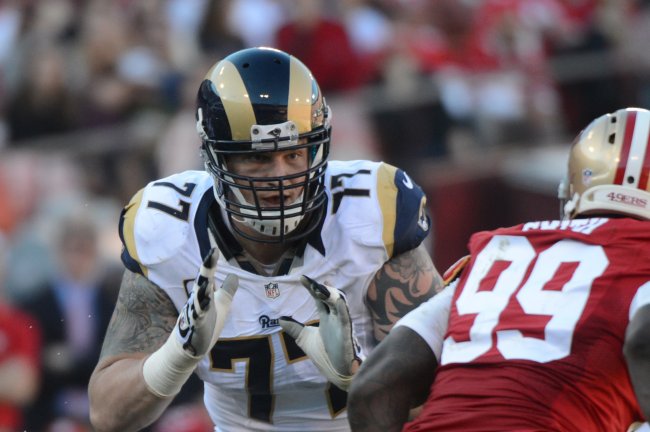 Kyle Terada-USA TODAY Sports
A top-five or -10 pick is overkill for the line
Breaking news: The draft is seven rounds long. It's tough to believe sometimes, but second- and even high third-round picks can provide instant quality starters—especially when you look at offensive linemen at the positions that the Falcons need to target.
As noted earlier, the tackle situation doesn't call for a pick to be spent. But looking even further than that, a tackle in the top 10 takes multiple seasons to get to the Pro Bowl level that he is expected to reach.
And if recent history is any indicator, it's unlikely that the Falcons will bring in an instant Pro Bowl-caliber tackle with a top-10 pick. The following were top-10 tackle selections around the NFL since Thomas Dimitroff took over as GM for the Falcons and their Pro Football Focus grades for their first three years:
Tackles Taken In the Top 10 - Since 2008

| | | | | | |
| --- | --- | --- | --- | --- | --- |
| Year | Pick No. | Player | Rookie Grade | 2nd Year Grade | 3rd Year Grade |
| 2008 | 1 | Jake Long | +32.3 | +39.5 | +34.7 |
| 2009 | 2 | Jason Smith | +3.2 | -6.5 | -3.0 |
| 2009 | 6 | Andre Smith | +1.7 | -15.2 | +8.5 |
| 2009 | 9 | Eugene Monroe | +4.3 | -13.0 | +22.0 |
| 2010 | 4 | Trent Williams | +2.0 | +10.1 | +18.8 |
| 2010 | 6 | Russell Okung | -13.4 | -1.0 | +21.0 |
| 2011 | 9 | Tyron Smith | +24.0 | +3.8 | +19.4 |
| 2012 | 4 | Matt Kalil | +15.8 | -4.7 | |
| 2013 | 1 | Eric Fisher | -16.6 | | |
| 2013 | 2 | Luke Joeckel | -6.1 | | |
| 2013 | 4 | Lane Johnson | -2.4 | | |
Grades Courtesy ProFootballFocus
As you can see, it's unlikely that taking a tackle that high will have the impact that fans think that it will have. Just three out of the 11 tackles taken in the top 10 since 2008 have had a good (plus-10.0) rookie season.
Most had average-to-poor rookie years. Atlanta already has two average tackles in Lamar Holmes and Sam Baker. So how does adding an NFL average player at tackle help the Falcons?
It makes much more sense for the team to hold off until the early second round to bring in a guy who can play guard and allow the pairing of Holmes and Baker to play tackle. With a better interior line, the Falcons would protect Matt Ryan much more effectively.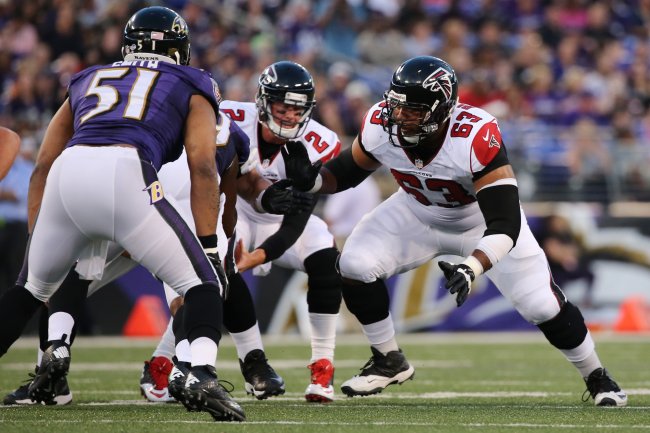 Rob Carr/Getty Images
The issue is inside at guard; the Falcons have the tackles
At offensive tackle, Atlanta has high-dollar former first-round pick Sam Baker, former third-round pick Lamar Holmes, former undrafted free agents Terren Jones and Ryan Schraeder and former third-round pick Mike Johnson.
The Falcons should make Johnson a key re-sign target, as he could compete for the starting job at right tackle. But also, they should bring in a guy like Rodger Saffold, who can play left or right tackle while also bringing competition to the guard position.
Even if the Falcons have to start Holmes and Baker at tackle, they are both average at worst when they are healthy. But the real issue for the Falcons is at guard. They have just one guard who is starting caliber in anchor Justin Blalock.
Outside of him, they have Peter Konz and Garrett Reynolds with starting experience. They need to focus on bringing in a truly great right guard. Konz will never be that guy and at this point is just a backup. Reynolds has never been a starting-caliber player.
If the Falcons want to improve their offensive line, they will bring in a starting right guard who can be an asset in the NFL. And ideally, they will get him through the draft in the form of either David Yankey from Stanford or Cyril Richardson from Baylor.
Atlanta Falcons' Potential Options at Each Position in 2014

| | | | | |
| --- | --- | --- | --- | --- |
| Left Tackle | Left Guard | Center | Right Guard | Right Tackle |
| Sam Baker | Justin Blalock | Joe Hawley | Draft Pick | Lamar Holmes |
| Lamar Holmes | | | Free Agent | Sam Baker |
| Draft Pick | | | Peter Konz | Ryan Schraeder |
| Free Agent | | | Garrett Reynolds | Draft Pick |
| | | | | Free Agent |
Projected Starters
The Falcons offensive line could take on a ton of different configurations in 2014. However, spending their first-round pick on an offensive lineman would be unwise. On top of that, it would make no legitimate sense to go after left tackles.
Atlanta's biggest need on the line is at guard. And with better guards, the tackles will be much less of an issue. So, Falcons fans, don't be shocked when the Falcons neglect the offensive line again this coming offseason but wind up getting much better results in 2014.
All stats used are either from Pro Football Focus' Premium Stats (subscription required), ESPN, CFBStats or the NFL. All contract information is courtesy of Spotrac and Rotoworld.
Scott Carasik is a Featured Columnist for Bleacher Report. He covers the Atlanta Falcons, College Football NFL and NFL draft. He also runs DraftFalcons.com.