Excitement over the Slammy Awards bustled throughout WWE's best social media items this week.
Big E Langston believes he has at least one golden statuette coming to him on next Monday's WWE Raw. Mark Henry made a case to top Fandango and R-Truth in a Slammy category that doesn't exist yet. The Real Americans hinted at their willingness to pull an Owen Hart and just steal their way to a Slammy.
The other most intriguing tweets, Instagram photos and viral videos featured a remarkably cute John Cena fan and Bo Dallas entering into the world of scouting.
The Miz will join an all-star lineup of presenters at the Slammy Awards on the next Raw. His Miz TV segment continues a WWE tradition of show-within-a-show segments.
Ever since Roddy Piper cracked a coconut over Jimmy Snuka's head, fans know to expect chaos and violence when these segments air. WWE shared a fun compilation of assaults occurring on WWE's talk shows.
Diamond Dallas Page, The Shockmaster and Shawn Michaels appear on a top-10 list ripe for discussions about its order and missing entries.
A man who would make a great host for the next Piper's Pit-inspired show is the current NXT champ. Dallas' smug, condescending character would make for must-see TV.
WWE recently asked Dallas to compile a scouting report on some of NXT's top prospects. His opinions on Alexander Rusev, Tyler Breeze, Emma and Aiden English are simply hilarious. He says he'd like English more if he'd started singing songs from The Lion King and that Breeze's ring reminds him of his dog.
'The NXT Champ Report': @TheBoDallas evaluates five of @WWENXT's rising stars http://t.co/n8Dx3kwBvf

— WWE (@WWE) December 5, 2013
The Real Americans, especially Antonio Cesaro, have been among NXT's most exciting guests.
Dressed in their new Cobra Kai-like jackets, Cesaro and Jack Swagger posed for WWE's Instagram, clearly ready to fight anyone for a Slammy.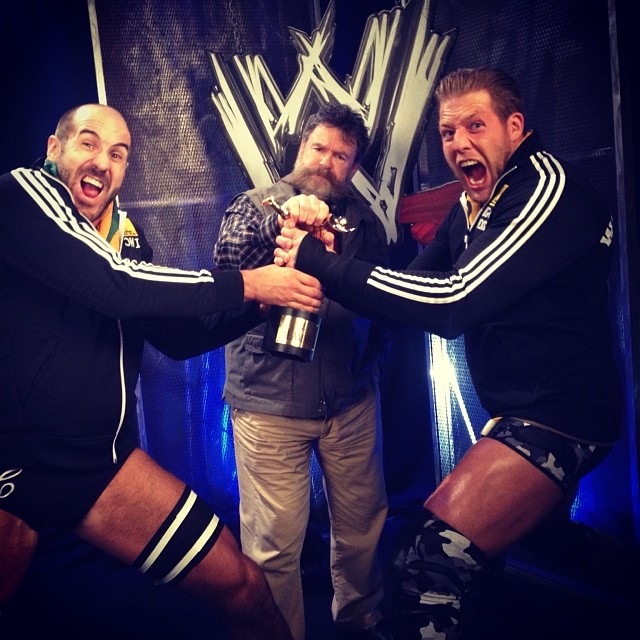 Photo from Instagram
The competition for the year's best tag team is too stiff for them to win that Slammy, but if WWE has one for "most consistently racist manager" then Cesaro and Swagger will be celebrating with Zeb Colter come Monday.
The Slammy for cutest fan is a one-girl race. Lining up to meet Cena and get an autograph, a young fan exploded with excitement when she got close to the champ.
When your freak-out gets noticed by Vince McMahon himself, you know it's a massive one.
As much as Cena irks certain slices of the WWE audience, it's fandom like this that keeps Cena on top. The list of Superstars who consistently have the younger demographic spazzing out is short.
Should he get a chance to show more of his charm, Langston might find his way on that list at some point.
A shot of Langston on Instagram shows us that he'll certainly be appreciative of any Slammy that comes his way.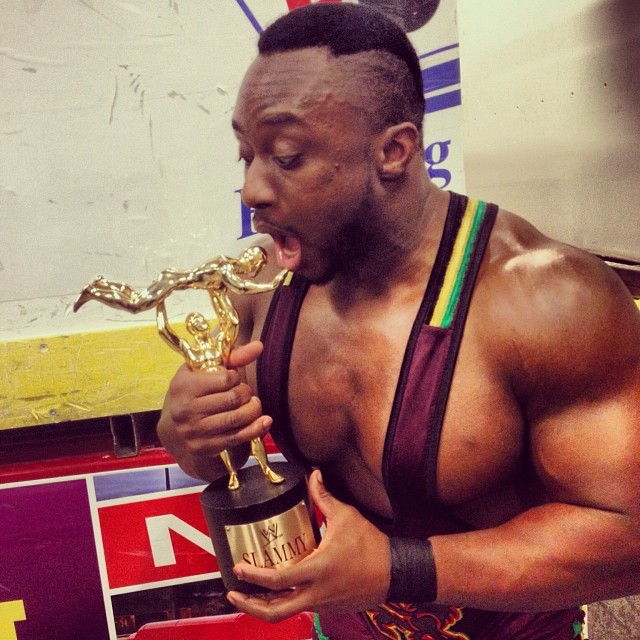 Photo from Instagram
You might ask what category he would win for. Most exciting title win of the year would go to Cody Rhodes and Goldust or Dolph Ziggler. He's not nominated for either Match of the Year or Superstar of the Year.
No worries, though, Langston knows what Slammy is his for the taking.
Ehh...not likely. "@WWETensai: I'm thinking the award for best cleavage. #wwe #slammy pic.twitter.com/zwMplWH8uq"

— Big E Langston (@BigELangston) December 5, 2013
His recent tag team partner would pull off a surprise win for Best Dancer, should that category be a part of the ceremony. Fandango's opponents often look to challenge him in mid-match dance-offs, but Henry's dance moves garnered the most visceral reaction from Summer Rae so far.
Henry certainly didn't look like a destructive monster when he was gyrating in the ring on Monday's Raw.
He looked more like a beached sea creature trying to squirm its way back into the water. "The World's Strongest Man" gave a performance that may have Tons of Funk looking to add a third member.