Manchester United Transfer Rumours: Ander Herrera Not Worth His Price Tag
Use your ← → (arrow) keys to browse more stories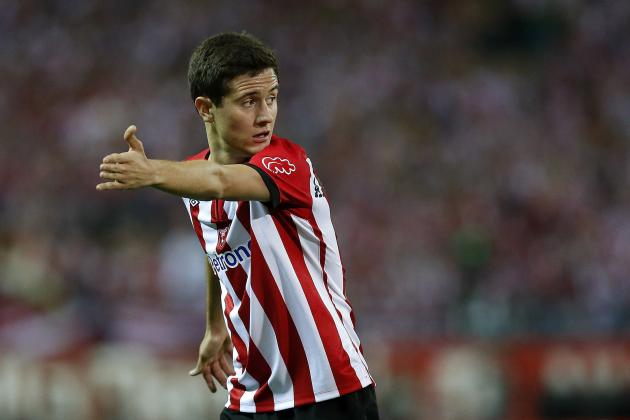 Angel Martinez/Getty Images

The January transfer window tends to be a tricky period for clubs.
In an ideal world, all big business would be avoided. It's a time when minds are focused on the season, transfer prices are at their highest and players are afforded less time to bed in and shake off the burden of a hefty price tag.
But, when a team doesn't reach their usual heights in the opening half of the season, panic tends to ensue. And when that club is Manchester United, the situation is further highlighted.
4 - Manchester United have already lost more league games in 13-14 than they did in their title winning seasons of 1998-99 & 1999-00. Shaky.

— OptaJoe (@OptaJoe) December 4, 2013
David Moyes has endured a rocky start to his time at Old Trafford. After four defeats, just one fewer than they suffered in the whole of last season, and four draws, United sit ninth in the table and are in desperate need of some fresh faces on the team sheet each week.
But desperation can often lead to rash decisions, and it's vital that those in charge at Old Trafford don't panic buy in January. A fee of €36m for Ander Herrera would fall into that category.
United made a move for the Spanish midfielder over the summer, and now, according to Jamie Jackson in the Guardian, they could be set to re-enter negotiations.
Jackson writes:
If Moyes were to move again for the 24-year-old he may hope to prise him from Bilbao for less than his €36m (£29.9m) buyout clause as the player has struggled to reclaim his form in the early part of the Spanish season.
Should Manchester United sign Ander Herrera?
The deep-lying Spanish playmaker has regressed at Athletic Bilbao since Ernesto Valverde took the reins from Marcelo Bielsa over the summer. Valverde has chosen to play Herrera in a more advanced position and his performances have suffered as a result.
This season the 24-year-old has made 11 La Liga appearances—per ESPN FC. One of those was off the bench, while seven of them led to him being substituted. In a further four games he failed to play any part.
United's need for a central midfielder has been well documented, but Herrera is not worth the figure that has been bashed about.
If you're going to splash €36 million in January, it needs to be spent on someone with less question marks attached to his name. By all means, spend €36m on a Marco Reus, a Ilkay Gundogan, a Lars Bender, an Arturo Vidal, a Koke, an Angel Di Maria. But not an Ander Herrera.
Michael Regan/Getty Images

Moyes was famed at Everton for his thorough scouting of players. Author Michael Calvin featured the Scottish boss in his book, The Nowhere Men: The Unknown Story of Football's True Talent Spotters, which was serialised in the Independent.

In it, he wrote about Moyes' secret room at Goodison Park—off limits to his own players—which was dedicated to players he and his team were monitoring. He would dissect them through numbers and visual reports until he knew the risk was as minimal as possible.
His attention to detail is one of the things that makes Moyes a good manager and he needs to stay true to that if he is to succeed at Old Trafford.
Throwing money at a problem is fine as long as it is directed at the right player. Otherwise, there is no substitute for tedious analysis and scouting of the world's vast amount of talent.