Louisville overcame a tough resistance from Cincinnati to prevail 31-24 in overtime Thursday night in Nippert Stadium to take home the Keg of Nails.
With the Cardinals headed to the ACC, this is the last time these two teams will be playing each other, at least for the time being. It was only appropriate that one of the more enjoyable and unsung rivalries in the country went out with such a bang.
The game sprung to life in the second half, with both teams putting together quick scoring drives. It was high on drama and low on defense. Few could have foreseen an ending that exciting after a drab first half.
Most of the Cardinals' struggles were due to the fact that star quarterback Teddy Bridgewater was unable to find any sort of groove in the first two quarters.
As Jeff Greer of The Courier-Journal pointed out, the weather in Cincinnati wasn't conducive to having a good passing performance.
Steady showers now soaking the fans here at Nippert Stadium. It's 36 outside, and we're about 20 mins away from the projected "wintry mix."

— Jeff Greer (@jeffgreer_cj) December 6, 2013
You could see that Bridgewater was having a hard time gripping the football, alternating between wearing and not wearing gloves in order to try and help hold onto the ball longer.
Luckily for the Cardinals, the star QB would redeem himself in the second half.
Perhaps more surprising than Bridgewater's early performance was the dogfight Louisville found itself in despite starting the game on fire.
On the third play from scrimmage, Cincinnati quarterback Brendon Kay was intercepted at the Louisville 40-yard line. Four plays later, Bridgewater hit wideout DeVante Parker for a 36-yard touchdown to put his team up 7-0 just about three minutes into the game.
From there, you would've expected the Cardinals to roll.
But it wouldn't be until 5:35 left in the first half when they'd get their second score of the game. John Wallace nailed a 31-yard field goal to put Louisville ahead 10-0.
Cincinnati responded with a score of its own.
After being stopped on the goal line twice, the third time was the charm for the Bearcats, as Kay ran it in from a yard out to cut the gap to three points, 10-7. It was a bit lucky for Kay, as he bobbled the snap only to have the ball fall in his lap as he was moving forward.
It was a strong first half for Cincinnati, and one in which it probably should have been ahead. The Bearcats defense was shackling Bridgewater and the Cardinals passing attack. The offense wasn't able to put enough successful drives together, though.
Still, a three-point deficit was manageable, and the home team had all of the momentum going into the second half.
After getting yet another defensive stop, Cincinnati took a 14-10 lead after Kay scored on a two-yard scramble with 7:58 left in the third quarter. The senior signal-caller did a great job on the drive, completing four of his five passes, which included a 49-yard reception for Anthony McClung that got the ball down to the Louisville 6-yard line.
By this point, Bridgewater had had enough. In the fourth quarter, he engineered one of the best drives you'll see all season.
On a 4th-and-12, he tucked the ball and scrambled 14 yards for the first down. It was a great display of mobility from a quarterback not known for his running skills.
Then Bridgewater completed one of the best throws of the season. He avoided a couple of sack attempts and almost flicked the ball 22 yards to Damian Copeland in the end zone to grab a 17-14 lead with 8:08 to go.
It's the kind of play where only the visuals will do it justice, per ESPN College Football.
A #SCtop10 sure-fire lock. Teddy Bridgewater escapes, unloads, completes to Damian Copeland for six. #LOUvsCIN: http://t.co/oJdENdJvhc

— ESPN CollegeFootball (@ESPNCFB) December 6, 2013
Pat Forde of Yahoo! Sports thought it was the star's Heisman Trophy moment, even if it's come too late in the season.
It may be too little and too late for a Heisman Moment, but that Teddy Bridgewater would qualify under broad interpretations of the term.

— Pat Forde (@YahooForde) December 6, 2013
Matt Hinton of Football Outsiders saw that play as evidence as to why Bridgewater is considered by many to be the top player in the 2014 NFL draft.
That's why Teddy Bridgewatwer is a No. 1 pick and you are not.

— Matt Hinton (@MattRHinton) December 6, 2013
The Bearcats' response following that touchdown was swift.
On the first play of their drive, Kay hit wideout Mekale McKay for a 58-yard completion, which moved the ball inside the red zone. Running back Ralph Abernathy scampered in from 15 yards out to give Cincinnati back the lead, 21-17, after a 51-second drive.
Bridgewater wasn't done, though, as he lofted a four-yard pass to Parker in the end zone to again give the Cardinals a three-point lead, 24-21, with 2:26 left.
Parker did a great job to separate himself from the defender. It looked like offensive pass interference, but nothing was called, so all you can do is commend Parker.
#Clutch. Here's the 3rd & Goal TD from Teddy Bridgewater to DeVonte Parker to put UL back up. #LOUvsCIN: http://t.co/oIXVP0ywct

— ESPN CollegeFootball (@ESPNCFB) December 6, 2013
Hinton could see the lob to the 6'3" wideout coming the entire time.
Jump ball to Parker = Automatic

— Matt Hinton (@MattRHinton) December 6, 2013
Once again, the defense let Louisville down. The Bearcats were able to quickly move the ball inside field-goal position and set up a chip shot with which Tony Miliano could tie the game. The junior nailed a 26-yarder to make it 24-24 with only 11 seconds left.
In the first overtime period, running back Dominique Brown scored from two yards out to make it 31-24 in favor of Louisville.
Cincinnati couldn't convert on a 4th-and-14, which ended the game.
After the game, Louisville announced it has accepted its bid to the Russell Athletic Bowl:
What a game! The Cards are now 11-1 and headed to the Russell Athletic Bowl! Visit http://t.co/QYlPEwW2rc to get your tickets today! #L1C4

— LouisvilleFootball (@UofLFootball) December 6, 2013
Additionally, as Sports Illustrated's Stewart Mandel indicates, the win is also good news for UCF:
UCF just clinched a BCS bowl.

— Stewart Mandel (@slmandel) December 6, 2013
Key Player Grades
Teddy Bridgewater, Louisville: A-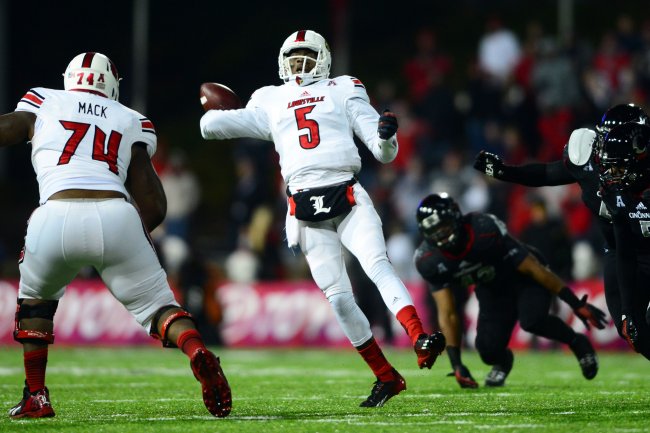 Andrew Weber-USA TODAY Sports
It was a real Jekyll and Hyde performance from Bridgewater.
In the first half, he looked like anything but a possible No. 1 draft pick and one of the best quarterbacks in the country. Then in the second half, it was like he flipped his hat around.
Although Bridgewater was partly to blame for Louisville getting down in this game, there's no way the Cardinals would've taken the lead late without him.
He had 255 yards passing, with three touchdowns and one interception.
He had this to say after the game, (per the Associated Press, via ESPN):
I told my mom that I wanted to cry, but tears of joy. I'm so proud of this team. We have a lot of heart.

Coach tells us all the time to ride the wave. We rode it. Then Cincinnati rode it for a while, but we knew we would ride it again and we did.
Cincinnati Defensive Line: B+

As if the cold weather wasn't enough, Bridgewater had to deal with constant pressure from Cincinnati's front seven. Most of that pressure was coming from the Bearcats defensive line. You have to give some credit to Tommy Tuberville and Art Kaufman, as they drew up plenty of different blitzes and stunts to keep Bridgewater guessing and give him little time to throw.
Brendon Kay, Cincinnati: B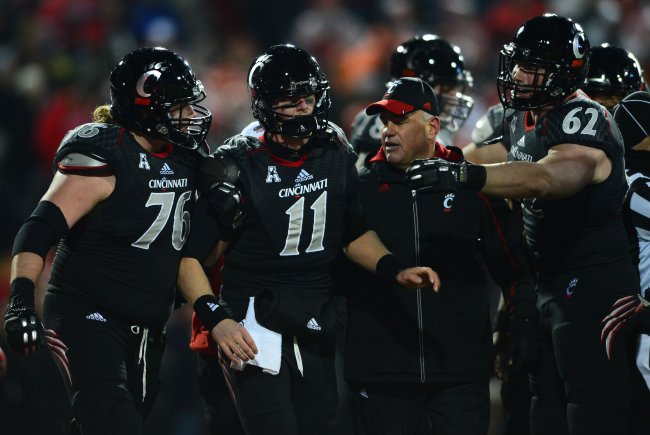 Andrew Weber-USA TODAY Sports
If you were Cincinnati, you really didn't want Kay to get into a duel with Bridgewater. But that's pretty much what happened.
Kay did well enough on Thursday night, throwing for 304 yards, and he engineered a couple of great drives in the fourth quarter.
The two first-half interceptions did have a major impact, though, and prevented the Bearcats from getting much of a foothold early in the game.
What's Next?
The next step for both Louisville and Cincinnati is to figure out where they'll be bowling. UCF has locked up the automatic BCS bid by virtue of its upset of the Cardinals. Now, all the dominoes have to fall into place for the Cardinals and Bearcats.