San Francisco Giants: Early Winners and Losers from This Offseason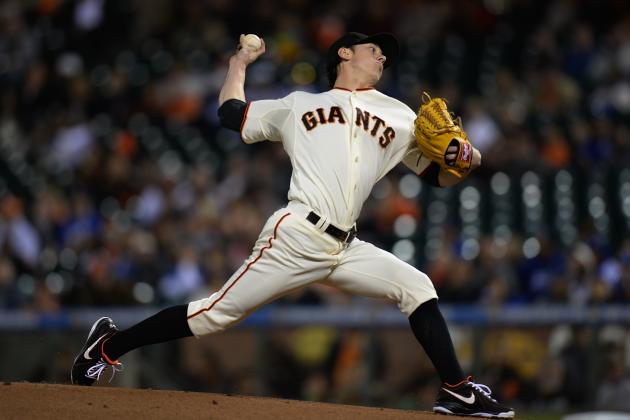 Thearon W. Henderson/Getty Images
Tim Lincecum will stay with the Giants after signing a two-year, $35 million deal.
After winning the World Series in 2012, the San Francisco Giants struggled through a disappointing 2013 season. The team battled several injuries and performances that were below expectations all year.
The dust had barely settled on the season when GM Brian Sabean got to work rebuilding the Giants roster. Since the end of the 2013 season, the Giants have been one of the most active teams in baseball.
The Giants' first move was to retain right fielder Hunter Pence before he hit the open market.
Sabean put a premium on strengthening the pitching staff and did so by signing free agent Tim Hudson. In addition, Sabean was able to come to agreements with Tim Lincecum and Ryan Vogelsong, retaining them for the starting rotation.
In a key move to solidify the bullpen, left-handed relief specialist Javier Lopez was also retained.
The final piece of the puzzle is for Sabean to acquire a solid starting outfielder, or at least one that can effectively platoon with Gregor Blanco.
Do not expect the Giants to make a big splash on any of the top remaining free-agent outfielders like Carlos Beltran, Shin-Soo Choo, Nelson Cruz or Curtis Granderson. They will all be extremely expensive and cost the Giants their first-round selection in the 2014 amateur draft.
Let's take a look at the Giants' winners and losers so far, as the fires are still burning in the hot stove.
All stats courtesy of baseball-reference.com.
Begin Slideshow

»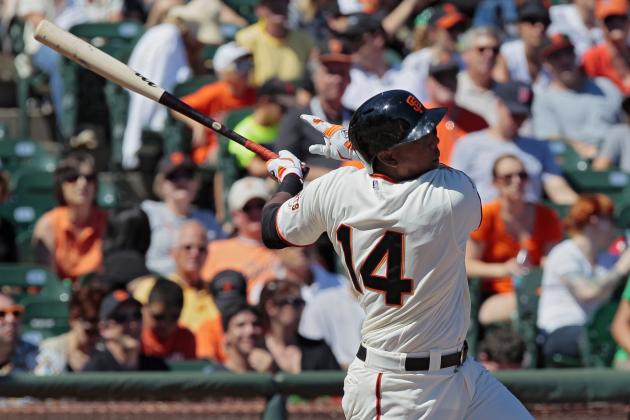 Brian Bahr/Getty Images
Francisco Peguero never developed into the player the Giants hoped.
At one time, just a couple of years ago, Francisco Peguero was considered one of the Giants' top outfield prospects.
Peguero hit for a decent average, had excellent speed and was a good defensive outfielder. He has gotten a brief look at the major league level in each of the last two seasons but has not distinguished himself.
In 45 career at-bats with the Giants, Peguero is hitting just .200, with an OBP of .217 and an OPS of .506. He is a notorious free-swinger and only has one walk, compared to nine strikeouts. He has the look of a classic Quadruple-A player—he's just not quite good enough to be a solid major league ballplayer.
Peguero has a career .306 average in the minors, which covers eight seasons and 2,718 at-bats. Not blessed with a lot of power and struggling to hit big league pitching has made Peguero expendable.
Peguero was designated for assignment, cleared waivers, and is now a free agent.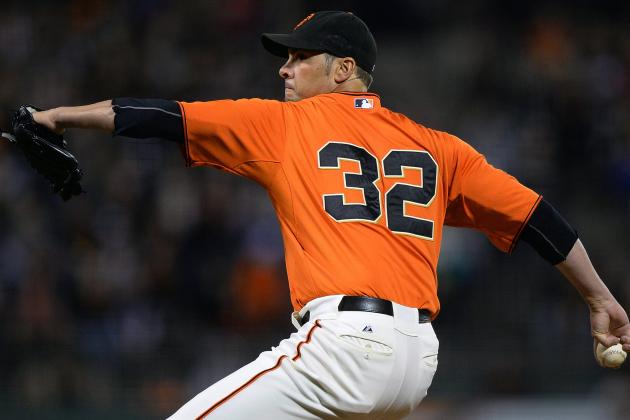 Thearon W. Henderson/Getty Images
Ryan Vogelsong returns to San Francisco as the Giants' fifth starter.
The San Francisco Giants declined a $6.5 million option on Ryan Vogelsong and allowed him to hit the free-agent market.
Vogelsong had a poor 2013 season as injuries and bouts of ineffectiveness hurt him. In 103.2 innings pitched, Vogelsong allowed 124 hits and 38 walks, while striking out only 67.
After two stellar seasons with the Giants, Vogelsong's record slipped to 4-6, and he posted an ERA of 5.73 and a WHIP of 1.563. GM Brian Sabean was wise to let Vogelsong test the open market.
Ultimately, Sabean and Vogelsong came to an agreement on a one-year deal worth $5 million. There are incentives in the deal that could pay Vogelsong up to $7.5 million if he does well.
Vogelsong is slotted in as the Giants' fifth starter. This is a good match for both parties.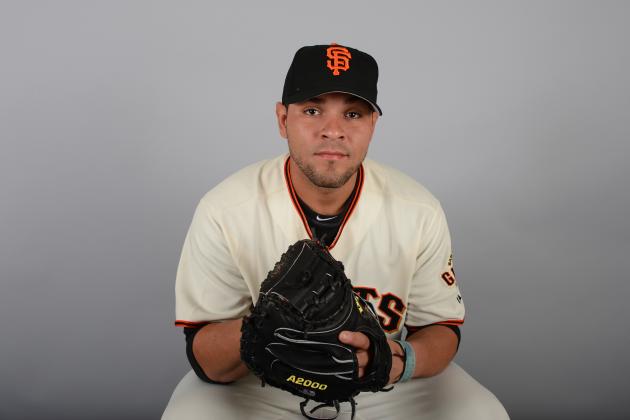 Kyle Terada-USA TODAY Sports
Johnny Monell was the odd man out in a crowded catching situation.
Johnny Monell, a catcher, was traded to the Baltimore Orioles for cash considerations.
Monell showed promise but was caught in the number game as the Giants already have Buster Posey and Hector Sanchez. In addition, young prospect Andrew Susac was ahead of Monell.
Monell earned a September call-up last year when the rosters expanded. His entire big league career consists of eight at-bats and one hit.
He had a solid year at Triple-A Fresno, hitting .275 with 20 home runs and 64 RBI. His OBP was a very strong .364 and his OPS was also excellent at .805.
Based on his strong 2013 season, it came as a bit of a surprise that Monell was traded. Good hitting catchers with power are hard to find, and Monell looked like he could fit that mold.
Unfortunately for Monell, he never got a real chance to show what he could do at the major league level with the Giants.
In addition to the Giants' crowded catching situation, Monell will be 28 years of age when the 2014 season begins. With Posey, Sanchez and Susac all younger, Monell's age undoubtedly worked against him and he became expendable.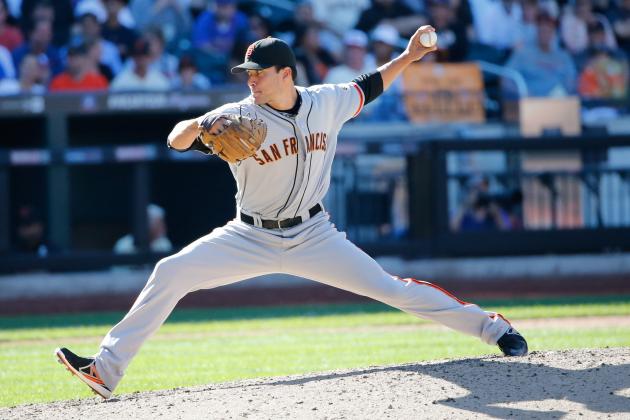 Anthony Gruppuso-USA TODAY Sport
Javier Lopez had a great year in 2013.
The San Francisco Giants could not afford to lose Javier Lopez. The left-handed relief specialist had an outstanding year in 2013.
Lopez appeared in 69 games but pitched only 39.1 innings, which underscores his value as a specialist. Left-handed batters hit only .156 off him.
Lopez fashioned an ERA of 1.83 and a WHIP of 1.068, and allowed only six of his 57 inherited runners to score.
The Giants and Lopez agreed to a three-year, $13 million contract.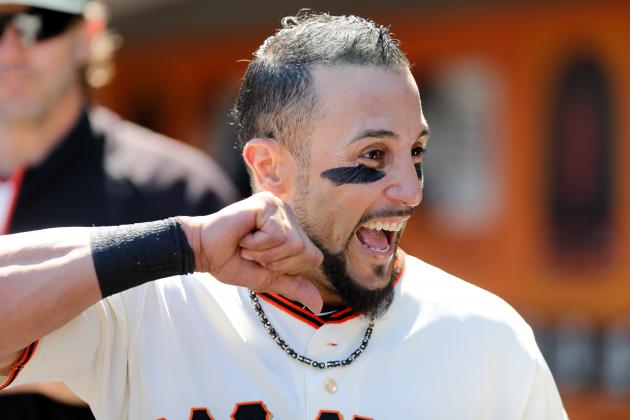 Kelley L Cox-USA TODAY Sports
Andres Torres helped the Giants win the 2010 World Series.
Andres Torres became a fan favorite in 2010 as his hustle and infectious enthusiasm helped the Giants win their first world championship in San Francisco.
Following the 2011 season, Torres was traded to the Mets, along with pitcher Ramon Ramirez. The Giants received Angel Pagan in that deal.
After a poor year in New York, the Giants signed Torres as a free agent. Their plan was to utilize him in a platoon with Gregor Blanco in left field.
When Pagan was injured, that forced manager Bruce Bochy to start both Blanco and Torres. They proved they are not ready for the increased playing time.
In 272 at-bats, Torres hit .250, with an OBP of .302 and WHIP of .644. He hit two home runs, along with 21 RBI, 33 runs scored and only four stolen bases. Torres, once an outstanding defensive player, struggled in the field last year as well.
Torres' contract ran its course, and the Giants have made no attempt to sign him. He will be 36 years of age in January and his career in San Francisco is over.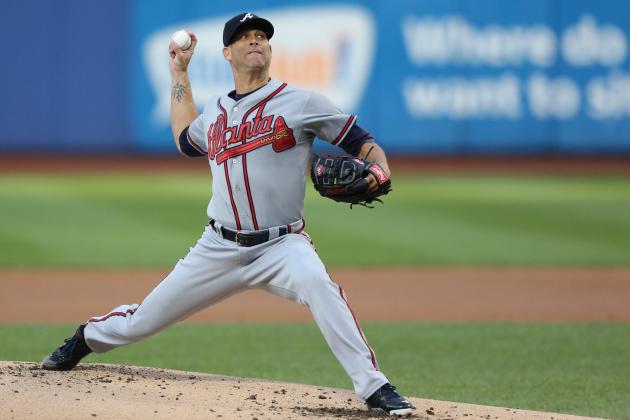 Anthony Gruppuso-USA TODAY Sport
Tim Hudson solidifies the Giants starting rotation.
The Giants have some good young arms in the minors, but they are at least a year or two away. They desperately needed a quality starting pitcher and signed veteran Tim Hudson off the free-agent market.
Hudson agreed to a two-year, $23 million contract. He will provide a strong, veteran presence for the Giants.
Hudson sustained a major ankle injury last season, which ended his campaign early. In 131.1 innings, he allowed 120 hits and 36 walks while striking out 95. His ERA was 3.97 and his WHIP was a very solid 1.188.
Hudson, who is a ground-ball pitcher, should benefit from the spacious dimensions at AT&T Park. He should slot into the Giants rotation behind Matt Cain and Madison Bumgarner. This was an excellent move by GM Brian Sabean and the Giants.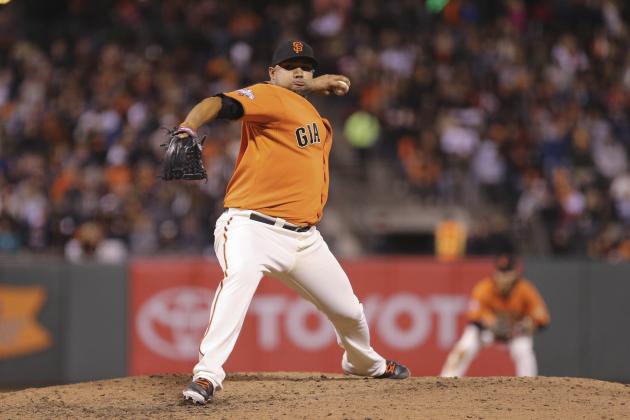 Kelley L Cox-USA TODAY Sports
Jose Mijares had a dismal 2013 season.
Jose Mijares was acquired by the Giants prior to the trade deadline in 2012. He pitched well and helped the Giants win the 2012 World Series.
Manager Bruce Bochy has enjoyed the luxury of having three left-handed relievers in his bullpen. Along with Javier Lopez and Jeremy Affeldt, Mijares gave Bochy a great deal of flexibility from the left side.
Unfortunately, in 2013, Affeldt battled injuries, and Mijares was ineffective. In 49 innings of work, Mijares allowed 67 hits and 20 walks while striking out 54. His ERA ballooned up to 4.22 and his WHIP was an alarming 1.776.
Mijares was also in very poor physical condition. He allowed his weight to soar and just looked sloppy out on the mound. Mijares' poor performance caused Bochy and the Giants to lose confidence in him. He pitched himself right off the roster and is now a free agent.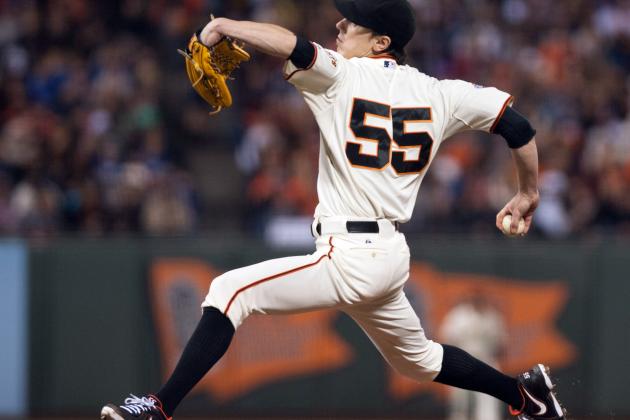 Ed Szczepanski-USA TODAY Sports
Tim Lincecum returns to San Francisco for his eighth season.
Tim Lincecum was set to become a free agent when he and the Giants agreed to a two-year, $35 million deal. The two-time Cy Young Award winner will be in San Francisco through the 2015 season.
Naysayers insist this was a bad deal for the Giants because Lincecum was coming off his second consecutive poor year. On paper, Lincecum's numbers do not warrant a contract this high, and the reality is that no other team would have given him something so lucrative.
Lincecum is learning how to win with decreased velocity and did show progress in 2013. After a dismal 2012 that saw Lincecum's ERA soar to 5.18 and his WHIP balloon to 1.468, Lincecum did show progress this past season.
In July, Lincecum delighted Giants fans with a no-hitter against the San Diego Padres. Although his numbers were still not what he wanted, he did show marked improvement over the 2012 campaign.
With 32 starts, Lincecum has now started at least 32 games in the past six consecutive years. His record was 10-14 with an ERA of 4.37 and a WHIP of 1.315.
In 197.2 innings of work, Lincecum allowed 184 hits and 76 walks to go along with 193 strikeouts. His strikeout total and the fact that he has allowed fewer hits than innings pitched indicate that Lincecum still has good stuff.
Although not the power pitcher he was earlier in his career, Lincecum still has the ability to win. He and the Giants are banking on that.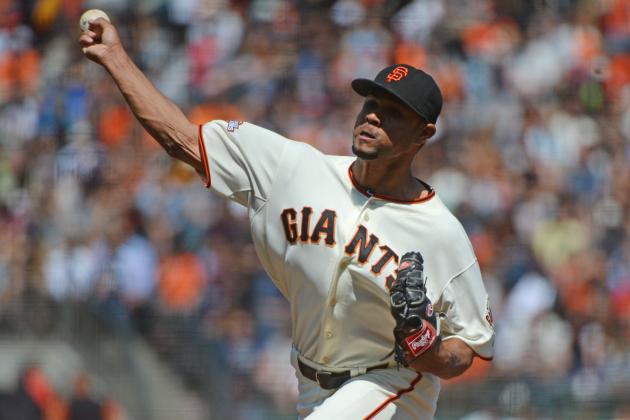 Kyle Terada-USA TODAY Sports
In a somewhat surprising move, Sandy Rosario was not offered a contract following the 2013 season.
Sandy Rosario had a decent 2013 season for the Giants, so it was surprising that he was nontendered and let go.
In 2013, Rosario pitched 41.2 innings, allowed 38 hits and 20 walks while striking out 24. His strikeout-to-walk ratio was very poor, and that may have been a reason the Giants didn't want him back.
Rosario ended the 2013 campaign with an ERA of 3.02 and WHIP of 1.392.
He is now a free agent and looking for a job.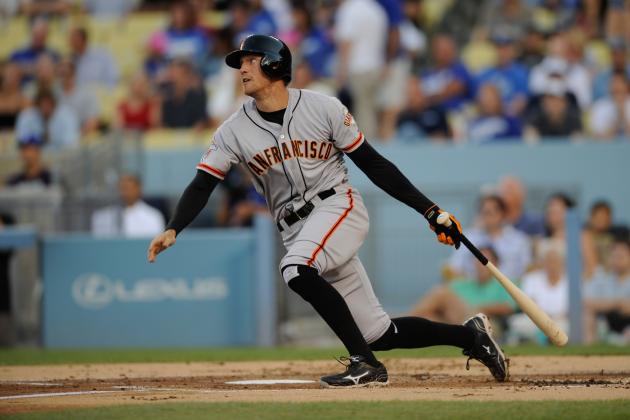 Kelvin Kuo-USA TODAY Sports
Hunter Pence blasts one of his 27 home runs.
The San Francisco Giants rewarded Hunter Pence for an excellent 2013 season. He signed a five-year, $90 million deal.
Pence was a fan favorite for his all-out hustle and unabashed enthusiasm for playing the game. He wanted to return to San Francisco, and GM Brian Sabean made it happen.
In 2013, Pence hit .283 with 27 home runs and 99 RBI. His OBP was .339 and his OPS was .822. Pence even led the Giants in steals with 22.
In addition to his offensive prowess, Pence did a good job playing right field at AT&T Park, which can be very tricky.
It will be a pleasure watching Pence in a Giants uniform for the next five years.