Week 14 in the NFL provides several games between teams that have proven to be playoff contenders and even one that could decide who wins the division.
While many games like the Falcons-Packers and Raiders-Jets matchups are predicted to be close, those aren't the types of close games this article will be looking at. Sorry if anyone is disappointed, but those games are virtually unwatchable if you don't own fantasy players for those teams or root for one.
Here is a breakdown of some of the biggest matchups of the weekend with spreads that back them up.
Complete Week 14 NFL Picks

| | | | |
| --- | --- | --- | --- |
| Away Team | Home Team | Spread | Pick ATS |
| Houston Texans | Jacksonville Jaguars | HOU (-3) | Jaguars |
| Indianapolis Colts | Cincinnati Bengals | CIN (-6) | Colts |
| Atlanta Falcons | Green Bay Packers | PK | Packers |
| Cleveland Browns | New England Patriots | NE (-13) | Patriots |
| Oakland Raiders | New York Jets | NYJ (-2.5) | Raiders |
| Detroit Lions | Philadelphia Eagles | PHI (-3) | Eagles |
| Miami Dolphins | Pittsburgh Steelers | PIT (-3.5) | Steelers |
| Buffalo Bills | Tampa Bay Buccaneers | TB (-3) | Buccaneers |
| Kansas City Chiefs | Washington Redskins | KC (-3.5) | Chiefs |
| Minnesota Vikings | Baltimore Ravens | BAL (-7) | Ravens |
| Tennessee Titans | Denver Broncos | DEN (-13) | Broncos |
| St. Louis Rams | Arizona Cardinals | ARI (-6) | Cardinals |
| New York Giants | San Diego Chargers | SD (-3.5) | Chargers |
| Seattle Seahawks | San Francisco 49ers | SF (-2.5) | Seahawks |
| Carolina Panthers | New Orleans Saints | NO (-3.5) | Panthers |
| Dallas Cowboys | Chicago Bears | CHI (-1) | Cowboys |
Spreads provided by Vegas Insider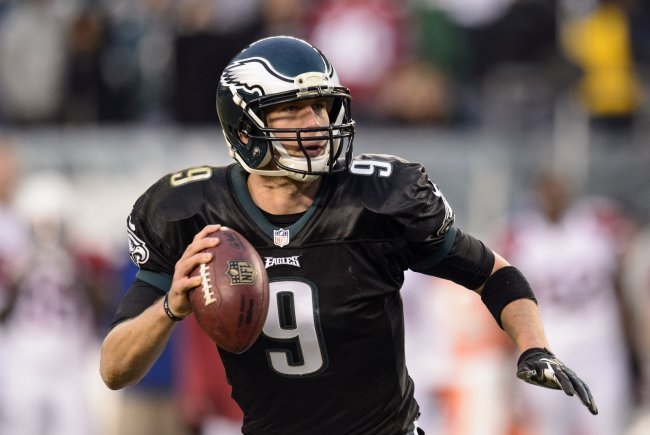 Howard Smith-USA TODAY Sports
Detroit Lions at Philadelphia Eagles (-3)
The Lions are leading the NFC North, for what that's worth, and the Eagles are a close second to the Dallas Cowboys in the NFC East. While neither team may have been the choice to win the division prior to the season, both are playing good football and have a chance to move closer toward a playoff berth.
With Calvin Johnson, Reggie Bush and Matthew Stafford, the Lions have what it takes to compete with anyone. But despite its firepower on offense and the defensive line, Detroit is 2-2 since the bye with wins over the Chicago Bears and Green Bay Packers, who are without their starting quarterbacks.
The Eagles are on a four-game winning streak, and despite being 2-4 at home, they've won their last two games at Lincoln Financial Field. Nick Foles also has a chance to break a record that's stood for, well, less than an entire season:
Nick Foles can tie Peyton Manning's NFL record for Pass TD before throwing an Int (20) ...that Peyton set earlier this season.

— NFL on ESPN (@ESPNNFL) December 5, 2013
Philadelphia should pull this game out thanks to a great game from Nick Foles against a dreadful pass defense that ranks 26th in the NFL.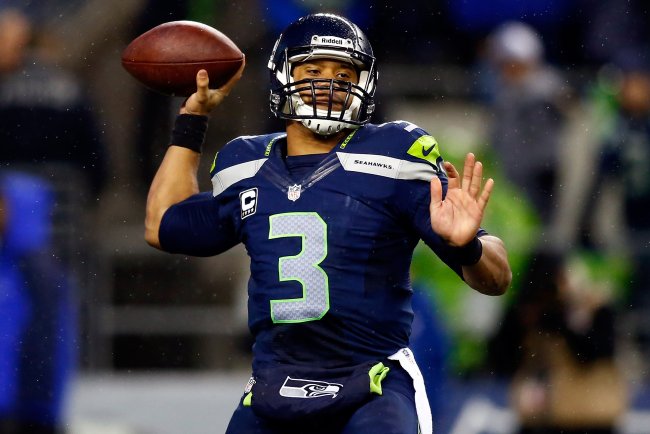 Jonathan Ferrey/Getty Images
Seattle Seahawks at San Francisco 49ers (-2.5)
Since the Seahawks destroyed the 49ers in Week 2 by a final of 29-3, the two teams have combined to go 16-4, making this Week 14 matchup one of the most interesting. The line of 2.5 in favor of San Francisco makes this game one that could go either way.
But while the 49ers have gone 7-3 since the last time these teams met, the Seahawks are simply the best team in football right now thanks to one of the most balanced attacks in the NFL. While the Seahawks defense is clearly one of the best in the NFL alongside the Carolina Panthers, the performance of Russell Wilson has led the team and could earn him a league MVP, according to CBS Sports:
Russell Wilson is gaining ground on Peyton Manning in our NFL MVP Projection. http://t.co/tpTl2Ci2i5

— CBSSports.com (@CBSSports) December 5, 2013
The 49ers defense is potent enough to stop nearly any team and might just be fired up enough to down the Seahawks, but the odds of shutting down both Russell Wilson and Marshawn Lynch for an entire game are unlikely. The Seahawks should win this game outright and move to 12-1 on the season.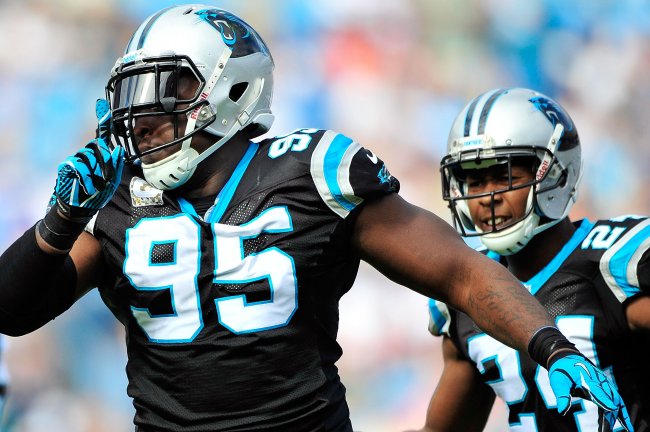 Grant Halverson/Getty Images
Carolina Panthers at New Orleans Saints (-3.5)
The Saints have led the NFC South or shared the lead every week this season. The Panthers are on an eight-game winning streak and are now tied for the division lead for the first time all season. This has all the makings of a huge showdown and got its rightful spot on Sunday night.
Now the Panthers will have to prove that they are true contenders for the No. 2 seed in the NFC. They'll do so with a fully healthy defense as Charles Johnson told the Charlotte Observer that he will play on Sunday:
Charles Johnson says he'll play vs. Saints http://t.co/XKYT0O9Wrd

— Charlotte Observer (@theobserver) December 4, 2013
With a defense that mirrors that of the Seattle Seahawks—the two teams are No. 1 and 2 in the league—the Panthers have a good shot at dropping the Saints from the top of the division despite New Orleans' 6-0 record at home.
If the Panthers can contain the lethal arm of Drew Brees and the always difficult-to-defend Jimmy Graham, they should be a good pick to pull the upset this week.