The NFL season is beginning to get very interesting.
With so many teams bunched up in the middle of the standings, there are so many compelling playoff battles, most of which center on the wild-card spots. In the NFC, three teams are within two games of the San Francisco 49ers, who have the last wild-card spot, and in the AFC, five teams are within a game of the Baltimore Ravens.
Having such a small gap puts a lot of importance on these final four games of the season. There's little time left with which you can climb into the postseason. One more loss and you could be out for good.
Week 14 NFL Picks

| | | |
| --- | --- | --- |
| Home | Away | Pick |
| Thurs., Dec. 5 | | |
| Jacksonville Jaguars | Houston Texans | HOU |
| Sun., Dec. 8 | | |
| Cincinnati Bengals | Indianapolis Colts | CIN |
| New England Patriots | Cleveland Browns | NE |
| New York Jets | Oakland Raiders | OAK |
| Washington Redskins | Kansas City Chiefs | KC |
| Baltimore Ravens | Minnesota Vikings | BAL |
| Green Bay Packers | Atlanta Falcons | ATL |
| Tampa Bay Buccaneers | Buffalo Bills | TB |
| Pittsburgh Steelers | Miami Dolphins | MIA |
| Philadelphia Eagles | Detroit Lions | DET |
| Denver Broncos | Tennessee Titans | DEN |
| Arizona Cardinals | St. Louis Rams | ARI |
| San Francisco 49ers | Seattle Seahawks | SF |
| San Diego Chargers | New York Giants | SD |
| New Orleans Saints | Carolina Panthers | NO |
| Mon., Dec. 9 | | |
| Chicago Bears | Dallas Cowboys | CHI |
Schedule via NFL.com
Whether these three teams are just hanging onto a playoff spot or are on the outside looking in, they'll bolster their postseason push with critical wins on Sunday.
San Francisco 49ers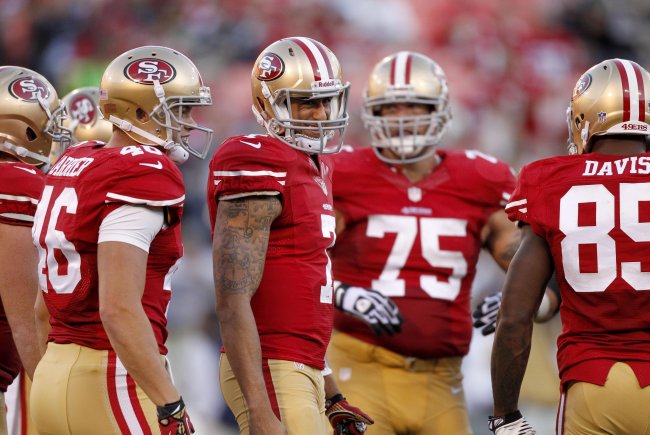 Cary Edmondson-USA TODAY Sports
The Seattle Seahawks are no doubt one of the best teams in the league, if not the best. They've already clinched a playoff spot and look to be locks to win the NFC West.
Right behind them in the West are the San Francisco 49ers, winners of seven of their last nine games.
Colin Kaepernick threw for 200-plus yards last week, the first time he's done so in back-to-back games all season. Although those two performances came against the Washington Redskins and St. Louis Rams, they still represent progress.
The 49ers are a different team from that Week 2 loss to Seattle. The defense remains very good, and the offense isn't the anchor that it was earlier in the year.
This will be a close game, with San Francisco getting the slight edge. Although a win would likely not make much of an impact in the division race, it allows the Niners to hold onto that last NFC wild-card spot.
Miami Dolphins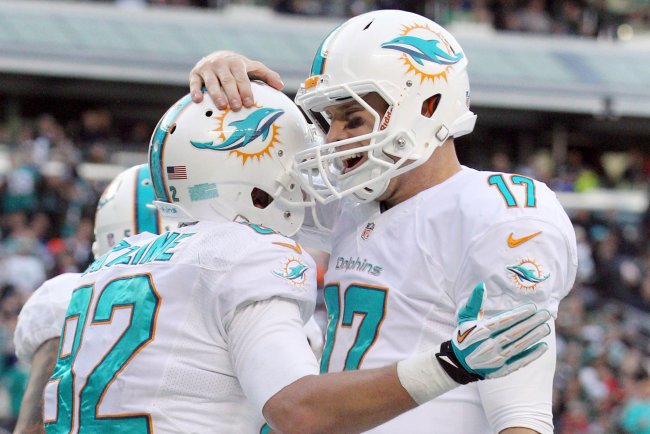 Brad Penner-USA TODAY Sports
According to Dale Lolley of the Observer-Reporter, Le'Veon Bell is on track to play this Sunday.
Le'Veon Bell has been cleared to play against Miami #Steelers #Fantasyfootball

— Dale Lolley (@dlolleyor) December 5, 2013
Just to clarify, Le'Veon Bell must still pass further concussion tests this weekend to play for #Steelers But has passed tests to this point

— Dale Lolley (@dlolleyor) December 5, 2013
That would be a huge boost for Pittsburgh, as the Steelers have one of the worst rushing attacks in the league.
Perhaps the bigger problem for the Steelers will be their pass defense. Ryan Tannehill has looked very good over the last three weeks and seems to be involving Mike Wallace more into the offense. Plus, Wallace will probably want to have a big game in his return to Pittsburgh.
Making things worse is that Pittsburgh has 25 sacks as a team, 27th in the league. Getting pressure on Tannehill is a must, otherwise, he'll carve up the Steelers secondary.
I'm going with the upset here. Heinz Field isn't the fortress it once was, and the Steelers defense is too big of a question mark.
San Diego Chargers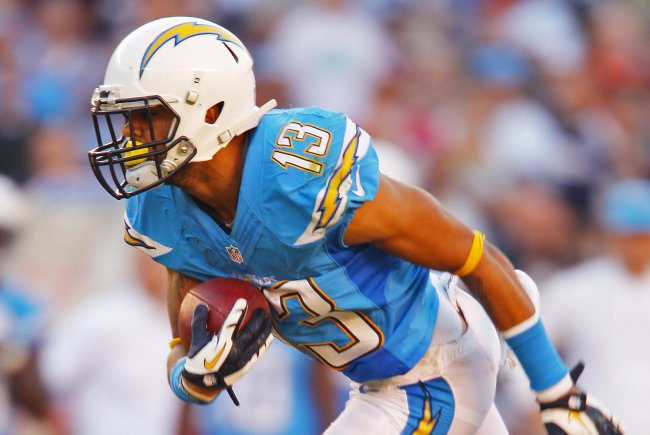 Stan Liu-USA TODAY Sports
Even at 5-7, the San Diego Chargers have an outside shot at making the postseason. They remain just a game back of the Baltimore Ravens for the final wild-card spot in the AFC.
If San Diego is going to make the playoffs, then it will need to win out for the rest of the season. Although the AFC is a jumbled mess, 9-7 will likely be the cutoff point for the Wild Card.
As long as the Chargers can turn their Week 14 matchup against the New York Giants into a track meet, they'll be in business. New York's offense remains well below average. There's no way Eli Manning and Co. will be able to keep up with San Diego's high-powered attack.
Although the Giants have improved defensively, they remain a little more vulnerable against the pass. Philip Rivers will be able to exploit any and all weaknesses in the secondary.