At first the Everton fans paid their former manager little attention.
They had other things on their minds, after all—a six-match unbeaten run stretching back nearly two months; a chance to pull level with fourth-place Liverpool; a trip to Old Trafford that had yielded so little in recent years.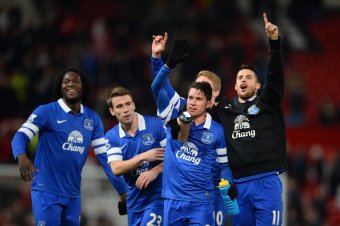 Michael Regan/Getty Images
David Moyes, the Toffees boss for 11 seasons before replacing Sir Alex Ferguson at Manchester United, had failed to post a single victory at the ground while on their side, and moreover, they'd be better able to express their emotions regarding the Scot on his Goodison Park return in April.
All that changed in the 86th minute when Bryan Oviedo put Everton in front with the only goal of the match, resigning United and Moyes to a fourth defeat of the season and leaving them as close to the relegation places as the top of the table.
"You're getting sacked in the morning!" sang a jubilant supporters' section, their delight at the result laced with a generous measure of schadenfreude.
Well, morning has come and gone and Moyes remains in his job.
Despite a three-match winless skid that has the Red Devils sitting ninth in the English top flight, he was never going to be shown the door after Wednesday's defeat and it would take a meltdown of epic proportions—a virtual Armageddon—for him to be sacked before season's end.
Moyes' comments following the Everton loss.
But what happens then? What becomes of him in the event United finish outside the top four and fail to qualify for the Champions League for the first time since 1995? (Only Premier League winners Blackburn Rovers were admitted to the tournament the following season.)
Perhaps anticipating a difficult campaign following Ferguson's exit, United executive vice-chairman Ed Woodward remarked several months ago that a "bad year" would not affect the club's finances.
"If we have a bad year, we have the financial strength to change the team," he told the fanzine United We Stand (as per the Telegraph). "If you fight hard and just fail, people will still watch you on television, still turn up and buy shirts."
He added: "Take Liverpool. They still sell an incredible number of shirts and have the second-biggest shirt deal in the Premier League...And Liverpool haven't won the league since 1990."
Thursday's Sun back page - "Chump" #tomorrowspaperstoday #bbcpapers #Moyes pic.twitter.com/liitiBrpPi

— Nick Sutton (@suttonnick) December 4, 2013
His words are unlikely to soothe a fanbase accustomed to silverware and growing increasingly edgy with each poor result—never mind the unhelpful comparison to Liverpool, who spent a half decade desperately striking out for a quick fix until things started to come together this autumn.
According to Sky Bet, Moyes is currently the sixth most-likely Premier League manager to get the sack next, and online movements to hasten his exit have already popped up on both Facebook and Twitter.
Yet another drab, disgusting performance from Moyes. He really needs to leave. #MoyesOut

— David Moyes Out (@MoyesOutASAP) December 4, 2013
Granted, neither have generated much in the way of popular support, but that could change—and drastically so—should United finish outside the top four in May.
The Glazer family who own a majority stake in the club have never had to deal with a clamouring for a manager's head and it will be curious to see how they handle the commotion if and when it transpires.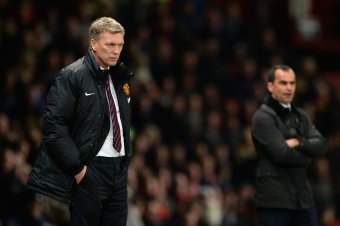 Michael Regan/Getty Images
All that said, Moyes' future—assuming United miss out on the Champions League—will likely come down to "how" they miss out, whether by the skin of their teeth following an uptick in performances or by a distance that leaves them well off the pace and requiring a considerable investment in at least one transfer window to bridge it.
The Glazers will then have to decide whether to entrust Moyes with their money or make a change. And they'll have no doubt noticed how the Chelsea model of hiring a new, typically high-profile manager every one or two years has managed to keep the Blues in contention for major prizes season after season.
Moyes may have a six-year deal at United, but his future at the club is far from certain. Obviously, the ideal (or idyll, if you will) would be for him to establish another long-term reign at Old Trafford. But those days may have left with his predecessor.