Robin van Persie enjoyed a fairy-tale first season at Manchester United.
The Dutchman scored 30 goals in 48 games to help United wrestle the Premier League title back from neighbours Manchester City. In total, he's scored 40 goals in 62 games since sealing his £24 million move from Arsenal to Old Trafford in August 2012.
Here, in chronological order, is Van Persie's United career to date boiled down into 10 games.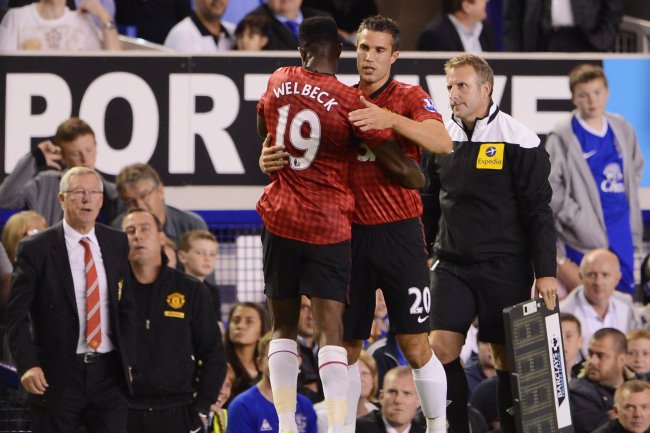 Michael Regan/Getty Images
1. Everton (Goodison Park, Aug. 20, 2012)
Van Persie was officially unveiled as a United player on Aug. 17, 2012, moving from Arsenal in a deal worth £24 million. He started his United career on the bench against Everton, finally introduced as a replacement for Danny Welbeck in the 68th minute. He couldn't prevent United from slipping to a 1-0 defeat, but it didn't stop the travelling fans going home with a sense of cautious optimism after singing "Ohhhh, Robin van Persie" for most of the evening.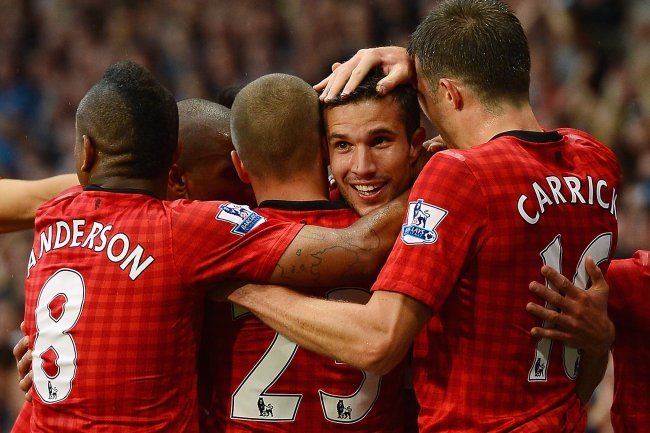 Shaun Botterill/Getty Images
2. Fulham (Old Trafford, Aug. 25, 2012)
Van Persie didn't have to wait long for his first start, or his first goal, in a United shirt. With Wayne Rooney left on the bench for Fulham's visit, Van Persie opening his account after just 10 minutes, sweeping Patrice Evra's cross past Mark Schwarzer to get off to a spectacular start. It helped quieten some of the doubters who speculated Sir Alex Ferguson had blown his transfer budget on an ageing, injury-prone striker.
3. Southampton (St Mary's, Sept. 2, 2012)
It was a game Van Persie won almost single-handedly. His calm control and finish cancelled out Rickie Lambert's early goal, but he saved the best for last. With Southampton up 2-1 and United facing a second defeat in three games, Van Persie equalised three minutes from time before heading United in front in stoppage time. It was the Dutchman's first hat-trick for United, winning three crucial points when it looked like they might leave with nothing. He would have scored four had he not missed a penalty.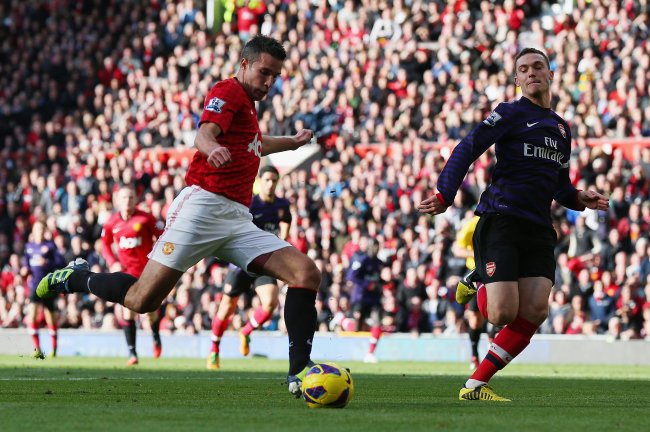 Alex Livesey/Getty Images
4. Arsenal (Old Trafford, Nov. 3, 2012)
All eyes were on Van Persie as former club Arsenal traveled to Old Trafford for the first time since his summer move. The visiting fans didn't waste any time in taunting him, but Van Persie didn't take long to answer back. In just the third minute, the ball bounced off Thomas Vermaelen into Van Persie's path and he instinctively fired into the far corner. He didn't celebrate, but he didn't need to after setting United on their way to a 2-1 victory.
5. Manchester City (Etihad Stadium, Dec. 9, 2012)
United threw away a two-goal lead against Manchester City, and as the clock ticked down, there only looked to be one winner. But Van Persie had other ideas. In injury time, he lined up a free-kick to the right of Joe Hart's goal and, with the help of a deflection off Samir Nasri and the inside of the post, won the game. It was made especially sweet for United fans after City pursued Van Persie during the summer, only for the striker to choose United instead.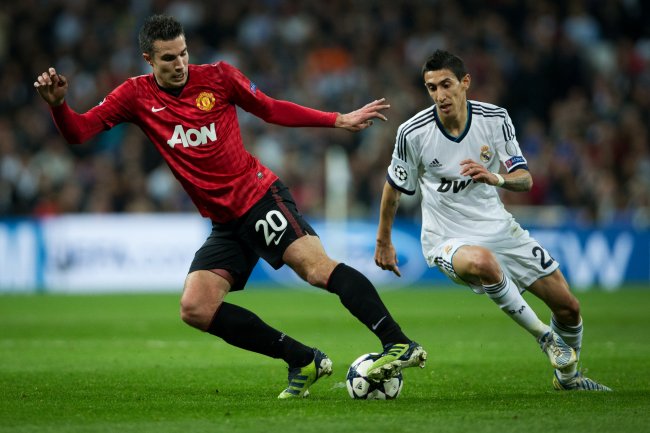 Jasper Juinen/Getty Images
6. Real Madrid (Santiago Bernabeu, Feb. 13, 2103)
Perhaps the one low-point of Van Persie's first season at Old Trafford. United traveled to the Spanish capital full of confidence with the free-scoring striker in their ranks. United came away with a creditable 1-1 draw, but it could have been so much better had Van Persie taken one of a couple of golden chances. The missed opportunities proved fatal to United's Champions League hopes with Real Madrid winning 2-1 at Old Trafford, helped in part by Nani's controversial sending off.
7. Sunderland (Stadium of Light, March 30, 2013)
United headed to the Northeast looking to take another step toward a record 20th title and put their Champions League disappointment behind them. Van Persie had gone seven games without a goal before lining up against Sunderland. But midway through the first half, he unleashed a vicious strike that deflected into the net off Titus Bramble. The Dubious Goals Panel credited it to Bramble but Van Persie had played a huge part in calming any fears United might throw away another title.
8. Aston Villa (Old Trafford, April 22, 2013)
Only Aston Villa stood between United and a title party and it was perhaps fitting that they were dismantled by the man of the season, Van Persie. He scored a hat-trick in a 3-0 that clinched the Premier League title, including a stunning volley from Rooney's exquisite pass. It earned the Dutchman his first championship medal in England and vindicated his decision to join United from Arsenal. The man with No. 20 on his back had helped United win their 20th championship crown.
9. Swansea (Liberty Stadium, Aug. 17, 2013)
United were handed a tough test in their first league game without Sir Alex Ferguson for more than 26 years. But Van Persie picked up where he left off the previous season. He scored United's first at the Liberty Stadium with an acrobatic volley and then scored the third in a 4-1 win with a wonderful strike from outside the box. It ensured he started the new season with four goals in two games after scoring another double against Wigan in the Community Shield at Wembley.
10. Arsenal (Old Trafford, Nov. 10, 2013)
By the time Arsenal turned up at Old Trafford, there were some who were predicting a changing of the guard. Ferguson had gone and David Moyes was struggling to steady the ship. Arsene Wenger, meanwhile, splashed the cash on Mesut Ozil, helping Arsenal to the top of the Premier League. But Van Persie scored again against his former club—his third in three games against them—to earn United a 1-0 win.