Jason Kidd has become one of the NBA's biggest punching bags during his first season running the show for the beleaguered Brooklyn Nets.
He's a lame-duck coach. He has no idea what he's doing. He cannot manage a roster full of talent. He needs to use a sippy cup on the sideline so he can avoid spilling his drink.
Even though we're still in the early portion of December, we've heard it all at this point. But Stan Van Gundy has had enough, and he isn't ready to pin the blame for the putrid start on Kidd. As relayed by NBC Sports' Kurt Helin, SVG said as much on the Amani and Eyton show on NBC Sports Radio:

I don't think this is on Jason Kidd. Some people have really taken a lot of what I said about him as being critical of him but it's not. I think if you look at Mark Jackson or Doc Rivers when he started, guys who have not been assistant coaches before they got their NBA head jobs, what they had was situations where at least in their first year the expectations weren't that high. So you had the freedom to make some mistakes, sorta out of the scrutiny, at least the national scrutiny, of everybody.
Well, Kidd has certainly been the subject of quite a bit of scrutiny. But the Nets management has somehow escaped the attention of the national firing squad, even though Van Gundy believes they're to blame.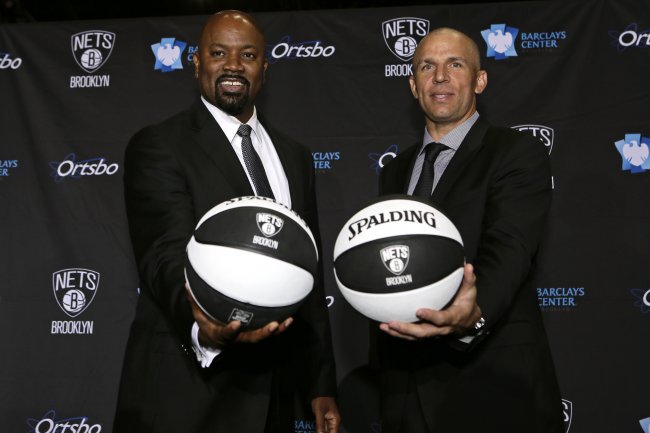 Steven Freeman/Getty Images
After all, it was general manager Billy King and owner Mikhail Prokhorov who put together this roster and then placed Kidd on the sidelines just seconds days after he had retired as a player. Did it matter that he had no coaching experience? Nope, he was still expected to go out and manage an old roster that didn't have any established chemistry.
Van Gundy isn't the only one pointing fingers at the Brooklyn management, though. B/R's Jim Cavan did so, as has a prominent figure in the NBA landscape.
According to ESPN Dallas' Tim MacMahon, Dallas Mavericks owner Mark Cuban tacitly passed the buck from Kidd to the management, discussing the sticky situation the Nets found themselves in. Worried about the luxury-tax bills and inability to make significant changes, Cuban's advice to Prokhorov was simply to "drink more."
Fortunately, Prokhorov has enough money that he can buy some expensive alcohol even after dealing with the historically large luxury-tax bill he's accumulated.
There's been enough futility calling the Barclays Center that Van Gundy (and those who agree with him) can be correct and incorrect at the same time.
Kidd hasn't done much at all as the head coach, and he's absolutely to blame for some of the Nets' struggles. He should have been able to coax a win or two out of his team in close situations, and it's tough to see a potential replacement like George Karl or Lionel Hollins not leading this team to a better early season record.
But at the same time, Kidd can only play with the hand he's dealt. And right now, that hand looks an awful lot like an off-suit two and seven.